AMG is back with a new A 45 S, packing the most power per litre of any production engine. Does it reclaim its quickest hot-hatch title?
There's something of a battle going on between manufacturers to see who can produce the most powerful hot hatchback. And it's essentially down to a pair of protagonists. Mercedes-AMG with its new A 45 S is attempting to wrest back the crown that was ripped from its grasp by the current RS 3. For those unaware, the Audi was the first hot hatch we'd performance tested to break through the four-second barrier, posting a best time of 3.90sec in 2017. The A 45 back then registered 4.18sec.
However, that was then and this is now. It's back in all-new form, and vying for the title of hottest production hatchback on planet Earth. With 309kW/500Nm from its 2.0-litre turbo petrol engine – that's 207bhp (155kW) per litre and up by 30kW and 25Nm overall – it threatens to shade the RS 3 Sportback, with an official claim of 3.9sec for the 0-100 discipline. Audi only ever said its RS 3 was good for 4.1sec, so there was genuine surprise when it delivered something a bit extraordinary. However, it should be said that the RS 3 is a rather different proposition from the regular S3, and other hot hatches, running a 2.5 five-potter, whereas most others go with 2.0-litre fours with a whomping turbo, correct?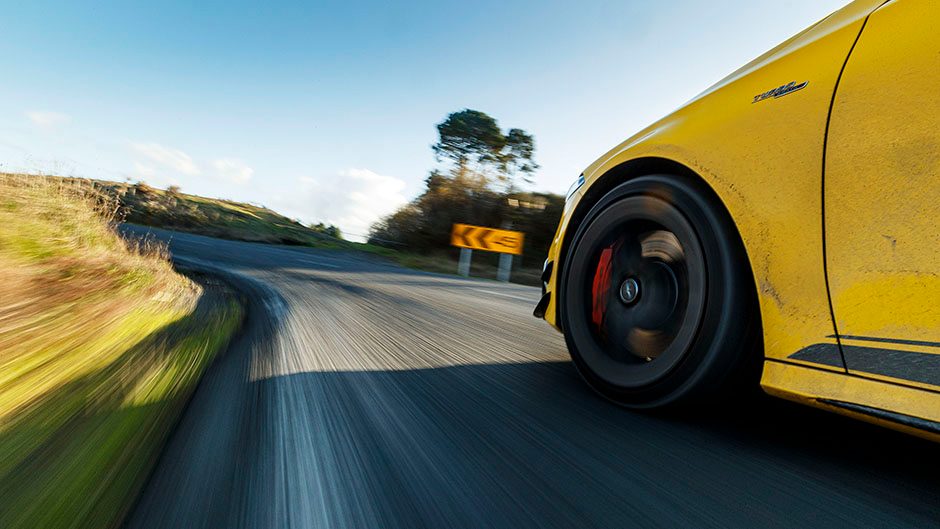 More power but less 'output'
While it might be the same displacement as its predecessor, AMG reckons this is a whole new engine. It now spins to 7200rpm, with maximum torque delivered at 5200rpm, and peak power at 6750rpm, rather like an atmo engine then. Only the midrange torque is still pretty phenomenal, and makes for surprising (light, not heavy) fuel use too. Hit it and you'll see figures in the low teens, but make use of the midrange instead and single figures are possible. Not bad for a sub-four-second weapon huh?
Unfortunately, this will probably be the last of its type because in future its successor is bound to be electrified for better emissions. It's the same for noise. Back then you had the exhaust button which we suggested you should just tape over once set to "loud". This new model is much quieter than the old one because it had to pass tougher drive-by noise regs. So no exhaust modes on offer. And no, it ain't as aurally inspirational. Yes, in Sport+ and Track, it's a bit more vocal but nothing as loud as the wham-bam pop and bang of old. Still the road roar compensates, only not in a good way (77dB). Never mind, because in most other regards it is a superior car to drive. But then it costs over $10k more so you'd expect and want it to be palpably better. It doesn't disappoint.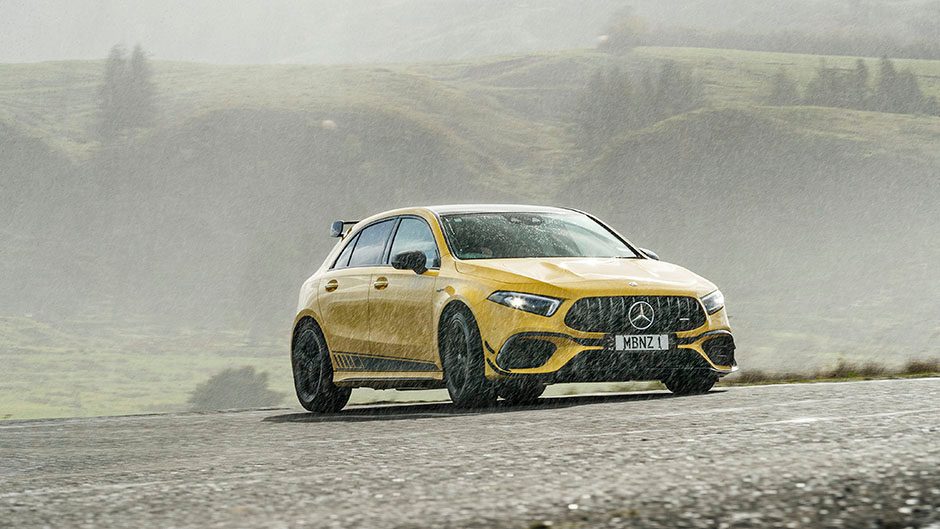 Tough stuff beneath
Back in 2013 the 45 was the duck's nuts, its 265kW and 450Nm setting a new standard, and thereafter the RS 3 and A 45 have been in mortal combat. The AMG then went to 280kW and 475Nm come facelift time in 2016.
And now the new 2020 version is said to be even quicker than its forebear, but given the claim is under 4.0sec, there's not quite the excitement of strapping on the performance equipment. For you know it will do the business; it's just a matter of how many attempts are required. Still, it's the first 2.0-litre four-pot that does a three-point-something time and that's not to be sniffed at. Helping is a new eight-speed twin clutch (AMG Speedshift DCT 8G) and actually most everything about this car is new.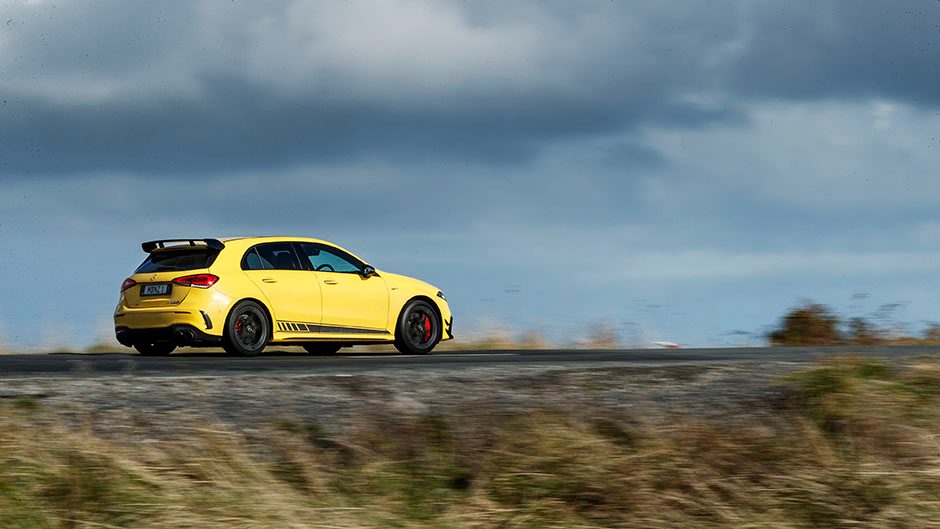 That includes the superstructure for its running on the latest A-Class platform, shored up with bracing to stiffen the chassis in key places – there's an aluminium plate beneath the engine, for instance – along with a subtle but you'd have thought mandatory AMG strut tower brace.
Our particular vehicle also sported a big wing, fancy front spoiler and wheels, special rubber, sports seats and a flash-as angry bee paint job, all part and parcel of the Edition 1 package ($7990). As M-B states, you can simply buy a yellow one if you want to stand out a little less, but this sure does have presence with its little canards up front and sweet rear wing, making it look the real aero deal. Even the alloys have an aero design, though to the eye these detract from the overall aggressive schtick.
Part of the 45 update by AMG includes a fully variable four-wheel drive system that can shuffle power both rearwards and side to side at the rear axle, helping the car to exit corners at speed and be on precisely the right line.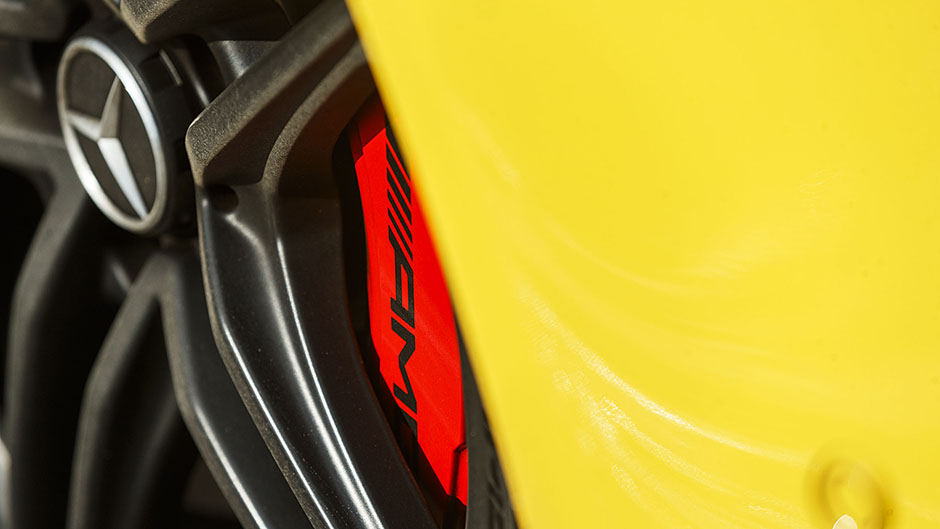 Everyday use no worries
It's more civilised than ever before too. With the original the suspension needed to be barred up for best handling, which meant on day to day errands it was a bit bony but the more rigid platform of the latest version allows more pliancy in the suspension. We ran this on Comfort mode in town and, using the wheel-mounted mode changer, merely switched between Sport and Sport+, both of which are firmer but still not annoyingly so for those aboard. Even Comfort works for quickish back road work. All of which is a pretty good trick given this runs on 245/35ZR19s of the Pilot Sport 4 persuasion. Great rubber, apart from the harmonics on chip seal, rising proportionally with speed.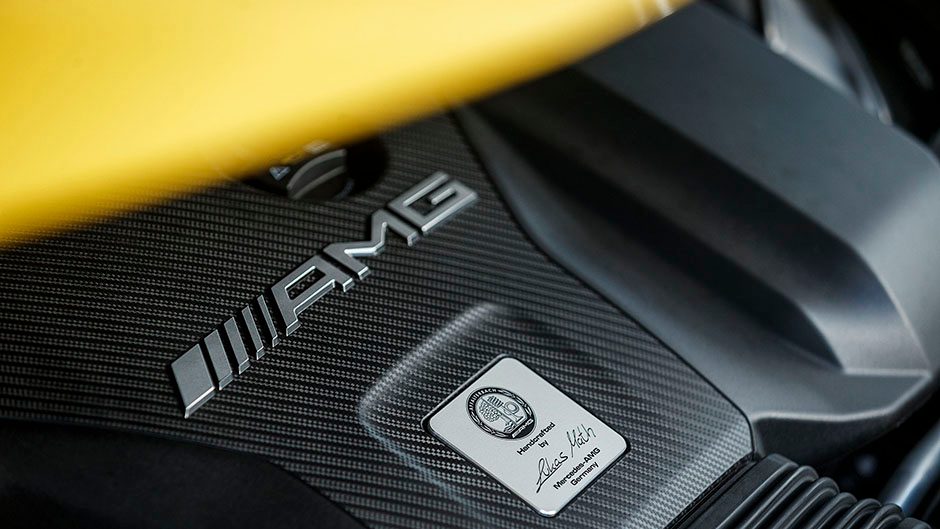 New shape better suits persona
There are subtle hints that this new shape is up for anything, the wee canards up front and the bucket seats giving the game away slightly. Its appearance is modern, taut, the angry eyes and bold upright grille hiding a maze of radiators suggesting action aplenty.
Same difference inside with the wide screen digital set-up, two-tone leather upholstery with bright yellow double-stitching and the myriad ambient lighting colour options. The gloss black and aluminium trim finishes are also fancy, as are the turbine-esque ventilation outlets. The head-up display and sports dials are both easily read, though there are myriad potential distractions here, like G meters and torque graphs.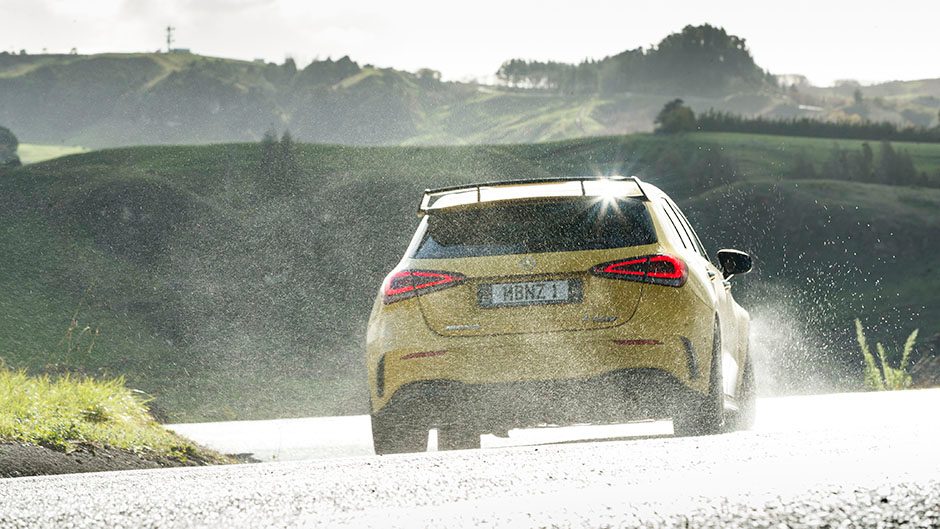 Thumb the push button starter and there's no real hint of its hidden potential and once you've found the shifter attached to the steering column on the right, the easy progress in default Comfort mode suggests modern town hatch. Thread it towards a motorway onramp, however, and the noise from the performance rubber might hint at what's in store, while the odd thump over expansion joints will also pique your interest.
Performance, as before, seems effortless, and becomes even more so as you test out the various go-hard modes. Once again, upshifts happen precisely as and when you'd want them to, the transmission clearly aware of your chosen throttle angle. Check out the big flappy paddles affixed to the wheel if you want but we wouldn't miss them if they weren't there. A button is available for suspension settings if you want things firmer without the engine going ballistic. But even that seems a bit surplus to needs given the rather more frantic Sport+ still delivers a ride at open road speeds that's considered and even. Certainly there's no pinging off sharp bumps here.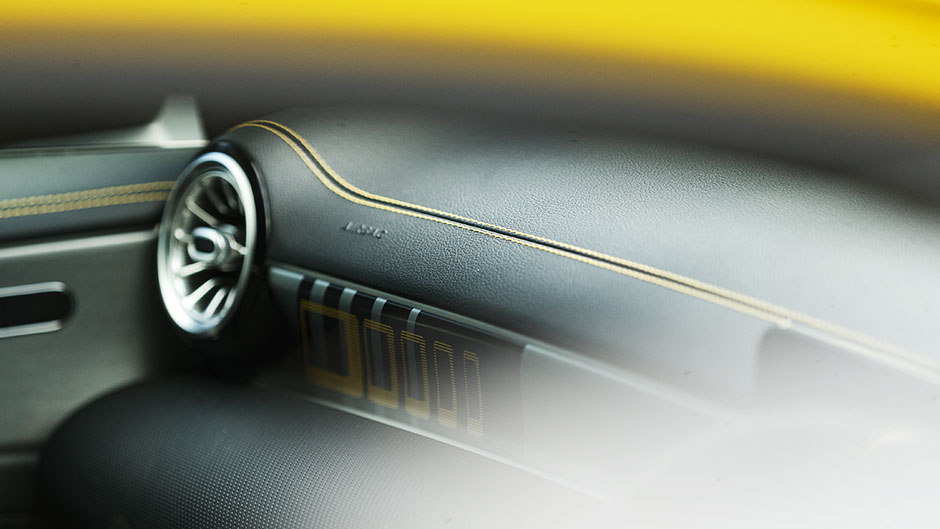 Unruffled but at a price
The steering is rather delicious too; not so sharp as to be nervy, just quick enough to feel vibrant and alive. The microfibre finish of the wheel looks the part but it's too slippery in the hand. Perhaps it's one for the driving gloves, but then perhaps not.
We drove the car during a showery period so the roads were mainly damp or drying which was a trifle disappointing but it's so composed, so locked, such a talent. A few days later when the weather improved it's more of the same, only even quicker. It drives out of bends early and hard thanks to its torque vectoring rear axle. Or you can just head into turns a bit quicker and back off the gas. This is unruffled by either approach. And yes, it did meet its acceleration claim, putting it once again at the pointy end of the hot hatch pack. It also has performance brakes that are more than a match for its cut and thrust go forward antics.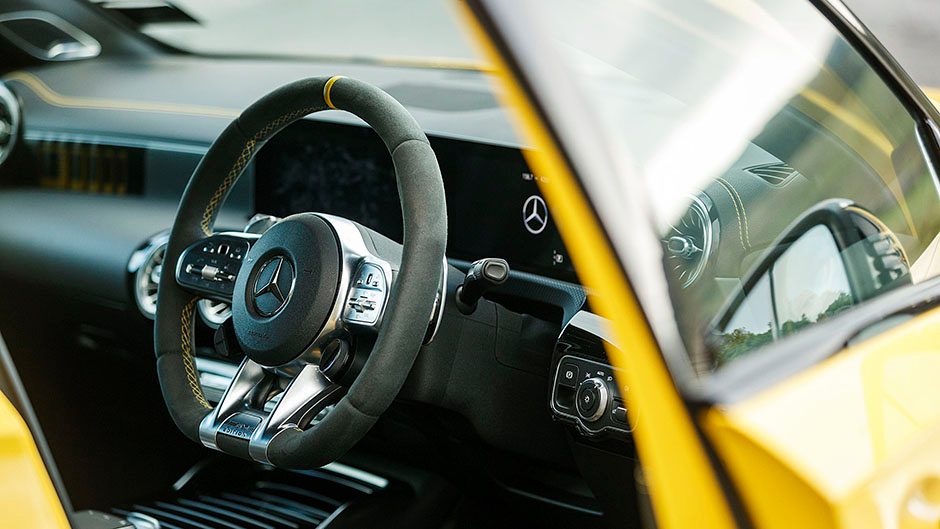 Plus inside are all the mod cons, with nothing of note overlooked. Not that there aren't a host of options packages. But as is, this is appropriately specified.
And that arguably brings us to the one issue some might have of the Mercedes-AMG A 45 S. Once upon a time it vied for best performance car under $100k. Back when it first emerged the 45 sold for $92k. And in 2016 a much improved version still went for just under six figures. Not any more though, with a base price of $111k. And that makes the still quick A 35 at $87k seem like sharp value.
But then it's not the top A-Class is it? And nor does it have the sort of performance specs that might have gone hand in hand with those of an uber-expensive GT from a decade ago. In fact the F-Type we drove not long after this costs twice as much and it's little quicker, and feels no more agile. Sure, the sound is richer, but the AMG A 45 S has the ability to carry more passengers, albeit compact ones. In which case some might still see this as something of a performance car bargain.
| | | | |
| --- | --- | --- | --- |
| Model | Mercedes-AMG A 45 S 4Matic+ | Price | $111,000 |
| Engine | 1991cc, IL4, T/DI, 310kW/500Nm | Drivetrain | 8-speed twin-clutch, all-wheel drive |
| Fuel Use | 8.4L/100km | C02 Output | 192g/km |
| 0-100km/h | 3.88sec | Weight | 1685kg |