Designed for the driver who appreciates a well fettled normally aspirated engine and a six-speed manual transmission, the SP25 is now a rarity. It's also a graphic reminder that there's a valid alternative to turbocharging.
Turbocharging is now rife, but not everyone has gone forced induction across the board, Mazda being an exception. Its 2.5-litre SkyActiv mill still powers one of the most popular sellers locally, the CX-5, and it's also used by the sportiest Mazda3, the SP25.
We've just driven the (mildly) facelifted version in six-speed manual format and it felt like arriving home again after time away. For piloting anything without a turbo these days is a bit uncommon and so too is something with a six-speed manual transmission. It all felt just foreign, analogue and wonderful. You forget the joys of heel and toe downshifting, flicking up and down the box just for the sheer thrill of it. Now I'm missing it all over again.
Our car had done only 550km at pick up, and was on the verge of run-in. It might sound daft but I rather enjoy the flowering of a vehicle as the notchy shift feel turns oily smooth, and the engine which initially felt reluctant to pull below 3500rpm blossoms. By the time 800km showed on the clock it was pulling along suburban streets smoothly in top gear at 50km/h with under 1000rpm showing.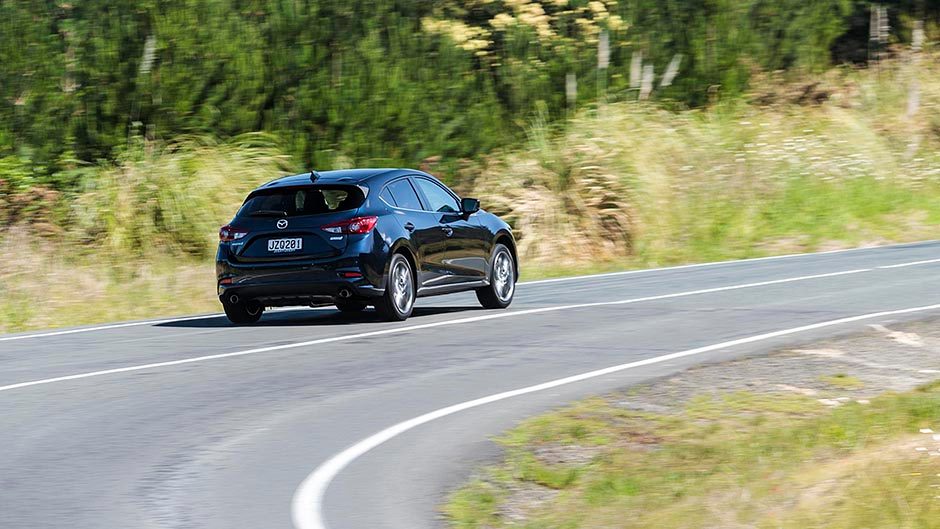 This is a peach of an engine, and the gearbox to which it's mated is every bit as sweet. There are so many great aspects, starting with performance. While there's no sudden hit of torque from 2500rpm onwards, the engine certainly perks up at 3000rpm. Because of the Mazda thing about lightness being important – the SP25 scales up at just 1332kg, 100kg beneath the competition – many overtaking moves can be done with just a shift to fifth, and you're away and gone. If the gap's small, selecting third gear is essential, however.
It's really a quicker car point-to-point than you might expect from its acceleration figures. We extracted a best sprint time of roughly 8sec, while an overtake in the lowish fives is decent, but nothing special. And yet on road this is stroppy; drive it from 2500-3500rpm before upshifting and you're ahead of the pack. Use 3500-4500rpm and some might start looking askance. Use the meat of the rev range where the four-potter sounds its most vigorous and you'll for sure get wagging fingers of disapproval. And as to fuel use, we tried hard and couldn't break out of single figures. Most of the time, low 9s was the average. It's easy to do much better.
The aforementioned finger waggers are probably used to ill-handling dross and don't realise that you're in one of the most talented front drivers around. The odd part is that the SP25 doesn't have any electronic doo-dads to keep it on line, just a honed, lightweight chassis and decent rubber. There's no fancy torque vectoring – G Vector control is not about enhancing the on-the-limit handling – or adaptive damping, just stability and traction control while the suspension seems tuned to be fit at precisely 100km/h.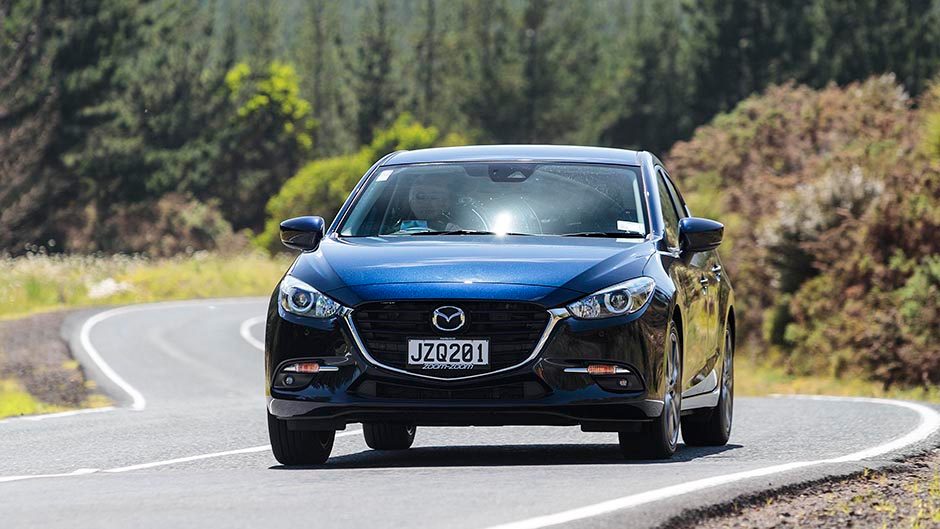 Around town you might think it a hair firm but this is a warm hatch and all is forgiven at open road speeds where the springs compress and rebound just so over big dips, and the dampers control things exactingly. Even the electric steering is a notch or two up on the norm.
There's nothing much anyone can do about the usual front drive weight imbalance, in this instance just under 60/40. Up until the front runs wide of the line, which is not until you're fairly well up it, the SP25 is a joy to pilot, and if you deliberately head into corners with a jot too much speed, and tie the nose down with a touch of trailbraking, this rounds up the bends in terrific fashion. The brakes are the usual Mazda fare; just a bit better than the opposition's.
And rounding out this overachiever is an interior that's well built and simply works. Nothing too fancy, all the expected bits, including a not overly complex mouse controller. The head-up display is a waste of space; there's a perfectly adequate digital speedo – the only non-analogue thing about this car – that's much easier to read at a glance.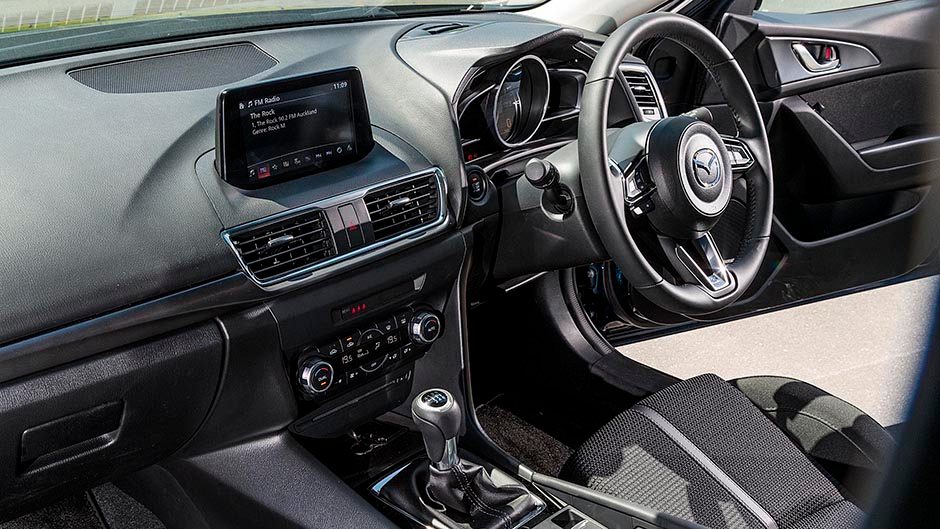 The SP has great seats, with plenty enough legroom in the rear. Its hatch is kind of shallow, even with its space saver, but split folding renders an almost flat floor.
It's frankly disarming how satisfying an old-school analogue-like car can be, and makes you wonder whether the overweight, over-engineered blowhard turbo cars of today haven't lost something in translation.
Thanks anyway Mazda, for reminding us that light and simple still works, and that car making isn't just about adding doo-dads. And the price for all this ecstasy? Just $38k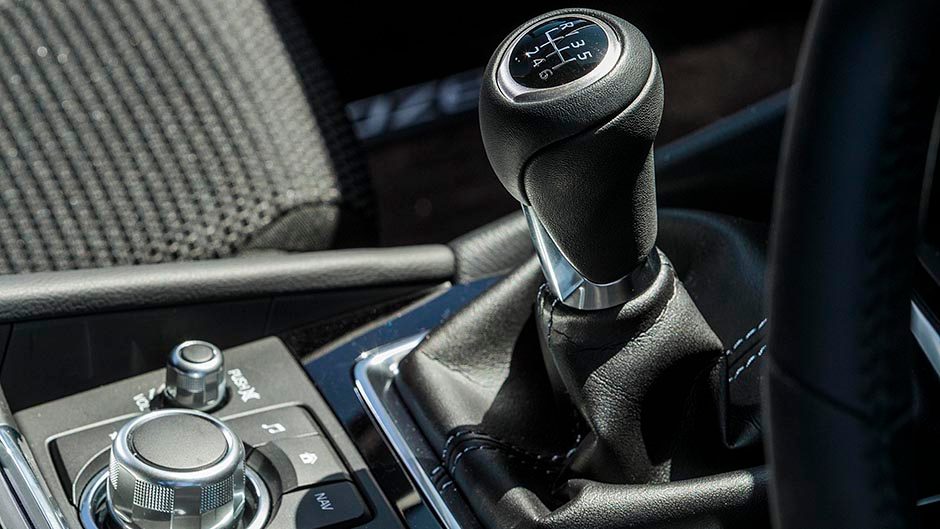 | | | | |
| --- | --- | --- | --- |
| Model | Mazda3 SP25 | Price | $38,395 |
| Engine | 2488cc, IL4, DI, 138kW/250Nm | Drivetrain | 6-speed manual, front-wheel drive |
| Fuel Use | 6.5L/100km | C02 Output | 150g/km |
| 0-100km/h | 8.14sec | Weight | 1332kg |