Compact cars are popular in fleets and with private buyers. We look at two at the top of their game, Mazda's Kodo-inspired 3 and Ford's refreshed turbo-fired Focus
Seemingly, the only new machines folk are purchasing these days is some form of pick-up or high rider, but the categories of micro, light and small cars comprise 23 per cent of new vehicle sales. And that's appropriate for New Zealand given how many live in a metro setting, making light cars like Swift popular, while small or compact cars, like the pair you see here, are appropriate both for city and country lifestyles.
The two compacts we've chosen to compare aren't exactly perfect dance partners, one being a sedan, the other a hatch, and one's the midrange offering, the other the range topper. But sometimes it's hard to get a perfect hatch match at a moment's notice and thus the Focus Titanium five-door comes up against the Mazda3 GSX sedan. Both at least have six-speed automatics.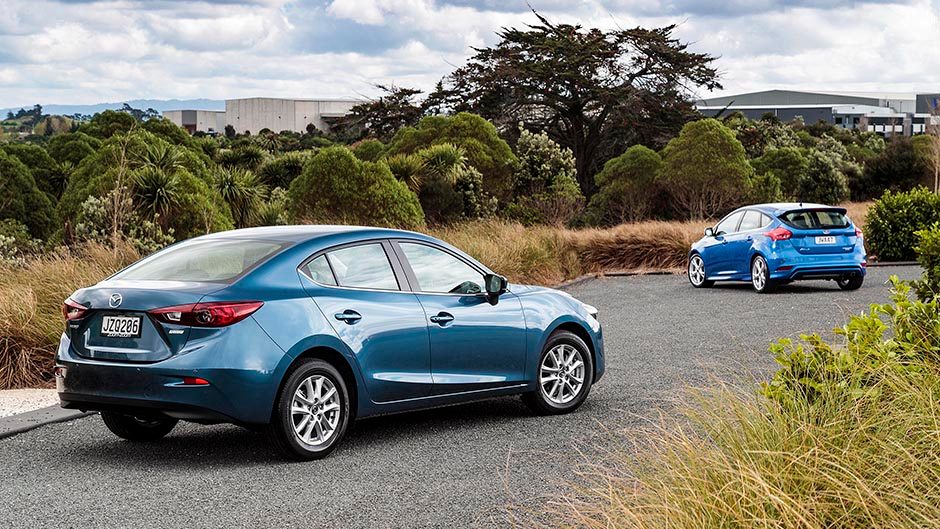 What we're asking you to do is suppose for a moment that the Titanium Focus loses its active cruise control, big alloys and leather trim, becoming instead the Trend model that costs much the same as the GSX sedan which, for the purposes of this comparison, adds a door and becomes a hatch, so we're comparing like with like.
Only in some ways they aren't really alike at all. For one runs a naturally aspirated 2.0L engine and the other a 1.5L turbocharged mill. And why this pair? Because both have recently undergone minor facelifts, not so as you'd notice at first glance, and both are at the pointy end of the compact sector for dynamics and desirability. So let's get this show on the road.
Significant spec differences
Let's first address the fitout list of the two comparable hatches, both costing around $35k. That means you'd be buying a Mazda3 GSX hatch, which costs $35,595, as does the sedan if you prefer that format. The two are similarly sized, right down to luggage capacity. The sedan accepts over 400L of gubbins whereas the M3 hatch is down by 100L on that. What you're gaining is better access to the hold. The Focus hatch is almost identically sized, at 306L, and expands to 1101L after full split folding which involves the squab rolling over as well.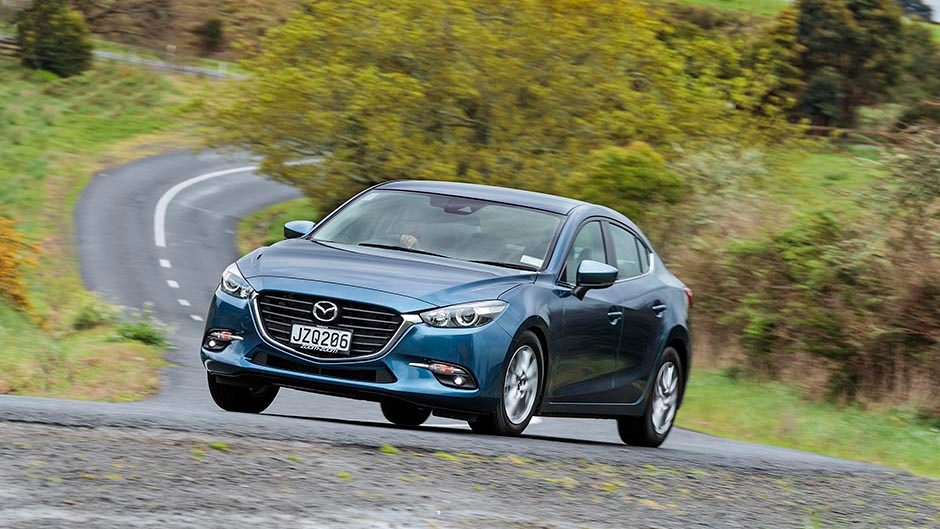 However the Mazda's doesn't and yet still manages to achieve an expanded load bay that's every bit as flat as that of the elongated Focus, and is ever so slightly roomier (308-1222L). On price, you save a couple of hundred bucks on the Focus at $35,340, but it's the base Trend model, whereas the GSX is the midranger. So the Focus isn't quite so well equipped. It gets a forward collision warning only whereas in the Mazda you get Smart City Brake Support which first warns of impediments ahead, including pedestrians, and if you fail to react in time autobrakes on your behalf. You only have to experience it working once to know how much it saves in insurance claims, just like ABS then.
Both of these hatches come with dual zone air, cruise control, a trip computer, satellite navigation, and an eight-inch colour touch screen. They each have halogen headlights and DRLs, a reversing camera and rear parking sonar. The Mazda alone scores comfort entry, blind spot monitoring and rear cross traffic alert. It also gets the MZD Connect system, a mouse controller for items like nav, entertainment, and vehicle settings. To top things off, there's free servicing for three years and a five-year/unlimited km warranty. Ford's servicing you pay for, and warranty extends for three years or 100,000km.
The Ford alone gets adjustable lumbar support and a digital speed readout. It also has the unique programmable MyKey that gives some peace of mind if the car is driven by younger drivers. And assisting with handling is torque vectoring by brake, whereas the latest Mazda3 gets G-Vector Control, a system that's designed to improve steering fidelity in day-to-day rather than on-the-limit driving.
The Focus, despite its smaller engine, gets more power and torque than the Mazda, by virtue of forced induction, but claimed combined fuel efficiency isn't quite as good (6.7 vs 5.8). The Ford also has an Active Grille Shutter for quicker warm-up and improved aerodynamic efficiency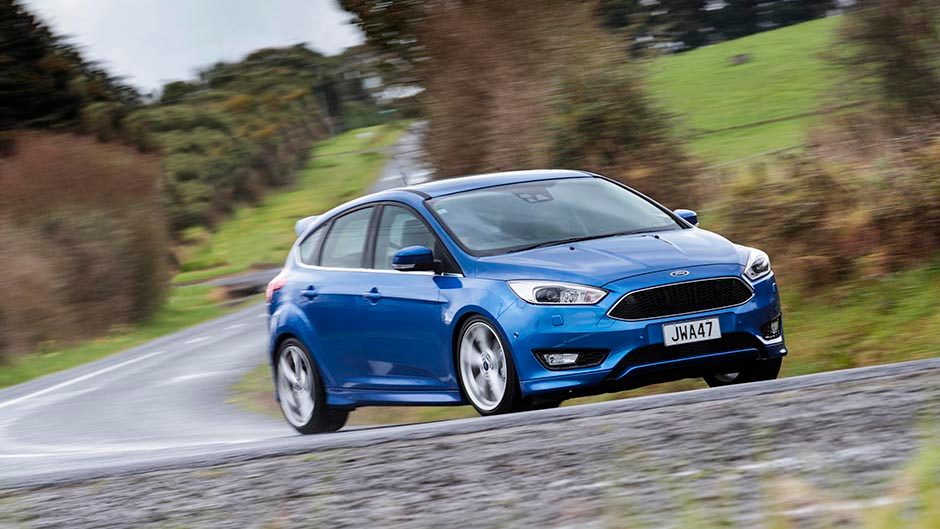 Minor lifts inside and out
Turning then to design aspects, both of these vehicles seem rather agreeable and easy on the eye, though the Kodo influence on the Mazda is something that some really like and others not so much. The Focus form is essentially not much changed for some years, and that's for good reason. Personally, I like the new hood but still find the tail lights overwrought. Otherwise it's a clean design.
Once again, Ford has worked to modernise and simplify the interior (fewer switches). A new Sony headunit protrudes slightly from the centre console. It has a large well placed central volume control with rubber touch piece for each of use.
Mazda's main volume control and on/off button is by the central MZD Connect controller, adjacent to the new electronic handbrake. The mouse-like controller of the Mazda is amongst the best of its kind; relatively simple and highly intuitive in use; some of the luxo car makers would do well to emulate this. Both vehicles have multifunction steering wheels where trip data, stations, and cruise controls hang out.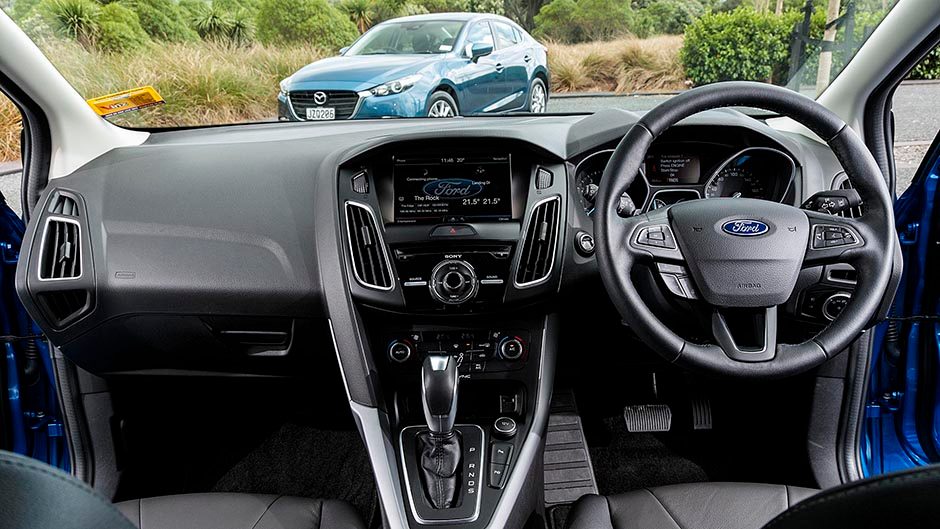 It's under the hoods where we should delve next for further differences become clear. The base Trend Focus used to have a 1.6L atmo engine that did the job but no more. In its place is the 1.5L EcoBoost engine that debuted to such great effect in Kuga. Good for 134kW and 240Nm from 1600-5000rpm, it gets the wood over the larger naturally aspirated 2.0L mill of the Mazda, its SkyActiv unit good for 114kW, and 200Nm at 4000rpm. However, it's not quite so clearcut for performance as it seems, for the Mazda weighs in at 1312kg, the Focus at 1424kg. That gives them power to weight figures of 10.7 and 11.8kg/kW, suggesting the Ford will get the upper hand.
But you know what? It doesn't, though the lighter Trend version might give it a better run for its money. Sure, the Focus feels a bit stroppier in general suburban running but put the two together on the drag strip and it's the Mazda that prevails, being quicker to 100 and on the overtake by a three-tenths.
It's down to the cleverness of the transmission ECUs. The Mazda's makes for quick and efficient shifting, the Ford's unit seems to take its time by contrast. Our Titanium had paddles, but the Trend gets a manual shifter on the side of the shift lever. The Mazda's tranny has a manual gate, closer to the driver, and the lever is oriented as we reckon it should be, pushing forward to downshift. It's nice to use. We're not a fan of the fussy lever-mounted rocker button on the Focus. The old-school pushbutton overdrives are preferable. Such simple but effective devices are now reserved for less expensive vehicles with four-speed autos, like Baleno.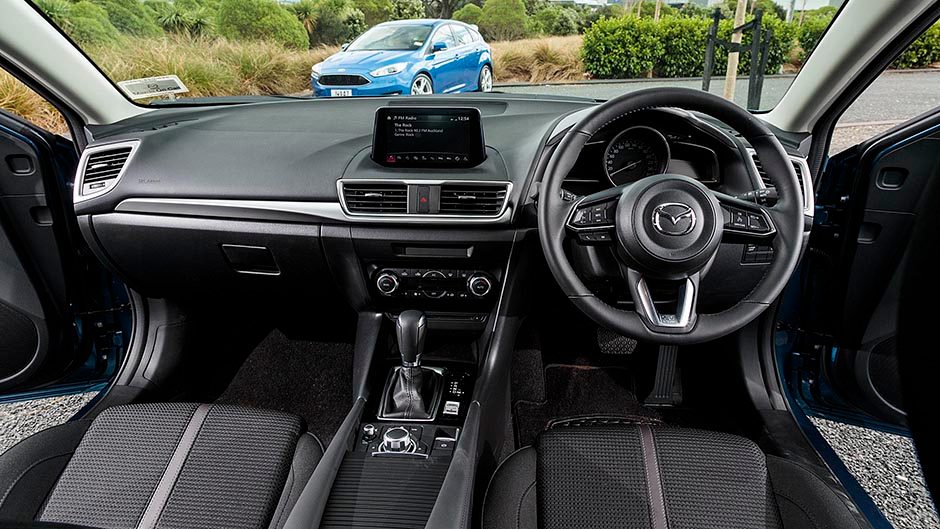 We like the throttle adjustability of the Ford's Sport mode, whereas the Mazda's is a bit frenetic, seldom using more than fourth gear at 100km/h. That said, in the Normal setting, you can control it using the throttle without having to resort to manual sequential shifting. Unusually for a naturally aspirated engine this becomes quite spirited from about 2500rpm onwards, as does the Ford, though both cars give of their best above 4500. The Mazda will pull usefully from as low as 1200rpm in town, quietly getting about in fifth gear at 50km/h, and there's no lag off the line, the iStop working instantly.
It's a rather remarkable engine, especially when you consider fuel use as well. It may not have quite the hit of the turbo initially but it revs smoothly and with verve, and makes a nice noise on high, whereas the Focus is more hushed. The M3 doesn't hit the pocket quite like the Ford does either. Our average of 6.6L/100km compares with 9.3L/100km for the Focus, its long term average being 11.4. Moreover, we couldn't get the Mazda above 7.9L/100km whereas the Ford was almost twice as thirsty when pushed. Capping it off, the Mazda runs on 91ULP, the Ford requiring the more expensive juice. For a mix of performance and economy, the Mazda wins.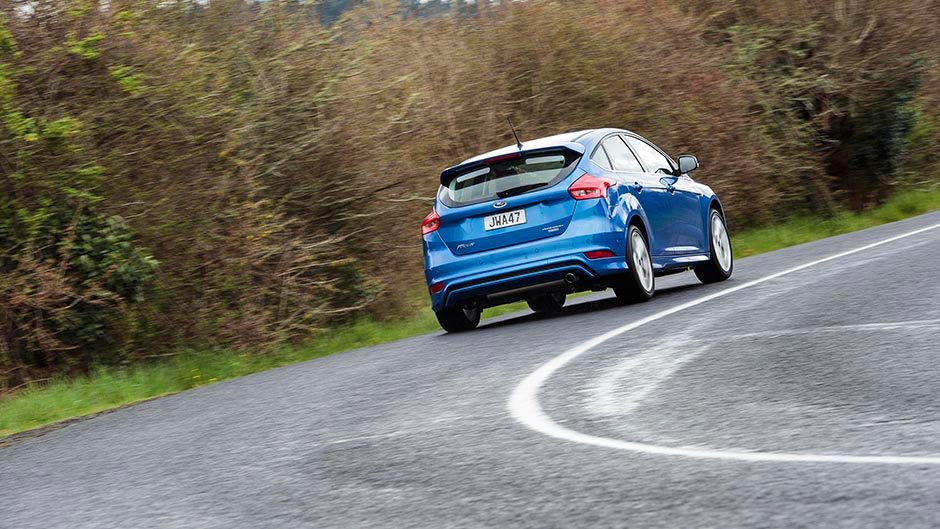 Cornering masterclass
Dynamically they're both sublime for front drivers and we won't dwell too much on this, given they're difficult to pick apart. Suffice to say, both have amongst the best electric helms in the class, and cornering excellence thanks to sorted independent suspension all round. Their rides are also quiet, absorbent, and body movements are well tamed. As to Mazda's G-Vector control, you'd need to drive the old and new Mazda3 back to back to note any difference.
Ford also features a new ESP function called Enhanced Transitional Stability, predicting when a skid might occur and intervening early to prevent loss of control. We noted a bit more ESP intervention in the Ford so perhaps it was working in the background, like torque vectoring.
The envelope please
For overall honours they're close, and it will likely come down to personal tastes. Some will appreciate the torque enhancement from the Ford's turbo, others the same level of performance overall but the Mazda's more parsimonious fuel use. When combined with the added safety specification lavished on the Mazda, we'd probably opt for it over the equivalent Ford.
It seems Mazda is almost alone now in its reliance on predominantly naturally aspirated engines but when done well they're still a totally valid option. You can bet when Mazda eventually goes turbo they will ace that too, if the innovative technology in the latest CX-9 is any indication.
| | | | |
| --- | --- | --- | --- |
| Model | Mazda3 GSX hatch | Price | $35,595 |
| Engine | 1998cc, IL4, DI, 114kW/200Nm | Drivetrain | 6-speed auto, front-wheel drive |
| Fuel Use | 5.8L/100km | C02 Output | 136g/km |
| 0-100km/h | 8.60sec | Weight | 1312kg |
| | | | |
| --- | --- | --- | --- |
| Model | Ford Focus Trend | Price | $35,340 |
| Engine | 1498cc, IL4, T/DI, 132kW/240Nm | Drivetrain | 6-speed auto, front-wheel drive |
| Fuel Use | 6.7L/100km | C02 Output | 157g/km |
| 0-100km/h | 8.90sec | Weight | 1444kg |