The latest mx-5 range now has two engine options, and we put the potent 2.0-litre limited version through its paces.
A big call perhaps but I'm seriously questioning whether this isn't the best value sports car ever made. I can count on the fingers of one hand the things that piss me off about the MX-5 Ltd and they're mainly trivial, apart from the road noise over really rubbish chipseal surfaces. You put good rubber on a small vehicle and you're going to get road noise, especially when it weighs just a bit over a tonne, meaning there's probably not that much sound deadening. For those wondering, it's actually 50kg heavier than the 1.5 version, or 1053kg with a full tank. What makes this, the fourth generation, so wonderful?
Performance is top of the list; not everybody is in love with the Kodo styling but that's a personal thing. The speed is easier to quantify. It's the first MX-5 to date that DOESN'T need a turbo, the complaint you hear most often about the previous generations (aside from the one that actually got a turbo, and was still a bit lame). It's not that the previous versions are slow but they are peaky, working best above 4500rpm. This new SkyActive 2.0 version runs circles around NC, despite the spec sheet saying peak torque (200Nm) arrives at 4600rpm. How come this new atmo engine works so well? Several reasons.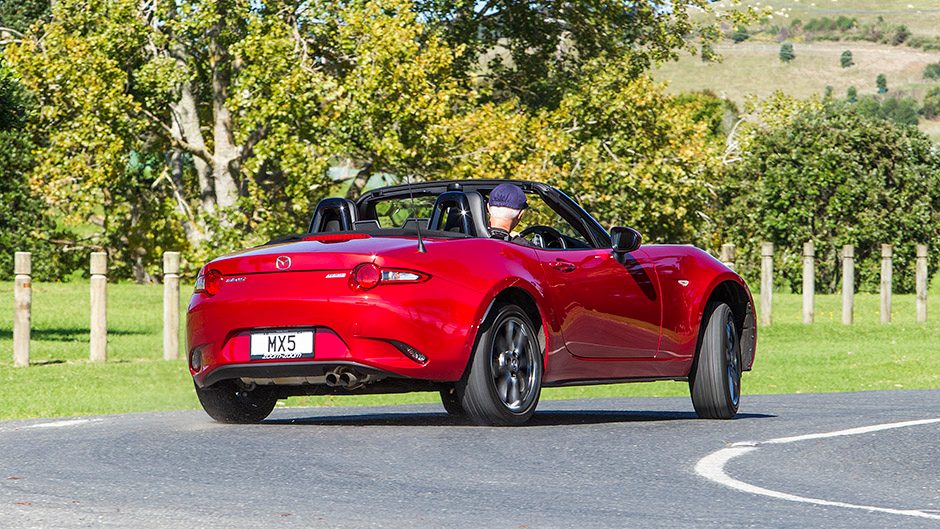 Gram strategy sees a return to size and weight of original NA, so it's 50kg lighter than its predecessor. Moreover, it actually develops actual torque at everyday engine speeds, unlike the 1.5 version which has 22kW and 50Nm less output. If you run the 2.0L from 3500-4500 out of town, you'll be keeping ahead of most everything that isn't on some kind of a mission, and you're not even into its power band proper which kicks off from 5000rpm. That's when the exhaust note hardens and revs and speed begin to accumulate with proper vigour. We drove the car mainly in that lower rev bracket, except for a few times when we felt duty bound to check out full-bore acceleration.
Even then we couldn't seem to get fuel consumption to climb above about 8.5L/100km, let alone into double figures. Given how quick it is in a straight line, that's pretty astounding economy. How quick exactly? Mazda claims a sprint time of 7.1sec. No sweat to that, and this is the first MX-5 to achieve a time in the sixes; we posted a best of 6.75sec thanks to its precise clutch bite point and fast shifting manual trans. Its figures exactly overlay those of the original RX-8, and also its rival, the Toyota 86. Only the performance is more forthcoming with the MX-5. Compared with more expensive, turbo-driven sports machinery, the MX-5 isn't especially fast, at least not in a straight line.
It's only when you crack into some chassis-humbling twisties that you realise lap times are more about maintaining corner speed rather than devouring straights. And this is where the MX-5 has always excelled, only more so now. The latest version of the chassis, the fourth (hence the ND tag), gets more aluminium, (up from 1 to 10 per cent) and it is sited at the extremities of the MX-5, so the heavier materials are closer to its core, keeping mass nicely centralised. C of G is lower too, and you notice that when entering or exiting the vehicle, not a strong suit, but all part of the sports car make-up. Adding to dynamic prowess, there's aluminium intensive suspension (double wishbones, multilink) and a new electric steering set-up, not exactly something to get the heart racing normally but Mazda has a long history in making electric steering work; it really does here.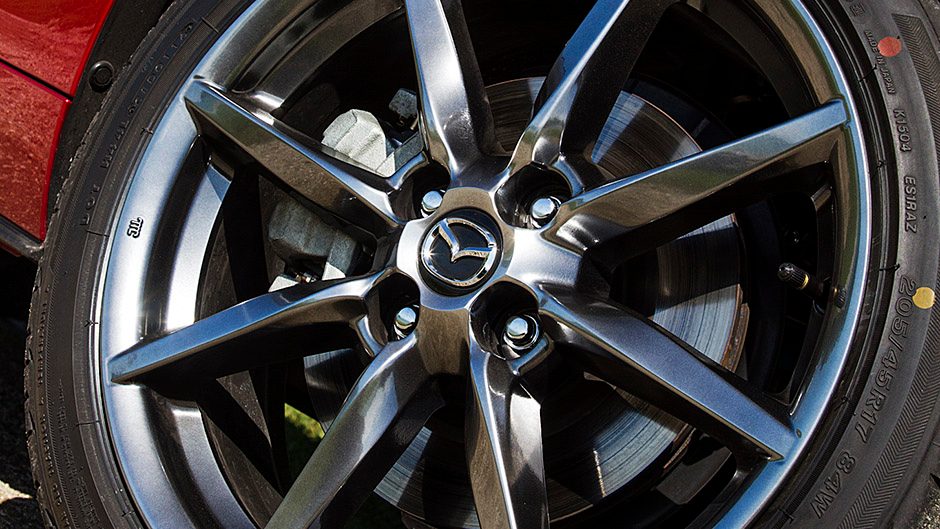 Firing it up our reference hill, and the light weight evenly distributed between the axles is immediately apparent. So too is the incisive steering, the fronts uncorrupted by propulsive drive. The speed with which it turns into corners is mesmerising. There's even a fair amount of pitter-patter that makes its way through to the wheel. It's up there with some of the best electric systems available. Think of this as being almost unstickable up front, and if it does start to wander off line you can promptly get it back on track by adding more gas. Providing you're in the right gear, and you will be most of the time, it smartly rounds up into oversteer which, on rare occasions, has the ESP system light flickering. In slower corners or away from intersections there's enough power to light up the rears, which you can't do in the 1.5. On a couple of quite tight sections of road we often use, I cannot think of anything that was significantly quicker, the diminutive size of the Mazda making it easier (than anything I can recall) to pick the very best lines through the turns.
It may be a cliché but it's laugh-out-loud fun, and deceptively quick. Because it's so light the brakes do the business too. They're stronger than the 1.5's, with larger discs and added bite. Certainly a match for that overachieving atmo engine, and while the numbers aren't sensational, the modest footprint may be to blame. Not everything is tickityboo about the Limited, the tyre noise from those sticky Potenzas averaging 76.3dB. We'd be remiss in saying the hood is entirely noise free too, a bit of rustle evident. Roof down, and it seems almost quieter. But exhaust noise is still hard to hear, and in town you appreciate that this 4-2-1 system is rather a sweet singer. The cabin is still cosy, especially if you're over the six-foot mark, and there's little in the way of storage space.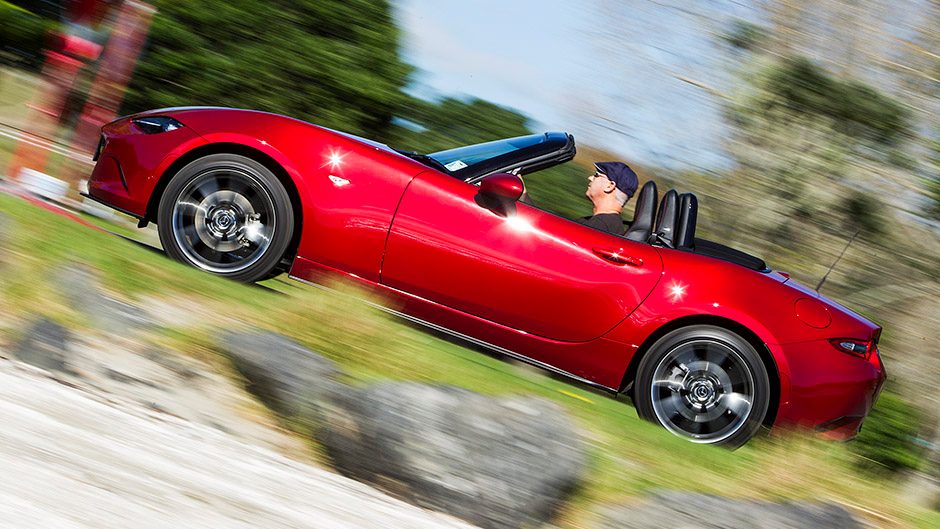 Expect your head to brush the roof lining at times, and you're peering out through the upper part of the screen. Two good reasons to pop the hood, a manual affair with a single latch. It takes a couple of seconds and can be done without moving from the driver's seat. Mention of which, it needs more lumbar support, but a lumbar roll suffices. There's no reach adjustability to the steering. Instruments are legible but where there's a gear indicator there should be digital speed readout. A gear indicator is appropriate for the auto, but wasted in a manual.
Neither position for the detachable drinks holders is ideal, particuarly when sited behind your left elbow, unlike the safety belts which are easily accessible, unusual in a two-door. This is the only sportscar offered by Mazda at present but the carmaker has hinted at a new rotary-powered model launching in 2017. Not so very long ago the company was running into financial difficulties, but CX-5 turned that all around, and now Mazda is in the rudest of health. Its success with this and award-winning offerings like Mazda3 allow it to produce astoundingly sorted niche products as seen here. Long may popular practical vehicles support the development of accessible sportsters like MX-5.
This is arguably the best real world sports car and convertible you can buy, and we can understand why it nabbed not only the World Car of the Year gong but also the Japanese Car of the Year. It has long been the only four-wheeled vehicle I have ever aspired to own, and given the latest is the greatest of the four generations, there's no change there. Costing $46,990, that includes three years of free servicing and a five-year warranty. I'm often asked what's my favourite sports car and the song remains the same. 
| | | | |
| --- | --- | --- | --- |
| Model | Mazda MX-5 Limited | Price | $46,995 |
| Engine | 1998cc, IL4, DI, 118kW/200Nm | Drivetrain | 6-speed manual, rear-wheel drive |
| Fuel Use | 6.9L/100km | C02 Output | 162g/km |
| 0-100km/h | 6.75sec | Weight | 1053kg |