Mazda's new MX-30 EV is being introduced to help reduce co2 emissions for its maker. And emanating from Hiroshima, it's not your usual EV.
Mazda recently revealed its first production-ready EV model at the Tokyo Motor Show, and invited us along to unearth the details on the car and the philosophy behind it. Because, being a Mazda, it's an EV that has been conceived a little differently.
But first, a few of those details. The MX-30 is a small SUV, based on the CX-30, and so is just shy of 4.4m long, fitting into the line-up size wise between CX-3 and CX-5. Why the MX badge? Mazda trots this out for special vehicles that 'explore new territory for the brand'.
The company calls the design "Human Modern", the latest evolution of Mazda's Kodo design movement. You might think a grille unnecessary on an EV, but they wanted people to 'feel an affection' for the MX-30 and it 'needed a familiar brand expression'.
There are no creases or curves to give the form motion; instead it's the fastback styling that does it, which is accentuated by the use of Freestyle rear doors. These the designers said gave them more freedom with the roofline as they were able to minimise the size of the door opening.
Like the RX-8, there is no B-pillar, but they tell us the MX-30 is more rigid than the CX-30 thanks to the floor-mounted battery pack, which is used as a stressed member to reinforce the chassis. They have also beefed up the door frame surround, and are confident the MX-30 will stand up to side impact crash testing.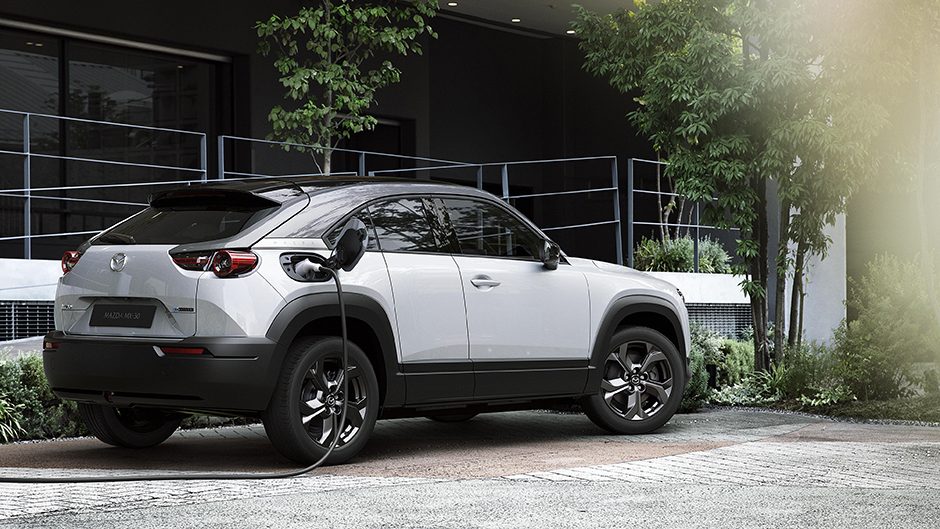 While some EVs take on an aero-honed shape to help improve range, Mazda says most of its work in this area has been underneath where there is a flat undertray and spats to improve air flow around the wheels.
Inside they talk about creating 'an open-feeling cabin'. New bits include a floating console topped with an actual gear lever, all part of Mazda wanting to give its EV the 'innate appeal of a car'. There is a new touchscreen controller for the A/C which is customisable and reacts to the mood of the driver, apparently. Cork is found on the console and door handles, a sustainable 'CO2 positive' material they tell us, using the offcuts from actual bottle stopper production. It's also a nod to Mazda's origins as the Toyo Cork Kogyo company.
A special coating has been applied to aid durability that Mazda says meets the same resistance to scratching, UV exposure and temperature as plastics that would be otherwise used. The door trim uses fibres made from recycled plastic bottles. Its rear seat incorporates the trim of the Freestyle doors to create a couch of sorts, letting the interior wrap around the occupants.
We weren't permitted aboard the show car, but rear cabin space looks to be limited, though the actual aperture for entry doesn't seem too bad. There's no word on cargo capacity, Mazda saying this will accommodate four 'carry-on suitcases'. With the rakish tailgate, don't expect much, but there is split folding and a smaller space under the floor as well, but there is no 'frunk' under the bonnet.
Mazda is calling its drive tech e–Skyactiv and the MX-30 is all its own work, in that it's not a collaborative effort. It sits on a version of the company's Skyactiv-Vehicle Architecture which also underpins the new Mazda3 and CX-30. The latter arrives in NZ in April next year, and will be welcomed. As Mazda NZ MD, David Hodge, told us, it lands in a fast growing segment, and while CX-3 has done well, it's starting to age, and some customers say it is a bit small, so CX-30 will better plug the gap for buyers wanting an SUV, but not something as big as a CX-5.
The e-Skyactiv bits include a 35.5kW/h lithium-ion battery pack mounted beneath the floor while the motor, inverter, and DC-DC converter live together up front, driving the front wheels via a single-speed transmission. The Panasonic-supplied battery is rated to deliver a 200km WLTP-measured driving range and the Hitachi-sourced motor gives a modest 105kW and 265Nm. A 6.6kW AC charge will refill the battery in 4.5hours, a 50kw DC charge will take it to 80 per cent in 40mins. No weight figures have been given.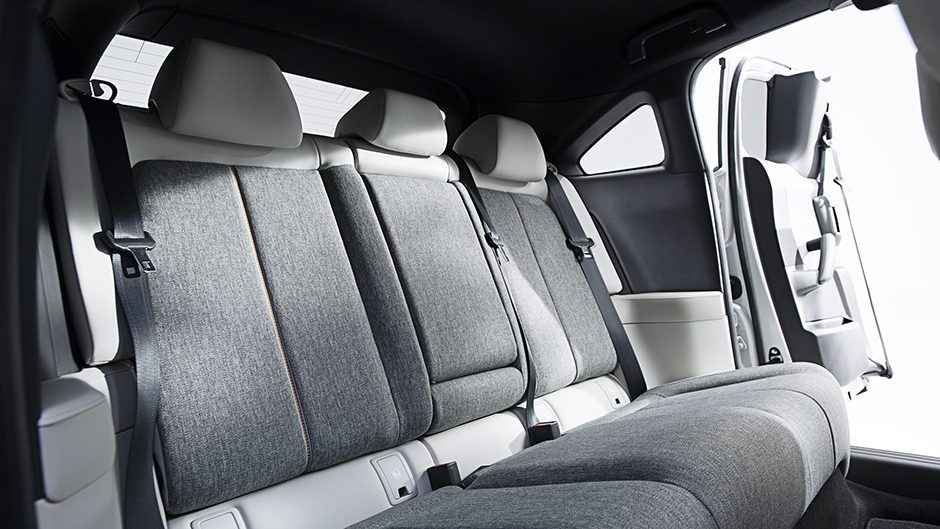 Mazda's G-Vectoring Control Plus gets an e prefix for the MX-30, and it's said the electric motor allows for a more delicate and precise control of the torque, meaning Mazda engineers could fine-tune its system further to deliver yet smoother cornering. To normalise the drive, Mazda hasn't gone down the strong brake regeneration path, meaning one pedal driving won't be offered as they pursue the ideals of 'human centric' development; basically they intend to make their EV as conventional as possible to drive.
Those who have driven Mazda's prototype EV say the torque delivery has been 'normalised' too. Instead of the usual rush of twist from the off, Mazda has manipulated the torque curve so it ramps up gradually, like a conventional naturally aspirated engine. Mazda says AWD is not technically feasible with this platform, and that it would further contribute to an increase in CO2 production. And it's not rated to tow either.
As for future EVs, there is platform commonality between models so it is possible we'll see others. But electric tech in something like an MX-5? Not likely as weight is an essential element of the MX-5 they tell us so adding a heavy battery rules that out.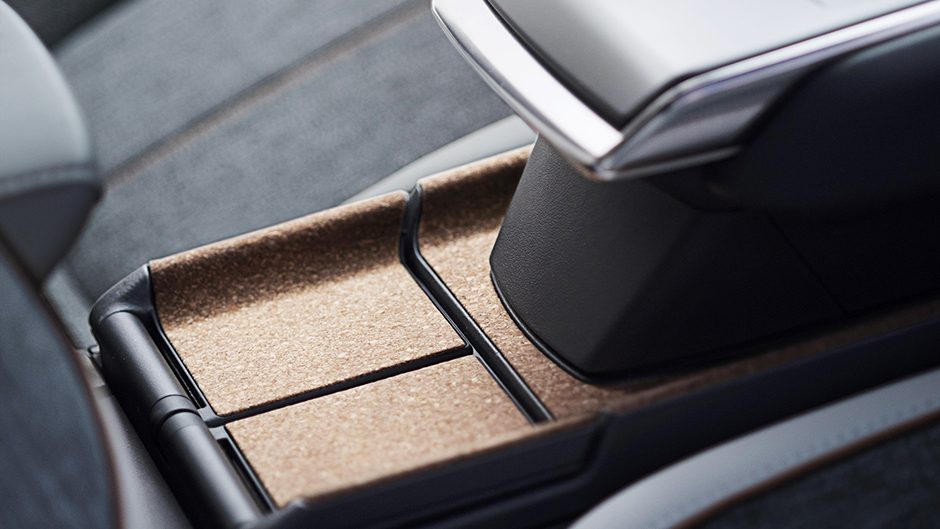 We can expect the MX-30 in New Zealand in 2021. Why the wait? Mazda needs to prioritise LHD markets to meet impending CO2 limits. But with our electricity fuelled largely by renewables, it has been indicated to Mazda NZ that we will be early in the queue once RHD production commences.
Mazda NZ says it is too early to talk about pricing. For reference, in Germany the First Edition MX-30 is €33,990 whereas a Leaf costs €36,800. The latter equates to $64,100 although the Leaf costs $59,990 here, proving you should never rely on direct conversions between markets. Government incentives can skew things further when it comes to EV pricing. The MX-30 will be available at all NZ dealerships when it arrives here but the focus will be on urban catchments for obvious reasons.
So what about the size of that battery then? According to Ichiro Hirose, Mazda's head of R&D, he concedes the range of an EV is a selling point but on the other hand a big battery consumes a lot of energy during production, therefore increasing the amount of CO2 emitted overall. Mazda reckons that every kW/h of battery capacity consumes 163kW/h of electricity during manufacture.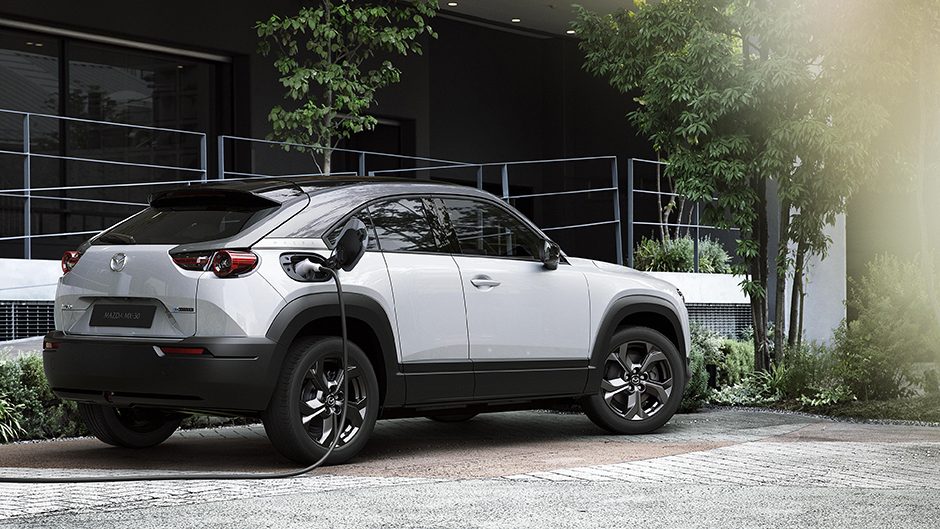 Mazda has been planning the EV since mid-2016 as part of its multi-solution strategy in terms of CO2-reducing technology in accordance with each country's means of power generation. Mazda is still pursuing combustion engine perfection; there's a new diesel due next year and it has Skyactiv-X while the firm is also helping develop a diesel bio-fuel derived from cultivated algae that they say is carbon neutral. It has more hybrids and plug-ins planned too.
But back to the EV's battery size, which was derived based on its overall CO2 impact. Mazda therefore assessed how most BEVs are used in the market that matters most. In Norway for instance, EV owners drive 50km a day on average, and 70 per cent also own a conventional car. In the US, they reckon the daily average is 64km for EV owners and that 82 per cent charge at home while 90 per cent have another car.
So they say the MX-30's 200km range is more than adequate, a move they call 'right-sizing'. Mazda has collaborated on an academic research paper which suggests that an EV with a 35.5kW/h battery has a lifetime CO2 output (which includes its CO2 intensive production) equivalent of a Mazda3 diesel over a 200,000km lifetime. It reckons it achieves parity around the 100,000km stage, and is better off until around the 160,000km mark which is when they suggest a battery would need replacing.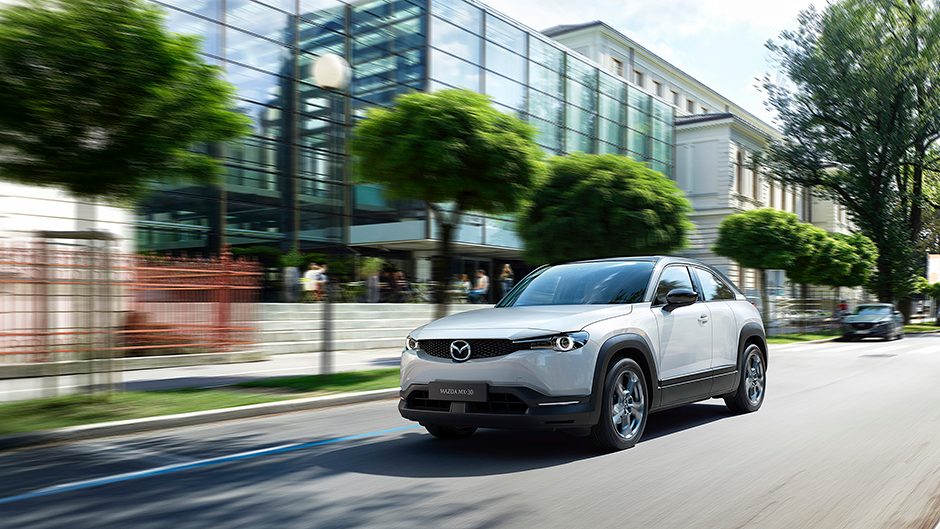 This example is based on a power generation mix of 56 per cent renewables/nuclear. In countries where coal is king, they say its BEV will be responsible for a greater CO2 production over its lifetime than a diesel M3, but in countries with a high percentage of renewables, it can take as few as 32,000km for it to better a conventionally powered model, and is significantly better by the 150,000km stage. There are also the other benefits of a smaller battery, those being less weight and reduced cost.
Mazda will be trying to convince the buyer that range isn't everything. And for those who can't be convinced, Mazda at some point will offer a range extender version of the MX-30, probably using the rotary as a generator.
As Hodge puts it, "It seems the range of an EV is what gets all the noise. But you need to look at it differently, and before you commit yourself to an EV study your driving habits. How far do you really drive each day? And if 90 per cent of your driving is short trips, maybe an EV suits you.
"Compare it with a cell phone. You don't buy one because its battery lasts eight days. As long as it can last the day, you can then charge it at night. This is what will happen with your EV. People will change the way they think and will adapt."