Designed with Americans in mind, big seven-seater SUVs are proving ever more popular here too. We compare the refreshed Nissan Pathfinder with our current COTY, the Mazda CX-9.
When Kiwi new car buyers ask what's a good option for ferrying the kids and family clobber about, they don't want to hear the words 'people mover' mentioned. What they really mean is which seven-seater SUV should they buy, and there are now many options. Popular in America, just about every car maker has a troop carrying SUV and with the arrival of the revised Nissan Pathfinder, we thought it an opportune time to compare it with last year's Car of the Year, the Mazda CX-9.
Top dogs prove popular
Here we have the top models which always prove popular with buyers in this class. The updated Pathfinder gains a new look with the chromed grille, and new headlights gain DRL signatures. Nissan has also changed the bonnet, both bumpers and taillights. There's a host of extras added to reflect the price rise. Along with the usual partial leather seating, smart key operation, electric tailgate and sunroof, and powered and heated front seating, the top Pathfinder now has an eight-inch touchscreen with more connectivity options. Figure also on sat nav, Bose audio, and an around-view camera, 20-inch wheels, LED headlights and ventilated seats. Kids will be happy with the rear seat entertainment system featuring two monitors mounted in the front seat headrests along with wireless headphones, while parents will appreciate the added safety gear like active cruise, AEB and blind spot monitoring. This Ti model is now $69,990, and there's a mid-spec ST-L which lacks a few of the goodies, including active safety gear, for $65,490. We can see why most spend more on the top model; the extras are worth it. The CX-9's outstanding value proved it a winner overall last year, the Limited at $62,995. That gets you much of what the Pathfinder Ti has to offer, minus the rear seat entertainment, seat ventilators, kick-to-open tailgate, remote start and surround view camera. But the CX-9 offers a few extra safety features like the colour head-up display and lane departure, while it comes with better back-up including a five-year/unlimited kay warranty, and three years/100,000km servicing. The Pathfinder has the usual three-year/100,000km warranty deal while servicing is extra.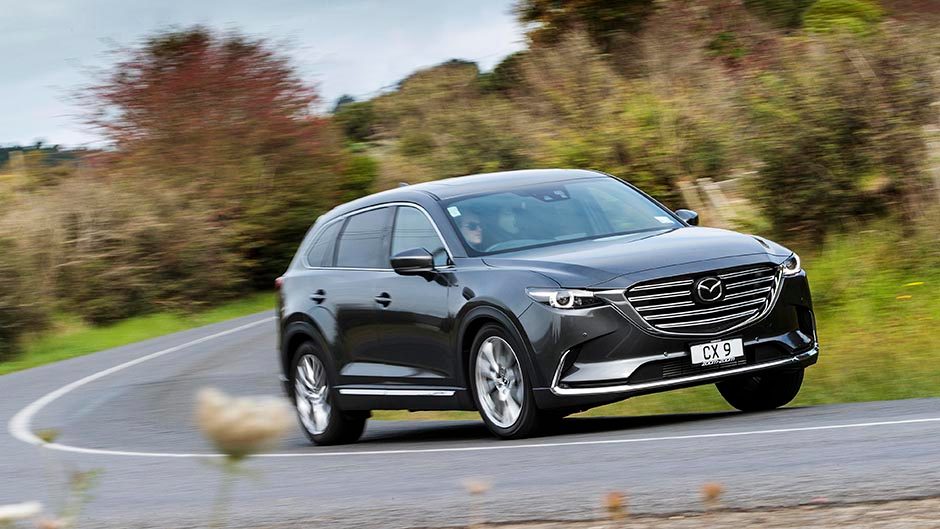 Four or a six?
The main difference between these big buses? Their powertrains. Being American-centric, most of these seven-seater crossovers offer petrol power exclusively, usually a V6. The new Pathfinder sticks with this, but for 2017 there is a new direct injection unit that boosts output from 190 to 202kW, and torque rises 15 units to 340Nm delivered at 4800rpm. Work done to reduce friction, hone the combustion chamber, and revise the intake manifold and valve timing boosts power and improves fuel use, quoted now at 10.1L/100km. Output flows via a CVT, which is improved, revisions making it more responsive. It gets the simulated shifting software to mimic a real auto when it's revved, and there's a sport button to help keep things lively when need be.Like the Mazda, it runs an on-demand type AWD set-up but also offers the option of operating in 2WD, or locking it in 4×4 at lower speeds for better traction off road. Not that these will go far with limited ground clearance and road tyres.
Mazda took a different route with the new CX-9, ditching the big atmo six for a turbocharged four. The 2.5-litre single turbo four potter has been tuned for usable, low-end torque over top-end power, and makes 170kW but a luscious 420Nm at 2000rpm for vastly improved bottom end pull. The unique exhaust manifold with its variable 'flow control valve' helps increase the force of the exhaust gas flow to reduce turbo lag at low engine speeds. Mazda has also invested in making sure the 2.5 turbo doesn't suck a whole lot of juice by employing a cooled exhaust gas recirculation system which helps manage combustion temperatures. It translates to a low lag, high torque engine that doesn't drink excessively and reduces front end mass. Mazda claims an overall average of 8.8L/100km. It uses a six-speed auto and on-demand AWD. Towing claims amount to a 2700kg maximum for the Nissan and 2000kg for the Mazda.
Six is still better though, right?
Hmm, while the V6 is smooth, with an easy low-end delivery, it can't quite match the Mazda's low-rev go; you wouldn't credit a four-cylinder petrol could move a near two-tonne mass the way this does. The CVT aids the silkiness of the V6 with smooth take offs and drops engine speeds right back to just above idle when cruising. But it's not as responsive as the Mazda's six-speed auto which, thanks to the torque, can also afford to lug around in tall gears but is quicker to stir things up when you need to go. There's not much between them against the clock, but whether you're commuting or racing to the bach, the Mazda's four doesn't need to be worked quite as hard. Each transmission has a sport button, and while it's not really needed in the Mazda, it has its uses in the Pathfinder, keeping the revs simmering, which helps improve the CVT's response. The Mazda goes easier on the gas with an average in the 10s possible, whereas the Pathfinder is more in the 12-13L/100km range.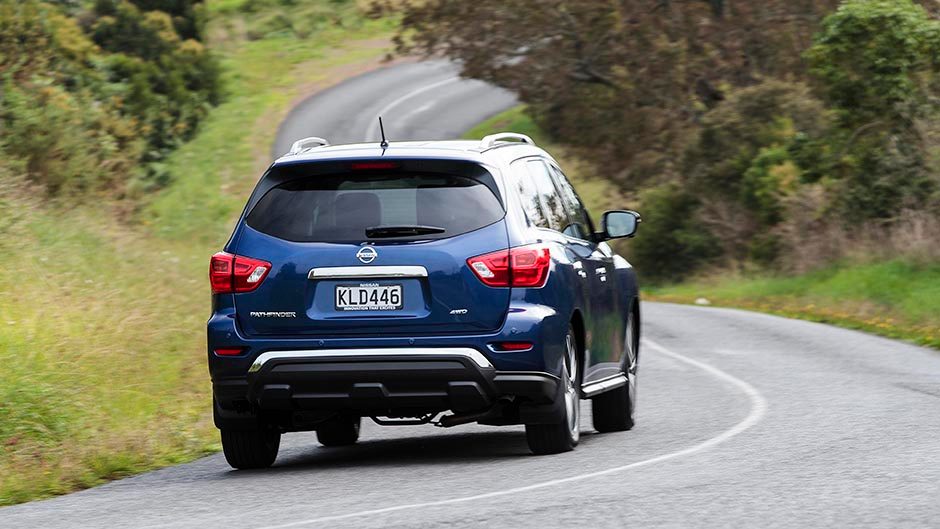 Smooth or connected?
The Pathfinder is one refined rig. It has a smooth ride to match its silky powertrain, and it's quiet on the move, with dB readings in the high 60s on coarse chip. Nissan has rejigged the suspension settings for 2017 to improve body control but it still always feels heavy. The steering has been quickened but could respond faster still and it's rather mute with a slight self-centring effect at commuting speeds. While the ride is never ruffled, torque vectoring might have been a nice addition to keep the front end on line longer in bends. While the Nissan rides better, especially on choppy surfaces, the Mazda manages to feel more car-like in its behaviour. Its ride is a notch firmer, but it comes with better body control and more responsive steering which possesses better assistance and feel. The CX-9 is better balanced, and it takes more of an effort to stress the grip and ESP limits. That you feel more in control makes the CX-9 more likeable.
Easy to use
Though big, each is easy to operate, especially these top spec models with all the gadgets. Nissan's surround view camera might not have the sharpest resolution but it does assist when docking. The Pathfinder's infotainment system may have been upgraded but it feels a generation old next to the Mazda's in terms of ease of use and functionality. And the trip computer could be more forthcoming with useful information; you have to go looking for the fuel use figure, for instance. The old foot-operated brake should have been replaced in the Nissan too. Front seats are narrower in the Mazda, and the driving position is more hemmed in whereas the Nissan's cockpit and seats are designed with bigger people in mind. The level of the finish and the trimmings are superior in the Mazda. Its more modern design also gives rise to a more premium feel inside.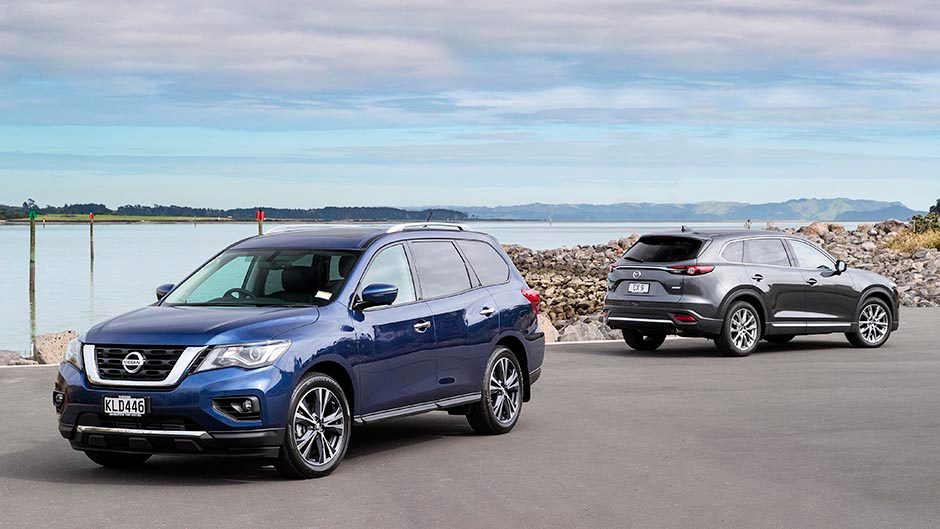 Moving them along
Both are designed to accommodate seven and have similar seating concepts with sliding, folding second rows, and two pop-up seats in the boot. Though there is a bit more space in the Pathfinder, its flat floor means your knees are raised up higher than your hip point when seated which isn't overly comfortable. The rear seat in each is well padded, and reclines too. The second row seats can be moved forward and out of the way with one hand to allow access to the third row, but one of the Mazda's seats can be moved while there's a child seat still fitted, which could prove handy. The final row seats are better in the Pathfinder where there is more adult-friendly space, and a better view out as well. Each has a tether anchor point in the rearmost row. Both have similar boot space despite the quoted figures favouring the Nissan; the stowed seats make for high-set floors but the Mazda's is a little taller and wider overall.
COTY the winner?
Yes. The CX-9's value, powertrain, driver appeal and interior finish win the day. The Pathfinder has more room and tow, but isn't quite as polished as the cheaper Mazda.
| | | | |
| --- | --- | --- | --- |
| Model | Mazda CX-9 | Price | $62,995 |
| Engine | 2488cc, IL4, T/DI, 170kW/420Nm | Drivetrain | 6-speed auto, on-demand AWD |
| Fuel Use | 8.8L/100km | C02 Output | 206g/km |
| 0-100km/h | 8.12sec | Weight | 1975kg |
| | | | |
| --- | --- | --- | --- |
| Model | Nissan Pathfinder Ti | Price | $69,990 |
| Engine | 3498cc, V6, DI, 202kW/340Nm | Drivetrain | CVT, on-demand AWD |
| Fuel Use | 10.1L/100km | C02 Output | 234g/km |
| 0-100km/h | 8.34sec | Weight | 2076kg |