Globally one in four new Mazdas sold is a CX-5. In New Zealand it has been the most popular medium SUV for the past five years. Now facelifted, with improved dynamics and refinement, it is set to kick on.
Mazda's CX-5, New Zealand's most popular medium-sized SUV since its introduction in 2012, has undergone a significant facelift for 2017, with changes to styling inside and out, and improvements to NVH, and driving dynamics, along with a safety and specification upgrade.
There has been no change of note to the powertrains; there's still the option of a 2.2L turbodiesel and normally aspirated 2.0L and 2.5L engines, all four-cylinder mills. CX-5s powered by the diesel and larger 2.5L petrol engine are all 4WD. The transmission common to all variants is a six-speed automatic with a manual sequential gate. The auto has been upgraded and now adapts to driver behaviour.
With added specification, particularly in the safety area, prices have risen slightly, by $700 on average, and range from $39,995 for the base GLX to $57,495 for the Limited turbodiesel. The petrol Limited variant, 4WD like the diesel, costs $2000 less at $55,495.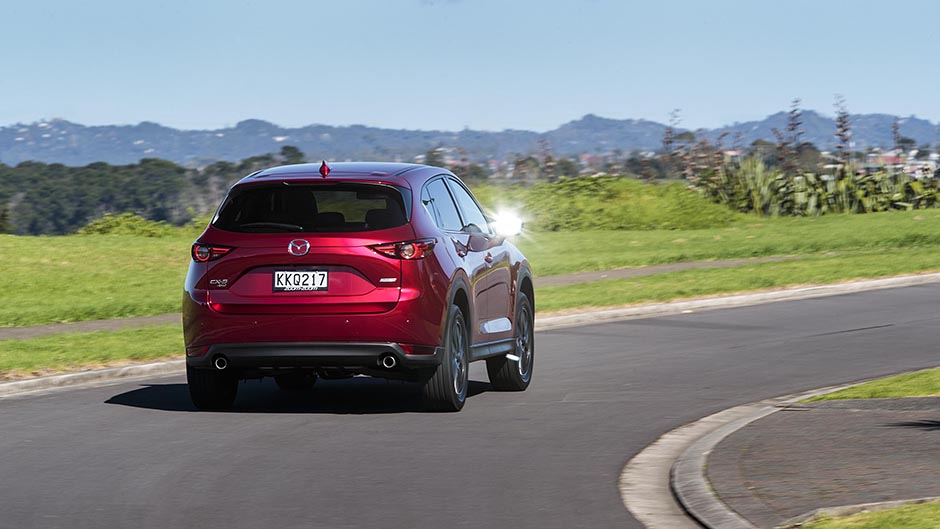 All versions now get autonomous emergency braking at city speeds, and G-Vectoring control, while the top Limited versions come with head-up display, a powered tailgate, active cruise control and a premium 250wpc 10-speaker Bose sound system.
CX-5 programme manager, Masaya Kodama, was on hand to launch the 2017 CX-5 locally, explaining that the aim for the upgrade was to "refine every aspect as viewed by all occupants". To that end even those in the rear seat were not overlooked, getting their own air vents and a pair of USB jacks for charging mobile devices. The facelift also targeted a "more premium feel for the vehicle". There's even a new hero colour, Soul Red Crystal Metallic. Being more vivid and with greater depth, the sculpted Kodo design features in profile are more readily appreciated.
To behold, the freshened Kodo design has been simplified using the "less is more" philosophy, with a stronger, bolder front end, thanks in part of the new slimline LED headlamps. There has also been a slight improvement of drag coefficient, reduced seven per cent, the result of a lower ride height and tighter panel gaps, among other things.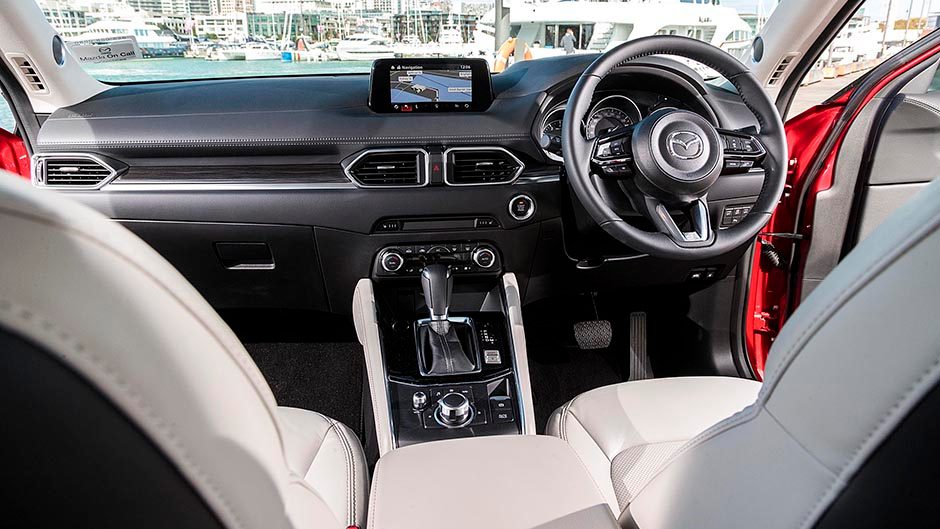 The overall shape vaguely resembles that of the F-Pace, at least to my eyes, and size is similar. While some important dimensions like wheelbase and width are unchanged, length contracts by 10mm, and the overall height is also down by 20mm. The designers have managed to eke out an extra 52L of luggage capacity, up from 403 to 455L, but new is 40:20:40 split folding, spring loaded as before, and there are now two seat back angle positions. The rear doors also open further, to 80 degrees, and the hip point lowers by 14mm for easier access.
The interior is also more sophisticated with a new centre console including a higher resolution touch screen, fresh dials, and restyled steering wheel, easier to grip at the theoretically ideal quarter past nine hand position. Upper grades get a full head-up display with traffic sign recognition. Moreover, visibility improves with the A pillar repositioned 35mm rearwards. There's a great all-round view, thanks to large external mirrors, and a sizeable upright rear screen, visibility unimpaired by low profile headrests in the rear.
However, it's noise on the go that's arguably the biggest change, thanks to implementing double glazing, triple door seals and adding extra sound deadening in key areas. Overall weight increases by 40kg as a result of these changes, and also chassis strengthening – torsional rigidity rises by 16 per cent – while added specification contributes.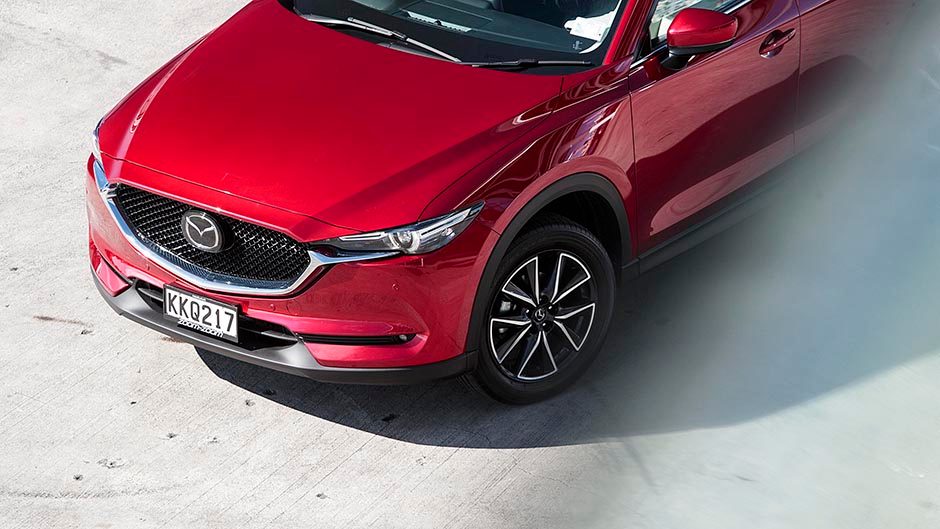 Dynamically the CX-5 has long been one of the most interesting offerings in the sector, and with key changes, like a lower centre of gravity, wider tracks and wheels, along with chassis and suspension improvements – stiffer bushes, and revised dampers – and implementation of G-Vectoring Control, that remains the case. We drove the Limited Petrol 2.5L version from Auckland to the south end of the Coromandel Peninsula and can confirm the deportment in corners is better, with more effective body control and torque is shuffled efficiently rearward as grip up front tails off, so there's little in the way of tyre squealing at the limit. There's a nice overall balance to the vehicle, with good resistance to understeer. It remains light on its feet and is still arguably the pick of the sector and one of the few contenders that can actually claim sports utility status. Yet the ride is also accomplished, nicely modulated thanks to the addition of G-Vectoring Control which claims to help calm occupant movements at everyday cornering speeds.
Next day we drove the 2.2 diesel Limited variant back to Auckland from the southern Coromandel. We noticed a touch of sledging approaching the grip limits, the extra weight of the diesel unit over the front axle evident. However, the 169Nm of added torque also didn't go unnoticed. While the 2.5L petrol engine makes a decent fist of things in town, feeling breezy even at lower revs, at highway speeds it needs to be worked harder compared with the diesel or other turbocharged opposition. Overtaking manoeuvres need a bit of planning and extra clear road on the danger side. If towing or plenty of rural running is on the agenda, the diesel is probably the powerplant we'd choose but for town use, we'd likely opt for the petrol. Mean fuel use on open road running is in single figures for both engines; the diesel is rated at 6.0L/100km, the petrol at 7.5L/100km.
Both power units, as mentioned, utilise a six-speed automatic transmission. This incorporates a manual sequential gate adjacent to the driver, with a push of the lever away for downshifting, our preferred orientation. It got little use in the diesel, a little more in the petrol variant which also has a Sport setting for the powertrain.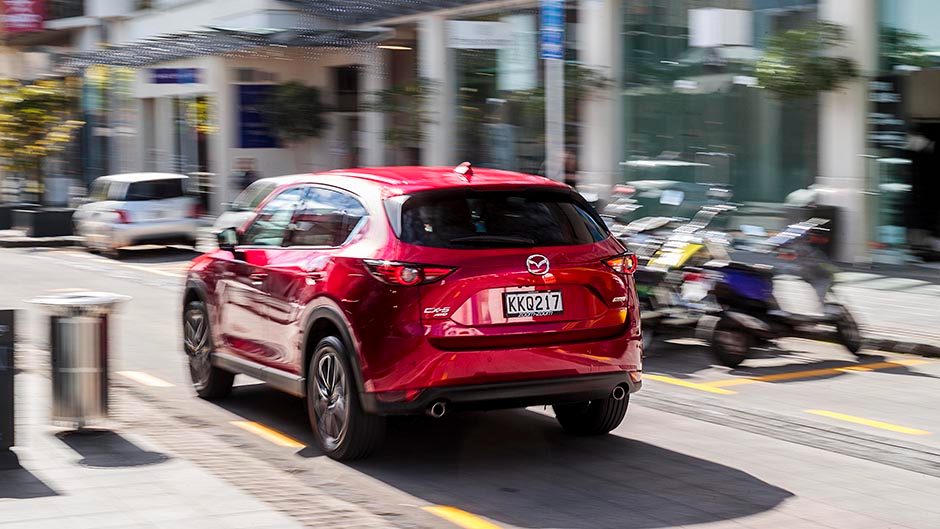 We asked Kodama-san about the possibility of the CX-5 getting the CX-9's 2.5 turbopetrol at some point and he was unwilling to comment – 'they'd fire me' – but it's a good bet it will turn up in a sports model eventually. That would prove a feisty range topper.
In terms of projected sales, Mazda believes it will sell over 3000 CX-5s in the next 12 months, something it has never done before. History suggests roughly three-quarters of buyers will opt for petrol, and a similar proportion for AWD. Two-thirds choose the GSX models and 28 per cent the Limiteds. Less than one in ten sales historically have been of the entry-level GLX but with added specification like 17-inch alloys, LED headlights, a reversing camera, autonomous city braking and G-Vector Control, the base model with front-wheel drive only and powered by the 2.0L 114kW/200Nm SkyActiv four may increase its share. The GSX is popular because it comes with the option of all three engines, the bigger ones adding 4WD to the mix, along with automatic headlights and wipers, satellite navigation, dual zone climate air, and a smart key.
Mazda New Zealand has a new managing director, David Hodge, taking over from Andrew Clearwater who oversaw annual sales rising from 3200 25 years ago to 11,200 last year, and overall market share rising from three to eight per cent. CX-5 is easily Mazda's best seller currently, accounting for one in every three sales, and should increase that share with the new model.
| | | | |
| --- | --- | --- | --- |
| Model | Mazda CX-5 Limited | Price | $55,495 |
| Engine | 2488cc, IL4, DI, 140kW/251Nm | Drivetrain | 6-speed auto, on-demand AWD |
| Fuel Use | 7.5L/100km | C02 Output | 179g/km |
| 0-100km/h | 8.22sec | Weight | 1666kg |