We journey to Matamata Panelworks, a workshop responsible for turning out some of New Zealand's best custom creations and restorations, complete with all-steel credentials.
Those in the hot rod fraternity know the prestige of a car with an all-steel body. It's easier and cheaper to form custom panels from fibreglass but they doesn't hold the same cachet as those formed from hand-beaten steel. And it's the same for any custom creation, something fashioned from steel, laboriously beaten and rolled into shape by hand is sure to be appreciated more.
Keeping the steel in a restoration job is favoured too, there's nothing worse than poo in your panels come show time. It's this obsession with steel that has seen Matamata Panelworks become the 'go to' for those seeking to push the boundaries with a restomod or custom, as well as those wanting a restoration job where the preservation of the steel is paramount.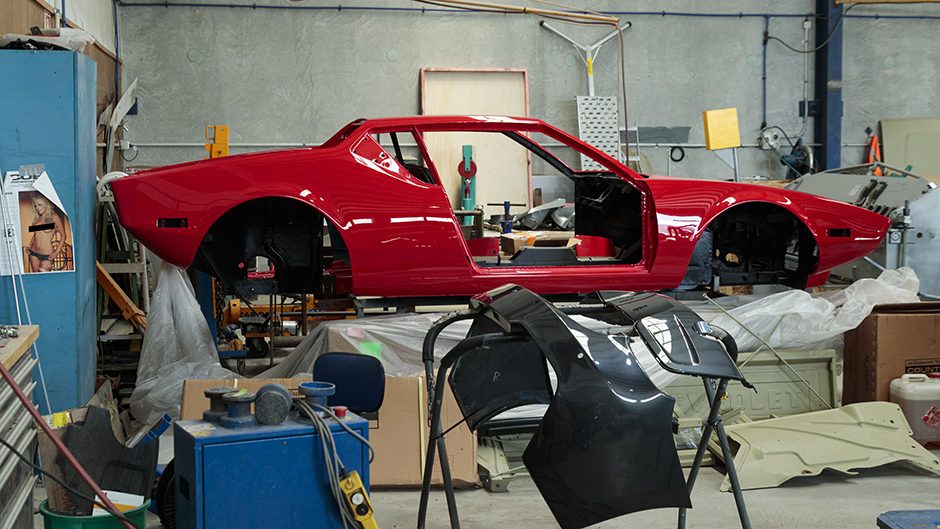 Current owner, Malcolm Sankey, bought the Panelworks business in 2000 after managing it for a few years prior. He says his passion was ignited by his first restoration, that of a 1970 Boss 302. During those early days he also restored his own '70 Mach 1 along with a Mustang for his brother and he says Panelworks' reputation for high quality builds goes back to those early Mustang restorations.
"We went to a Mustang convention way back, but my older brother couldn't make it. He asked me what the standard of car was like and I said it was a bit disappointing. Well, little did I know, he told a work colleague that I thought the standard was rubbish, then the word spread that Panelworks reckoned the cars were crap at the convention. Yes, we said some things in a passing conversation that were taken the wrong way, but I reckon when we showed our cars at the next convention, we lifted the standard. I'm not trying to be big headed – there were a lot of shops doing a similar thing – but we were new and said this is the level that we are going to do things."
Panelworks started doing open days in the early 2000s, to let the public see what they get up to and show them it's not a dirty dark workshop from the old days. This, along with the level of cars they were building, helped generate more business, attract good staff and the standards kept improving.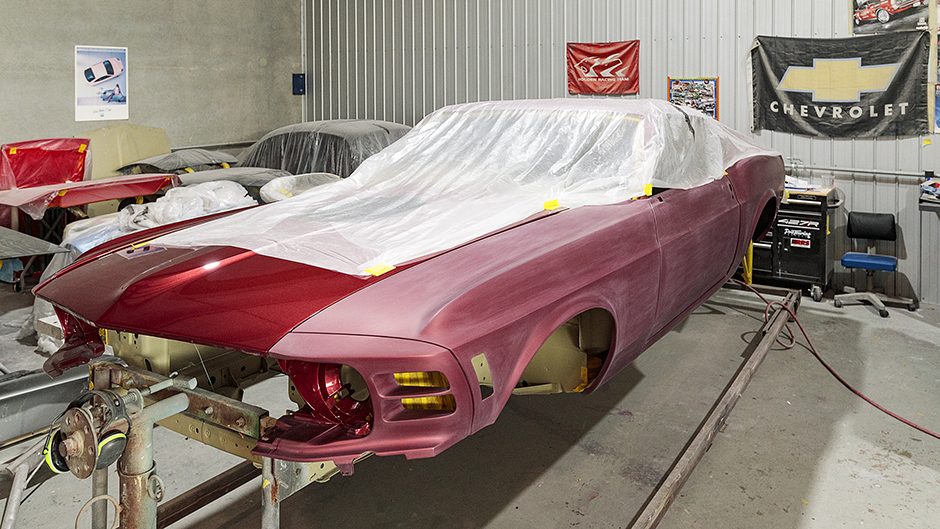 "We started to push the limits more in our workmanship, challenging each other to see just how far you can push a bit of steel, and things kept improving until where we are today."
Panelworks outgrew its original premises, moving to its current site in 2005. The business generates half of its revenue from its day-to-day functions as a regular panel and paint shop, while the restorations and custom builds bring in the rest. The ultimate challenge came when a customer asked Panelworks to build an all-steel Eleanor Mustang and Sankey says that the man-hours that went into that were huge but the car put them on the map in terms of restomods.
When we visit, there is an interesting build in the works with the body of a 1967 XR Falcon being married to the chassis of an FG GT-F. It's been given the wide body treatment to stretch it over the broader modern underpinnings and big, deep dish alloys. The flared arches are obvious but as you move your way rearwards, following the XR's swage line, it starts to flare out subtly as they've added more than an inch of extra body width around the rear doors, all the widening work hand made in steel.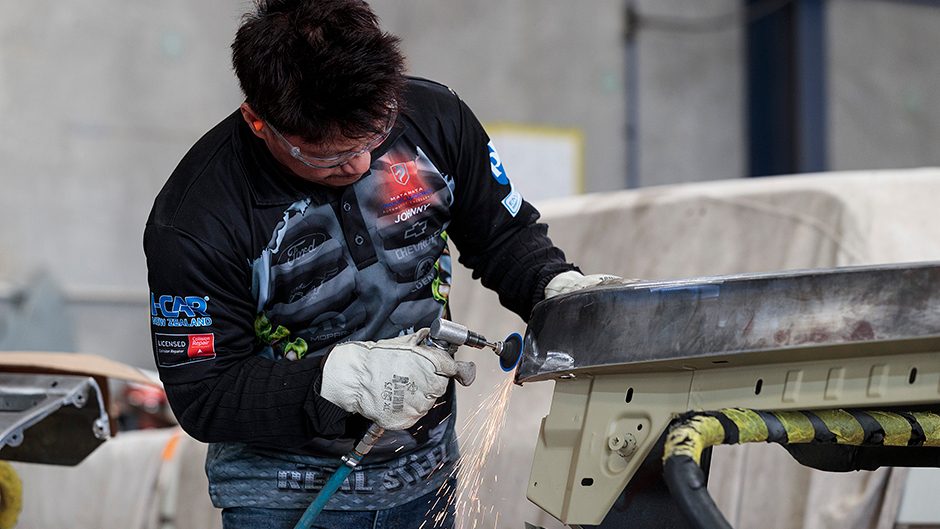 There are other subtle details like the removal of the drip channel, the rear screen being flush mounted, they've reprofiled the rear end and the wild lower diffuser has been fashioned from steel.
One problem facing the industry Sankey says is finding skilled staff. "I really want to do a scholarship scheme through here but to achieve it I would need some backing. I work for wages, and put the rest back into the business. I really want to get a young guy and put him in the restoration side of things to learn. A lot of panel beaters now are really just panel fitters, it's a lost art. I want to get them here learning how to shrink and stretch panels, and save the steel."
Other jobs in the shop include a Monaro in from Australia awaiting some panel work, an Isetta from Auckland, an old Pontiac in need of a rear guard repair, the cab of a Chev pick-up and a dinged up 911, while the crew are busy working on an insurance job, repairing a crashed Valiant. They're in the process of making a new front panel by joining the front of one and the rear section of another. The fabricator is making a racket 'slap sticking' the join in the guard to smooth it over as part of the all-steel repair. There's also a 1957 Belair in for an 'Art Morrison' chassis swap.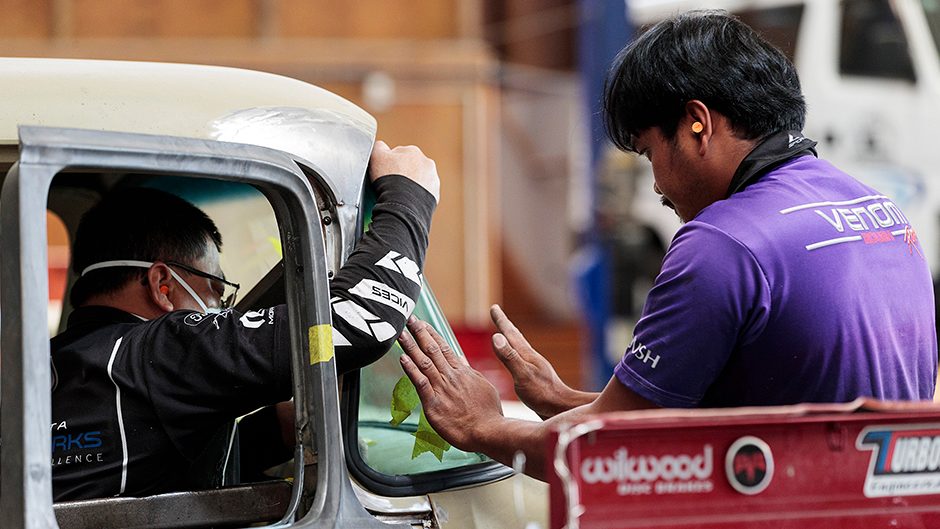 Their fabrication work has seen them become a destination for De Tomaso Pantera restorations with two bodies in the shop, one from Dubai another from California. Being virtually impossible to source new bits for now, Panelworks has fabricated a new roof skin, rear quarter, inner and outer sills and the floor pan for the red shell from California, all wrought by hand. Sankey says there is a DeTomaso Pantera in Matamata that was once owned by Carroll Shelby and also Jim Henson of Muppets fame, and it will be heading their way for a full restoration soon too.
Sitting outside is what some might term a wreck of a 1967 Fastback, but it's the basis of a planned project. Sankey reckons it's actually a pretty good body, worth about $28k as is, and is a good starting point for an Eleanor. The idea is to make a car to take to SEMA and maybe auction it off to make a bit of coin to help pay a few of the bills.
In one of the assembly rooms, a place where the cars come together in their final stages of the build, is a 63 Fairlane that looks fairly stock, though the low ride and side exit exhausts suggest otherwise. Sankey calls it a typical build for them. "It looks genuine but it has full RRS Phase 5 rear suspension with the torque arm, new front struts and lower arms and rack and pinion steering."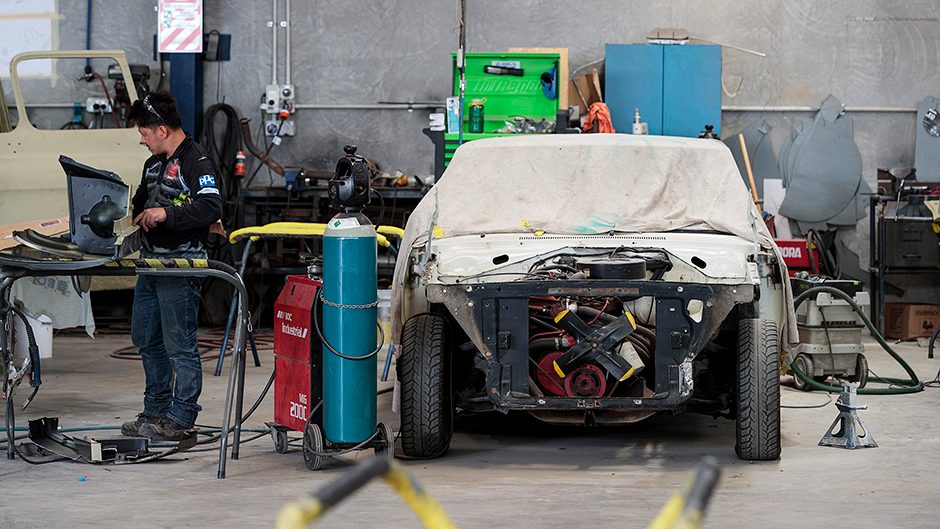 Inside the gauges and dash have been modified to fit new dials and there's a bluetooth stereo all hidden up behind the old original stuff. The shifter is a manual with the t-bar lock out for reverse, but the car actually has an auto. "This is what most of our customers are wanting now, the old school look with the handling and performance of a more modern machine."
Panelworks also has a full paint shop across the road, a 1970 Mustang there on a rotisserie half way through a lustrous paint job. But it otherwise sticks to its knitting in other areas with the trim side of things done elsewhere, while on the mechanical side, they deal mostly with crate engines and matched transmissions, and bolt up suspension bits which can be handled by the team.
Sankey himself loves Fords, still owns that 1970 Mach 1, as well as a 64 Falcon Sprint, a Mk1 Cortina and a Mk1 Escort . He says he gets grief because he doesn't drive his Mach 1 much. "People want to buy it, but I won't sell it. It was the last car I did with my own hands, though the guys here will argue that. I had a mishap with my jandals one day and crashed it, so they say they were the last to touch it, but that sentimental value means more to me."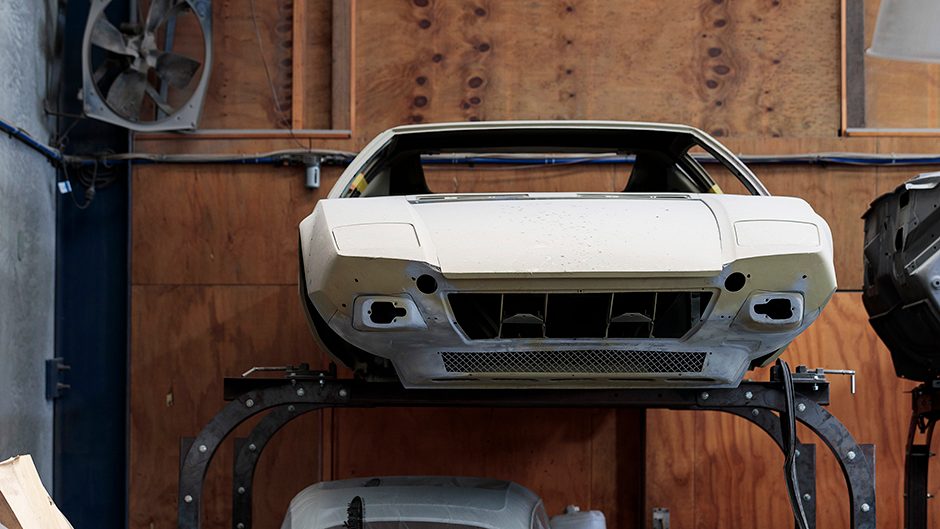 He has to acknowledge his family, particuarly wife Nicky, as he says he wouldn't be here doing what he loves if it wasn't for her putting up with him. The Cortina and Escort are more for his kids, Shelton, Dean and Kerielle, with plans for a Focus RS engine swap for the Escort.
Sankey says their typical customer has had a real passion for a particular car and most are at a time in their lives where they have the means to indulge that passion.
"The ones we really click with are those that have done their research. When they come to see me I tell them I'm going to interview them. I want to know what makes them tick, what's important to them and transfer that to their car. Do they have grandkids? We'll need some diagonal belts in the back. Like their music? We'll build a custom stereo with all the tech but it's up in behind all the old stuff so you can't see it. If you like drag racing well then we are building something completely different to a customer that wants to go to a convention and win awards."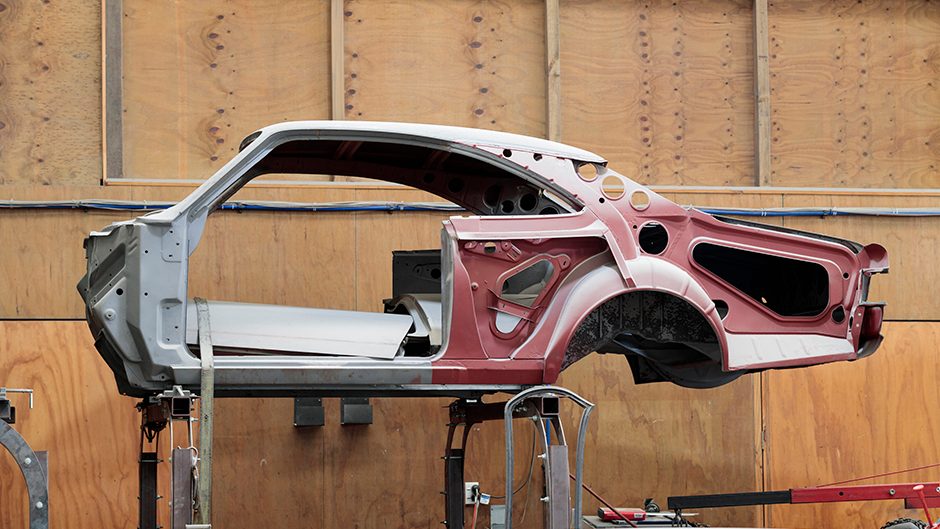 What does the average customer spend on a full restoration? They've had some big dollar cars roll out of the works, the most being $600,000, while the lower end is probably around $150,000. "The owner is always in control of the costs," he says. "I remember restoring a 69 Mustang for $80,000 total, but that was 15 years ago, at the old rate of $45 an hour." The hourly rate these days is $85 plus GST for the restoration work.
"I've been told we should be charging more, but you look at the population of NZ. Within that, there's a group that likes muscle cars, and within that is the smaller group of people that can actually afford muscle cars. But then there is an even smaller group that like them, can afford them and have a wife that also likes them. So it's a pretty small pool and you have another five or so shops going after those same people. You have to have an edge that offers them something different. Even so I have customers that go through the invoice at the end of each month and scratch their heads, so imagine if we were another $40 an hour on top of that."
Sankey says the personal touch is lacking in business today. "It's all about the dollar, how much and how quickly you can make it. If you go to my accountant he asks me what am I doing? People will say that I'm making enough money, but it's not about that for me. I love the lifestyle. Most people that walk in as a customer leave as a friend, that's hard to do when you're in business these days."
He says he really loves revealing the cars to his customers; "the look on their faces is everything, and honestly means more to me than making an extra dollar."