In one of the most stunning tin-top series finales in recent history, Kiwi Liam Lawson has had to settle for second place in the 2021 DTM series following controversial actions from his lead rivals at the Norisring finale. Mercedes pilot Maximillian Gotz instead claimed the crown.
Starting from pole, Lawson entered the race with a handy points lead and with tail gunner teammate Nick Cassidy (filling in for Alex Albon) just two spots behind on the grid in third place. So long as the Red Bull star could finish towards the pointy end, even if main rivals Kelvin Van Der Linde or Gotz won, he would be the category's youngest champion ever.
Those hopes all went up in smoke off the start, though. Van Der Linde dive bombed Lawson at turn one on the opening lap. Running three wide and with the gap shrinking, the Audi driver ended up cutting the course and skipping over the ripple strip and crashing into Lawson's Ferrari.
This sent the former TRS champ wide, forcing him to stop before he could nose the outside wall and, to add insult to injury, it impeded Cassidy simultaneously. Both cars would resume last and second to last, with Lawson's steering suffering what turned out to be terminal damage.
After lengthy deliberations, officials issued Van Der Linde with a five-second penalty to be observed at his pit-stop. The severity of the penalty drew ire from fans, particularly after a drive-thru pit-lane penalty was handed earlier in the race to another driver for speeding in pit-lane.
Following stops, the race descended into chaos, with plenty of aggressive contact as Van Der Linde and Gotz vied for the win. While Lawson limped in last place all race long, instructed to stay on track by his team despite a clearly wounded car, Van Der Linde and Gotz battled in third and fourth. Even with Lawson last, only a race victory from either driver could earn enough points to defeat him.
The race took a turn when Van Der Linde and Gotz made slight contact out of the final corner. While the clash seemed mostly harmless at first, Van Der Linde ended up spinning out of third place on corrected just a few corners later, effectively ending his championship hopes.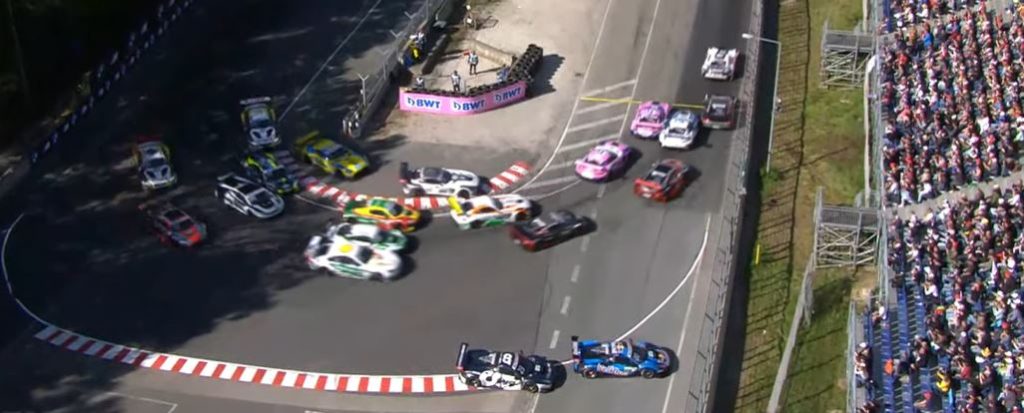 This left Gotz in third place; soon becoming second and then first after his Mercedes compatriots ahead of him, Philip Elis and Lucas Auer, deliberately slowed to allow Gotz into the lead. In Auer's case, this meant surrendering a seven-second lead. Cassidy made an aggressive fightback in the final laps to challenge for a podium, but was met with a Mercedes wall. He eventually finished outside the top 10 after making contact several times with Ellis.
Reaction to the championship finale has been vitriolic, with thousands commenting on the DTM's social media updates. An emotional Lawson let his view be known at the championship podium presentation.
"Exact same as yesterday. I really thought the guy [Van Der Linde] would learn after what he did yesterday. To do the exact same thing … Obviously it ruined our race from there," Lawson said post race.
"Pretty gutted. Really just disappointed for the whole team, they really deserve this. They've worked so hard this year. Every weekend they've given their absolute maximum.
"I really wanted to re-pay them this weekend with the title and we had it obviously right there as well with pole position again today. Car was really really good. Had a really good start but, sometimes you can't stop the same idiots from doing the same stupid things."
Van Der Linde posted a cryptic response on Instagram, saying; "In a year when many things happened, the right guy won today". He has disabled the ability to post comments.
Team orders have long been a controversial topic in DTM. Most notably, the series drew global scrutiny in 2015 when Audi's factory team instructed one of its drivers, Timo Scheider, to deliberately take out another driver. The series declared in mid-2020 that it would be banning team orders; Audi Sport boss Dieter Gass telling Motorsport.com that ITR Chairman Gerhard Berger has requested a ban, and it had been agreed upon by the team's in the form of a gentleman's agreement.