Lexus recently updated its RX range with fresh styling chops, tweaked dynamics and added safety features. We check out the top-shelf 450h F-Sport.
It's responsible for almost one in three Lexus sales here, is the RX range, revitalised recently with a styling refresh and a tech upgrade. While this fourth-generation machine is brushed up for 2020, it's not merely a cosmetic or spec enhancement, for the engineers have also made some chassis and suspension updates, aimed at enhancing rigidity, ride and handling.
There are eight models, all powered by a quiet, refined 3.5-litre naturally aspirated V6. All RX 350 variants are petrol powered only, three with five seats and one with seven, the RX 350L. These range from $97,400 to $109,600. Meanwhile, the four RX 450h variants are all hybrids. Again three are five seaters, and the RX 450hL is the two adults plus five kids variant. Both of the seven-seaters come as Limited specification models, though unlimited reflects better what goodies they get.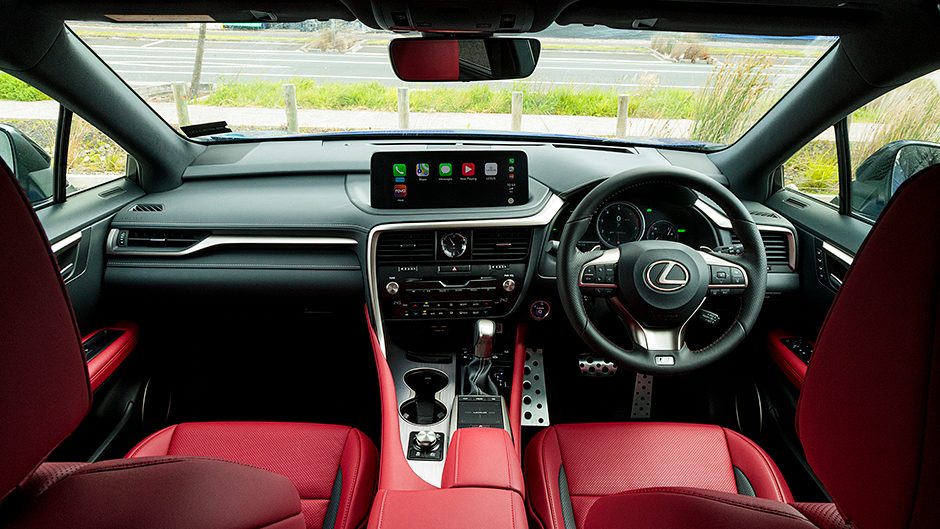 More than 50 percent of RX sales are for the hybrid powertrain option, according to Lexus GM, Neeraj Lala. He believes this trend will continue to gather pace. Is the 450 worth the extra then (ranging from $116,400 to $127,600)? It's one of the hybrids that we're driving here, the RX 450h F-Sport, which happens to be the top dog.
Rounding out changes to the range, the characteristic spindle grille that adorns every Lexus (and looks better on some than other models) has been updated on the RX, and apparently every block in the grille is a different shape, which I found hard to believe. So I went out and checked that. Many look similar but because of the 3d shape of the grille – it isn't merely flat – they probably are all unique. Fancy that.
Either side of this enormous structure are new adaptive LED headlights, dubbed the BladeScan system. Light from the diodes shines onto a pair of rotating blade-shaped mirrors, reflecting it onto a lens that illuminates the road ahead. This system reduces brightness in the area of oncoming traffic, redirecting light to the side of the road so cyclists and pedestrians can be detected more easily at night.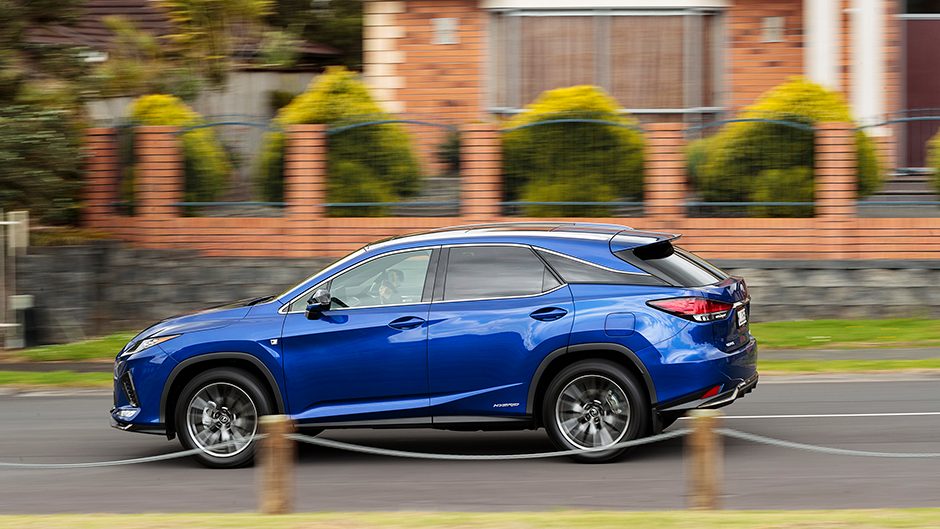 We didn't see any nocturnal ramblers but the lights for sure turn night into day. They're bright, and you don't have to do a thing when using them because it's all done automatically. Under the skin, extra spot welding and high strength body adhesives are said to improve bodyshell strength, while a thicker rear sway bar limits body roll. New shocks better control high frequency bumps for an improved ride, while both F-Sport models gets performance dampers that are said to enhance vehicle stability.
We kept alternating between Normal (for rutted roads) and Sport for smoother surfaces, both of which worked quite well. Also new for the line-up is torque vectoring by brake which limits understeer and improves vehicle stability. On road, it's the quiet progress you note first off. Being a hybrid it kicks off in EV mode so after pushing the start button there's simply no noise.
But that lasts all of a few seconds; the NiMH tech is good for the usual limited amount of EV running. The 3.5 V6 runs on the Atkinson cycle so is down a bit in power and torque (193kW/335Nm) compared with the V6 in the RX 350 variants (221kW/370Nm). However, the hybrid has electrical assistance in the form of a 123kW/335Nm front motor and a 50kW/139Nm rear one. System power only is quoted at 230kW. No overall torque figure is stated.
Performance figures are claimed for the 450h alone, 0-100km/h in a quoted 7.7sec, and unusually 80-120 is also stated, Lexus reckoning on 5.8sec. Maximum speed for all variants is said to be 200km/h. We didn't check the veracity of the latter but we couldn't better 8.72sec on the sprint run. By contrast, they're pessimistic about the overtaking time, with all runs around the 5.5sec mark.
We tested the RX 350 too, and it easily eclipsed the 450. But then these hybrids aren't really about performance, are they? They're more about fuel economy. Lexus claims 5.7L/100km overall (131g/km) whereas the RX 350 is said to average 9.6L/100km (223g/km). When we picked it up the long term average for the 450h was reading 10.6L/100km but driven easily on the open road we got it down to 8.6. However most of the time it was stuck on 9.6 overall. Perhaps the lower figures are possible in stop-start town running. Its almost 2.2 tonne wet weight cannot help with fuel consumption.
However, it can tow, its braked rating being 2000kg. With all that weight riding high it's dynamically nothing special but owners won't care about that much. It's refined on the go, gliding along with very little in the way of extraneous, unwanted noise. And in Sport modes the body movements are better controlled.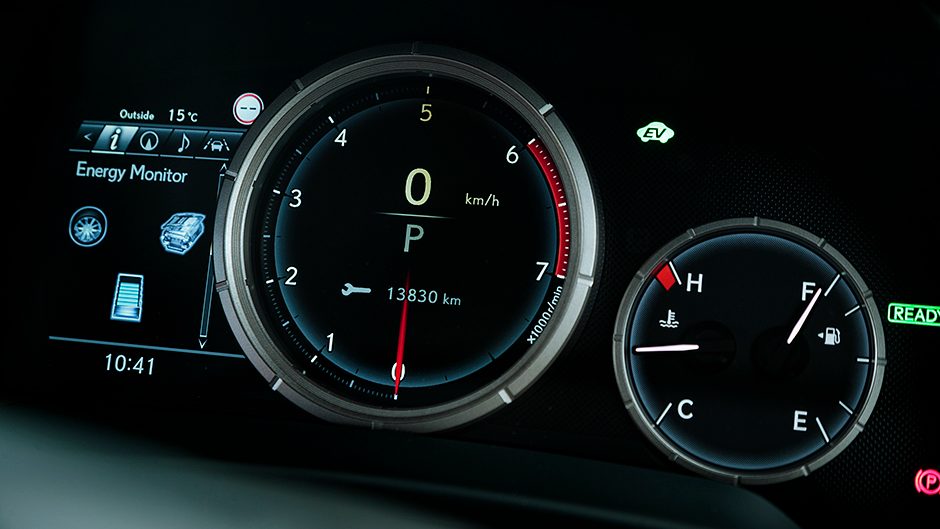 Steering and brake pedal numbness aren't especially endearing. Mind you, with a regenerative aspect to brakes, it isn't alone in that regard. Nor was its best stop from 100 all that inspirational, at 37.46m. Again with the weight. So this is a machine you tend to glide in more than push on with. And there's simply an enormous amount to distract you from how exciting the drive may not be.
The interior is beautifully crafted, the leather and wood bits especially. Flare red might not be everyone's idea of a fine hide colour but there's a black and white alternative. The contrasting black inserts break up the blood red hue, and the seats are fully power adjustable, like the steering column. Passengers fair well too, especially those in the back who get plenty of leg room (up by 93mm), thanks partly to the flat floor. Front seats are both heated and ventilated in the F-Sport, and there's a power recline function for rear seat occupants who also get a third zone of air. There are six USB ports for charging.
Overhead there's a panoramic sunroof (the lone option, $3000) the front section of which opens. On the windscreen a head-up display depicts handy information like speed limits in the local area, though at times the data were either missing or incorrect. New for the RX is smartphone connectivity for both tribes, a 12.3 inch touchscreen, and wireless charging.
The Lexus Safety System+ package is updated and now comprises AEB with pedestrian and cyclist detection, active cruise and lane keeping, along with blind spot monitoring and much more. Figure on 10 airbags here, should the worst happen. There's also a reversing assist that autobrakes if you are about to take out a bollard or passing vehicle.
On the convenience front luggage capacity is 453L to the tonneau cover and 519L to the top of the rear seats. Power split folding leads to a potential 1583L space. And everyone will know you are opening the boot with a loud bonging accompanying the powered operation.
If refinement, economy/emissions and an impeccable reliability record are big on your must-have list, the 450h might work, but an Audi Q7 for similar money is worth a look as it offers similar fuel economy with superior performance and dynamics. Or maybe a Touareg if five seats are sufficient and the budget's a bit less.
| | | | |
| --- | --- | --- | --- |
| Model | Lexus RX 450h F-Sport | Price | $127,600 |
| Engine | 3456cc, V6, DI, 193kW/355Nm | Drivetrain | CVT, AWD |
| Fuel Use | 5.7/100km | C02 Output | 131g/km |
| 0-100km/h | 8.72 sec | Weight | 2195kg |