No longer a new kid on the block, the range of LDV light commercials continues to expand and the Chinese brand is targeting the New Zealand market with competitive product and pricing.
More than years ago on my first visit to China I realised that much like the Korean and the Japanese automotive manufacturers which both started out producing fairly rudimentary vehicles, that it wouldn't take long for the Chinese domestic brands to catch up to global standards.
The 2017 LDV G10 van range illustrates that point perfectly, because here is an attractive-looking, well-engineered and fit-for-purpose workhorse with a competitive line up of price points as well as the choice of two petrol engines, one diesel engine and two transmission options for Kiwi buyers.
It has now assumed the role of the favourite Kiwi tool of trade fleet van taking over from the long retired mobile toolbox known as the Mitsubishi L300 and the Kia Pregio.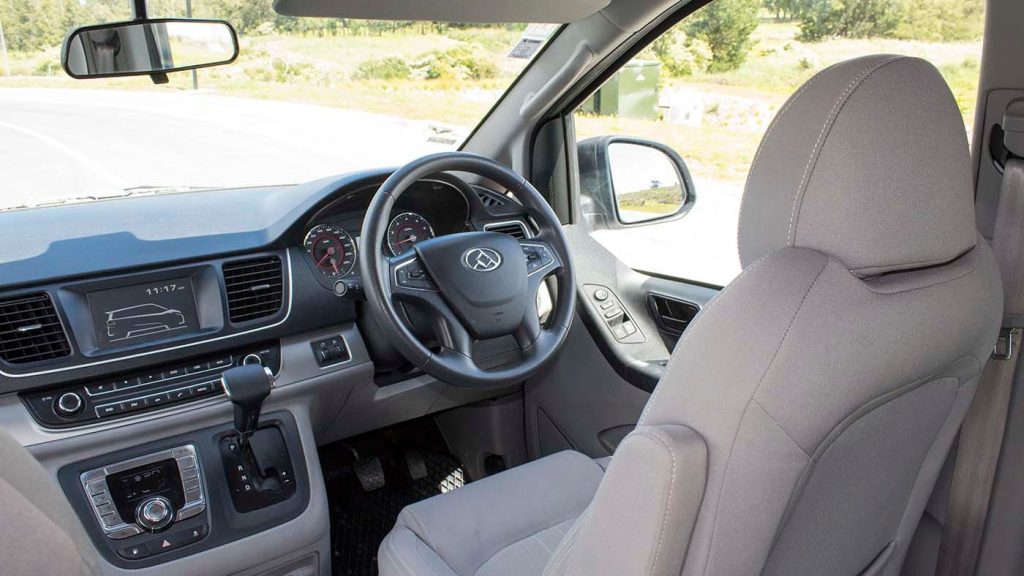 LDV's parent company is state-owned SAIC Motor which owns the MG, Roewe, and LDV (Maxus) brands and it also has a long history of joint venture manufacturing operations in China with Iveco, Volkswagen and General Motors.
No surprises then that the indicator and windscreen wiper/washer stalks used in the G10 are straight out of the GM parts bin, and SAIC Motor are also very proud of the fact that Lotus had a hand in tuning the Van's suspension, and the six-speed automatic transmission is supplied by German manufacturer ZF.
While it is not afraid of working hard, the G10 Cargo isn't a billy basic unit, it offers drivers and fleet owners a high level of comfort and safety as well as competitive carrying and towing capacity which is needed in a modern tool of trade vehicle.
Our test vehicle was the automatic petrol model which has a 165kW / 330Nm 2-litre turbocharged engine which is almost verging on the ridiculous for such a commercial vehicle, it is safe to say this variant is anything but underpowered.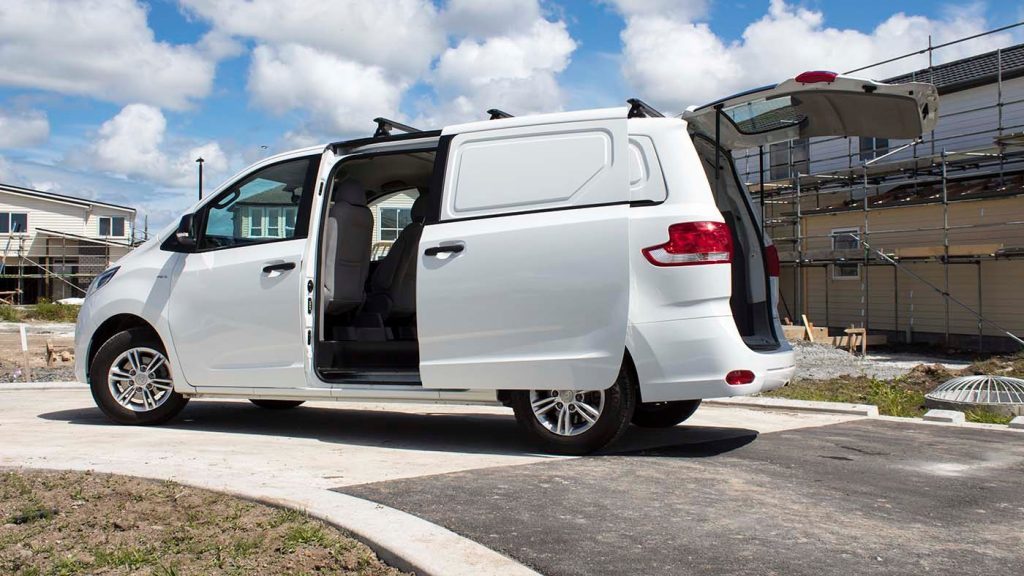 The cabin of the G10 Cargo has seating for two people, with armrests for both the driver and passenger, and there is a floor mounted plastic tray between the two seats for storing phones or docket books and the like.
We found the seats were very comfortable and supportive, and there were plenty of places to put the myriad of bits and pieces of daily life which we carry around.
Unusually for a G10 this one was not fitted with the LDV-supplied composite bulkhead or the cargo barrier, but it did have the three-bar aero roof racks as well as the preparation wiring for a tow bar.
Other additional cost items from the LDV parts and accessories catalogue include monogrammed canvas seat covers, lamson shelving, full glazing, nudge bar, monsoon shields, and bonnet protector.
The media centre offers a touch screen to drive the bluetooth telephony and audio functions, and it also provides grid lines on the screen when the reversing camera and park assist functions are activated.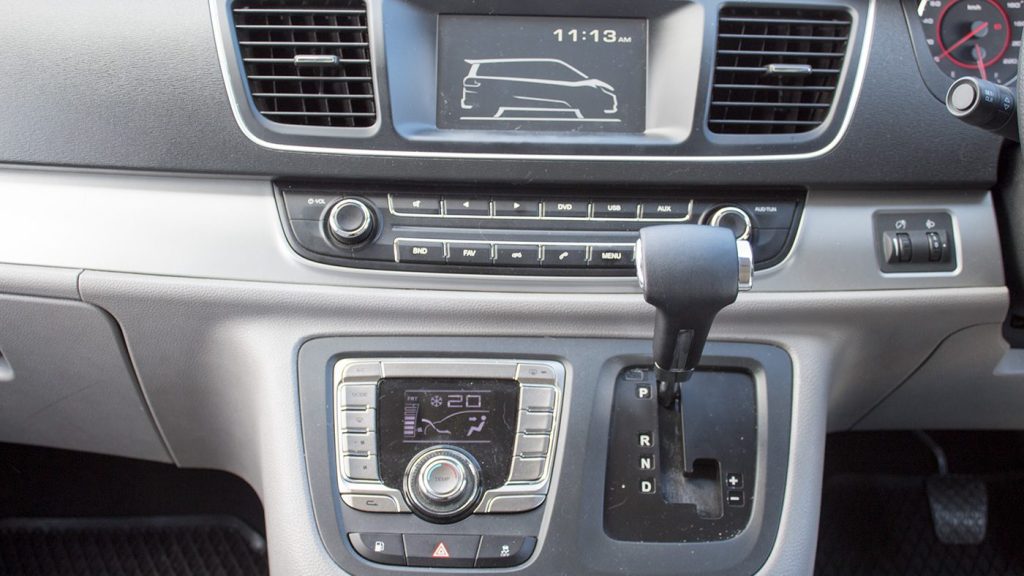 Standard features on the G10 include air-conditioning, cruise control, power windows and mirrors and keyless entry.
More importantly for fleets the safety features of the G10 includes Bosch electronic stability programme, tyre pressure monitoring system, and roll movement intervention.
The G10 Cargo offers 5.2 cubic metres of space which can accommodate two standard Chep pallets and it has a payload capacity of 1093kg. The load space is 2.6 metres long, 1.6 metres wide and 1.250 metres high.
A three year 100,000km warranty is offered with 24/7 365 LDV roadside assist for the warranty's duration.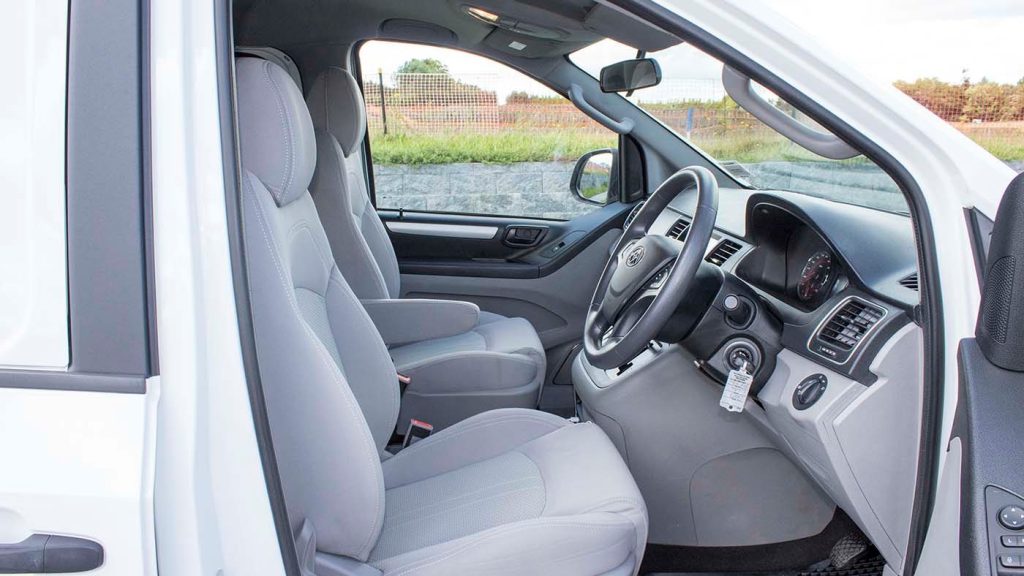 The G10 petrol automatic is certainly the "sleeper" of this light commercial range thanks to the powerful and responsive turbocharged 2-litre engine under the bonnet.
It's certainly got plenty of get up and go, a lot more so than you would normally expect from a van like this, its not lacking in torque at 330Nm in comparison to the diesel versions 350Nm.
The ZF six-speed automatic is more than capable of handling all of this engine's power smoothly distributing it through the front wheels, without a hint of torque steer, or wheel spin in wet conditions.
The automatic shifts swiftly and decisively without any 'hunting' or shift shock and will also provide reasonable engine braking when manually overridden by the driver on a steep downhill run.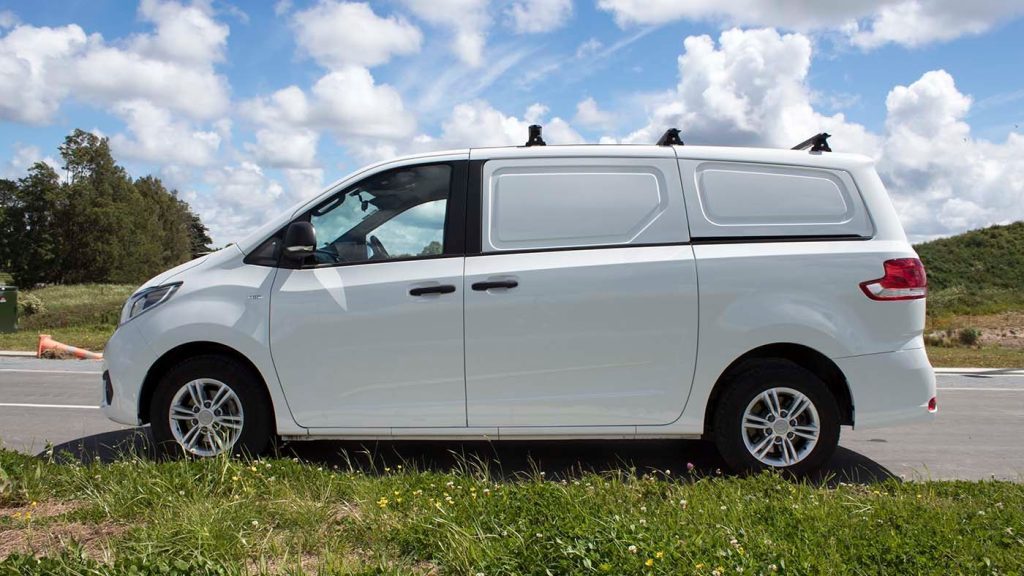 Even though our test vehicle lacked a bulkhead, it was still remarkably quiet and refined at speed on the motorway, even without a load of parcels or other items on board. And the G10 deserves kudos for providing a hard wearing solid wooden floor with tie down points as standard fit
Despite the lack of side window glazing, thanks to the decently large side mirrors and the standard fit reversing camera it was fairly easy to parallel park as well as manipulate around tight building sites.
All in all the G10 petrol automatic offers high levels of functionality and ability as well as being one of the swiftest moving work horses we have yet reviewed this year.
| | | | |
| --- | --- | --- | --- |
| Model | LDV G10 Cargo petrol automatic | Price | $34,488 |
| Engine | 1995cc, 4-Cylinder, 165kW/330Nm | Drivetrain | 6-speed auto |
| Fuel Use | 11.7L/100km | C02 Output | 0g/km |
| 0-100km/h | 0.00 sec | Weight | 1907kg kerb weight |
| Service | 10,000km intervals, 3 year / 100,000km warranty | Load | 5.2m3 volume, 2660m length, 1310m height |
| Vitals | 3000kg GVM, 1093kg payload | Vitals | 1500kg towing capacity |