Liam Lawson survived the chaos and avoided the walls to win the first Formula 2 race of the weekend in Saudi Arabia.
The Kiwi went from fifth to the lead in only a handful of racing laps, wisely picking off his opponents on safety cat restarts before hunting down Jake Hughes to snare victory in the final moments.
Lawson's win elevates him into the championship lead.
"It's always nice to be in front, but it's so early that it's completely irrelevant," he said.
"We just take it race by race, it's definitely a good result for today."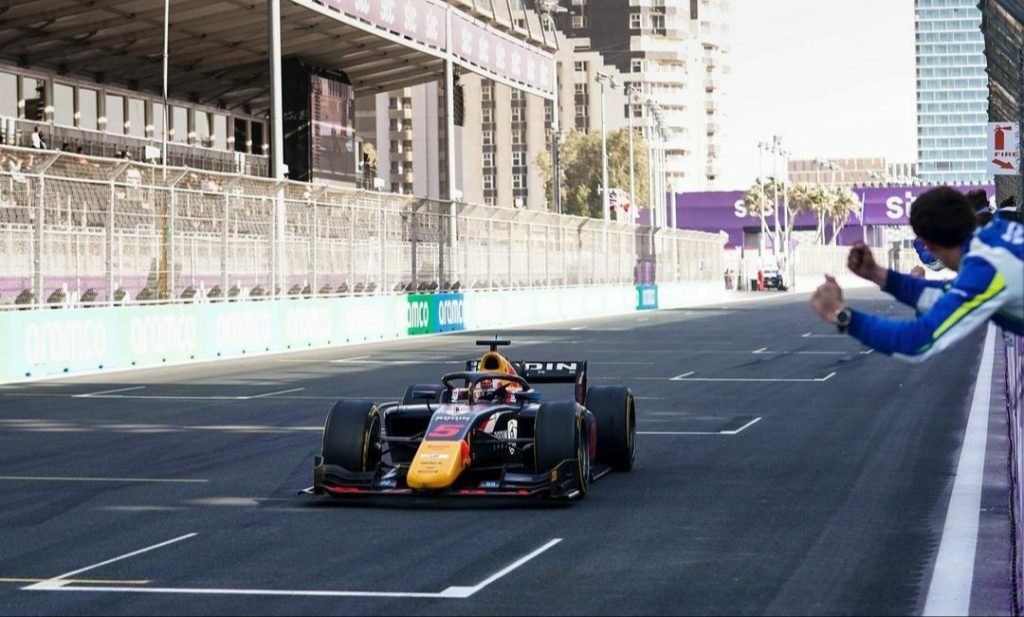 Saudi Arabia has only made one previous appearance on the Formula 2 calendar. Even so, it's quickly become synonymous with big crashes and bizarre mishaps.
Several drivers either bit concrete or crashed into each other on the restarts, meaning most of the race was spent under yellow.
"I was in third before I'd even made a single overtake because of the incidents," Lawson said.
Dennis Hauger initially led the race before entering the pitlane when the safety car was deployed a second time.
The team argued they were told all cars had to drive through the pitlane behind the safety car. This wouldn't be the case, and Hauger was penalised for entering the pits when they were closed.
Lawson would have to make one or two overtakes under green. First was a cunning switch back on a safety car restart. But the most important was on lap 18 of 20, zipping past Hughes into turn one.
Hughes used the soft tyres for the race, whereas Lawson ran mediums.
"It was surprising how quickly the softs fell away," Hughes said.
The Brit would lose one more position at the death as Juri Vips edged his nose in front at the finish stripe.
"I don't think it's possible against an experienced guy like Jake to overtake around the outside of the [final] corner," Vips said.
"I thought my only chance was really to cut back, exit in his diffuser and try with the DRS. It worked surprisingly well."
Update: Hughes has been disqualified from the race because of a technical infringement.
Marcus Armstrong was in for a solid points haul but spun with a few laps remaining. He stalled his engine and wouldn't reach the chequered flag.
He'll go for redemption in tomorrow's feature race, where he starts third.
Lawson starts that race from fifth.
Pos
Name
Gap
1
Liam Lawson
47m55.487s
2
Juri Vips
+3.166s
3
Felipe Drugovich
+4.846s
4
Calan Williams
+6.277s
5
Richard Verschoor
+12.121s
6
Ayumu Iwasa
+13.520s
7
Ralph Boschung
+14.454s
8
Jehan Daruvala
+15.237s
9
Marino Sato
+16.040s
10
Roy Nissany
+17.390d
11
Enzo Fittipaldi
+17.441s
12
Clement Novalak
+18.739s
13
Frederik Vesti
+20.298s
14
Theo Pourchaire
+20.569s
15
Olli Caldwell
+25.495s
16
Dennis Hauger
+51.495s
DNF
Marcus Armstrong
DNF
Logan Sargeant
DNF
Jack Doohan
DNF
Amaury Cordeel
DNS
Cem Bolukbasi
DSQ
Jake Hughes