The 2022 Formula 2 championship kicked off overnight (in a way) for Liam Lawson and Marcus Armstrong.
The Kiwi duo had their first day of pre-season testing at the Sakhir International Circuit in Bahrain.
Driving for his new Carlin team, Lawson made the most of some dusty track conditions to top the morning's opening session.
No one was really in much of a hurry. In fact, the very first lap of the day was a leisurely eight-minute Sunday drive by series rookie Ayumu Iwasa.
Things did pick up as the morning progressed, and it was Lawson with the fastest lap come the chequered flag.
His 1.44.522 was nearly half-a-second better than the second-best driver.
Armstrong, also racing for a new team this year at Hitech, was seventh-fastest.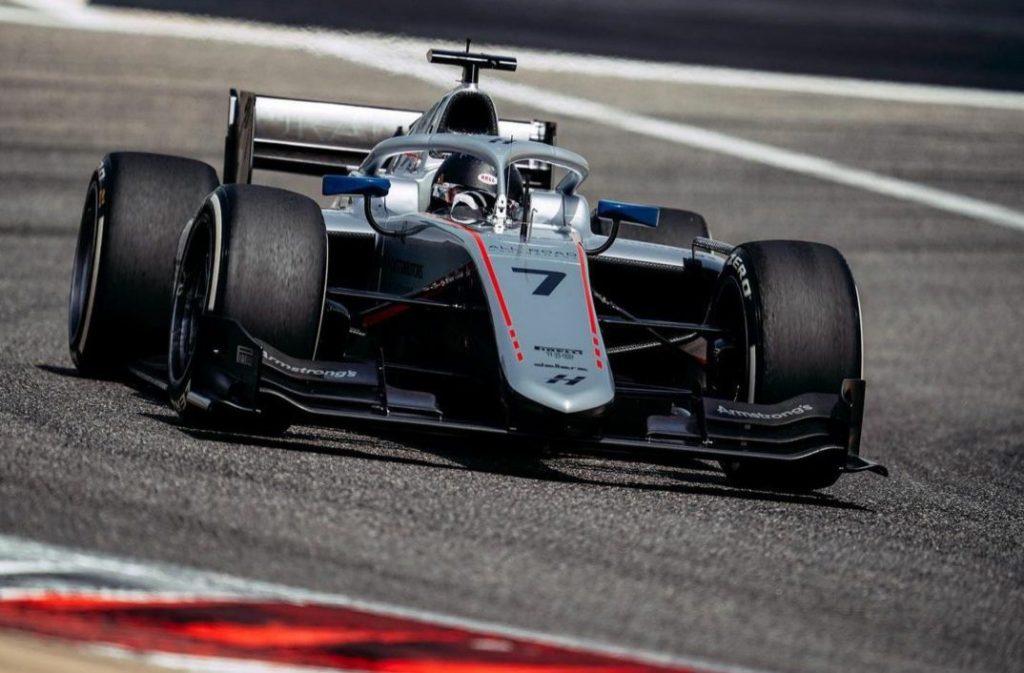 The afternoon session, which should probably be called the night session, saw lap times drop much lower than what was posted in the morning.
Still, Lawson looked fast. He led a fair chunk of the session despite two red flags minimising running time.
Eventually, Jehan Daruvala would rocket to the top of the order. Lawson would slip back to fourth, while Armstrong backed up his morning's efforts with another P7 finish.
F2 testing resumes again today ahead of the season-opener, also in Bahrain, later this month.
Morning session results:
| Pos | Name | Time |
| --- | --- | --- |
| 1 | Liam Lawson | 1:44.522 |
| 2 | Felipe Drugovich | 1:44.910 |
| 3 | Logan Sargeant | 1:45.010 |
| 4 | Jehan Daruvala | 1:45.103 |
| 5 | Jack Doohan | 1:45.182 |
| 6 | Marino Sato | 1:45.204 |
| 7 | Marcus Armstrong | 1:45.363 |
| 8 | Jake Hughes | 1:45.424 |
| 9 | Théo Pourchaire | 1:45.451 |
| 10 | Ralph Boschung | 1:45.522 |
| 11 | Clément Novalak | 1:45.606 |
| 12 | Enzo Fittipaldi | 1:45.617 |
| 13 | Dennis Hauger | 1:45.783 |
| 14 | Frederik Vesti | 1:45.824 |
| 15 | Ayumu Iwasa | 1:45.996 |
| 16 | Olli Caldwell | 1:46.002 |
| 17 | Roy Nissany | 1:46.037 |
| 18 | Richard Verschoor | 1:46.565 |
| 19 | Amaury Cordeel | 1:46.576 |
| 20 | Cem Bölükbasi | 1:47.425 |
| 21 | Jüri Vips | 2:02.518 |
| 22 | Calan Williams | 2:05.945 |
Afternoon session results:
| Pos | Name | Time |
| --- | --- | --- |
| 1 | Jehan Daruvala | 1:42.074 |
| 2 | Calan Williams | 1:42.590 |
| 3 | Dennis Hauger | 1:42.590 |
| 4 | Liam Lawson | 1:43.478 |
| 5 | Logan Sargeant | 1:43.483 |
| 6 | Felipe Drugovich | 1:43.590 |
| 7 | Marcus Armstrong | 1:43.590 |
| 8 | Enzo Fittipaldi | 1:43.946 |
| 9 | Jüri Vips | 1:43.946 |
| 10 | Roy Nissany | 1:44.003 |
| 11 | Théo Pourchaire | 1:44.132 |
| 12 | Ralph Boschung | 1:44.156 |
| 13 | Marino Sato | 1:44.212 |
| 14 | Jake Hughes | 1:44.271 |
| 15 | Ayumu Iwasa | 1:44.289 |
| 16 | Olli Caldwell | 1:44.443 |
| 17 | Frederik Vesti | 1:44.457 |
| 18 | Jack Doohan | 1:44.498 |
| 19 | Clément Novalak | 1:44.539 |
| 20 | Richard Verschoor | 1:44.778 |
| 21 | Amaury Cordeel | 1:45.644 |
| 22 | Cem Bölükbasi | 1:48.637 |