Max Verstappen has equalled Sebastian Vettel and Alberto Ascari's record of nine consecutive F1 victories with success in a thrilling Dutch Grand Prix this morning, while New Zealander Liam Lawson crossed the line in 13th place on his race debut.
As has been the case all weekend, weather conditions caused problems for the field, with two intense downpours shaking up the order and resulting in a five-lap sprint for the line following a late red flag.
Aston Martin was a welcome return to the podium through Fernando Alonso in second, while Pierre Gasly was promoted to third after Sergio Perez received a five-second post-race penalty for speeding in the pit lane. Perez's penalty came as a result of contact with the wall on entering the pit lane to change to wet tyres during the second downpour, the impact putting him 0.8km/h above the limit.
Lawson finished a commendable 13th on his Formula 1 debut, driving a clean 72 laps in extremely challenging conditions to outperform his teammate.
While conditions were clear when the grid was formed, a heavy shower immediately caused trouble. Verstappen had led Norris, Russell, Albon and Alonso into Turn 1, respectively, but several mid-field cars immediately took to the lane at the end of the lap to switch to intermediates.
The strategy favoured Perez, who charged through the field and took the lead on Lap 3 off those who had remained out on slicks. Leclerc was another who made his change on Lap 1, however, the decision was made late and Ferrari had not prepared his tyres, resulting in an extended stop.
The same happened for AlphaTauri's Yuki Tsunoda, who held up Lawson in a double-stack. The Kiwi would also impede Kevin Magnussen during his first-ever pit stop, receiving a 10-second penalty.
Those who hadn't stopped would do so over the following laps, except Alex Albon, who remained on softs.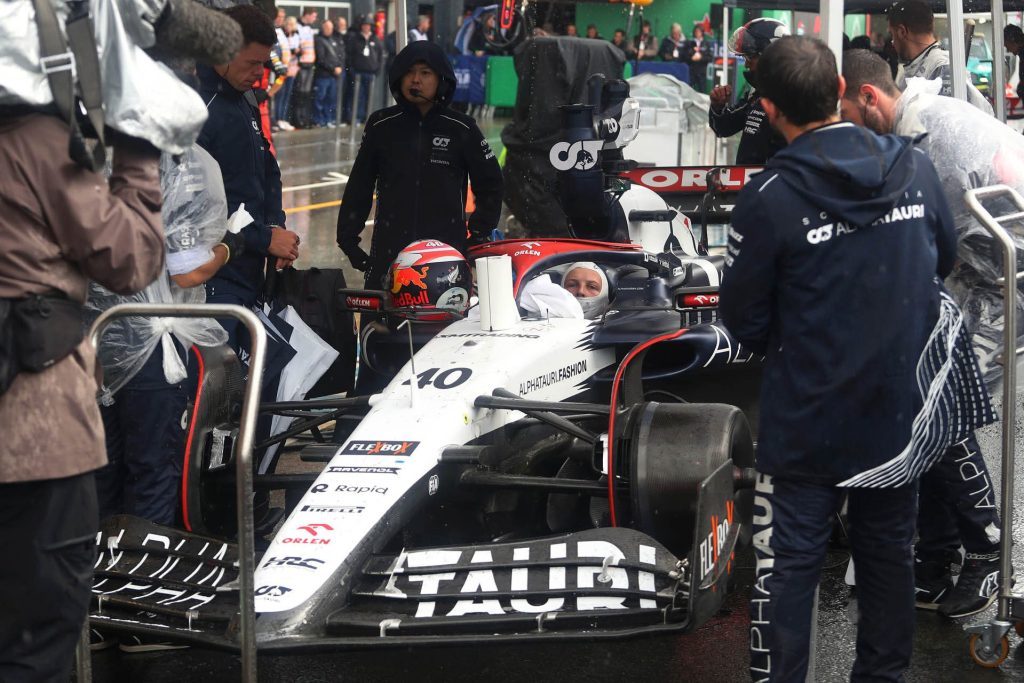 Verstappen was quick to work back through the field of those who had changed tyres and moved into second on Lap 7 before beginning to eat into his teammate's lead, which sat at 10 seconds as the track started to dry.
Once the order had established itself following the stops, Guanyu Zhou sat third, behind the two Red Bulls, and Lawson had moved to 11th but with a 10-second penalty still to serve.
Staying out on slicks in the wet conditions cost George Russell and Lando Norris, who dropped outside the top ten from strong starting positions.
By Lap 10, the conditions had begun to dry enough to switch back to slicks, and Verstappen, who had worked to within three seconds of Perez, was one of the first to pit, effectively undercutting his teammate.
Verstappen would take the lead following the pit window, with Perez dropping to second and Lawson serving his penalty to drop to 17th.
Logan Sargeant would trigger a Safety Car on Lap 16, having spun into the Turn 8 barriers, bringing the field back together.
Verstappen led Perez, Alonso, Gasly and Sainz off the restart, while Albon remained eight despite having not stopped for intermediates in the wet.
A rhythm was finally found over the following laps, which saw Verstappen begin to pull clear of Perez and DRS trains form in various parts of the field. Lawson, who was running 19th, remained on the back of Stroll for several laps as Leclerc, who had suffered floor damage earlier, held up the group.
Lawson would get onto the back of Leclerc on Lap 41, managing a pass at the chicane but immediately dropping back as the Ferrari activated DRS on pit straight. Leclerc would, however, pull into the pits to retire the next lap.
Albon finally came in for his stop on Lap 45, while Lawson followed shortly after to drop to the rear. A slow stop would cost Alonso at the same point, however, the Aston Martin retook third off Sainz in the following laps.
With 12 laps to go, there would be chaos again as an even heavier downpour saw teams left scrambling to change to intermediates. Alpine's decision to put Ocon on full wets would prove wise, with the several drivers aquaplaning at Turn 1 and running off.
This included Perez, in second, who spun rear-first into the barriers and re-joined in third behind Alonso, and Zhou, who made hard contact with the wall at the same place and brought out the caution.
Officials would red-flag the race shortly after as conditions continued to worsen.
The running order at this point had Verstappen leading Alonso, while Perez, who had been left stranded in the pits when the red was shown, retained third. Lawson was 16th, having battled the conditions well.
The shower quickly passed, and the last five laps began with a rolling start following two laps behind the Safety Car.
Verstappen would hold off an Alonso charge following the restart, while Lawson overtook Bottas to move into 15th. The Kiwi gained another spot when Russell was forced into the lane with a puncture and ran 14th with three laps to run, directly behind his teammate.
Perez would also pick up a 5-second penalty for speeding in the pit lane, bringing Gasly, who was running fourth, into contention for a podium.
Verstappen would pull to a 4-second gap over Alonso in the final laps for his ninth consecutive victory, while Gasly was promoted to third following Perez's penalty.
Lawson finished 14th but was promoted to 13th after Tsunoda received a penalty for earlier contact with Russell.
Formula 1 returns with the Italian Grand Prix at Monza next weekend, where it's expected Lawson will feature again for the injured Daniel Ricciardo.