Land Rover's Defender died off a few years ago but they've brought it back. It's still utterly capable but is now more cultured for broader appeal.
It's hard to reinvent something that has such a loyal following like the Defender. With roots stretching way back to when 4x4s were used to explore the wilds or as work things, the Defender of yore was a utilitarian machine that proved difficult to like when doing anything other than off-roading. It's cabin was tight, the ride horrible, the turning circle huge, the drivetrain options nil. And it was expensive to boot. That's perhaps why it had such a cult following in its latter years and explains the rising values in the second-hand market. It was killed off by safety and emissions regulations and re-engineering it would have proved too costly, and so it was retired gracefully.
The new Defender shares little in common with its predecessor in a technical sense but the theme is similar. It's designed to be exceptional off the beaten track but in 2020, it needs to appeal to urbanites too. So the new generation is capable but cultured, with equal amounts of off-road tech, safety, convenience and connectivity features. And as it's a Land Rover, it has a healthy serve of premiumness.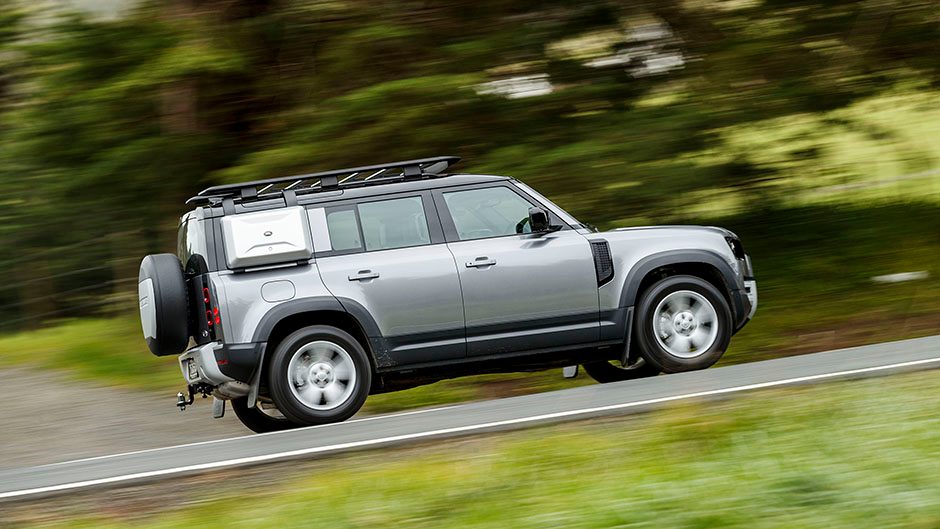 Genuinely all new
There's no full chassis this time around, the Defender sitting on a new aluminium monocoque D7x platform which is unique to the model. LR says it's the stiffest structure it has yet made, three times stronger than a body-on-frame contraption. It has double wishbones up front with an integral-link rear end mounted on new steel subframes with uprated ball joints and bushes to withstand big impacts. Independent air suspension is standard fit for the NZ Defender, allowing for a maximum articulation of 500mm. Set to off-road height, LR is claiming ground clearance of 291mm and approach, breakover and departure angles of 38, 28 and 40 degrees, respectively. It can supposedly wade/swim to a depth of 900mm. It features permanent AWD, low-range, a self-locking centre differential and optional rear diff locker.
The Terrain Response system sets the traction control and engine to best tackle the surface being traversed. Some models get a configurable setting, to allow 'experienced off-roaders to fine-tune individual vehicle settings to perfectly suit the conditions'. Or you can just set it to Auto, and it sorts itself. Helping with tricky off-road manoeuvres, the optional Clear Sight Ground View camera tech can show, via the centre screen, the area directly ahead that is obscured by the bonnet.
Embracing the future, the new Defender platform supports electrification (a PHEV is due next year) and onboard systems can be updated with over-the-air support as it's 5G ready.
There is a range of diesel and petrol engines available at launch, including the top P400 which uses a new turbo inline six Ingenium petrol with a 48v electric supercharger and a belt-integrated starter motor. All models use an eight-speed ZF automatic gearbox.
Which to choose
There's a complex matrix of models, spec levels and four engines to choose from. Best to head to the Land Rover NZ website and wade through the online configurator, as we could literally fill the pages with the various models, accessory packs and options available. The 110 starts at $89,990 for the D200 (2.0 TDI, 147kW/430NM, 10.3 sec 0-100km/h, 8.9L/100km) but with a minimum spend up on a few vitals you'll hit $100k easy. The D240 (2.0 TDI, 177kW/430Nm, 7.3sec, 8.9L/100km) has a base price of $107,900, the P300 (2.0 turbopetrol four, 221kW/400Nm, 8.1sec, 11.5L/100km) is $114,900 and the P400 (3.0 IL6 turbopetrol, 294kW/500Nm, 6.1sec, 11.2L/100km) is $126,900. There's a First Edition starting at $125,900 and the X model is $164,900.
Defender 110 is available with 5+2 seating ($5250), offers four Accessory Packs (Explorer, Adventure, Country and Urban) and has some 170 individual accessories! Defender 90 production has been delayed but will start in September, and prices begin at $94,900.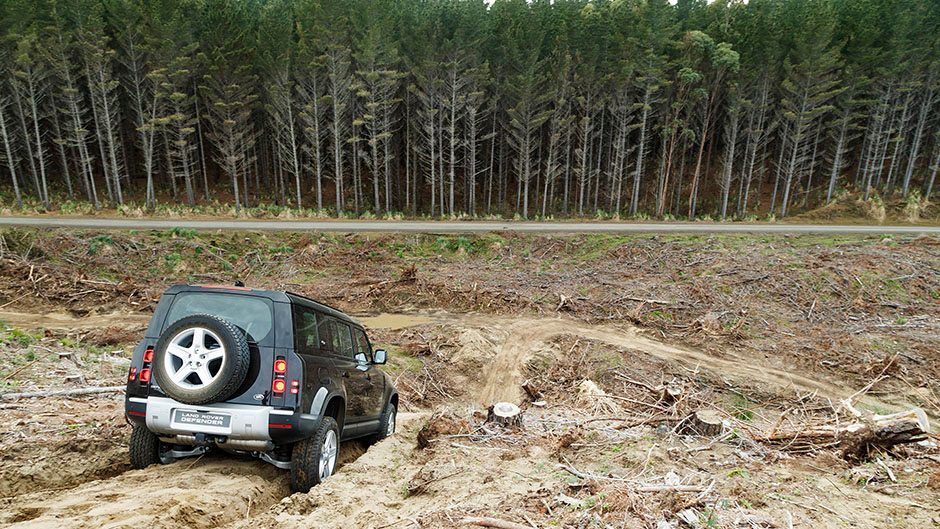 You're probably best to start at the SE grade level ($114,900 for 110 D240 or P300) which we reckon has a good level standard of spec, and then you can spend up on packs and styling options to suit. Ours would be Tasman Blue with the white roof ($1750) and the 18-inch steel wheels (NCO).
The grey model tested is the D240 SE with the Explorer pack.
The look they call 'an unmistakable silhouette, familiar yet new' and that's about right. We say it's better in the metal, distinctive and purposeful. Though we also reckon it depends on what colour/accessory pack/wheel combinations you choose as some Defenders we have seen rolling around look quite good, others seem a tad contrived.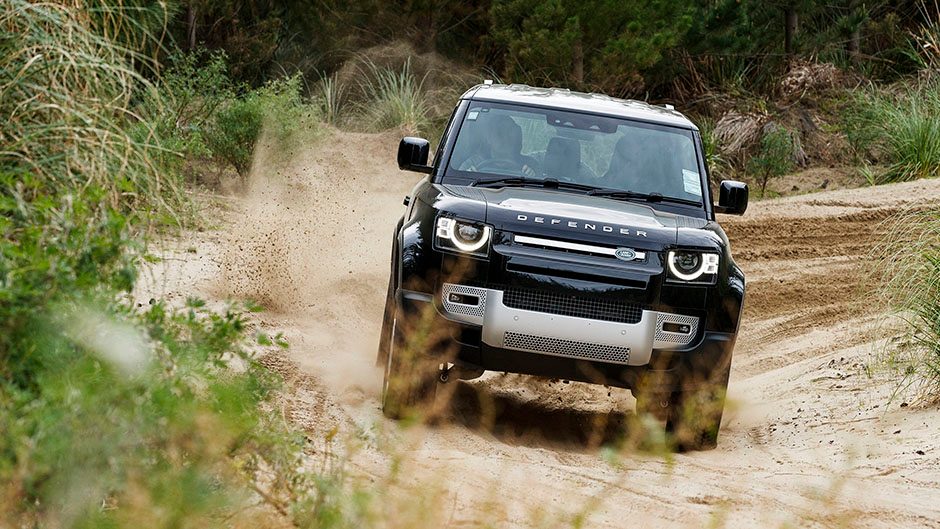 Inside sure to please
This has one of the better interiors we've seen for a while in terms of mixing design with practicality while being infused with a sense of both heritage and modernity. They call it 'reductionist' with an 'emphasis on simplicity and practicality'. We like the use of 'exposed structural elements' like the powder-coated magnesium cross car beam of the dash, metal on the doors and the hex bolt door card fasteners. It has a rubber floor (carpet inserts optional) and flush sills so you can brush muck out.
There are padded grab handles and arm rests, the material used unique to touch, though it feels a little vulnerable to wear and tear. LR reckons it's durable, saying of the interior surfaces 'even after thousands of miles of adventure the New Defender is sure to look and feel fresh'. Let's hope so.
The gear lever is dash-mounted (still well within reach) so they could include the option of a centre front 'jump seat' ($1550) like the models of old. A cabin walk-through set-up (no centre console as such) is a no-cost option for some models. Our SE had the more conventional centre console. This is quite large, but the storage bin is small and while there's a lot of space underneath, most things stored there will fall out due to it being open. The buttons have been minimised, meaning some have multiple functions, so click once, twice, then again to get them working. There's no shortage of charge points. The touchscreen fits snugly on the dash, and looks great. However, a taller screen would provide more viewable inches. It responds quickly, seems more intuitive than LR systems of old and has a crisp resolution.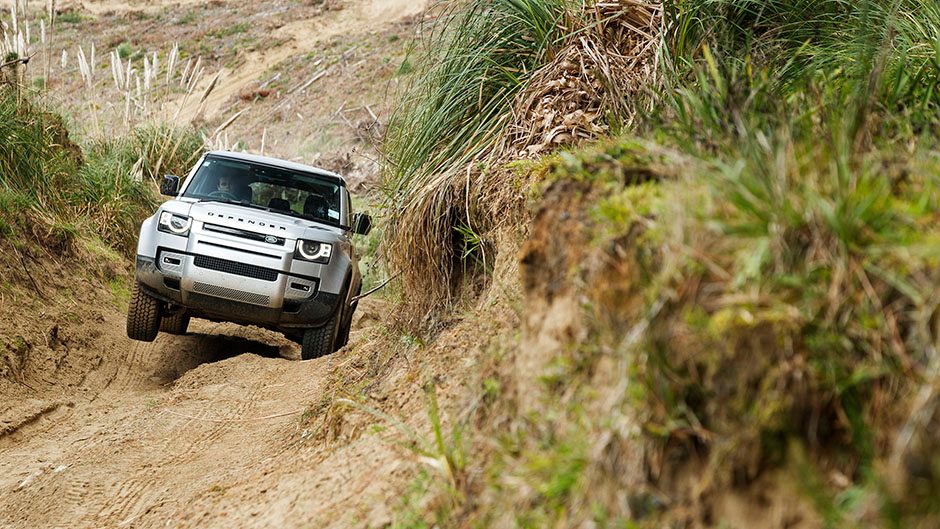 The steering wheel is large, as it is in all LR products, the column power-adjustable here, and the controls for the active cruise well placed. The seat offers good adjustment, but is a little flat and firm under the buns. Getting in is easy as the air suspension sinks lower to help out there, and the doors cover the sills too to keep trouser legs clean on exit.
Boot space you'd call adequate, the load area not especially long or wide. The given capacity for the 5+2 configuration is just 464L to the windowline, while its 646L in the five-seater. This expands to 2380L with all seats folded.
The tailgate has a heritage-inspired side-hinged operation. You'll find there will be times you don't have the space to open it right out, and with the spare wheel on the door, it can be heavy if you're parked on a slight angle.
Our tester had the 5+2 option, and the plus two seats are a kids-only zone given the space but stow easily into the boot floor.
The second row is decent in terms of leg room while you could squeeze three blokes across it if need be. It's arranged in a 40:20:40 configuration, there's a bit of recline, and it slides to give the third row some extra space. The rear door opens out wide for ease of entry, but watch out in tight car parks.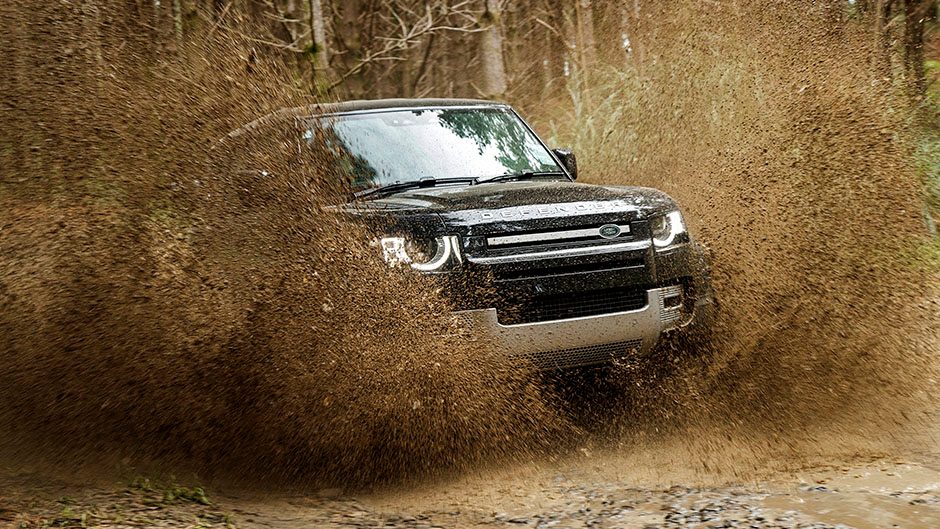 How's it go?
The first impression is of a cultured ride quality, the stiff platform and long travel air springs working in sublime fashion. The larger 20s pick up a few imperfections, so we'd imagine Defenders rolling on the lighter 18-inch steelies would be blissful.
The D240 gets it all moving easily too. The stop/start system is too slow to refire, and the D240 takes another moment to charge up, so it's best you reach for the stop/start kill button. Then you'll have fewer problems getting under way in terms of engine response. There's good torque in the everyday driving zone, and the diesel clatter is sufficiently muffled. The eight-speeder ZF unit does its job ably, though the gear lever operation sometimes sees you miss engaging D after reversing; you need to be precise with the detent. The steering is commendly light, though the turning circle is on par with that of a ute. Still, it's better than the old one.
Our car had the camera-based rear view system, and so long as you angle the mirror to reduce reflections, this shows a good image of what's behind. It's preferable to looking past the big centre headrest and the spare wheel carrier that are otherwise blocking your view. And that 'back pack' thing tacked onto the side also partially blocks your view in the side mirror. The roof rack sure looks the part but it sounds like you are travelling in a hurricane at 100km/h, such is the wind roar it generates.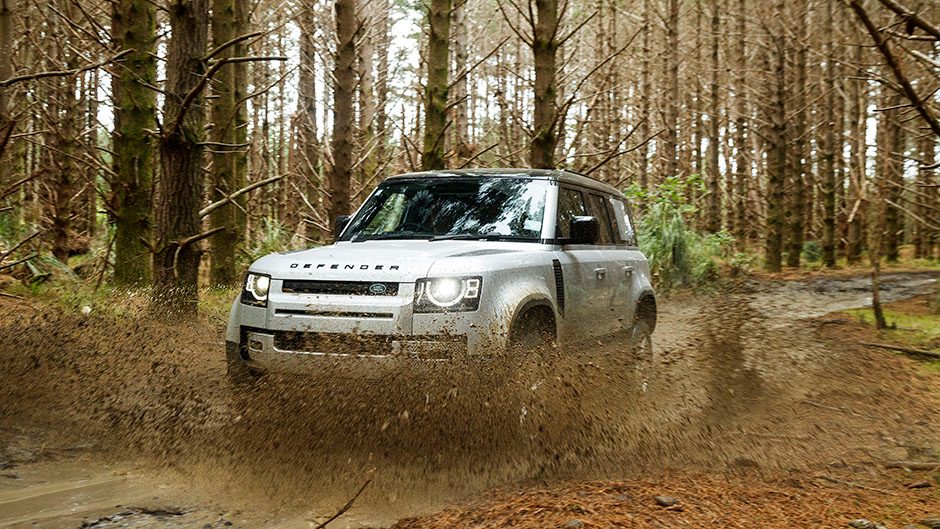 We thought the brake pedal was a bit sensitive, and discovered Defender has a new technology to provide quicker responses. It has an 'actuator-controlled piston operated by the foot pedal that applies braking effort, delivering much finer control'. It probably helps the off road traction systems, said to 'lock a wheel within only 150 milliseconds – versus 300 milliseconds with a conventional set-up'. But it requires quite a deft touch on the pedal as the braking force ramps up quickly, and it makes them sensitive under foot.
There's no Dynamic mode here; the Defender is an off roader after all. It goes okay however, and feeling well balanced when you're flinging it about. The Defender isn't a big wallowing bowl of jelly when dicing between bends, its movements quite well contained, all things considered. The steering remains accurate but distant and it's easy to find the grip limit. While it turns willingly, the well calibrated ESP is the thing keeping you on the right side of the whiteline in the bends.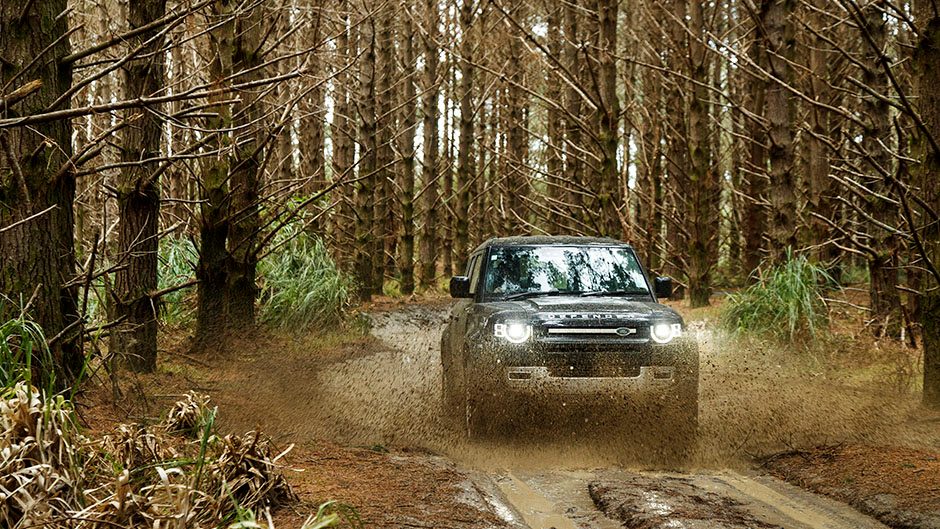 A goat off the track
We got a decent feel for its ability off road with a strop around the 4×4 tracks of the Woodhill Forest near Helensville. The ride quality is simply exceptional on rough tracks, like there's an air cushion below. We managed 31 degrees of tilt when tackling a siding, which felt truly uncomfortable, though the Defender wasn't stressing. The hill descent is smooth in operation, working down to just 2km/h, the speed easily adjusted.
The off-road cameras are excellent when you're at the top of big decline. Usually, all you can see are the heavens, with no idea where you should be pointing. However, these allow you to see the wheel tracks below that you should be following to make sure you're lined up correctly. It makes a usually difficult and unnerving task much easier. The diffs open and lock seamlessly so it's refined on full lock turns in low-range, while the auto is smooth between shifts considering all the torque it's dealing with. Watching the truck in front go through the axle twisters proved that ground clearance is plentiful, so too the articulation. The way the Defender transitions over the ruts removes the usual violent rocking and swaying movements from the mix. It really does make a mockery of four-wheel driving, with little real skill required. It's supremely capable, a gentleman's off roader as it is so relaxed and refined in tough going.
| | | | |
| --- | --- | --- | --- |
| Model | Land Rover Defender SE D240 | Price | $114,900 |
| Engine | 1999cc, IL4, TDI, 177kW/430Nm | Drivetrain | 8-speed auto, all-wheel drive |
| Fuel Use | 8.9L/100km | C02 Output | 234g/km |
| 0-100km/h | 8.86sec | Weight | 2535kg |