KTM updated the styling and chassis of its smallest road bike, the Duke 200 last year. Yet it still costs just $4699, including orcs. Is it any good?
Take a look at this wee thing. Everyone thought KTM's latest Duke 200 looked stupendous. It's KTM's smallest road bike for NZ and is a peach, with angular design cues borrowed from the stroppier 390.
How come we're riding this tiddler? Mainly because we'd said that Suzuki's GSX 250 was ideal for a bike on a budget that was motorway ready. KTM's Patrick Stafford reckons the current Duke 200 does the same for less ($4699 including on-roads, something that's extra with the $5k GSX 250).
So time for a reacquaintance, after an eight-year interval. Back then it didn't have ABS, but it's mandatory now for bikes over 125cc. Oddly, you can disable the ABS on this bike but it only disconnects the rear wheel, meaning you can back it into corners. While this bike handles well you'd only ever do that when racing, and who races Duke 200s anyway? Er, folk in Italy, apparently. There's a series for it.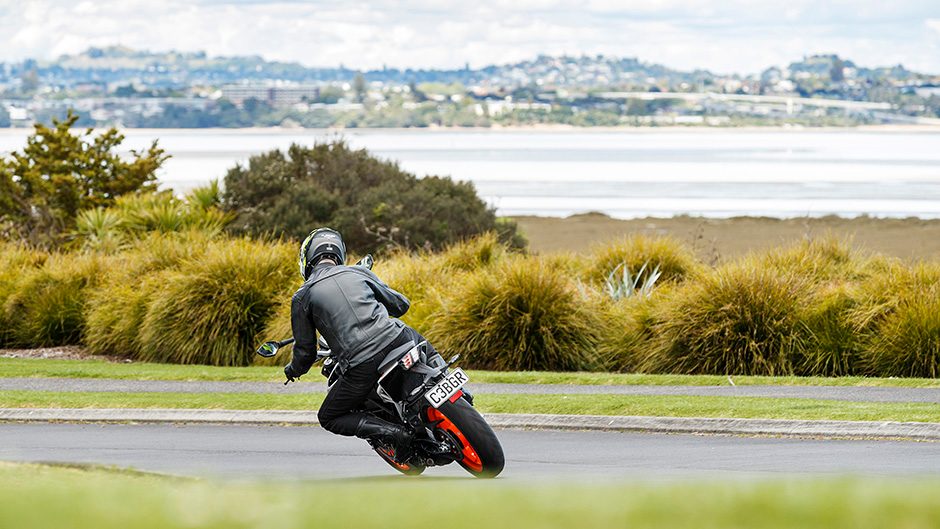 In 2013 it went for $7995. Nowadays it sells for $3300 less. That's a reduction of over 40 per cent. The spec has been altered slightly, e.g the adjustable levers have gone. All the same, it seems like great value.
Is it though? There have been other changes for the 2020 model; evidently the chassis is different, though it's still a lightweight steel trellis affair. This and a new underslung exhaust are said to improve cornering clearance.
The engine is largely unchanged. It's still a 200cc twin-cam four-valve single making 19kW and 20Nm, the former at 10,000rpm and the latter at 6800rpm. On road, that's exactly how it feels, with energy brimming from about 7000-9000rpm. The 100km/h mark happens at just under 8000rpm where this feels relaxed, and generates little in the way of tingles. That's reflected in nice clear mirror images too, though these aren't very big, rather like the rest of the bike.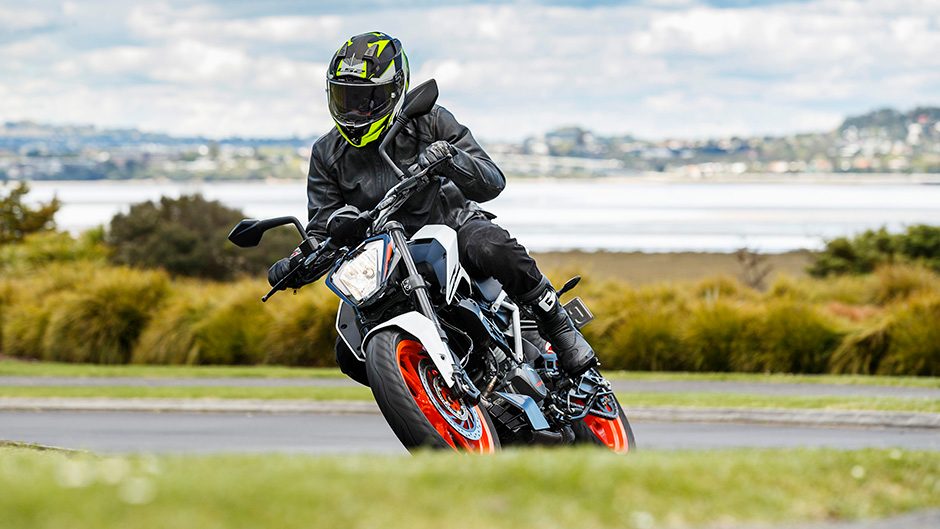 It weighs in at an anorexic 138kg, so its peak power output of 19kW really is enough for quite reasonable performance. Certainly it is motorway ready, and even the wilds of the open road don't seem to faze it.
I'm not quite the right size for something like this, even with its recently readjusted chassis settings (the pegs are now lower and set back a bit further). But height challenged individuals will like it, even with its 810mm seat height because the squab is narrow at the front. I'm forced all the way to the back of the short seat but the riding position is sweet; your hands fall naturally to the tapered bars and your hips and knees aren't too flexed.
The Duke-ette feels just ridiculously lightweight on the go. You can sit astride and manoeuvre it around 180 no problem. Fire it up and you're 'Ready to Race', if you're Italian perhaps.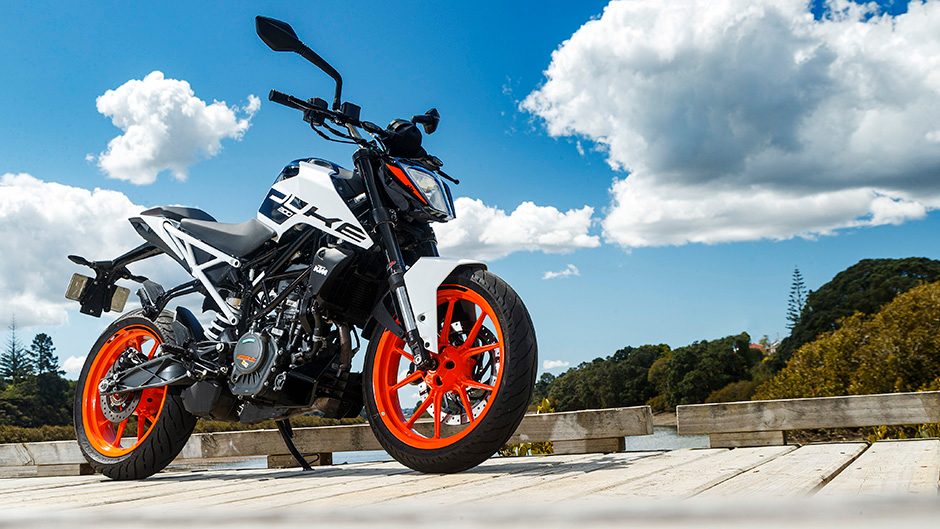 The basic instrument set-up comes across a bit dark, especially compared with the bright TFT screen the new 390 gets. The rev counter strip is so tiny you can scarcely read the numbers so best just to keep the revs above about two-thirds. Round town you can even tootle about in top quite easily.
Out of the burbs, it takes 10sec to hit 100, and requires four gear changes! The brakes work well, a radial-mount design, with a best 100-0 figure of 44.5m. Given how light the bike is, this stops with confidence.
We've had a couple of machines lately that are out of India, and quality control on this one is better. About the only real detraction is the collector and muffler, both underslung so less likely to be knocked but paint finish isn't flash. Tyres I've not heard of either, MRFs, but they seem to stick well, in the dry at least (the only way we rode it).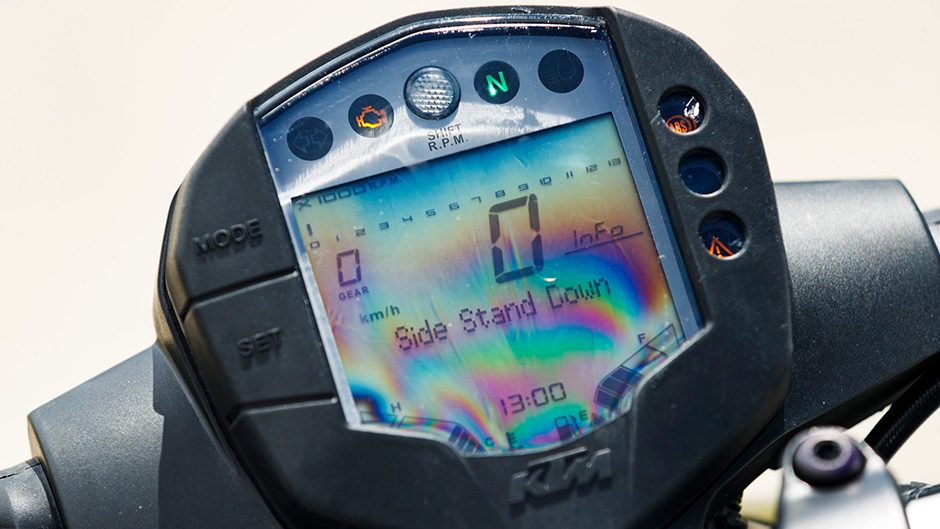 What this does with panache is carve corners. It's so light that if you bear down on the peg entering a corner, you virtually don't need to countersteer. And if you do, roughly zero bar pressure is needed to change direction. It's almost scooter-like in this regard. Except that scooters on road aren't quite as flash through lumpy corners. The fixed 43mm USD forks seem to work just fine, the preload adjustable monoshock at the rear not quite so inspiring. All the same, this gets through corners like some mock-Moto3 machine. Which is all very handy because you want to retain corner speed as much as possible when there's not that much power to begin with. This obliges in spades and is a fun ride as a consequence. We latched onto the back of an older Multistrada at one point and had fun trying to keep up. He'd gap us on the straights and we'd play catch up on the corners.
Course it's round town where this will be used most and here it's in its element, but we just wanted to see how capable this really was. It's slim enough that it filters easily, and the gearshift is lightweight and fast.
So another inexpensive commuter that can do it all, including motorway running. Plus you get cool KTM style gratis. No, it ain't quite as quick as the Suzi but if the budget is closer to $4500 on road than $5000 plus ORCs….
| | |
| --- | --- |
| Model | KTM Duke 200 |
| Price | $4,699 |
| Engine | 199.5cc, liquid-cooled, fuel injected, single, 19kW / 20Nm |
| Drivetrain | 6-speed, chain final drive |
| 0-100km/h | 10.56sec |
| Weight | 140kg |