"golly, that's a big car in your driveway", commented a woman friend from up north. Guessing she meant the stinger rather than alluding to something else.
"What is it?" "It's a Kia," I replied. "Get outta here," said she. "For real," I replied. "I thought it was an Audi or something," she remarked. She's on the money.
It does bear more than a passing resemblance to an S5 Sportback, long, low and wide, with a coupe-style roofline. The Tiger nose grille is the giveaway. It was a bold move by the Korean, producing a large rear drive car while others are canning them. But it was shrewd too.
With Falcon and the real Commodore gone, the market down here for a big sporty family car was wide open. Stinger arrived at the end of 2017 and I'd not driven it but by chance, our GM had organised a long term test, and he suggested I have a lash. Lucky me.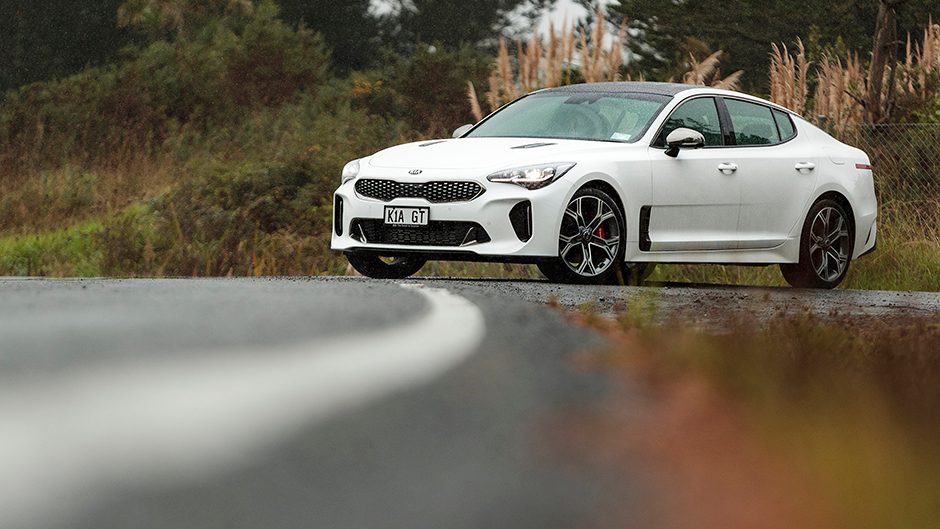 After an initial squirt, I was keen for more. At just under $70k this well specified express (eight gears, head-up display, active cruise, leather and suede, pana-roof) seemed promising. Unfortunately, the weather broke, being autumn, a pity as we were looking forward to giving it another run against the clock.
On its first outing, it had missed its performance claim by a few tenths because roads at the time were like cheese under the grille. For my spin, it was just sopping instead. In the wet, the GT can easily break traction given half a chance. Paddle it up to third gear, turn in, mash the gas and the rear end unloads effortlessly, caught quickly by the ESP system. Turn this off in the wet at your peril.
The brakes feel fabulous, supreme, big Brembos clamping on vented discs all round. And there's also a level of refinement that makes the Stinger rather appealing. It's quiet across a range of surfaces, and in Smart drive mode, it melds ride comfort and body control just so. The engine and transmission are on alert without being on edge. Comfort mode, the default, is ideal round town.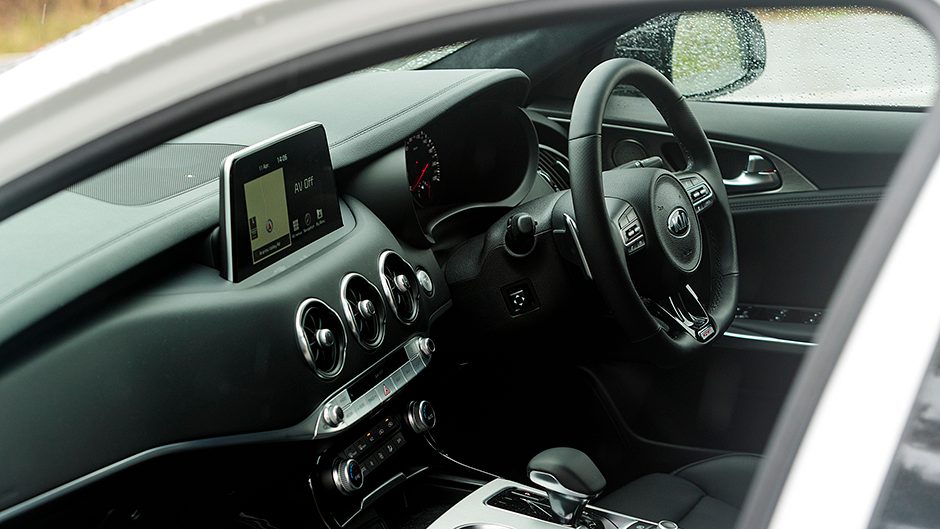 It's nice inside, the Stinger. There's full leather trim for the powered, heated and vented seats, along with adjustable lumbar support and thoracic bolstering. A powered steering column and retracting seats simplify entry and exit. But this is a low slung machine, and with a tight glasshouse, visibility out the rear isn't flash.
A 360 degree camera and sensor each end help. Once you're all set the driving position can be committed to a couple of memory buttons. It's good but for a hard left centre console edge that seems to bite your knee. Head room in the rear is okay without being brilliant, same goes for your feet under the front seat but knees do okay.
It's a better fit for two adults than three. You don't expect massive passenger or gear space from a rear driver, and you don't expect that status from Kia, nor the longitudinal engine layout, and almost even front rear weight split. But then the car was co-developed by Albert Biermann of BMW M division fame. Small wonder it feels sorted. The wet and miserable weather continued but we were determined to find somewhere to rerun the numbers. Eventually there were a few drying lines.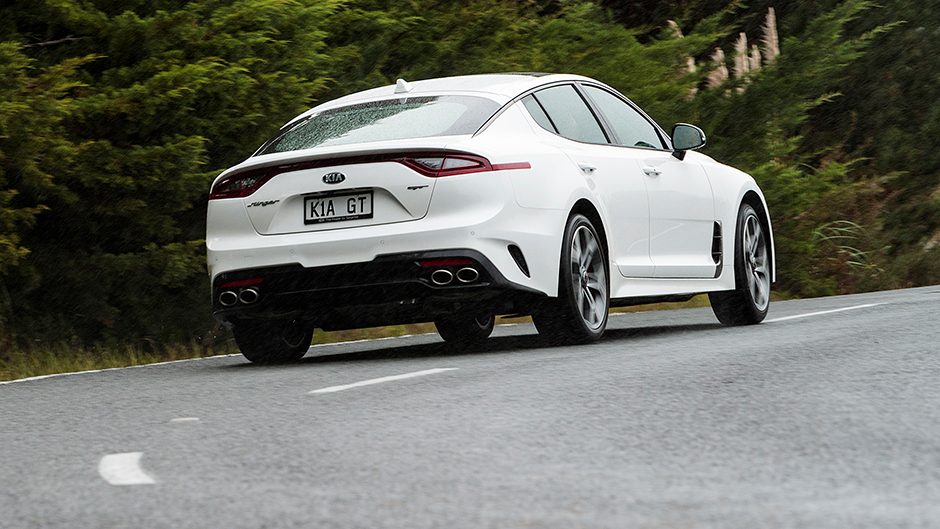 Our first run with launch control was a riot; constant wheel spin right up to fourth gear but the LSD kept it on line. After figuring we might not beat 5.25sec 0-100, we tried one final trick, short shifting out of first and letting second and third run to the redline. With that we managed one run under 5sec, at 4.99sec.
In the dry we feel sure it will match its 4.90sec claim. No improvement on the overtaking time however of 2.95sec. Just wish it sounded better. The most satisfying aspect is brake performance. These are astounding, and fade resistant. The best emergency stop on a nearly dry road surface was 32.37m. Top flight Brembos really are just that. As to nuances of handling? Hard to comment given it wasn't dry when we drove it.
In ideal conditions, we remarked previously of how it seems to cope with varying surfaces and conditions well, thanks to an even weight split, torque vectoring by brake and well weighted, sharp steering. It turns with haste and enthusiasm, that we did note.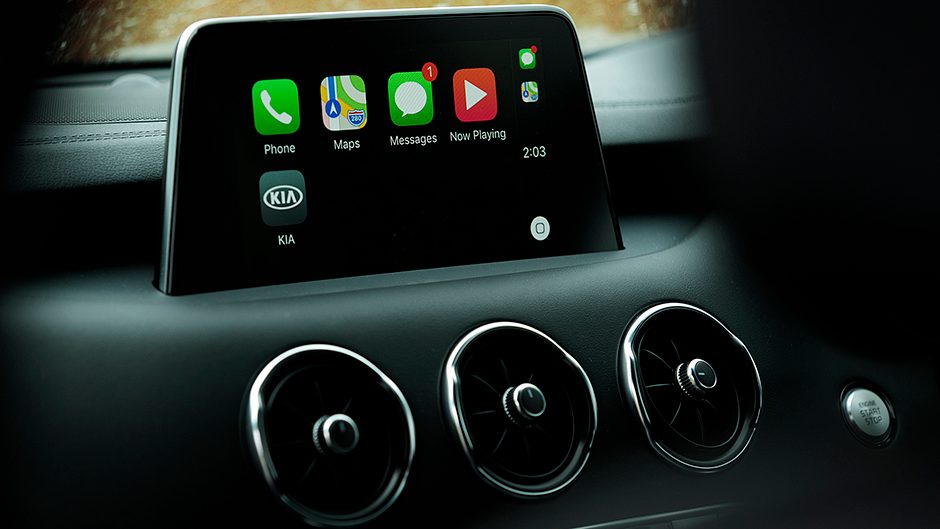 The ultimate accolade? The GM likes it about as much as anything he has driven over the past couple of years, the only quibble being the knee biting console that aggravates an old war wound.
The Aussie cops like it too, recently adding more Stingers to their fleet. Guess the name's appropriate if you're a cop. And Kiwis? Well, 85 per cent of Stinger sales are of the GT Sport.
| | | | |
| --- | --- | --- | --- |
| Model | Kia Stinger GT Sport Neon Orange Pack | Price | $69,990 |
| Engine | 3342cc, V6, T/DI, 272kW/510Nm | Drivetrain | 8-speed auto, rear-wheel drive |
| Fuel Use | 10.2L/100km | C02 Output | 239g/km |
| 0-100km/h | 4.69sec | Weight | 1794kg |