For those who bemoan the lack of new cars with a manual transmission, have we got a deal for you? The old shift-it-yourself gearbox has fallen way out of favour with New Zealand car buyers, but there are two types of vehicle which still offer the choice; utes and small cars.
Down this end of the market, where every dollar counts, manual transmissions offer a slightly lower entry price point. And in the case of the base model Rio LX, you get more cogs for less money. Kia's Rio is a good looker and spacious for a nipper, but its drivetrain is a carryover item. The 1.4-litre naturally aspirated four pot is generally unremarkable, but the auto option, a good-old four-speeder, is antiquated. Most in the class run CVT, or a six-speed, some with fancy twin-clutches, and so the Rio is hamstrung in this area. Does a six-speed manual make a difference? Well, sort of.
The engine isn't brimming with power and poke, especially down low, and so the extra ratios do help. But given the torque of 133Nm doesn't peak until 4000rpm, you find yourself stirring the ratios around a fair amount. It's okay in town, able to cruise along in fifth, but any call for acceleration needs to be accompanied with a downshift or two. We get a bit spoiled with direct injection, and turbo-fed engines these days, which are more forthcoming with their torque. Consumption is quoted at 5.6L/100km on average, 0.6 better than the auto, though eight-point-something is more realistic, especially if you go searching out that torque peak.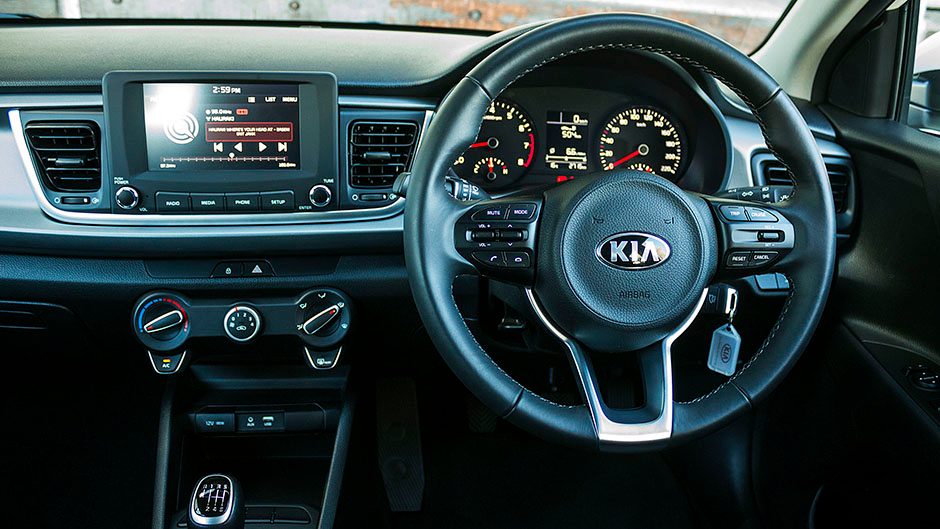 Motorway and highway cruising it does fine, and yes, you're able to overtake the odd dawdler, though you'll be required to chop it down into third and nail the gas where it'll rev out to 6500rpm, but it gets rather noisy. Otherwise, the Rio goes well, and its chassis could definitely take a few more herbs. It's an enjoyable handler, steering well and even though this LX wears 185/65 R15 ecorubber, it holds a line sternly. It has a reasonable balance, and there are no ride issues of note, just a bit of suspension and tyre noise under duress.
That ride comfort continues in and around town, the Rio with a refined chassis for the class. And changing gears in traffic isn't much of a chore as the clutch is light, you soon get get used to its undefined bite point, and the gearbox is easy to snick around the gate, with a hill holder function to ease hill starts.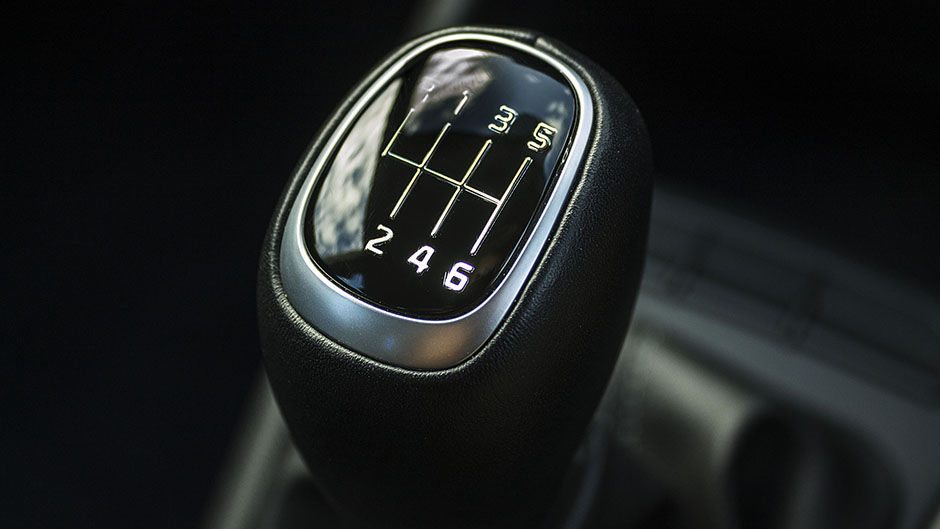 Rio is a three-variant range, the LX manual sitting at the bottom, starting at $22,490, $1000 cheaper than the auto. It offers the basic safety features of ESP, air bags and a reversing camera and though the rest of the specification sheet is pretty lean, there is smartphone compatibility for both Apple and Android. The cabin is a hard plastic affair, though the surfaces look better than they feel, while the wheel and gear lever end are lined with a leather-like material. Storage is sound, and you're sorted for space; it's an airy cabin for a small car with good room in the rear seats. The boot is sizeable too (325L) though not as good as that in the Jazz, but the seats fold easily, expanding the size to 980L.
While it's a better bet with the manual 'box, the Rio's powertrain is still lacklustre in its class. So it'll be for the look, packaging, and ride comfort that you'd consider the Rio, and keep an eye out for special deals; currently you can get the LX auto for $20,490
| | | | |
| --- | --- | --- | --- |
| Model | Kia Rio LX | Price | $22,490 |
| Engine | 1368cc, IL4, EFI, 74kW/133Nm | Drivetrain | 6M, FWD |
| Fuel Use | 5.6L/100km | C02 Output | 129g/km |
| 0-100km/h | n/a | Weight | 1163kg |