Rio hasn't always been a big seller here but Kia is determined to do better with its larger, smarter but no more expensive fourth-generation offering. Has it got the goods?
Kia's Rio has always been a bit of an outlier of sorts, selling for supermini money but offering a bit more in the way of space, both in the cabin and the luggage bay. The new fourth-generation model expands upon that, with even more room in the hold, up by 37L now to 327L, which places it closer to the compact hatch class. Yet it costs decidedly less than that, in the $22,500 to $26,990 range (or $18,990-$23,990 during the launch offer period), which puts it once again in supermini territory. With stronger styling, a mix of manual and automatic transmissions and a special introductory finance deal ($89-$109/week), Rio remains one of those hard-to-resist offerings if your priorities are space, and value for money.
If style is also important, new Rio boasts a bit of that too. But if it's some get up and go you're after in a compact package there are better options out there, its four-speed auto not really doing it a whole lot of favours. Many have moved on, and now get CVT or five to seven cogs which is better not only for extracting the best performance from a small displacement engine, but also the best economy.
Rio may not be a huge mover in the New Zealand new car scene, but globally it has been the best selling Kia. Sportage, which is amongst the most popular new vehicles locally, now holds that mantle but the new generation Rio is not without its charms. It has traditionally sold reasonably well to women and the younger set, though lags behind the frontrunners in the light car area, Swift and Yaris comfortably the most popular, followed a ways back by Jazz and Mazda2, and then by a host of others that sell between 400 and 650 units per annum. The best selling car in the UK, Ford Fiesta, is amongst the least popular here for some odd reason.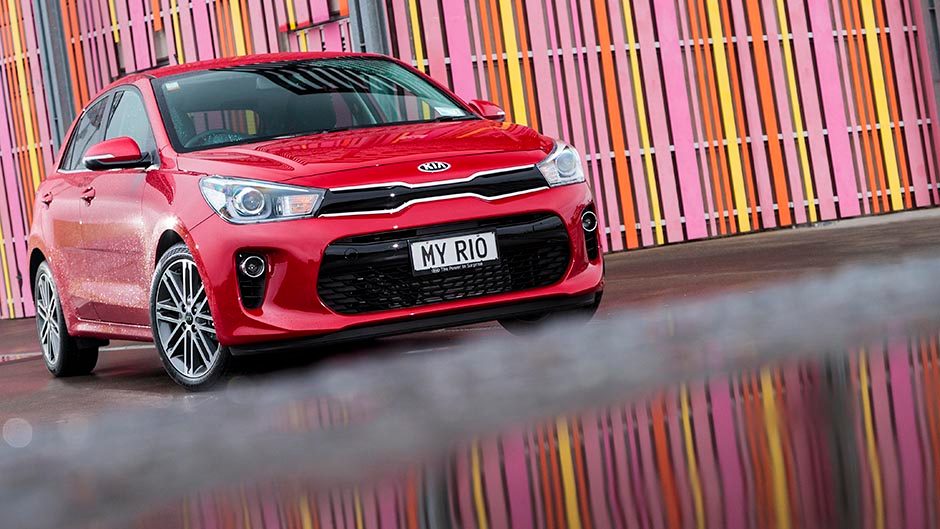 New Rio should fare better for it has added style, size and specification, yet costs the same as the outgoing model, and in the case of the midrange EX, $300 less. The diesel model has disappeared from the range, while this time around there's a new higher specification Limited model, which comes in automatic guise only and costs $26,990, or $23,990 during the launch special. It's that vehicle you see pictured here. Compared with the midrange EX it costs an additional $1500 for which you get 17-inch alloys, privacy glass, alloy pedals, and a leather-wrapped crash panel on the dash. The seats are also finished in artificial leather.
Kia reasons it will sell well on account of competitive technology, packaging and its ride and handling balance, thanks to turning work done by Kia Australia engineers, tweaking the dampers and steering for local conditions.
New to the latest Rio are Android Auto and Apple CarPlay, operated through a seven-inch touchscreen, and all models now get a rear camera, a USB plug in the rear and EX and Limited models pick up sat nav. Where there used to be a full spare, there's now only a space saver, but we'd take that and the extra 37L of luggage space any day. Space can be expanded to 980L, though split folding results in a two-tier load space, which is typical of the class, with Jazz the exception.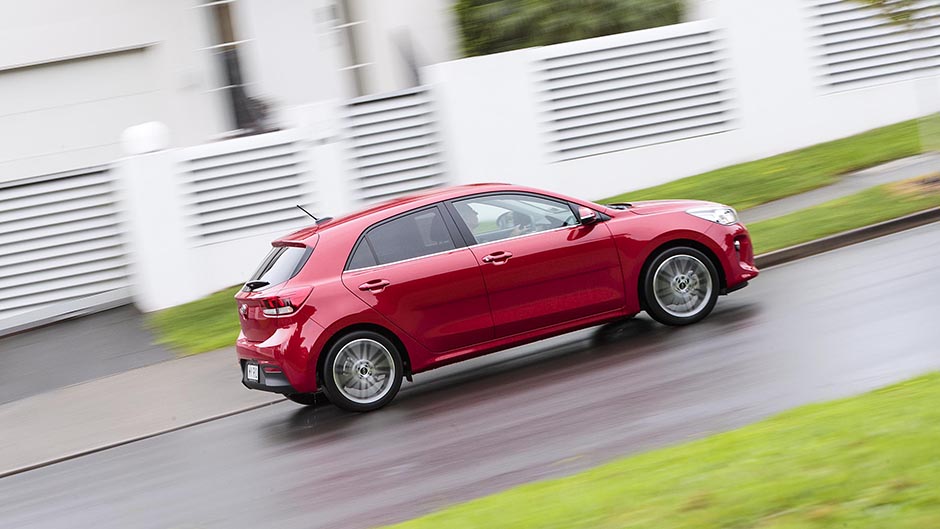 Contributing to improved ride and handling is a 30 per cent stronger body structure, with over 50 per cent of steels used of the high strength variety, and extra use of structural adhesives responsible. Expect better crash safety performance as a result, though no official test results are yet to hand, and no active safety tech is available.
Styling is an improvement on the third generation and that wasn't bad either. The tiger nose has been streamlined further, and there are more visual cues suggesting added width, though a 5mm reduced height may well contribute. Extra cabin space arrives by virtue of a 10mm wheelbase stretch, though through clever design there's also added interior width.
And on the interior, it too gets a redesign, and is not only more interesting but adds a few soft touch plastics. In the top shelf Limited, there's comfort entry and push button start, something that's slowly being adopted by this small car class. The leatherette trim isn't too far away from leather in terms of look or feel either, better than what some of the other Korean car makers used to offer.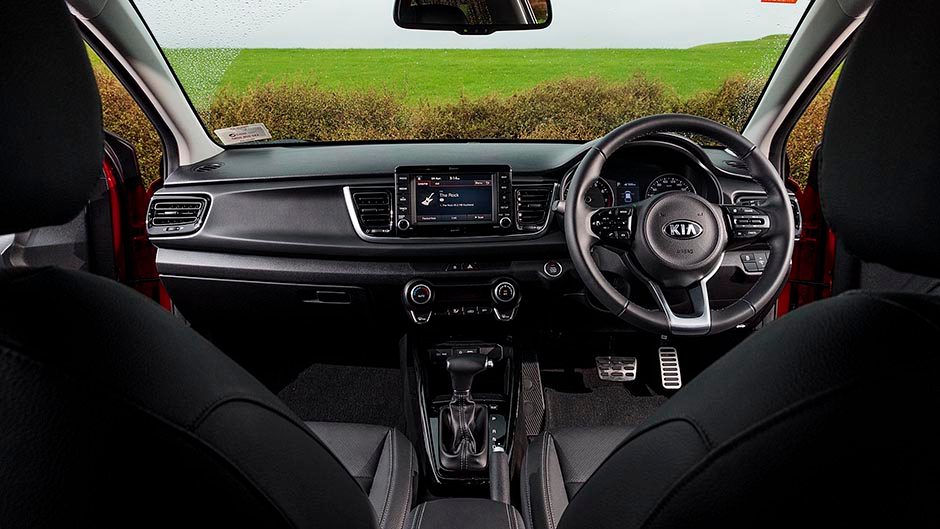 There always has to be some compromise when you're in the low to medium $20k area for a new small car, and in the Rio it's the transmission, a four-speeder not quite cutting the mustard nowadays. The opposition gets CVT, a six-speed auto, or six- or seven-speed dual clutch transmission. Baleno also gets a four-speed auto, but it weighs a heap less. Unfortunately, the new Kappa 1.4-litre engine in the Rio is down a few units on output (by 6kW and 4Nm, mean economy 0.1L/100km less at 6.3L/100km), and doesn't really get into its stride until 3000rpm if you're in a bit of a rush. For those who never are, it should prove adequate, and you can drive it at a leisurely pace and perhaps never be aware of its relative lack of low end drive. But going for gaps isn't advisable in this. Its 0-100 time of 14sec and overtaking time also in double figures puts it a couple of seconds adrift of the opposition. Perhaps if it had an auto with another cog or two, this lack of drive at revs you use most of the time would be less obvious, but with a four-speeder you keep falling into gaps which the engine just isn't happy filling. The Baleno, weighing almost 200kg less, doesn't have that problem, and its respective acceleration times of closer to 11 and 9sec reflect that.
Dynamically Rio's much more competitive, now with faster steering. It holds corner speed well thanks to carefully calibrated suspension settings, quality low profile rubber, and a decent amount of it. Ride isn't unduly affected by the 205/45 Contis, and it's also reasonably hushed on the go, providing you're not revving it hard using the manual sequential shift gate.
The interior of the Rio is streets ahead of where it used to be, and is really rather appealing, especially with its multifunction leather-bound wheel, tablet-like touchscreen display, USB input that's backlit red, and snatches of piano black in the centre console. A pity the oddments spaces aren't rubber lined as things thrash around some.
Seat comfort is good, despite no lumbar adjust, and those in the back get surprising room in all directions. Unlike other superminis, you don't immediately need to raise the rear headrests because they're poking into your shoulder blades. And on headrests, those up front move in four directions, like the steering column. Instruments are clear, and trip data useful, including a digital speed readout.
So overall Rio Gen IV is an evolutionary update, with minor but significant tweaks to pretty much everything but the powertrain, making it more appealing at no extra cost. Just don't expect performance fireworks.
| | | | |
| --- | --- | --- | --- |
| Model | Kia Rio Limited | Price | $26,990 |
| Engine | 1368cc, IL4, EFI, 74kW/133Nm | Drivetrain | 4-speed auto, front-wheel drive |
| Fuel Use | 6.3L/100km | C02 Output | 146g/km |
| 0-100km/h | 14.01sec | Weight | 1149kg |