Sales of new compact cars are slowly diminishing but Kia has decided to get aggressive with new Cerato, introducing sedan and hatch variants, spanning LX to GT. We check out the performance leader.
It has been a while, some five years, since Kia had a GT hot hatch in its local line-up, the last one being the European Proceed GT. That was a three-door, and a six-speed manual at that. Now Kia has reprised its flyer, only it's part of the fourth-generation Cerato line-up, and tops the range.
Known simply as Cerato GT, in some ways it's similar to the Proceed, sharing a 1.6L turbocharged four-potter with precisely the same output of 150kW and 265Nm, the latter from 1500-4500rpm. But in other respects, things are a bit different. Cerato GT utilises a much more practical five-door body shape, kind of a cross between a liftback and an estate. At least that's what most say when they see it.
And while a manual transmission isn't silly in a reasonably hot hatch, nor is a seven-speed twin-clutch device, especially with paddles for manual shifting. Think of this then as the modern iteration of the Proceed GT, only it's more versatile, comes with more safety gear, and costs a bit less at $41,990. It's a fine drive too, the folks at Kia Australia have firmed up suspension components and lowered ride height by 5mm for hot hatch antics – okay by us but some might want a bit more resilience – and there's a bit much noise (circa 76dB) on dodgy road surfaces, partly due to its sticky Michelin Pilot Sport 4 rubber.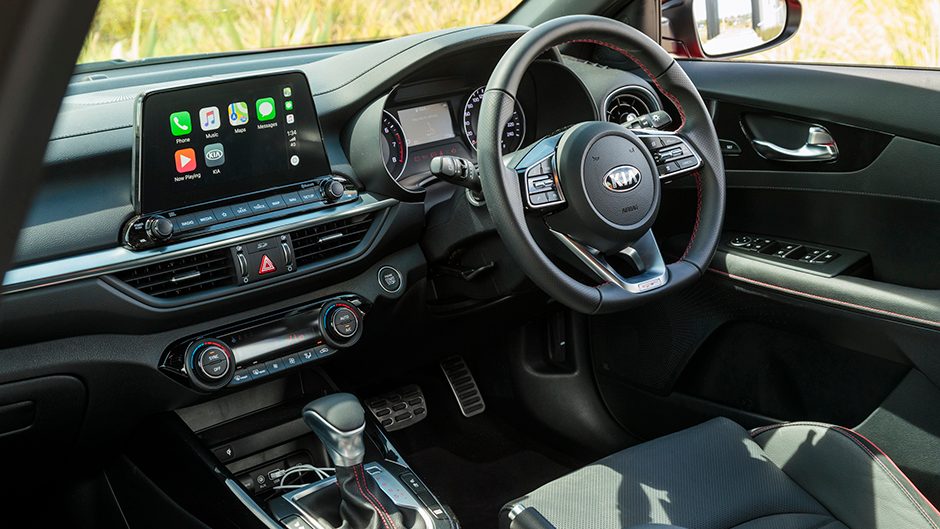 Twin-clutcher so it's good to go
And the good news is that this goes harder than the Proceed, thanks to its quick shifting gearbox. The Proceed met its mark of 7.5sec for the rush to 100, but despite a hesitant start – the GT doesn't launch from any more than about 1500rpm, presumably to quell wheelspin – most of the runs in the new Cerato were below the 7.0sec mark, with a best of 6.7sec. The overtaking time, 80-120, was no different from the Proceed's, at 4.41sec. Overall, that's just 0.2 behind the i30N manual to 100km/h, and just 0.5sec behind on the overtake. Not bad for something costing $13k less.
Anything in the sixes for a front-driver is starting to get a bit serious; those that reach into the fives are invariably packing 2.0L turbos, and cost around the $60k mark. At $41,990 plus ORCs then, this is rather interesting bang for buck stuff. On top of all that, it does quite remarkably well for fuel use. Kia claims 6.8 overall (158g/km) and we saw a cumulative figure of 8.5L/100km. Not bad, given there's no idle-stop system.
On the motorway, expect around 7.0L/100km, and into low double figures when given a pasting, which it rather enjoys.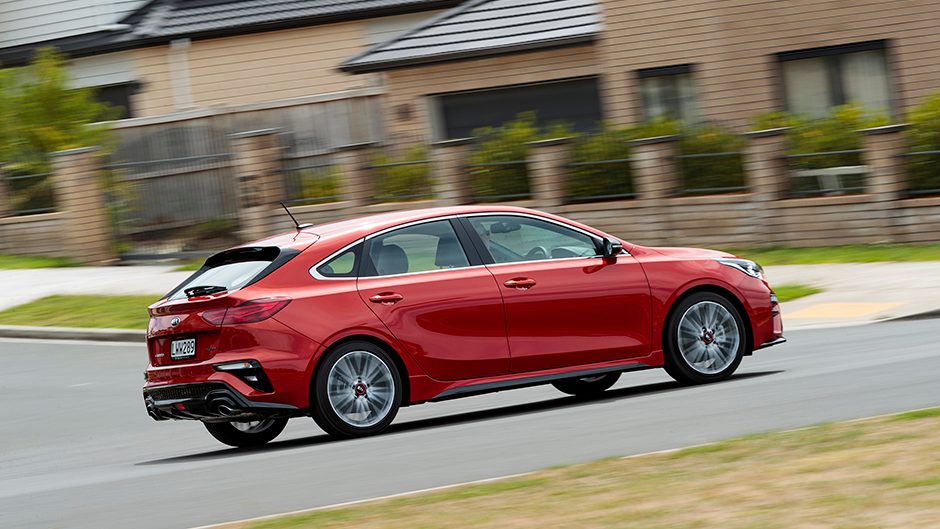 Room abounds
It's practical too, with quite decent room in the rear, and there are powered sports seats up front, clad in something resembling leather. The GT badge and piping are in red, naturally. Being 4.5m in length, up 160mm on its predecessor, and sitting on an unchanged 2700mm wheelbase, the luggage compartment is rather roomy; figure on 428L, an increase of 43L on its predecessor.
Need more? You can certainly get that in the sedan version of Cerato which sports just over 500L of space, but good luck getting big boxes and the like in through the opening. We'd rather the liftback facility; with split folding you'd get a bike in the back. Taking the rears out of play increases the hatch space to 1335L, presumably to the roof, or 741L, for those who prefer loading no further than the window line.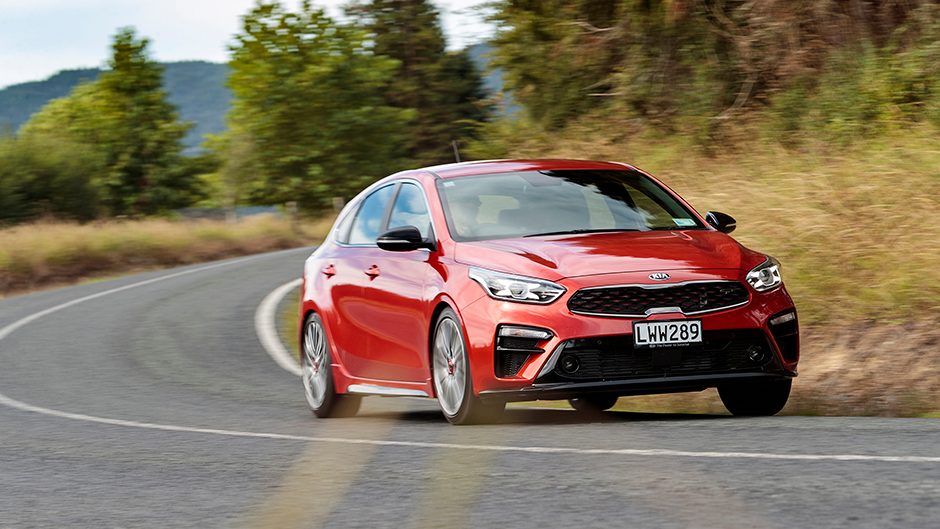 Safety covered off
More interested in safety than space? This is well stocked, sufficient to achieve a five-star ANCAP rating this year. Adult and child protection scores of 90 and 83 per cent, respectively, contributed to this, as did fitting of lane keeping and autonomous emergency braking. There's active cruise because of the camera and sonar sensing systems. Count also on blind spot detection, driver fatigue warning, tyre pressure monitoring, rear cross traffic alert, an eight-inch LCD touchscreen, forward collision warning, six airbags, full LED lighting, a reversing camera and front and rear parking sensors.
Lots of convenience features too
On handy stuff, GT gets a smart key, dual zone air, nav, driver's seat memory, a wireless charger, smartphone connection for both types, a JBL eight-speaker sound system, heated and vented seats up front, and four years of free scheduled servicing included in the upfront price. There's no head-up display but we're almost as happy with a digital speed readout, especially in something as effortlessly quick as this.
Wet weight is about what you'd expect, at 1400kg, so this car is pretty feisty, especially in Smart mode, which adapts according to driver inputs, and Sport mode, which some people seem to overlook. To access Eco, Comfort and Smart modes, you push a button on the centre console but Sport mode is a bit different; you pull the shift lever across to the right for that, into the manual sequential slot. Given the lever is oriented the wrong way, in our view (push for an upshift, pull for downshift) it's preferable to use the paddles instead.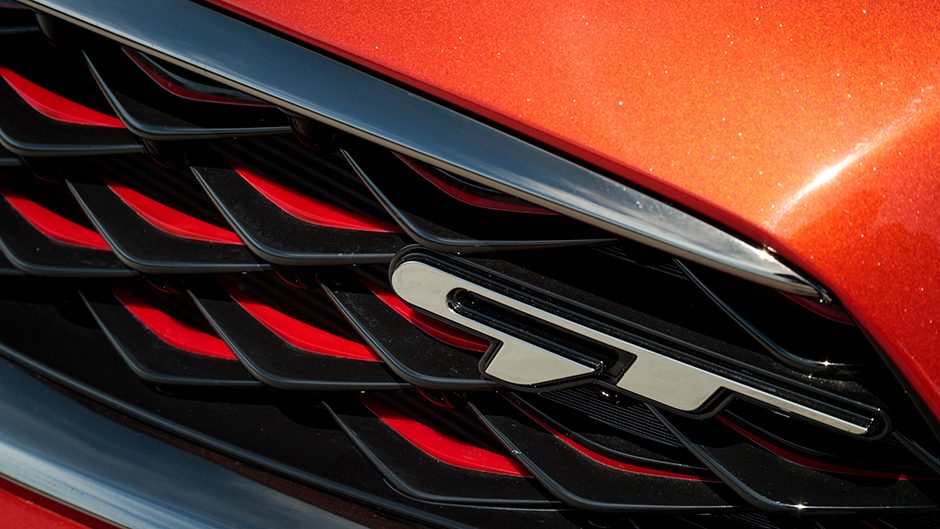 Drives hard easily
In Sport mode there's a clear increase in the intensity of the motor output, and it pulls best in the higher revs, from about 4000-6000, but there's nothing wrong with its urgency in the 3000-4000rpm range while town work you can mooch about down around the 2000rpm level.
It's not at serious hot hatch levels for performance but it sure does try to emulate them dynamically. Its stick up front is inspirational, the Pilot Sports hanging tough, while the rear is nicely tied down with its multilink set-up. Point to point, this really can fly, helped by uprated brakes that are a foil to its sizzling pace. It's a good steer too.
The downside, though, is that its slow speed ride over broken roads isn't the greatest, suspension being firm and fixed. Even at open road speeds, it's better riding on smoother surfaces, but the upside is high retained corner rates. Think of this then as a GT in the performance and dynamics sense, rather than a long distance grand tourer. If you really don't need the added performance of the GT, there's always the similarly specified GT Line which runs with a 2.0L MPI engine mated to a six-speed auto instead. This unit also powers the base LX and the $35,990 EX.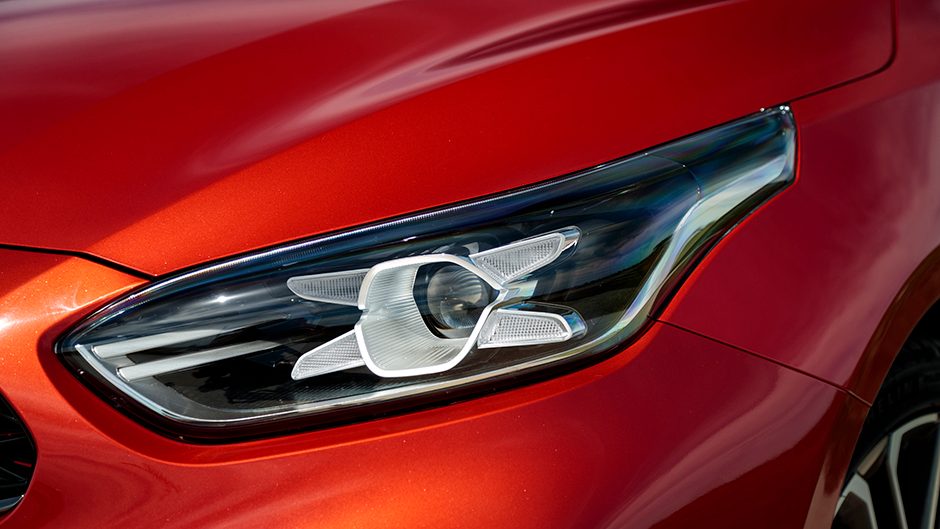 All Ceratos are covered by a five-year/100,000km warranty. Given there's much less power and torque (112kW and 192Nm) with the 2.0 CVVT engine that theoretically uses more gas (claim 7.4L/100km overall), we reckon the $2k extra on the GT is money extremely well spent.
As it's bigger, smarter looking, roomier, and with added specification for the same or less outlay as its forebear, new Cerato should increase its share in this sector, and Kia hopes to push beyond 7000 units in total as a result this year. It also has a small SUV under evaluation. Expect this to be a dead cert for New Zealand given the area now accounts for 15 per cent of the new car market.
| | | | |
| --- | --- | --- | --- |
| Model | Kia Cerato GT | Price | $41,990 |
| Engine | 1591cc, IL4, T/DI, 150kW/265Nm | Drivetrain | 7-speed twin-clutch, front-wheel drive |
| Fuel Use | 6.8L/100km | C02 Output | 158g/km |
| 0-100km/h | 6.70sec | Weight | 1414kg |