The Renegade is Jeep's new warrior in the small SUV world. Does it justify its premium price tag?
Jeep has always been all about tough, off-road ready SUVs but in recent years they've shown a softer side, evident in the driveability of the current Cherokee and Grand Cherokee models. Not that they aren't still good off-road, like rival Land Rover. But clearly they've seen that smaller, more town-centric models have appeal, and have decided to have a crack at an urban warrior themselves. The square-rigged Renegade is the result, designed in the US, built in Italy and debuting new unibody underpinnings dubbed "small-wide 4×4 architecture".
The company has ensured that Renegade lives up to its Jeep heritage, with at least moderate off-road ability which the company claims is best in class. Given many in this area are front drivers, just having on-demand 4WD would have been almost enough. However, this gets 211mm of ground clearance, a Selec-Terrain system with five different modes, and a low 20:1 crawl ratio thanks to its nine-speed automatic transmission. It also offers skid plates, approach and departure angles in excess of 30 degrees, and a rampover angle of 25.7 degrees. As we also discovered on an off-road excursion, it goes places you might not expect.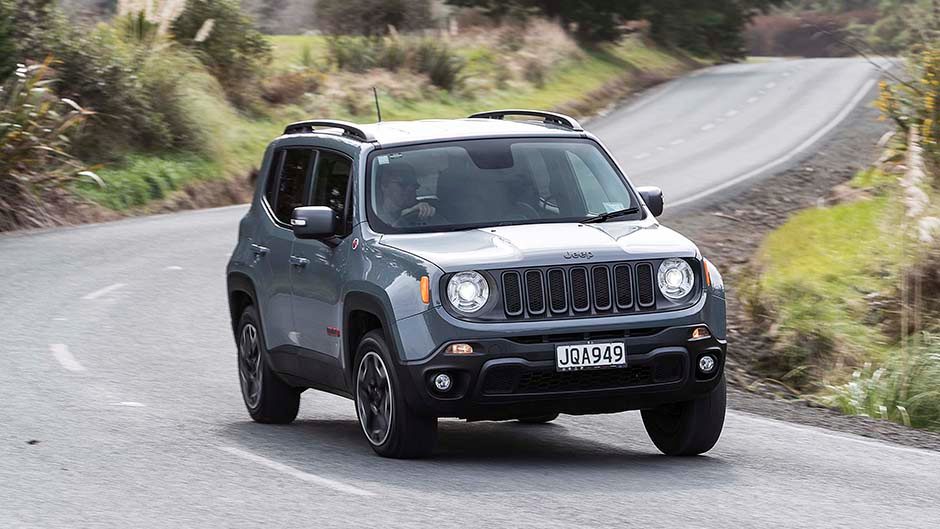 Course, 90-plus per cent won't go beyond a spot of kerb hopping, and the aerodynamically optimised 17-inch wheels should help in that regard, though we can't help thinking that the Renegade would look right on 19s, better filling out those huge wheel arch gaps.
While this is not one of its best design features, it sure is full of other fancy bits, though it would want to be at its high-riding price. Admittedly, FCA New Zealand decided to bring in only the top-of-the-line Trailhawk version, with its "trail-rated" badging, on-and-off-road tyres and rather replete specification list but it's possible to climb into a Cherokee for similar money. Just saying, that at $49,990 it's not inexpensive, especially if you do the conversion from US pricing. Manufacture in Italy and shipping from Europe probably don't come cheap.
Many of the design elements hark back to the original machine. Above the seven-inch nav and reversing camera screen it says as much (Since 1941). Higher up, near the rearview mirror, there's a cut-out of the iconic round headlights and slatted grille, while on the right side of the windscreen, a micro-sized Jeep can be seen in off-road terrain.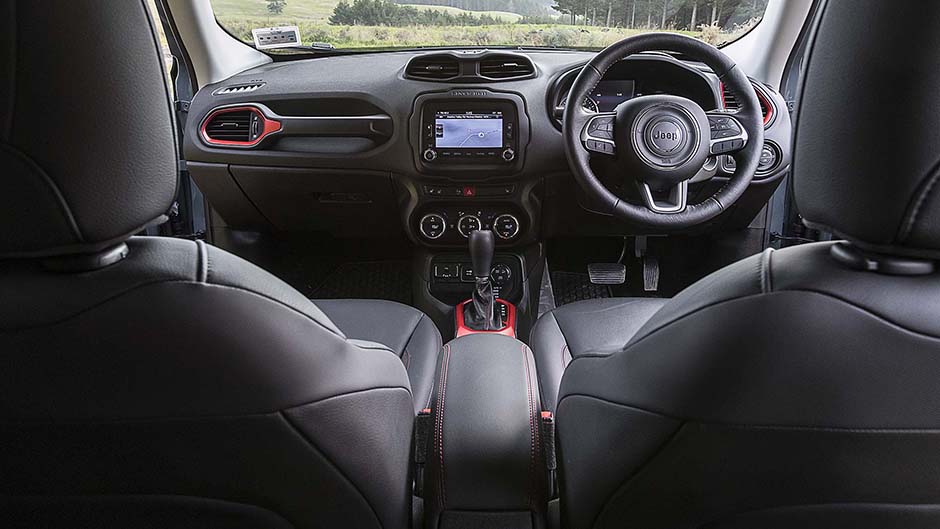 There are also thoughtful design features. In many machines, the pushbutton start/stop mechanism is hidden by the wheel and that's the case here too. Only you don't need to peer around the corner, as it's hidden right where an ignition key would normally go. And it's a proximity device, so unlocking is easy too, just pull the front door handles, while locking is achieved by touch pads.
There's just the lone petrol 2.4-litre Tiger Shark engine on offer. When an engine has to be named, one senses there's a reason. A Tiger Shark may sound all aggro and bitey but it's more a Pussy Cat in reality. A normally aspirated design, the single-cam VVT engine makes 129kW and is good for 232Nm at 4800rpm. At town speeds the engine's at its best. Under the pump, it's a bit slow to rev, and the gearbox sometimes dithers.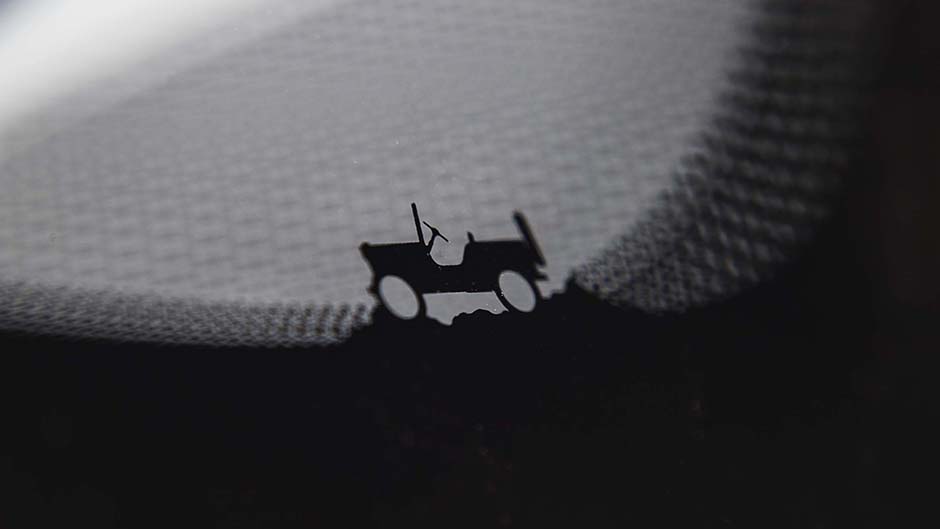 Rapid the Renegade ain't, taking essentially 10sec to reach 100km/h. We got a faster time using the manual gate, but Jeep's claim of 8.4sec seems a touch optimistic. An overtake requires 235m. Still, speed's not the point in this class is it? Comfort and practicality take precedence. There's an adequate amount of both. In the back, three can get cuddly together or two can fit easily with lots of wriggle room. It's not the biggest load bay in the class, and access could be easier; the release latch is hidden away at the base of the door, and it's a bit of a fumble finding it. Jeep has seen fit to install a full spare for Kiwi customers but overseas the floor (which can be inverted for wet loads) sits 15cm lower if required. As it is there's only 351L, though split folding expands this to almost 1300L. Headrests need to be minimised before rolling the seat back down though. It's best to do this anyway or they interfere with rearward visibility.
It might cost some but it's well loaded, including a heated wheel (we're yet to be convinced about these), heated seats (no convincing needed), leather upholstery, powered lumbar adjustment, dual zone air, cruise and speed limiter, seven airbags, a decent BeatsAudio sound system, and blind spot monitoring.There's even a $2500 dual panel removable sunroof which gets a familiar name, My Sky. The panels would normally stow where the spare wheel is. It has been on sale since February but I've seen precious few of this cute vehicle about town. If it was closer to $40k than where it's at, maybe Jeep would move some more, but we get the feeling they'd rather keep it exclusive.
| | | | |
| --- | --- | --- | --- |
| Model | Jeep Renegade Trailhawk | Price | $49,990 |
| Engine | 2360cc, IL4, EFI, 129kW/232Nm | Drivetrain | 9-speed auto, on-demand AWD |
| Fuel Use | 7.5L/100km | C02 Output | 175g/km |
| 0-100km/h | 9.47sec | Weight | 1646kg |