Our GM had been driving the limited version of the jeep compass around for a bit and when asked for an opinion he commented, "Yeah, it's alright." helpful as always.
But actually, he's about on the money. Aside from enjoying a drink when pushed, the Limited is actually a quite reasonable all-rounder. It should even have some Jeep off-road credibility, given this Limited version has AWD, 208mm of ground clearance and several traction control settings optimised for the surface you're traversing. We didn't but then it comes fitted with Bridgestone Turanza tyres and they're devised mainly for tarmac work so that's what we did.
Pleasingly, the Compass does actually have a direction finder, front and centre in the instrument binnacle, always showing the way. At least when you're not using the standard fit sat nav, which kind of makes the compass obsolete, but it would be a bit silly not fitting one, right? There's not a whole lot you don't get in the Limited model, like leather trim, powered seats and fifth door operation, front and rear parking sensors and a reversing camera. Lane keeping and blind spot monitoring aren't present, but active cruise is, so too comfort entry, and a self-parking system. There's also Beats Audio, dual zone air which struggled in the hot sticky summer conditions, seat heaters for winter, an electronic parking brake and seven airbags. We like the secret cubby inside the passenger seat squab, a clever hidey-hole.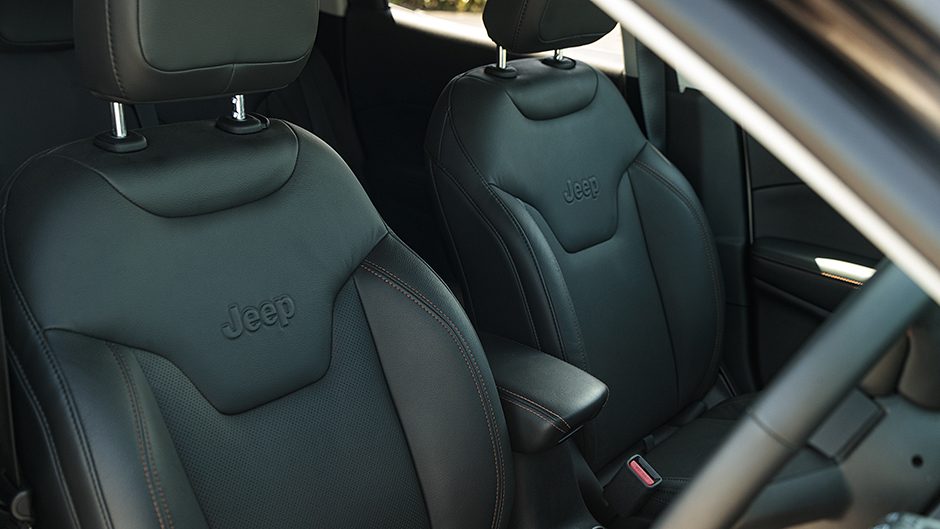 The engine has been around for a while, the imaginatively named TigerShark clearly devised by the marketing department over a liquid lunch. It's more akin to a CatFish in reality, so it has a bit of fight in it but it ain't no tiger or shark. For its 229Nm of torque doesn't start pumping in earnest, at least out in the badlands, until about 3500rpm, when the effect of VVT becomes apparent. And its claimed average of 9.7L/100km goes out the window when you're liberal with the throttle and revs.
And you'll seldom see any evidence of that ninth gear in action. You need about 120km/h plus for that. So effectively this is an eight-speed auto. Even eighth is high geared, the engine doing 1500rpm at the open road limit. Given the beans the auto takes its time upshifting so it's no great shakes on the acceleration front. But round town you'd not notice that. There's no turbolag off the mark because there's no turbo. But it just doesn't launch with any great conviction either.
Dynamically it's not half bad. There's some roll and suspension thump bump but only when properly prodded. The long travel suspension means there's a reasonably accommodating ride at open road speeds.
Back in the burbs though, the minor bumps seemed to be picked up by the firm Koni damping. There are cushier rides out there. But the engine does actually pull okay in the lower registers when there's not quite the demands of open-road running.
If you plan on a bit of off-road action but otherwise just want a decent sized petrol-powered family wagon with most of the mod cons, Compass indeed 'is alright'.