It's facelift time for the F-Type, and we get behind the wheel of the new 400 Sport, a limited edition update of the F-Type S. It purrs, it yowls, it scores.
In retrospect, one might conclude that Jaguar got its F-Type, the new millennial reincarnation of the E-Type, a little bit wrong. Only a little bit mind you; we absolutely adored the F-Type S Coupe, the one with the supercharged 280kW V6 engine. But the supercharged V8 was almost too much of a good thing. Gobsmackingly powerful, it was forever trying to wind itself about its short wheelbase chassis, and could be a mite lairy.
I guess Jaguar must have agreed in the end, because henceforth the V8 model will be available only in AWD guise, and that's probably a good thing. We found the all-paw variant so much better to guide through tight and technical roads, not anything like as tail-led, just good hypersports fun. Both versions came with a soundtrack to bring tears to the eyes.
However, it's not the V8 we're here to discuss, but one of Jaguar's special editions, the F-Type 400 Sport. Before driving it, I was expecting a V8 under the bonnet, what with the 400 model badge and all. But upon pushing the starter button it was soon clear that the number related to horse power rather than kilowatts. Had I been blessed with a photographic memory I'd have known that the supercharged V8 already produced in excess of 400kW anyway.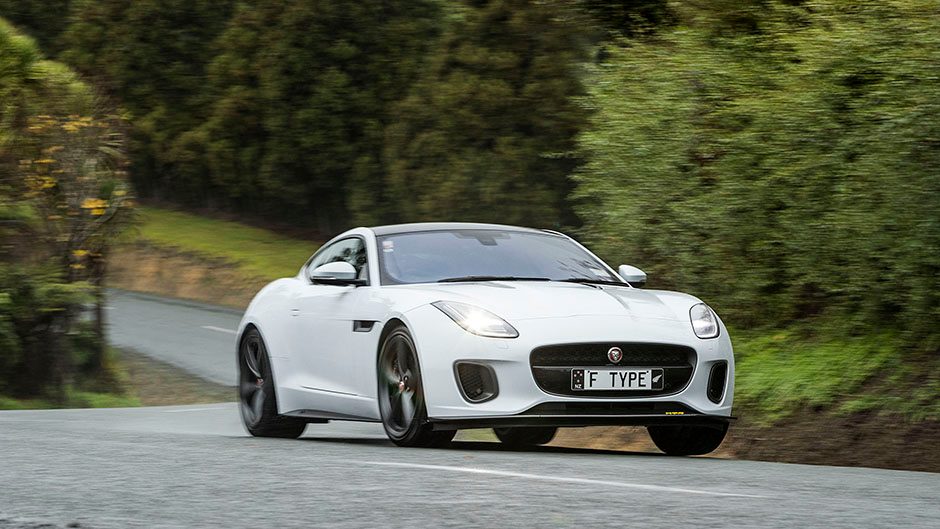 Subtly different
The F-Type burst onto the scene in 2012, so it's time for an upgrade. Thankfully, the designers have tinkered with it in only the most minor ways to effect a facelift.
The front bumper is a bit different, headlights now run LEDs, and DRLs double as direction indicators. From the rear, pick the facelifted model by the darker lenses in the LED rear light clusters. No, we didn't notice either.
In case you've overlooked the subtleties, you can pick the limited edition '400 Sport' by the badges on the front splitter and rear of the car, and they're repeated elsewhere inside. Only available for this model year, it will be produced as a coupé and convertible, and in rear- or all-wheel drive, with prices ranging from $164,900 to $189,900.
The interior differences you're more likely to notice, like the new lightweight slimline seats. Frames are made from magnesium alloy so are 8kg lighter, and the more slimline design means the seatback can extend rearwards by 50mm more than before, while the driver can adopt a lower, sportier seating position as well.
Updated F-Type adopts the Touch Pro infotainment system with an eight-inch capacitive touch screen. Parking assistance is new, and there's also a new smartphone app called ReRun. Designed in conjunction with GoPro, it provides a means of recording and sharing your driving moments on social media or, viewed another way, it's an opportunity to show off online, and regret it afterwards.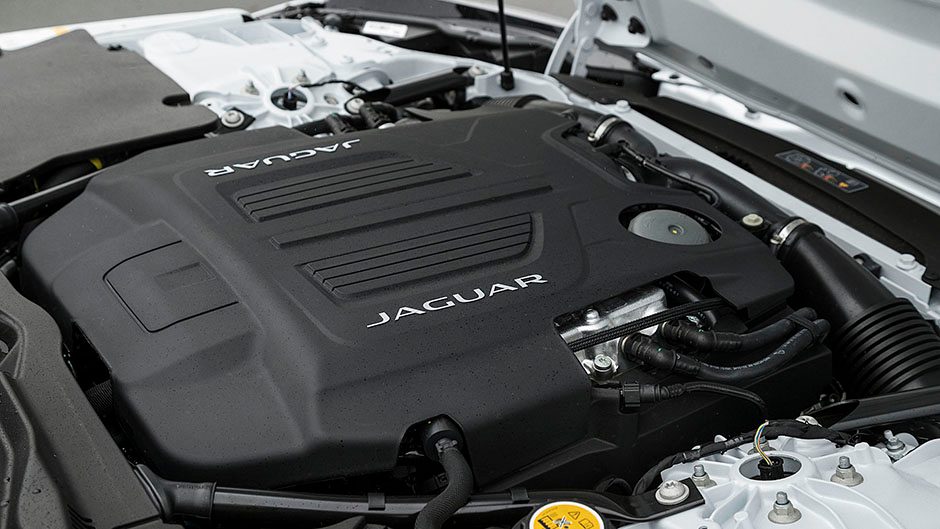 More stop and go
To more important things then. How has Jaguar improved upon a drive that, when we last experienced it, had us fizzing like fools? They've simply added more of the good stuff, taken a great thing and made it slightly better. The F-Type 400 Sport gets a modest power upgrade to the 3.0-litre supercharged V6 engine, peak output rising from 280 to 293kW or (close to) 400PS, hence the name. The bits that keep performance in check have also been uprated with the addition of the Super Performance braking system. The upgrade means 380mm front and 376mm rear discs, acted upon by black calipers with, lest you missed it on the rump, the 400 Sport logo. One other key change is a configurable dynamics system so you can dial up throttle, transmission, steering and damper settings of your choosing. And to round things out, the F-Type 400 Sport rides on 20-inch alloys.
It was a luscious thing to behold and drive before and it remains an absolute peach in its latest guise. There are more hot-shot V6s around nowadays, thanks to forced induction, and some sound pretty interesting. But there's something about Jaguar's supercharged V6 yowl that is unique, and it's intoxicating. There are two exhaust settings, raucous and call-noise-control loud. At full voice everyone within a km-wide radius will know you're in the neighbourhood, so best to cull the noise in the burbs. Out in the wilds you're better off concentrating on keeping speed down, not sound.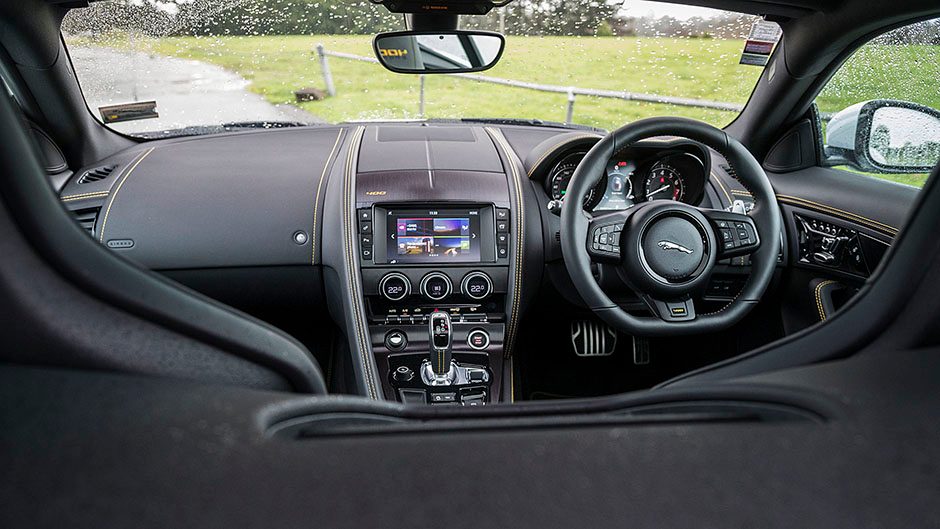 Still special to drive
You might imagine that attention to weight saving with the lighter seats would have led to weight loss but sadly no, it still scales up on the indelicate side of 1700kg. And that means it is no quicker in a straight line either; better by a mere tenth 0-100 but we'd hasten to add it's plenty fast enough. Where the V8 model can be a bit too much of a good thing, the V6 is just about perfect in that you can drive it relatively hard without it being a speed demon.
For the most part this is just unadulterated sportscar heaven. The weight balance is sublime, the midrange punchy, the electric steering about as good as it gets, the brakes are inspirational and the dynamics are top notch. Under the hood the supercharged six proves a potent force for good, with instantaneous go under the pump and lots of it. In the mids, it pulls hard from 2500-3500rpm, meaning fuel use isn't at V8 levels; 14.7L/100km was the worst we saw. Up the ante and from 3500-5000rpm the Jaguar is a wild cat, running like the wind and howling like a demon. Despite the exhaust noise it's quieter overall, by around 4dB on average which make progress that much more agreeable.
The slurring eight-speed auto has a knack of knowing precisely how hard you're pushing, so there's little need to revert to the paddles but you will because they're so lovely to use, and add to the drama. Another highlight is the electric helm which makes it a treat to guide over familiar roads. The short wheelbase contributes to its sharp, responsive steering, and this rounds up into corner apexes under power as if born to it, like any good sportster should, but the downside is that stability at speed isn't top notch. It's a compromise we don't mind. And given that, the ride quality is magical, even in the Dynamic mode. What works for British roads seems to gel here too. Ease back on the afterburners, and cruising the byways in Comfort mode is equally appealing.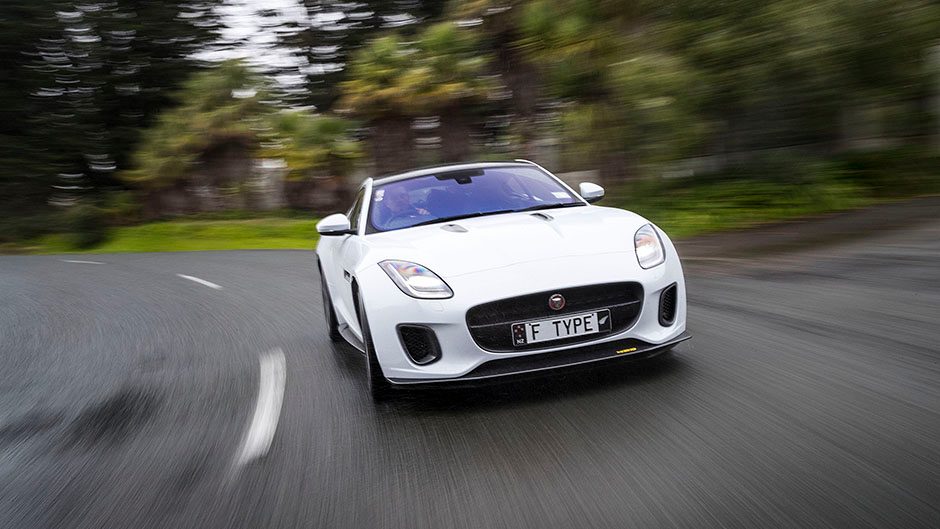 The emotional choice
Low flying sporty numbers like this often have visibility issues and with the 400 Sport the deploying spoiler eats up the lower half of the rear screen, leaving precious little clear. Of course you can always keep your speed in check so the spoiler doesn't deploy but that takes more self-control than you might imagine.
While this doesn't have all the active safety whatsits as standard, it has the kind of active safety that works; a brilliant chassis, and stonking brakes. Otherwise it's as before, only better, and a genuine alternative to the slightly less expensive Porsche Cayman with its turbocharged four-pot engine. You need to drive both if you're looking for something like this, but for the emotive edge there's no doubting which way I'd be leaning.
| | | | |
| --- | --- | --- | --- |
| Model | Jaguar F-Type 400 Sport | Price | $164,900 |
| Engine | 2995cc, V6, SC/DI, 293kW/460Nm | Drivetrain | 8A, RWD |
| Fuel Use | 8.6L/100km | C02 Output | 203g/km |
| 0-100km/h | 4.72sec | Weight | 1758kg |