Jaguar's most successful SVO variant, the F-Pace SVR, has been recently updated. We tried it first on track and now get to drive it in the real world. All good?
Jaguar's F-Pace is the most popular model in its line-up and, like Cayenne, saved the company when things were looking bleak. The saloons weren't selling well against stiff competition and the company was in dire need of a high-rise vehicle as these were in the ascendancy in the luxury sector. F-Pace not only came along in the nick of time but also arrived with styling that won it plenty of plaudits. It still accounts for one-third of Jaguar sales here and, because well-heeled Kiwis love their performance machinery, it's no surprise that one in three F-Paces sold locally is the SVR model. Perhaps it helps that the F-Pace SVR also costs less ($169,900) than rivals like AMG GLC 63 ($184,400), X5 M Competition ($219,900), and SQ7 ($188,000).
For our second introduction to Jaguar's renewed F-Pace SVR – the first impressions were formed on track – it was time for a few days out plying urban and rural roads. This was rather a marked contrast to our initial introduction where it was straight into the Dynamic setting and pedal to the metal around Hampton Downs. There the big cat made quite an impression on everyone, sounding off down the straights, and rounding up the corners rather tidily. Does it have more arrows in its quiver?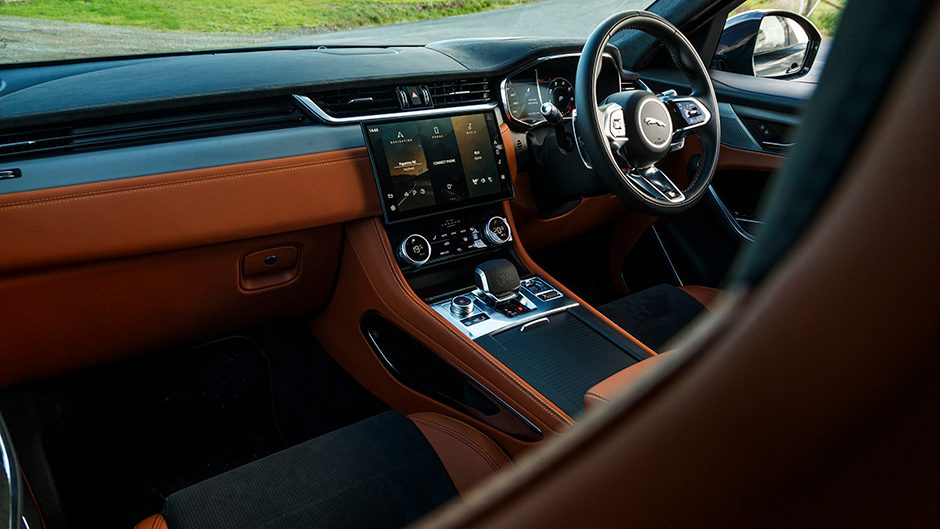 What's new?
Before going there, we should just cover off what's new for the refreshed model. Well, there's the appearance for starters. Recall that the F-Pace won the World Car Design of the Year five years back and it still looks ornery, especially with those optional five-spoke 22-inch flat-black alloys ($2600). They're finished in asymmetric Pirelli PZeros, 295s on the rear and 265s up front, which in part explains why this car was so convincing at Hampton Downs a few weeks prior. Enhancing its dynamic envelope is weight balance that's all but evenly split between front and rear axles (51:49), while at the limit there's torque vectoring by brake on each axle to maintain line, and an electronic active rear differential that can shuffle torque right or left. There's also adaptive damping, which is the most resolute in Dynamic drive mode where body movements during cornering are nicely quashed.
Other external changes are directed mainly towards reducing lift and drag, and also improving aesthetics, which goes without saying. A longer roof spoiler reduces lift at the rear while a reworked front fascia and grille and new lights reduce lift by 35 per cent up front, while also reducing drag (Cd of 0.37). There's supposedly a small lift in top speed, from 283 to 286km/h, though we never got a chance to test that, unsurprisingly.
Enlarged cooling vents in the front bumper and improved brake pads along with a new brake booster are said to not only help with retardation but also enhance feel at the pedal. Discs are bigger too at 395mm in diameter and are acted upon by four-piston brake calipers.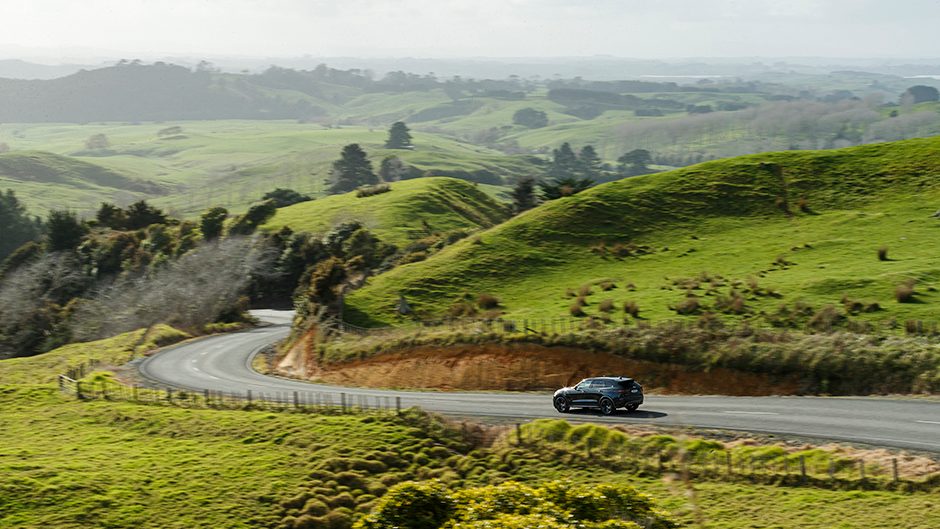 No quicker but fast enough
It needs decent brakes, given output of the 5.0-litre supercharged V8 increases slightly over that of its predecessor. While power is unchanged at a symmetric 404kW, torque lifts by 20 units to an even 700Nm. With recalibration that bolsters torque across the rev range, the engine is said to be slightly easier on fuel, though a combined WLTP fuel use figure of 12.2L/100km (275g/km) is hardly reason to crow.
The eight-speed automatic features a dynamic launch system, the engine hovering around the 2500rpm stalled up on the brake before it's let off the leash. In Dynamic mode the sports exhaust system gives vent to an emotionally charged soundtrack. This you can also access in the more demure Comfort and Eco settings (yes, we did check both of those) but my significant other wasn't having a bar of that. "OMG", she said at one point, "Is that us making that racket?" I surreptitiously stabbed at the exhaust button to silence all the growling. "What racket's that dear?" wasn't entirely convincing, but a diversion certainly was. "Have you checked out the heated seats yet? Here, I'll show you how."
These are quite subtle in operation compared with the usual offerings. Perhaps it's because of the thickness of the gorgeous two-tone leather coverings of the sports seats. For whatever reason, it takes quite some time for the heaters to make their presence felt, even on the toastiest setting. She didn't mention exhaust noise thereafter, though perhaps that's because we were running in Eco mode much of the time, checking out fuel use on the green side of the ledger. Not much improvement, sadly; that blower is always working.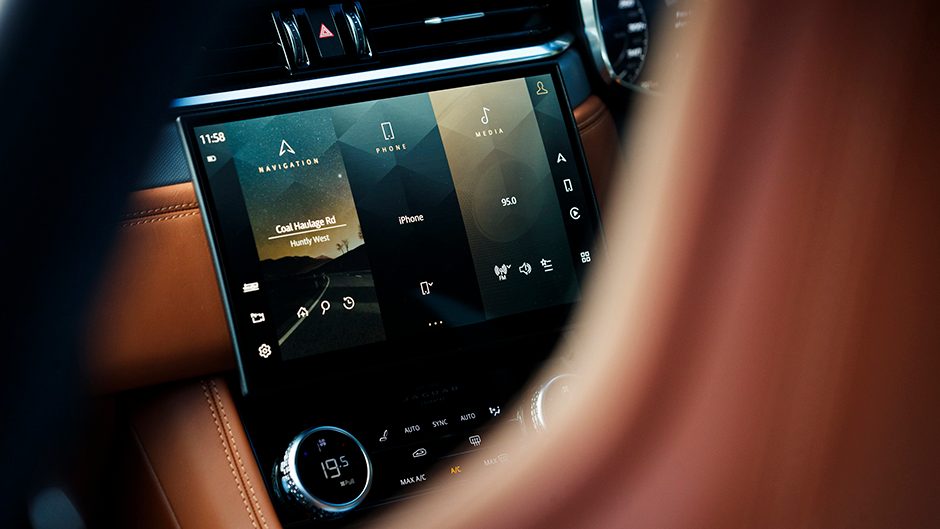 Classy cabin
While the exterior looks sleeker, more athletic like its fast and ferocious feline namesake, the interior positively shines now as well. It was the one aspect that fell a bit flat in the original iteration and Jaguar certainly has compensated for that in the update. In pride of place is an 11.4-inch HD Pivi Pro touch screen with dual sim cards that offers over-the-air software updates. But it's the finishings that also impress, with beautiful leatherwork atop the dash and lots of gloss black; this is much more luxurious to behold than before and gives the SVR a proper visual boost.
On road this is rather a different proposition compared with what it was like on track. Even in the default Comfort setting you're ever aware of its sportier orientation than any other F-Pace. The ride at urban speeds can be fidgety over broken or uneven surfaces. On the other hand, it's otherwise very easygoing, satisfying performance a mere brush of the accelerator pedal away, better yet above 2500rpm.
Only you're always aware this is no lightweight. One staffer who drove it thought the brakes could do with a bit more sensitivity at the pedal, and he's right, though our vehicle had had a torrid track test which might have been partly responsible. No matter what we did though, we couldn't improve on a 35.2m emergency stop from 100, not exactly outstanding for something that promised much on paper. Perhaps the enlarged footprint impacts on stopping ability (we've found wider tyres tend to work the ABS harder). Whatever, they never quite felt like performance brakes really should. Again, the kerb weight counts against it, despite the liberal use of aluminium.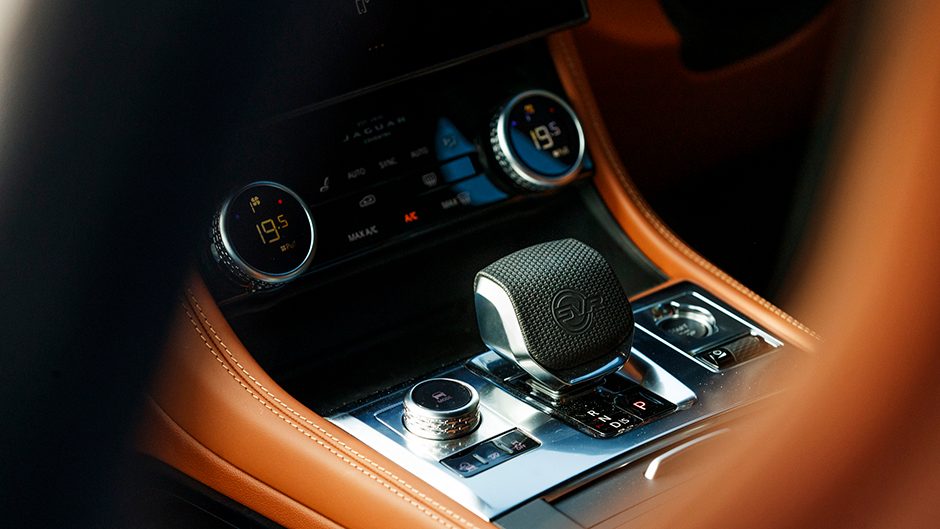 Still a right goer
On the opposite front, there are no real issues with how this jumps forward. Last time we checked it out, the SVR was rated to hit one hundred in 4.3sec and our's managed 4.2sec. Despite 20 extra newts this time around the latest SVR was no quicker, perhaps because it was also carrying 70kg of extra weight. We'd imagine a slug of that is a result of fitting the optional panoramic glass sunroof. There was, however, a minor improvement in the overtaking performance (2.32 vs 2.47sec). That's quick for an SUV, equalling the AMG GLC 63 S figure.
You'd not credit the noise this makes on song, or maybe you would, checking the rear of the SVR with its dual paired circular outlets. In the Dynamic mode, the exhaust valves open and the supercharged V8 roars like a lion with a thorn in its paw. You can hear the thing from clear across the county. According to the onboard trip computer, it uses fuel at a rate of around 15L/100km at a clip, while in Eco mode cruising gently up north we saw a minimum of 9.1L/100km. The fuel gauge starts off meandering its way down but then seems to head into freefall.
About the only annoyance of note related to the new gear lever. Recall that F-Paces of the past had a pop-up circular device, this one reverting to a regular lever but with a dicky and squeaky detente. If you don't fully engage this you won't be able to select D or R, and sometimes it takes a couple of stabs to make it so.
This type of machine is becoming an increasing rarity so if you've a hankering for a capable, exuberant V8 powered luxury-performance SUV optimised for tarmac duties, this might well be last chance saloon from Jaguar. Future electrifying Jaguars will be just that.
| | |
| --- | --- |
| Model | Jaguar F-Pace SVR |
| Price | $169,900 |
| Engine | 5000cc, V8, SC/DI, 404kW/700Nm |
| Drivetrain | 8-speed auto, all-wheel drive |
| Fuel Use | 12.2L/100km |
| C02 Output | 275g/km |
| 0-100km/h | 4.19sec |
| Weight | 2210kg |