Long a favourite tool of trade vehicle in Europe, the 2017 Iveco Daily 50C17 tipper provides a strong alternative to the traditional cab over truck.
Iveco New Zealand is chasing the growing market for light-duty cab/chassis trucks which can be driven on a class one driver's licence with its recently updated 2017 Daily range.
The improved and refreshed range of Iveco Daily vans and cab/chassis was introduced earlier in March 2017 at The Transport and Heavy Equipment Expo held at the Mystery Creek events centre in the Waikato.
It was here that Iveco New Zealand introduced a factory-supplied tipper option for the 3750 mm and 4350 mm wheelbase Daily 50C17 single cab/chassis truck, with the tipper body and mechanicals supplied by Iveco's approved manufacturing partner Scattolini.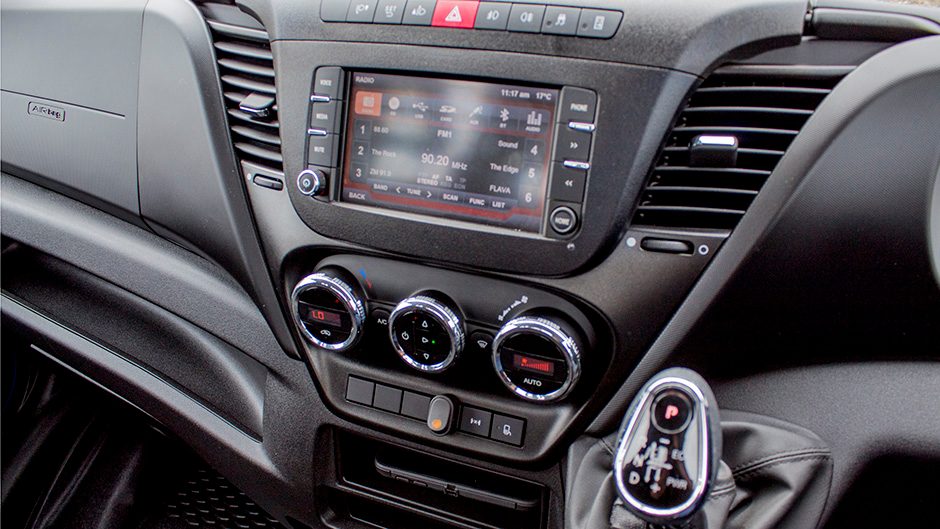 Our test vehicle was a 4350mm wheelbase 50C17 Daily 4×2 cab/chassis equipped with the standard 125kW/430Nm 3-litre four-cylinder turbocharged diesel engine and the optional 8-speed fully automatic transmission.
The retail price for the unit tested here is $75,500 including GST.
For 2017 the Daily single and dual cab/chassis models are available in 3500kg GVM, 5000kg GVM, and 7000kg GVM configuration and all come standard with a six-speed manual transmission or the 8-speed automatic for an additional $4025.
Part of the improvements for the model year 2017 Daily range were a revised instrument cluster as well as a standard open storage area in the top of the dashboard with a USB charging point plus the further option of an inductive charger if required, as well as new drawers which open in the lower door panels for greater storage capacity.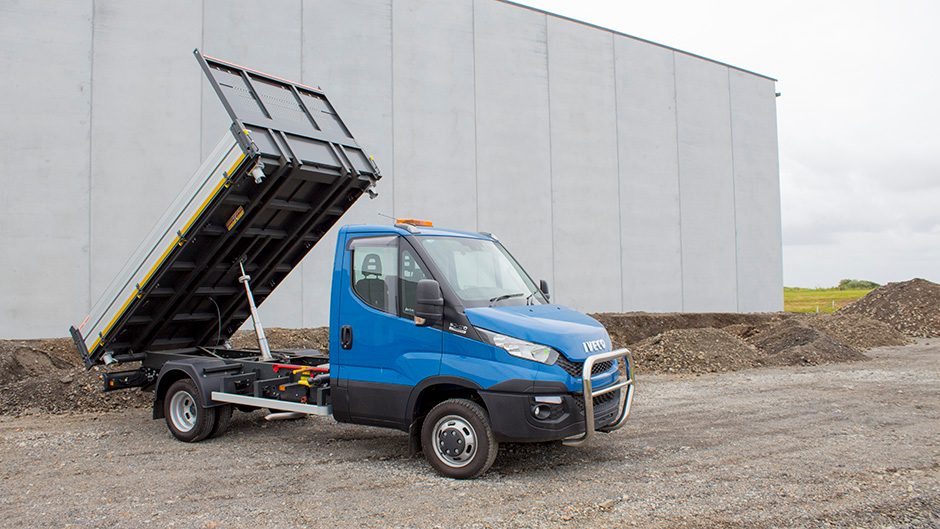 Iveco also upgraded the sound quality for the IVECONNECT multimedia system with a new mid-woofer and tweeter speakers, further boosted by a three decibel (3dB) noise reduction in the cabin thanks to the installation of more sound proofing material.
The model year 2017 Daily variants are also distinguished by a new front grille with horizontal bars replacing the previous horizontal honeycomb design.
Standard features include voice controlled telephony, Bluetooth, satellite navigation, climate controlled air conditioning, and cruise control.
The IVECONNECT infotainment system allows the driver to operate both the telephone and navigational system by using the 7-inch touchscreen on the dashboard.
The infotainment system has a CD/MP3 player, SD card reader, and features four speakers and an integrated 4×20 Watt amplifier, and there are also radio and phone controls remotely and conveniently located on the steering wheel.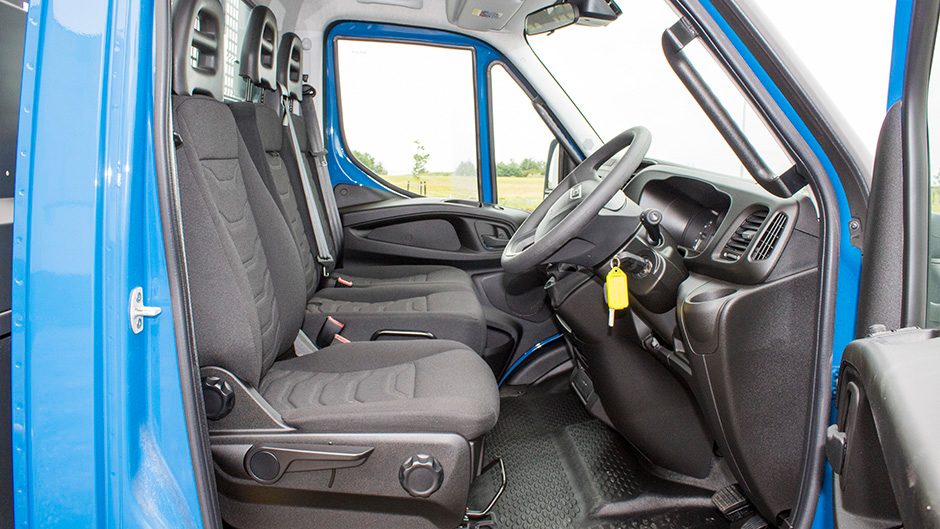 The Daily 50C17 tipper on review here arrived with an optional shiny new front nudge bar as well as rain shields on both windows, but the drivers pew was standard factory issue rather than an optional Isri suspension seat, which we would recommend for long distance applications for its higher level of comfort.
Just like all sibling models, the 50C17 tipper is equipped with front and rear disc brakes with ABS and EBD (Electronic Brake force Distribution), and has hill hold control as well.
Further safety features includes active stability control, as well as curtain airbags in addition to the front airbags for the driver and two front passengers, all of whom receive a three-point lap and diagonal seat belt.
Other extra cost options for the Daily cab/chassis, include a lane departure warning system, a 210A alternator, factory-supplied alloy wheels, a 100-litre fuel tank, and a rear differential lock for greater traction on slippery surfaces such as grass and mud.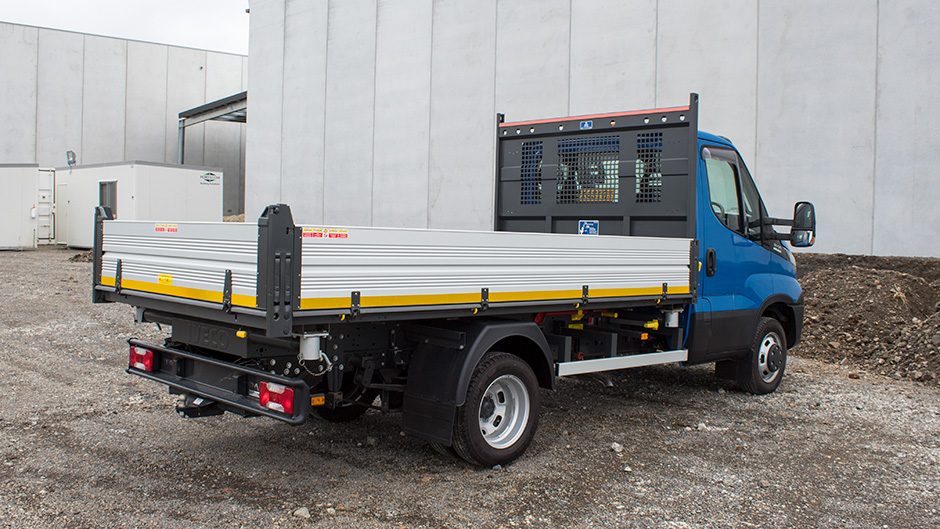 The standard issue Iveco 3-litre four-cylinder diesel engine in the 50C17 is turbocharged by a variable geometry system and intercooler to produce power of 125 kilowatts at 2900-3500 rpm and torque of 430 Nm between 1500-2600 rpm.
The standard issue Iveco 3-litre four-cylinder diesel engine in the 50C17 is turbocharged by a variable geometry system and intercooler to produce power of 125 kilowatts at 2900-3500 rpm and torque of 430 Nm between 1500-2600 rpm.
A twin turbocharged version of the 3-litre unit which offers increased power of 150kW @ between 3100-3500 rpm and torque output of 470 Nm @ 1400-3000 rpm is also available at an additional charge.
Iveco says the 2017 Daily range boasts a reduction in fuel consumption of up to 4.1% compared to the previous models because engines have low friction piston rings, and higher grade oils are now used for lubrication, but service intervals remain at 40000km.
The manufacturer is also installing a new intelligent alternator which it says makes a significant contribution to lower fuel consumption – this device recovers the kinetic energy released when the driver lifts his or her foot off the accelerator pedal.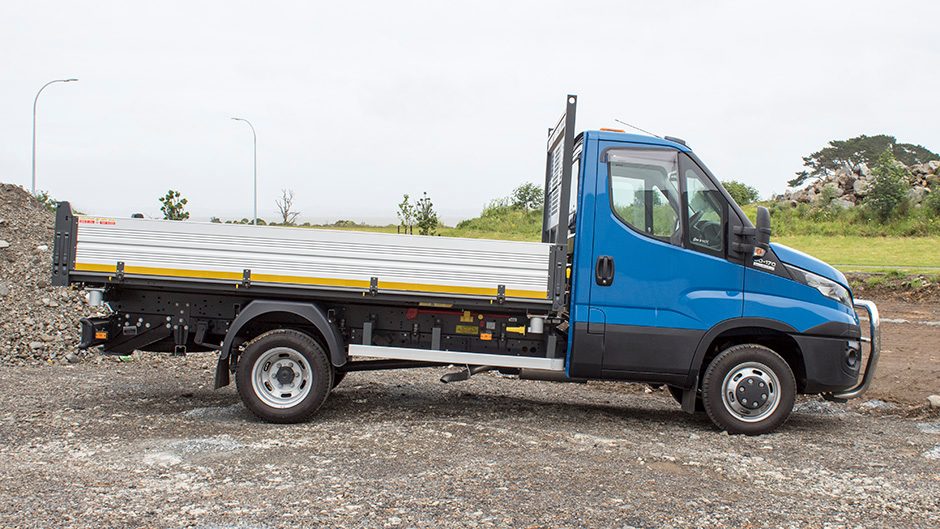 As reviewed this 50C17 tipper has a gross vehicle mass of 5200kg and gross combined mass of 8700kg, allowing a payload capacity of 3104kg, as well as a braked tow capacity of 3500kg.
Just like its immediate competitors, the Mercedes-Benz Sprinter and the Volkswagen Crafter, the Daily sticks with the European preference for a bonnet design for greater safety as well as ease of engine maintenance.
The cab has a drag coefficient of 0.316 which combined with the extra sound proofing means the Daily is surprisingly quiet inside when travelling on the motorway at 90km/h.
While the Daily has been designed to be a tough and durable tool of trade vehicle, it also has a comprehensive suite of safety features including adaptive load control, trailer sway mitigation, roll movement intervention and roll over mitigation which are part of its electronic stability programme.
Combining these attributes with a comfortable driving position, a responsive engine, and a brilliant turning circle for its footprint, the Daily 50C17 Tipper is a credible European alternative to the forward-control cab/chassis trucks favoured by the market.
| | | | |
| --- | --- | --- | --- |
| Model | Iveco Daily Tipper | Price | $75,500 |
| Engine | 2998cc, 4-Cylinder, 125kW/430Nm | Drivetrain | 8-speed auto |
| Fuel Use | 0L/100km | C02 Output | 0g/km |
| 0-100km/h | 0.00 sec | Weight | 2096kg kerb weight |
| Service | 40,000km intervals, year / 200,000km warranty | Load | |
| Vitals | 5200kg GVM, 3104kg payload | Vitals | 3500kg towing capacity |