In our final feature from our visit to Invercargill, we explore one of New Zealand's most interesting hardware stores, E Hayes and Sons.
<iframe src="https://www.facebook.com/plugins/video.php?href=https%3A%2F%2Fwww.facebook.com%2FNZAutocar%2Fvideos%2F1751601294870859%2F&show_text=0&width=560" width="560" height="315" style="border:none;overflow:hidden" scrolling="no" frameborder="0" allowTransparency="true" allowFullScreen="true"></iframe>
When Paul Owen returned from his adventures on the Harley Hog Run down south, he reckoned we needed to visit the Hammer Hardware in Invercargill. Really, we asked? A hardware store you say? We'd not heard about this gem of Invercargill, but the E Hayes Motorworks Collection is housed within this sprawling hardware shop, and included amongst these treasures is the World's Fastest Indian.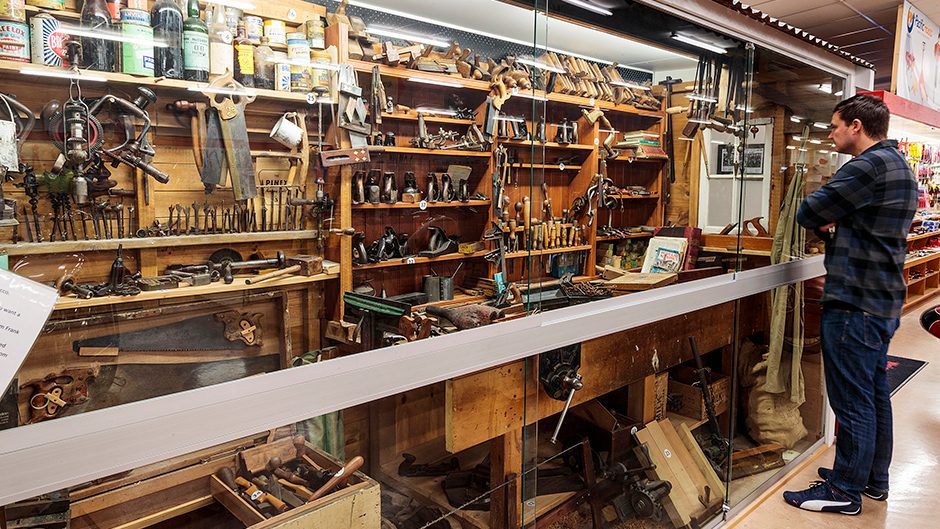 The world's fastest Burt
Undoubtedly Southland's most famous son, Herbert 'Burt' Munro was born in 1899 in Edendale. He bought an Indian Scout in 1920, with its 650cc side valve twin, and set about turning it into a Southland speed machine. In standard trim, the bike was good 60mph, but it wasn't long before Munro had it cranked up to 90mph by way of various engine mods and lightweighting. He would use this bike to set a New Zealand speed record in 1940 of 120mph.
The Scout was continually modified, including its long and low frame and the streamliner bodywork. The engine ended up as a near litre twin living on a diet of methanol with an improved dry sump oiling system and a four-cam valve train. Munro also cast his own pistons and rods, and modified the three-speed transmission. Literally nothing escaped Munro's tinkering.
At the age of 63, he made his first visit to Bonneville in Utah where he and his Indian reached 179mph, but it wasn't until 1967 that he set the Class S-A 1000cc world speed record of 184.087mph. Munro also had another speedster, this one a Brit, a 1936 MSS Velocette, bought for five pounds, which he also lightened and modified with a low-lying frame. This machine is not as famous as it was left out of the movie to simplify the storyline.
With a larger, methanol burning 650cc engine, it was good for about 140mph and clocked the quarter in 12.3sec, but health issues meant Munro never did return to Bonneville. In 1977, following a stroke, he sold his bikes to Norman and Neville Hayes, for the princely sum of $1300. He wanted the machines to stay in Southland, and the collection is proudly housed in the store. Part of the deal included his shed full of parts and broken components, those 'offerings to the god of speed', and the home-built trailer he used to ferry the bikes around.
The Hayes family knew him well, racing alongside him over the years, and helping him get to Bonneville for Speed Week. Munro died on January 6, 1978. Some of these Munro treasures were used in the film, including the original shelves of broken rods, pistons and cylinder bores. Munro's original tandem trailer is on display, alongside the one made for the movie. Also on display are a couple of the streamliner body replicas and the 1954 Snifter green Chev driven by Anthony Hopkins in the film.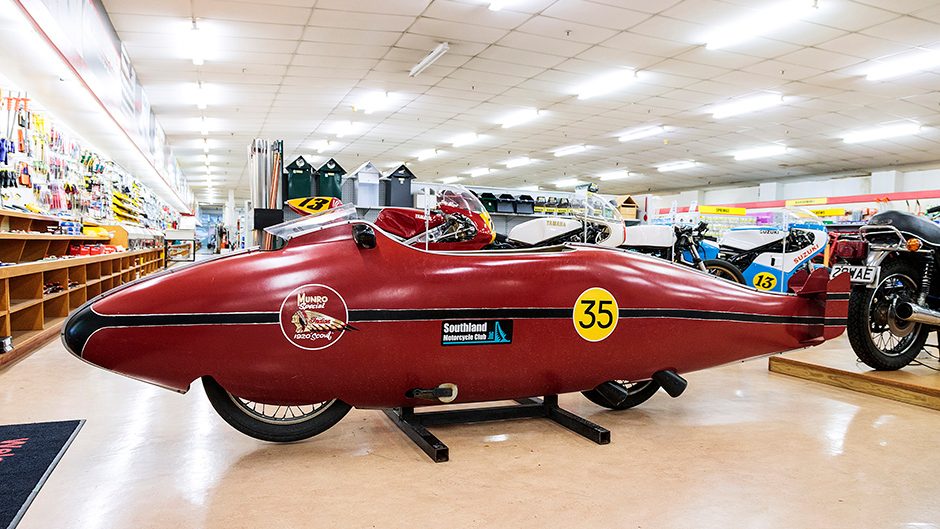 The E Hayes Collection
The Hayes story goes back to the late 1800s when Ernest Hayes started an agricultural engineering firm, one of his inventions being the Hayes permanent wire strainer. One of his sons opened up a store in 1932 on Levan Street in Invercargill, and his son Norman carried it on, while the current MD is Neville, the grandson, who continues the family tradition. The site for the store gradually expanded over the decades and now has its frontage on the main Dee Street as well, giving it over 5500sq metres of shop floor.
This includes a 100m long tool wall, featuring implements that give no clue as to their functional intent. The collection of automobiles is varied, with loads of two wheelers in the mix given the Hayes' interest in motorcycling. There are various oddities; the Hayes Special being a mini bike made by Norman Hayes for his daughter, a LVVTA Corvair with a flat-six from the Chev Corvair (hooked up to a two-speed auto) and an unrestored 1918 Indian Power Plus.
There's a Harley Davidson XR flat tracker, various Yamaha TZ racers, Vincents, Triumphs, Nortons, you name it. There's even an invalid scooter. The four wheelers in the collection include a 1910 Buick that was purchased by the Hayes family in 1915 and has remained in their ownership ever since. It's apparently a runner too. Also steeped in family history, the 1956 Morris J Commercial that was bought new by E Hayes and Sons. The boss still likes to get it out and drive it occasionally.
The store also plays hosts to cars owned by other people, and when we visited there were two Beggs present; the 1964 Begg 650, one of 18 built, and the McBegg. The 650 is a multi-tube space frame racer powered by a BSA twin motorcycle engine.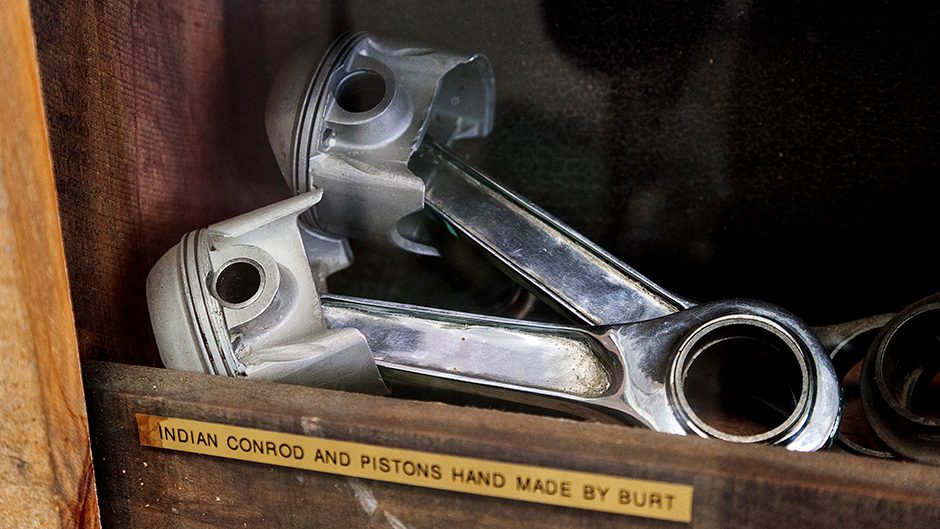 This racer, which also used various off the shelf parts like Morris steering for instance, proved competitive on hill climb events and in under 1000cc race classes. The 1968 McBegg was a one-off racer made from cast off bits from McLaren where Begg had spent the previous few seasons working in the UK.
The car was raced in NZ and also set a land speed record. Scattered amongst the cars and bikes, and all the brand new machinery for sale, is all sorts of miscellaneous stuff. There's a home-built engine constructed by Norman Hayes using various household bits for parts, a novelty hammer collection, an old carpenter's workshop and all manner of machinery and tools. There's endless amounts of stuff to look at and you can buy all sorts of Munro-related merchandise too.
Current MD Neville Hayes owns many bikes, and 11 cars, including a Ford Thunderbird, a Dodge Viper, his latest acquisition, various Corvettes, a '67 Camaro and an Impala SS. Though it's a collection worthy of an admission fee, he says he won't ever be charging for entry as it's part of the business and brings people in. And that's refreshing as so many attractions in New Zealand demand you cough up for entry. Here's somewhere you can spend a good hour looking about and not spend a cent. But we reckon you'll likely find a tool you never knew needed while you're there.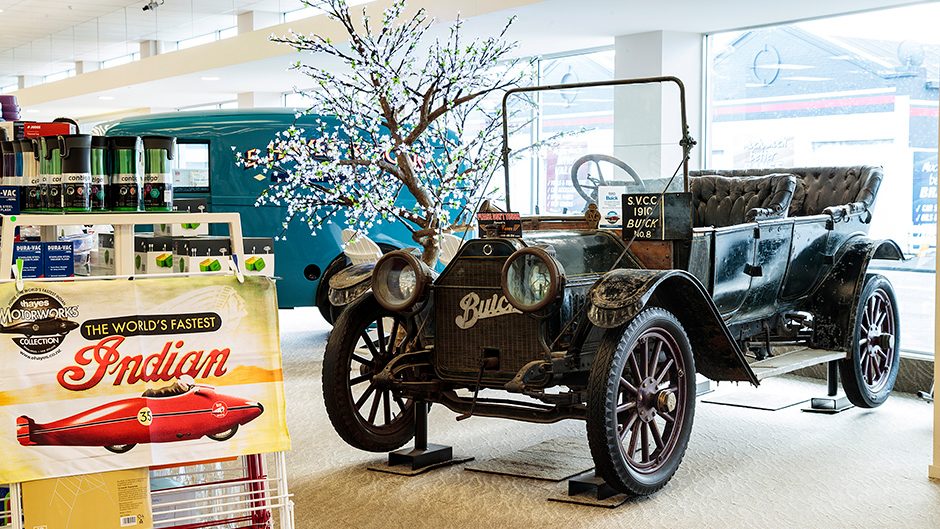 The Munro Challenge
A recent annual motorcycling event, the dates for the Burt Munro Challenge have been changed for 2018 in the hope of attracting better weather for the gathering. It has been notorious for howling gales and horizontal rain when run in late November. The next running will take place over the 8-11th of February. Over the long weekend, there will hill climbing, races on Oreti beach, circuit racing at Teretonga, Speedway and street races around Invercargill.