It has been with us for 23 years has Honda's CR-V Now, there's a facelift, and with that the touring variant makes a return.
In 2WD mode it enters the market with the full Honda Sensing Safety Suite at $39,990. That means it gets active cruise control with low speed following, lane keeping and lane watch camera, AEB, and autodipping headlights. Also part of the deal are dual zone air, Garmin nav, smart key and a powered tailgate.
All the new CR-Vs get a restyled grille and bumpers and new alloys. Touring spec can be had in AWD format as well.
There's still a seven-seater, dubbed Sport 7, which now comes with extra spec, while there's a new name for the top model, Sport Premium instead of Sport Sensing. This features model-specific 19-inch rims and a sportier suspension setting.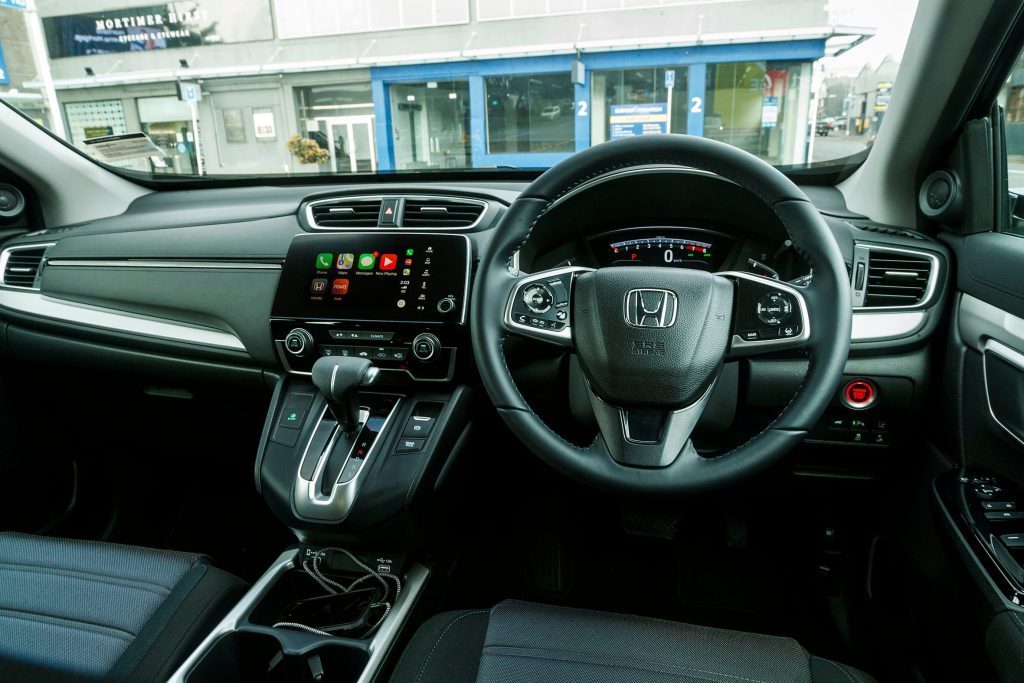 The 2.0-litre is no more, all models getting the 140kW/240Nm 1.5T unit hooked up to a revised CVT. Honda NZ said it should perform better so we took along our GPS timing gear to find out.
It's well put together, like any Honda, and a pleasant place to be inside. Doors shut with authority and it's quiet on the go. The Touring grade gets the premium fabric upholstery which is genuinely attractive.
Play around with the 'i' for Info icon on the left side of the wheel and we soon discovered it is pretty easy to achieve the stated 7.3L/100km overall fuel figure, especially with a bit of motorway work involved. Forge on and you'll see double figures but only just. We never saw anything above 11L/100km. Rather happily, it's one of the few turbos that runs okay on 91ULP.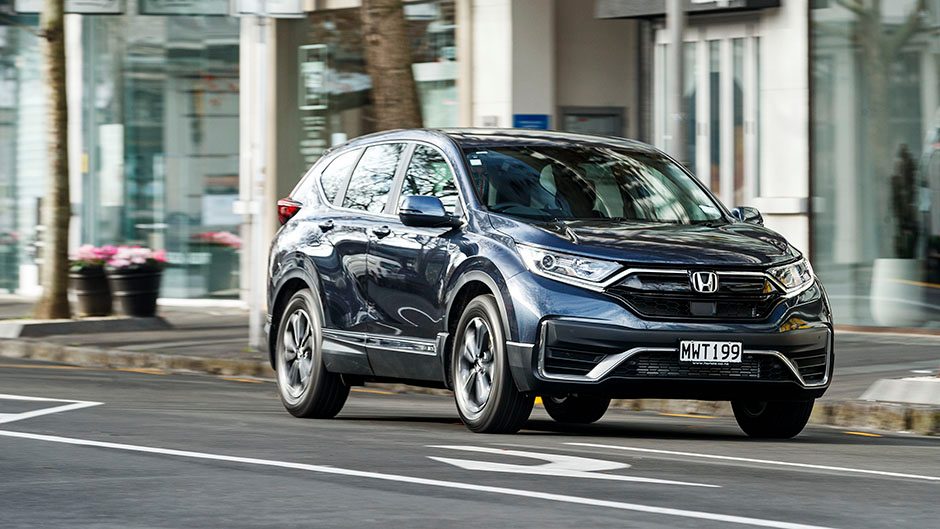 Performance is perfectly adequate and quite gratifying around town; it has about as much torque as an atmo 2.5L engine, only it's delivered from low revs. Honda staff were probably right in thinking this is a bit quicker than it used to be, with transmission tweaking. We cannot give you a true answer because all relatively recent CR-V testers were AWD. Whatever, this Touring variant outran the lot of them comfortably. Being 50kg lighter without the 4WD extras clearly helps.
Where all previous CR-Vs with the 1.5T unit we've tested couldn't break 8.6sec in the run to 100 and needed over 6sec for an overtake, this managed it in just under 8sec and in the mid-5sec bracket, respectively.
The engine doesn't feel like a turbo unit especially; there's little in the way of lag off the mark, and boost isn't of the fast and furious type. It's more of the easygoing nature. For ultimate performance you're best off pulling the shift lever back to S where revs rise to about 3000rpm and you're away laughing. Give it the beans and the transmission does mock upshifts as it soars towards its peak engine speed of around 6000rpm.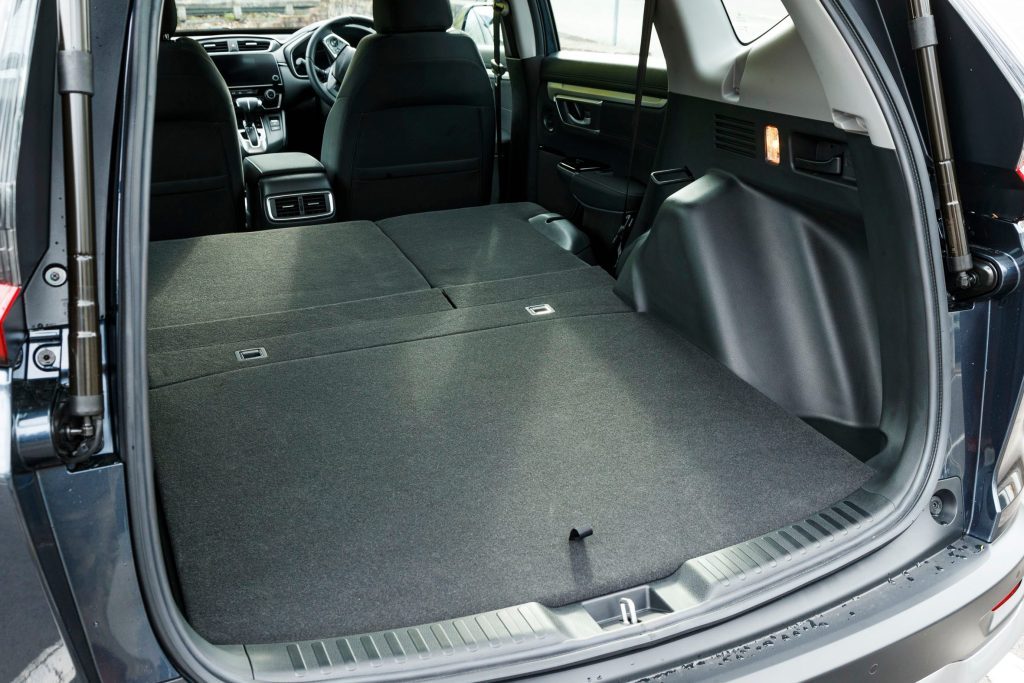 This is a delightfully easy vehicle to drive. Doors open wide, it's a snip to enter and exit, is very spacious and the seats feel great despite not having much in the way of adjustability. There are enough visual and sonic aids to make reversing no chore, though the seven-inch central screen could stand to be bigger. At least it's compatible with both smartphone types. Honda's unique lane change camera comes in handy when in the motorway grind and wanting to move left to exit.
What's best about the CR-V drive is the pampering ride; this wafts over speed humps, and yet it isn't all at sea out on winding rural roads. Suspension is fixed but quite long travel so plush. It's quiet riding too. Passengers should right feel at home; there's not the usual transmission hump in the rear seats, and width enough for three, plus Isofix fittings for child seats. The gesture control for the fifth door works reliably and under the floor is a full-sized spare wheel.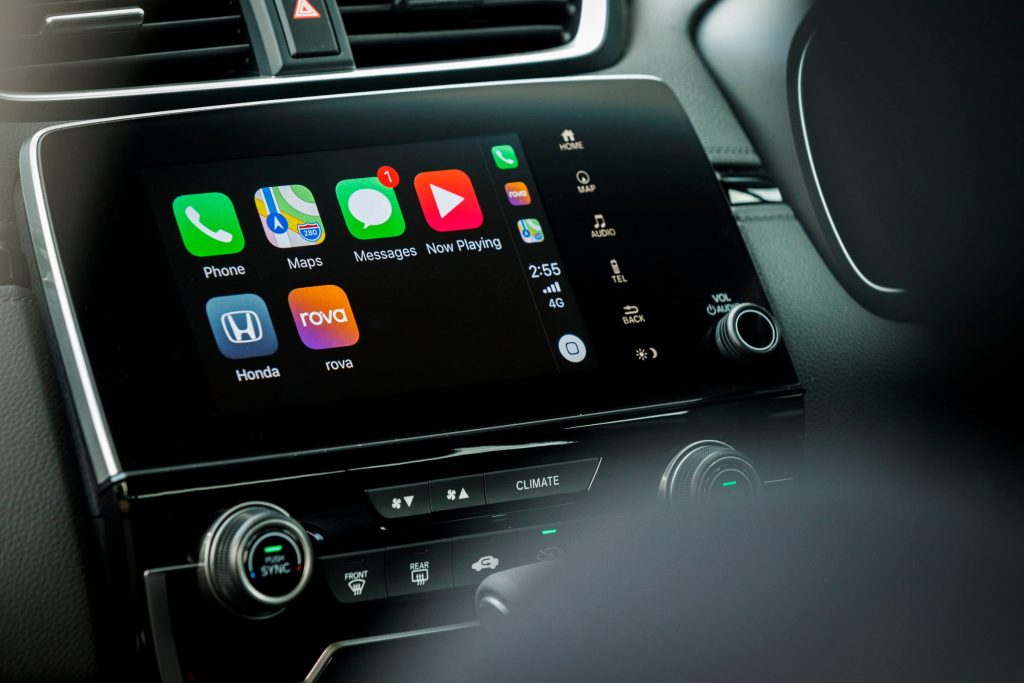 Split folding from remote handles in the luggage bay results in a fully flat load space – squabs lower as the seat backs drop down – a great feature in any versatile wagon, making it a handy workhorse. Load space ranges from 522 to almost 1100L, measurements to the window line.
On price, this competes with some high-spec compact SUVs. Given its sound performance and on-road demeanour, with decent spec and space, this should prove a popular update at a family critical price point.
| | | | |
| --- | --- | --- | --- |
| Model | Honda CR-V Touring | Price | $39,990 |
| Engine | 1498cc, IL4, T/DI, 140kW/240Nm | Drivetrain | CVT, front-wheel drive |
| Fuel Use | 7.3L/100km | C02 Output | 166g/km |
| 0-100km/h | 7.90sec | Weight | 1525kg |