The new Ford Ranger Raptor was launched in the United States recently and the nation's favourite tuner, Hennessey, has already gotten its hands on it and turned up the wick.
Welcome all to the VelociRaptor 500, an even more powerful take on the most powerful Ranger on offer. Under the bonnet is the same twin turbocharged 3.0-litre V6 as its stock counterpart which now boasts 373kW and 745Nm of torque, up from 302kW and 583Nm.
The power increase is all thanks to a new "high-flow" air intake, a larger front-mounted intercooler with a blow-off valve, and upgraded engine management software.
Mated to the back of the engine is the usual ten-speed automatic transmission, as well as an all-wheel drive system with locking front and rear differentials which come with the model from factory.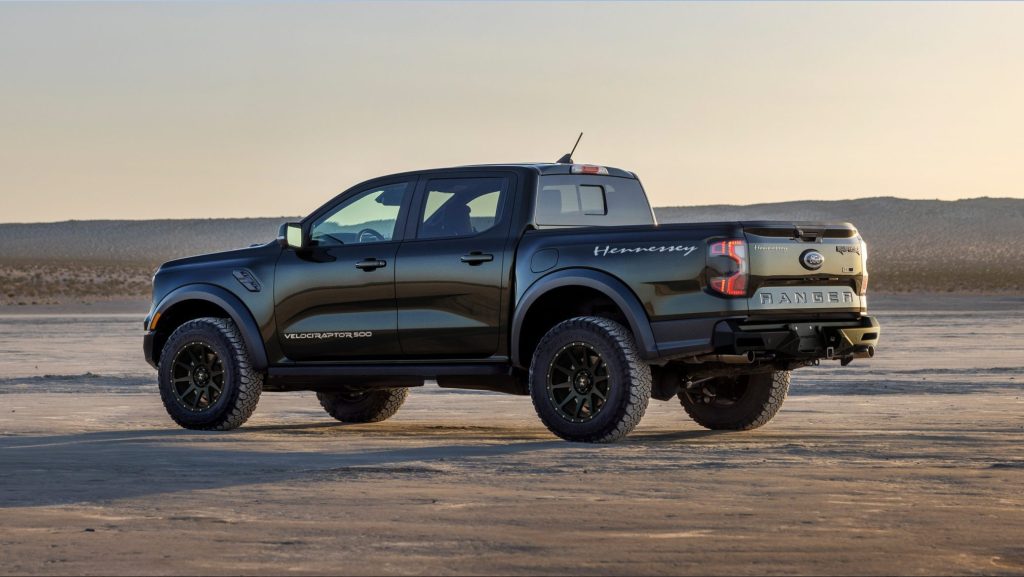 Looks have also been altered to match the VelociRaptor's performance, with custom front and rear bumpers, LED off-road lights, Hennessey's very own 18-inch ten-spoke alloy wheels, 35-inch off-road tyres, and unique badging.
Inside, the seats now have "Hennessey" embroidered on the head rests, while the carpets will be kept clean with all-weather floor mats. Each model will be fitted with a unique build number plate too.
Before the upgraded Ranger Raptor goes on sale, it will undergo testing at Hennessey's private test track where it will be put through a variety of on- and off-road challenges to ensure reliability.
Hennessey is pricing the Ford Ranger Raptor VelociRaptor 500 performance package at $US24,950 ($NZ40,435) and will begin international shipping from the fourth quarter of 2023.
It isn't yet known if the performance package will be on offer for New Zealand customers.