We visit a passionate custodian of the Austin-Healey marque here in New Zealand who let us take a nosy around his haven for 'big Healey's.
Known as the last of the hairy-chested British sportscars, the Austin-Healey 3000 is also one of the more beautiful machines from the motherland. It's genesis dates back to 1952 when Donald Healey set out to design a replacement for his Riley- and Nash-engined cars, which he had been building since the conclusion of the second world war. He wanted his new sportster to be lighter, sportier and more affordable. It would follow the usual formula of the day with a frame chassis and steel body but the styling was dramatic; fast and sleek.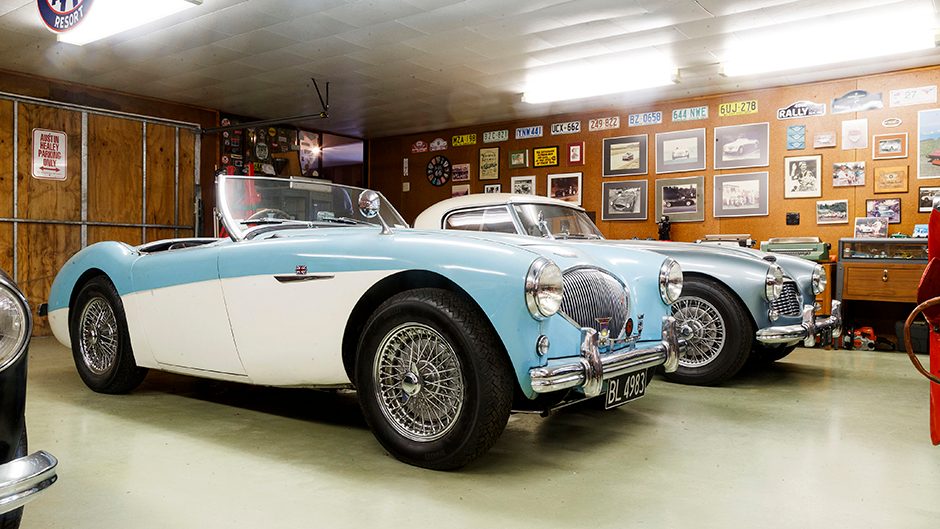 The choice of running gear was how Healey would keep the price in check. He struck a deal with BMC to use the 2.6-litre four-cylinder from the Austin A90, along with its transmission and front suspension set-up. This car would be the Healey 100, and was first seen at the 1952 London Motor show. BMC big wigs liked it, and would take over the project, renaming it the Austin-Healey 100, with the first car made in 1953. Only a handful of 100s were minted at Healey's factory in Warwick with production proper starting soon after in BMC's Longbridge factory. In 1956 the 'Big Healey' gained a six-cylinder using the BMC C-Series 2.6-litre and the car was rebadged as the 100/6. The wheelbase was lengthened to increase cabin space with the inclusion of a pair of +2 seats. Production moved to Abingdon in 1958 and in 1959, the engine was enlarged to 2.9-litres, marking the first of the Austin-Healey 3000s. It wasn't a text book example of efficient manufacturing. The chassis construction was outsourced and then shipped to Jensen Motors where the body and panels were manufactured and fitted before it was shipped again to Abingdon for the BMC bits to be added.
The pushrod 2.9-litre in the 3000 initially made 124hp, while the Mk II of 1961 was good for 132hp. The final Mk III managed to wring 148hp from the inline six, with 225Nm of torque at 3500rpm. While similar to that used by mundane saloons in the BMC line-up, much work on the cylinder head and camshaft was needed for life in the 3000. During Mk II production, a triple carb version was introduced briefly but soon reverted back to a twin arrangement for ease of tuning.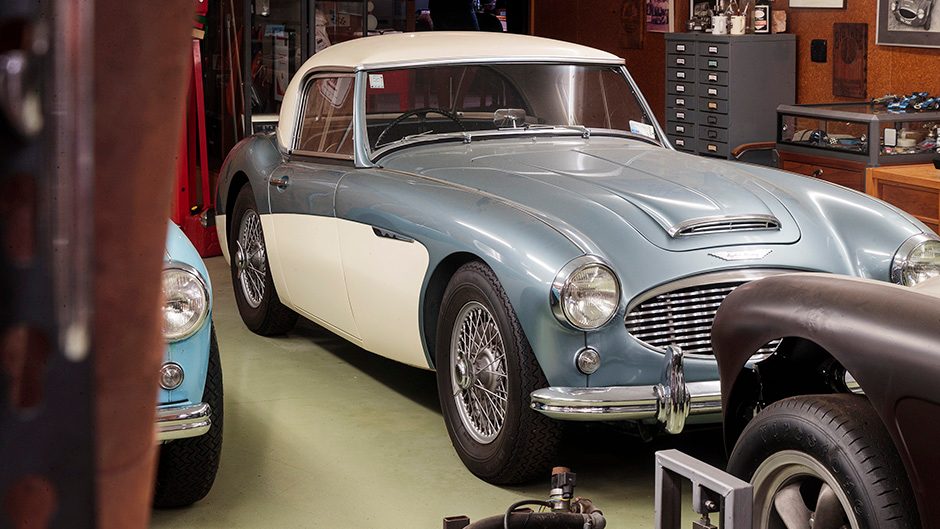 The 3000 had double wishbone suspension, though these were lumped with lever-arm type dampers. And while the smaller Sprite was blessed with rack and pinion steering, the 3000 had a cam and peg set-up due to a lack of space for the rack in the engine bay. The live rear axle was located via a Panhard rod though from 1964, upper radius arms were used. The gearbox, initially a three-speed, then a four-speed in all following models, also had an overdrive unit as a popular optional extra for more relaxed cruising at speed. While the car's appeal lay largely in its looks, its low slung appearance meant it had minimal ground clearance and a lack of rear suspension travel as the axle sits above, rather than below, the chassis rails on all but the later 3000 Mk III model.
But it's that look that hooked the owner of these Healeys more than fifty years ago. Mark Donaldson is a passionate Healey enthusiast, establishing the Austin-Healey Car Club of NZ in 1972. "We had our first meeting at my parent's house in Saint Heliers," he tells us, which is just a year after he bought his first Austin-Healey. "A friend had one, and when he decided to do his OE I bought his car off him in 1971." Mark sold that and bought a 100/6, before on-selling the 6 to buy the blue and white example seen here, a 1956 Austin-Healey 100.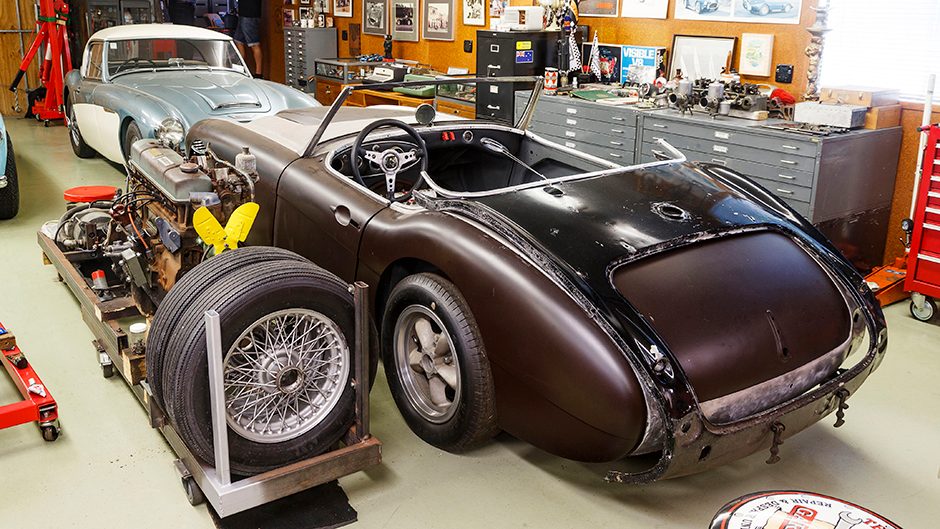 "I've had it since 1978, it was sold new in the Channel Islands, and eventually purchased in England by a Kiwi. He bought it back with him to Saint Heliers in 1964, sold it to his neighbour, and then after one further owner, I ended up with it." Mark used to race it back in the eighties. "It was just weekend classic car racing. Back in those days the Jaguar Drivers Club had wonderful weekend meetings, you could race all day for $10. We had a lot of fun. I would be near the back but at the front of the TR2 and 3s, and Morgans, but we had just as much fun as those guys at the front."
Apart from the wheels, it's been brought back to its original specification. "The interior is all original, the next job is to overhaul that. The seats are going to be repaired as best they can. All the stitching has perished so they will actually restitch it using the exact same holes." Mark tells us well worn seats like these are highly prized for their originality.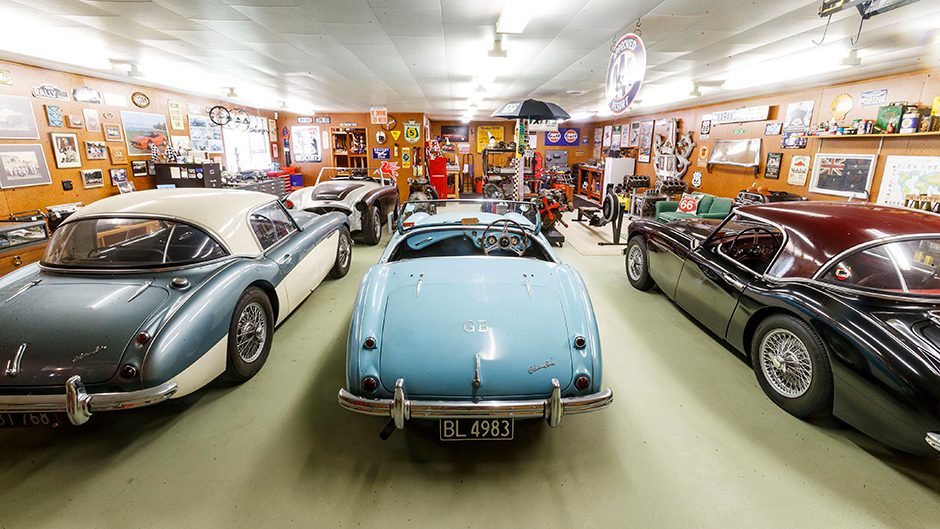 The big four cylinder in the 100 makes 90hp, but Mark says it's the easy torque that he likes. He says that when fitted with the original 48-spoke wheels, the twist was sufficient to snap the spokes. "They'd go off like a gun shot when they broke. I had to fit 72-spoke wheels when we went racing."
Mark reckons the Big Healey has a 'beautiful shape'. "It was designed by Gerry Coker, a very clever stylist. People say they look like they are doing 100 when they are just sitting there. And when you start them up they make an amazing sound, especially the big six-cylinder."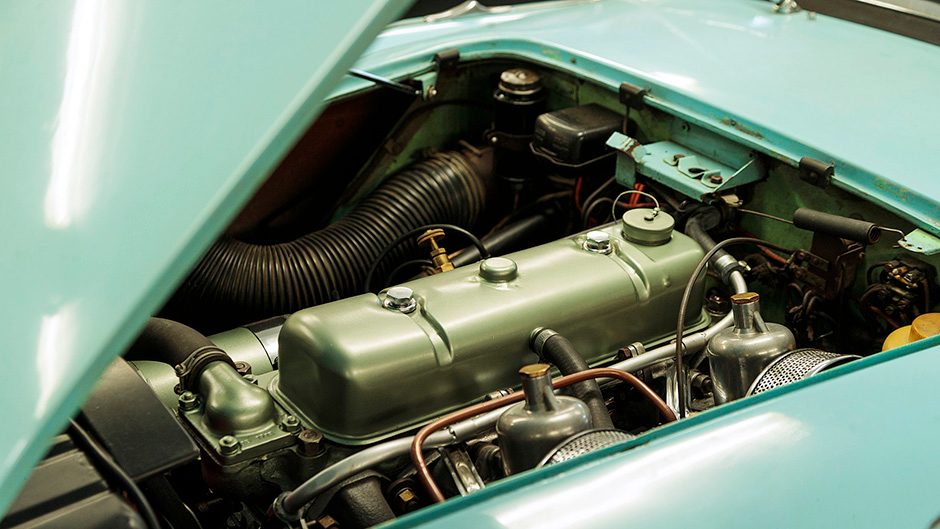 Speaking of which, Mark has a black 3000 Mk II as well. "My late wife purchased this brand new in Pasadena, California in 1962. It's fairly original, it's one owner essentially, it's always been in the family and been well cared for. We brought this back with us in 1984 when we returned to NZ."
This has the triple carb set-up. Mark says one of the reasons they reverted to a twin carb arrangement was because apparently the Americans couldn't easily tune them. "I'm quite a good tuner, but I have great difficulty with these. Two is far easier."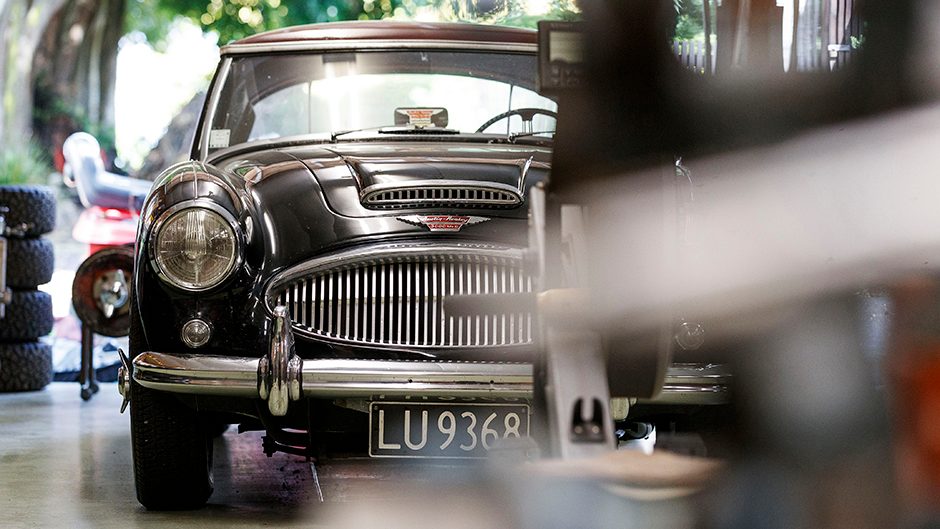 Mark's Healey haven has a good set up allowing him to tinker away on them. And he has a treasure trove full of bits he has collected over the years. "Some of this stuff is very rare and expensive, while some of it's worth a couple of bucks. You pick things up at swap meets and people give you stuff. I've been collecting it all for about five decades, I rarely throw anything away." He points to a cylinder head from a Works Healey. "It's 50 pounds lighter than standard and that helps change the dynamics of the car from slight understeer to slight oversteer."
Mark maintains his cars himself as much as possible. "I do a lot of the small detailing, and I'm okay with gearboxes and carbs and electrics, I can't do the major stuff. But I have a few friends to help out there."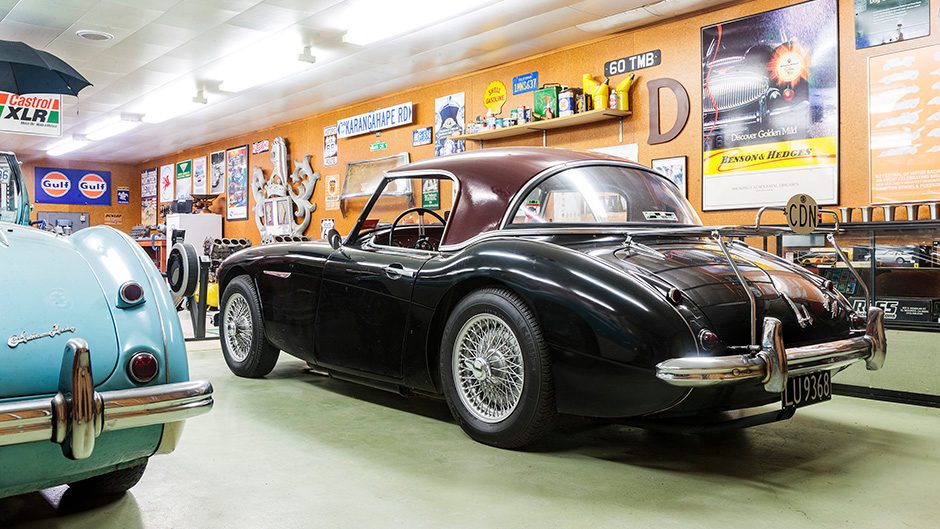 Like the owner of the 100/6 parked alongside his 100. It's a 1957 model, a New Zealand new car. "The gentleman who owns it now bought it about 15 years ago and rebuilt it. He realised the chassis wasn't all that crash hot so he brought in a brand new one. He took the car off the old chassis and put it on the new one. He got everything absolutely perfect."
Together they are rebuilding Mark's race car. "I bought it off a friend in Vancouver in 1983,and it was turned into a racer in 1975 in California." He says it was delivered in San Francisco only a week after his black 3000, so they are sister cars as such. "The guy who originally built it threw away all the bits with serial numbers on it, so all we had was the number of the rear axle. I tried for three years to get the information from the British Motor Industries Heritage Trust. They said for 40 quid they'd certify the car if I told them the numbers. They just didn't understand it was the numbers I wanted to know. It just didn't work. But then my wife, Jan McLaren replied to them using her McLaren Trust email address and signature, and within twenty minutes we had a positive response. In 2015 we were invited to the Goodwood Revival honouring Bruce McLaren, and while in the UK, they gave us a corner of their office to research things, and we found all the information on the car."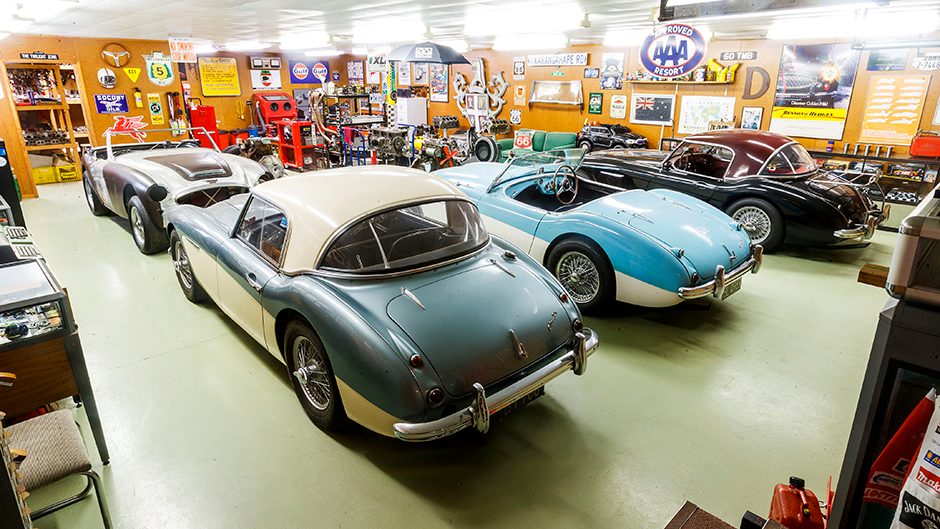 Mark is slowly rebuilding it, along with the engine. His friend found him a period Moto Lita Mark 10 steering wheel, this art of unearthing these rare pieces he refers to as 'carcheology'.
He'll keep the genuine American Racing Torque Thrust wheels but isn't fussed on a shiny paint job; "I don't want it to look like it's been restored in America." It will be a road racer rather than a pure track machine, which he says will give more opportunity to enjoy it. "The plan is to have it finished before I die…" We wish him luck.