Harley-Davidson's Livewire is radical; it has no engine. It's the first full-sized fully electric bike from any major bike maker. We check it out on road and track.
Where Tesla paved the way with four wheeled EVs, it's a brave new world on the emissions-free motorcycle front. Yes, there are small companies like Zero Motorcycles but so far only one of the traditional bike makers has attempted to build a proper road-going alternative to ICE-powered bikes, and that's Harley-Davidson. Who'd have thought? Moreover, H-D's full name is Harley-Davidson Motor Company and LiveWire is its first product in 117 years with an actual motor.
Anyhow, it's now on sale here and we've just ridden it….on track at Pukekohe, would you believe? And we can report that it's a blast, though not quite in the way that has made other Harleys popular. Along the front straight full tilt, it sounds like a fighter jet in the distance. There's not a potato in ear shot.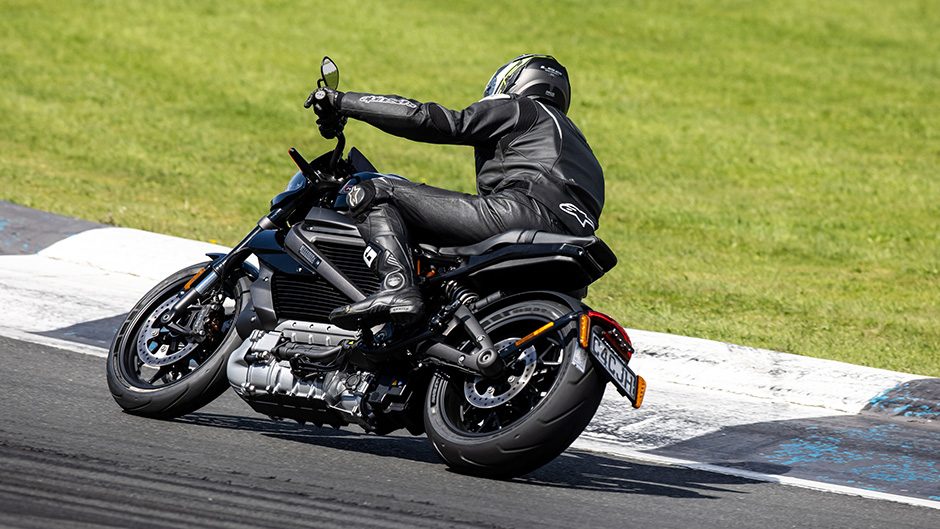 It's a surprise that LiveWire has survived the recent restructuring at H-D following the exit of former president Matthew Levotich. LiveWire was the centrepiece of his "More Roads to Harley" plan, aimed at bringing new blood to the brand. But the board ran out of patience, replacing Levotich with someone who knew more about sneakers than Softails.
When the Rewire plan was announced midyear, we figured this was the death of LiveWire. However, H-D clearly decided to have a bob each way on its electric machine. We're glad they didn't scupper LiveWire because this is not only the most revolutionary product that Harley has ever produced, it's also the quickest and most agile ever from a firm entrenched in heavyweight cruisers.
In the flesh it seems more compact than in photos. Evidently it weighs in at 251kg; its only lighter model is the Street 500. And none in the history of the company has been nearly as fast, nor as track ready as this.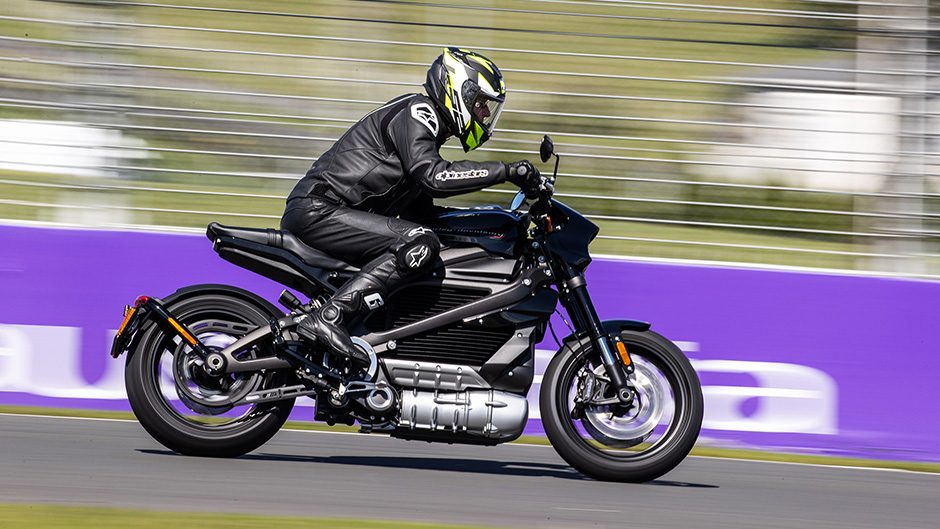 So the LiveWire is quite a revelation. And that's what H-D has called its electric motor. It sits low, beneath the battery pack and is water cooled. Above, within the finned container, lives a 15.5kWh lithium-ion power source. The motor output is rated at 78kW and 116Nm, sufficient to motivate the LiveWire to 100 in three seconds flat apparently. Electrifying stuff.
On track we were asked to ride it in the Road mode, one of four switchable on the fly. This offers 80 per cent of full power, so doesn't drain the battery quite so quickly as Sport mode which accesses full power. That said, 50km of flat-out track riding used up half of the battery charge. But then no-one was sparing any of the 105 horses on tap.
And that's because its acceleration is addictive; with TC on you can pull clean full-throttle getaways every time. To ride, this is a snip; once you've pushed start it confirms this by pulsing away beneath you like an animal with a beating heart. All you do then is twist the throttle and you're away laughing. Literally. There are no gears so no clutch lever or shifter. The belt drive is scooter-like too but there the similarity ends. Off the line it is twist and shout slingshot brilliant. And without gears you can concentrate on brake markers and cornering lines when on track.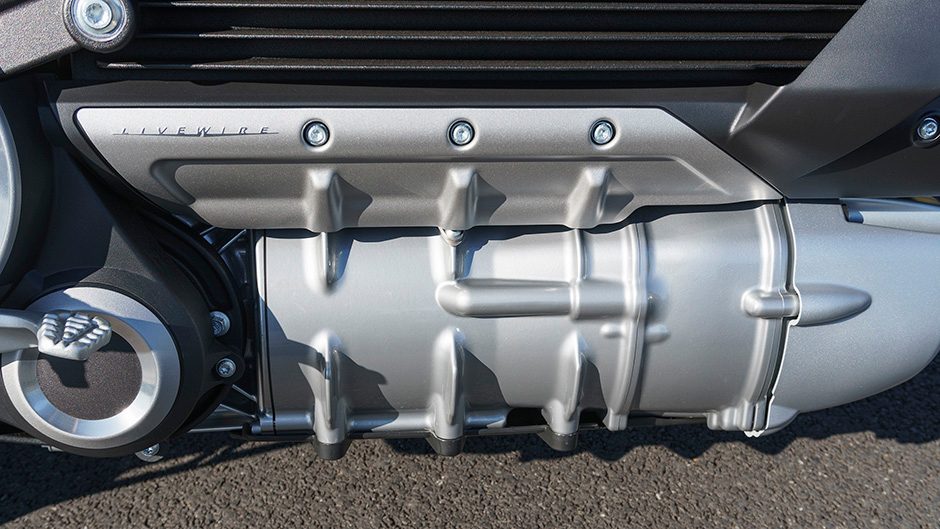 This feels foolproof, not that any bike truly is but all the safety aids in the background sure help. And it is so fun in a straight line. Exiting Castrol Corner, there's that straight beckoning, and so you wind it on full throttle. There's little in the way of sonic fury to confirm the rapid accumulation of speed. No vibes, or exhaust noise, just the digital speedo flickering ever upwards and a gear-driven whirring. By the kink you've hit top speed, limited to 184km/h, or 115mph. All in the name of saving battery charge.
On that, Harley reckons you can get around 160km on the open road before needing to 'refuel' but nearer to 250km in urban settings where there are more chances for regeneration. Regen eh? Yes, and that's variable too.
After lunch we did a quick road loop and the acceleration experienced in the real world feels even livelier! You're thankful for TC here. In Range mode, to extend range obviously, this is still a belter. More than that, LiveWire's just a great roadster. Its hot-shot Showa suspension delivers control on track – it holds a stable line over the bumps across the top of the hill – and offers compliance on road.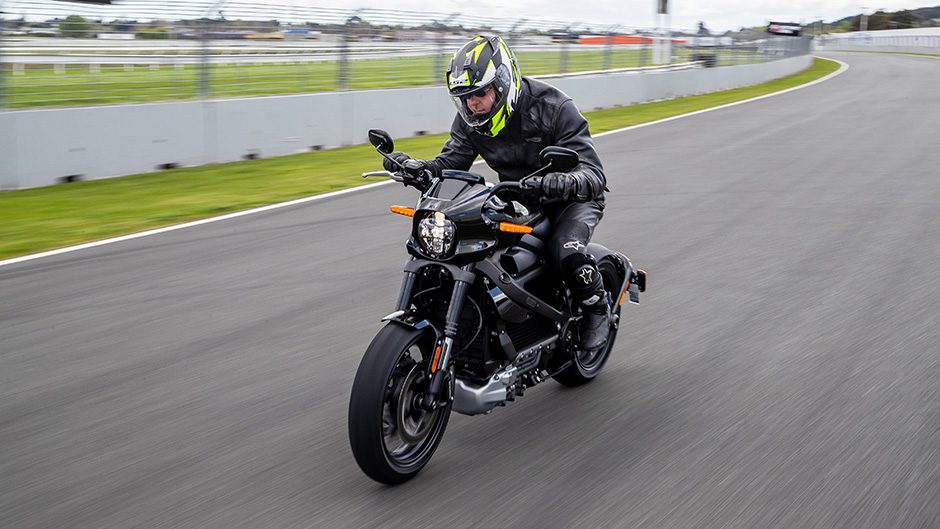 The brakes are equally impressive: radial-mount four-piston Brembo units up front, washing off speed efficiently, even more so with the rear brake in tow.
Because the motor and power supply are centrally located low within the aluminium frame, and the USD forks are quite upright, this handles like no other Harley ever has before. It dives into turns with enthusiasm, hangs tough with its sports rubber and you can wind on full power early on the exit knowing the cornering TC will see you right. There's more lean angle on offer than any Harley prior too.
Back in the pits, and it's a snip to perform a feet-up U-turn, a generous lock contributing, so they've got the chassis balance right and wide bars help with easy changes of direction. Even the riding position and seat feel just so. You'd run out of range well before your hiney suggested it was time to stop.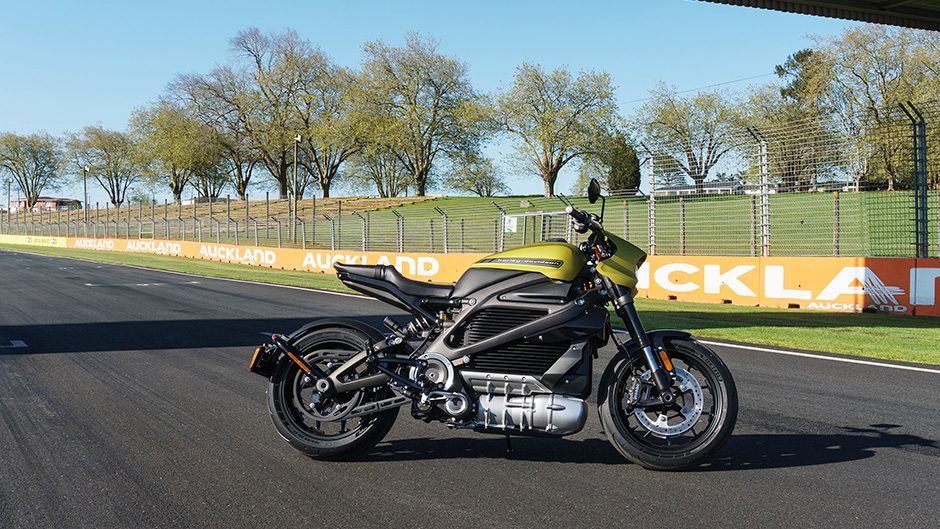 Fast charging is on the menu with LiveWire. You can recharge to 80 per cent in 40min using the CCS connector, and 100 per cent in an hour. Or the same overnight with the home charger (which fits under the LiveWire's seat).
Things we didn't like? There's no handspan adjustment for the brake lever. And it didn't quite meet the 0-100 time quoted but I forgot to turn off TC. Even so, in Sport mode it ran close at 3.26sec. Switch that out and it should meet its stated claim. An overtaking time of 1.8sec makes it as fast as the best supersport 600 bikes but about a half second adrift of the lighter superbikes.
This is well equipped with starry components including Bosch electrics, a TFT dash, LED lights, keyless ignition, and a handy H-D connect phone app for nav and the like, but LiveWire ain't cheap at $NZ53,900, even if it is the least expensive new EV (of note) that you can buy in New Zealand currently.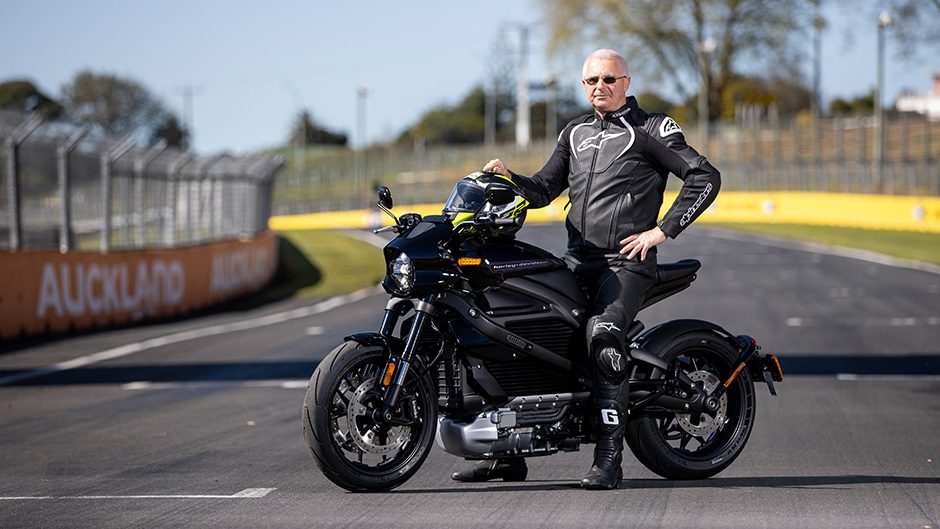 Harley is talking about using the Revelation motor in less expensive models in future, so hopefully that will come to pass but we're not holding our breath. Still, we're glad LiveWire has made it this far. If you're thinking about a test ride, just do it. This really is a quiet riot.
However, sales are slow and if Harley does pull the pin, hopefully it inserts a hot 1200cc V-twin instead and sells it at half the price. Maybe they could call it, I dunno, Bronx?
| | | | |
| --- | --- | --- | --- |
| Model | Harley Davidson Livewire | Price | $53,990 |
| Engine | electric motor, 78kW/116Nm | Drivetrain | belt final drive |
| 0-100km/h | 3.26sec | 100-0km/h | n.a.m |
| 80-120km/h | 1.81sec (52.60m) | Weight | n.a.kg |