Since its launch, LiveWire has gone from being a lone halo model to a sub-brand of Harley-Davidson. Can it go the distance?
After an initial track introduction to the world's first big production electric motorcycle, the LiveWire, I suggested that early adopters should definitely take a ride, despite the obvious stumbling block of price ($54k) and limited range.
After an initial on-road ride I wasn't so sure my recommendation was sound; I found myself transfixed on constantly varying range, ie, distance to empty. And when riding at 100km/h in Road or Sport modes, you can virtually watch the battery level strip meter shrink, on its inexorable decline towards zero.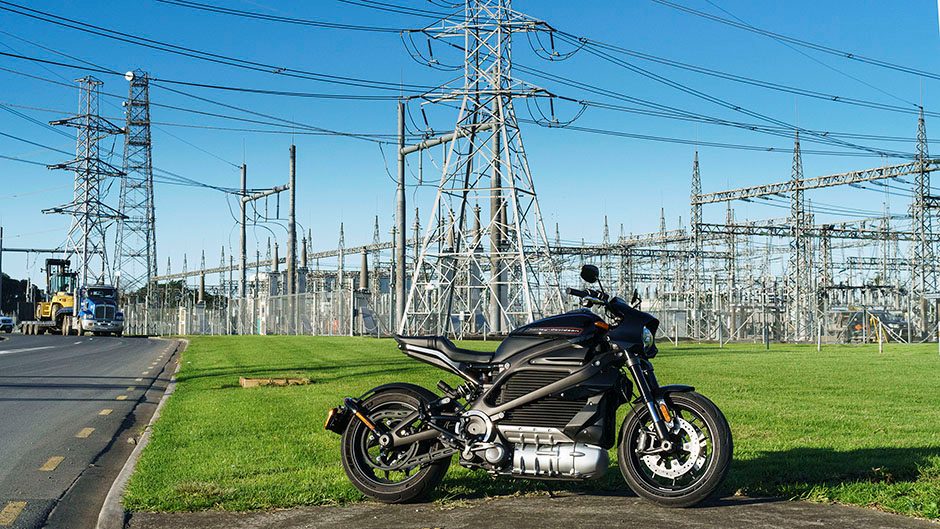 But after playing around a bit more with modes, speed and varying types of roads, it's clear that you can eke out better range. For commuting, merely select Eco and watch distance to empty rise from 150-200km to 300km and more if you're doing less than 80km/h on your daily trip to work and back. That's in marked contrast to 100km/h cruising where you'll struggle to net 100km of travel. Acceleration away from the lights is still pretty good in the Eco setting, only not slingshot like in Sport.
However, you'll not be able to take LiveWire out with your mates on a weekend strop, unless you plan on hooking up to a fast charger at the 100km mark. So that makes the bike in essence a commuter, and an expensive one at that. In which case the adjustable Showa suspension bits are somewhat wasted on this, as is the sporty lean forward riding position. Mind you, the lower you get the better the battery range. We tried a bit of drafting behind a semitrailer and that improved range markedly. Only it's dangerous and smelly so not recommended. But just saying, aeros have a major effect on Livewire's range. Head winds bad, tail winds awesome. Just like an e-bike then.
The one obvious LiveWire difference, apart from the absence of an exhaust, is the distinct lack of noise (and vibration). It's so stealthy the dog doesn't even notice when I arrive home. Harley has tried to give the LiveWire its own distinctive gear-like soundtrack but an electric motor will still hum and whir, no matter what you do. And with ear plugs all you hear is wind rush.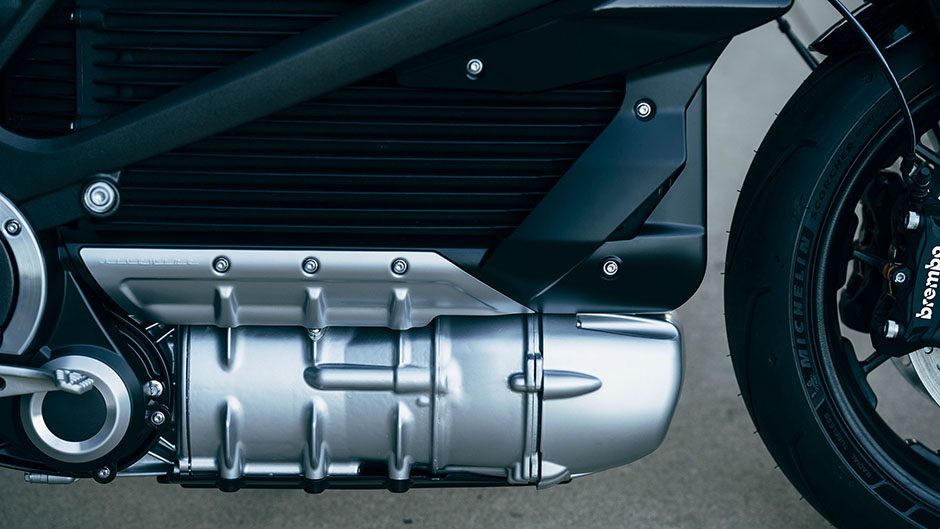 And in ways, this anti-noise is just so appropriate because Harley has traditionally been the rabble rouser. Around our neck of the urban woods the silence is only rarely shattered by de-muffled VRods. I don't mind the tone of these but the sheer decibel level rankles, especially up close. So the fact that Harley also produces one of the quietest bikes on the planet is weirdly ironic.
Since we first checked out the LiveWire at Pukekohe Park, where everyone was suitably impressed with its performance and cornering ability – yes, a Harley-Davidson that can scorch and can lean – the company had a surprise change of heart on its electric future. Recall that under previous president, Matt Levatich, 'More Roads to Harley' meant new electric models. But the board got impatient and Levatich was ousted. However, LiveWire survived the purge, despite it not selling well or attracting new custom. As with anything in the brave new electric world, timing is everything.
However, Harley-Davidson has a head start on the rest and that's probably why LiveWire the brand recently became a sub-brand of H-D and it is about to launch a new, more affordable, flat track-inspired model. Harley has the opportunity and know-how to lead and define the EV market and this new electric motorcycle should get plenty of traction, especially if it's priced with a not-too-exorbitant premium on its rivals.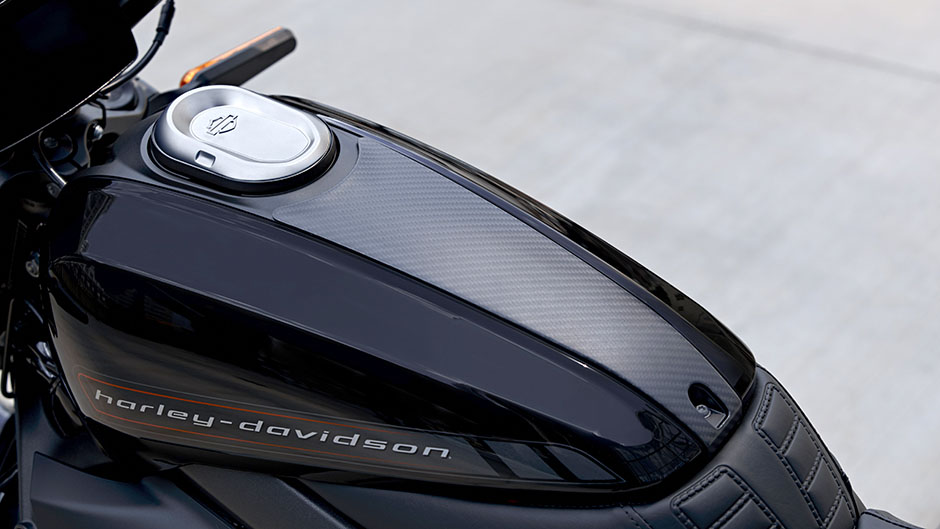 Back to the LW then. For a $54k bike it is nicely finished and looks impressive and futuristic with its finned battery pack sitting atop its metallic motor module. Brakes are by Brembo, suspension by Showa is fully adjustable, and there's a sweet looking TFT primary instrument that's easy enough to fathom and run. In fact, operating the LiveWire is simplicity itself. It has a proximity key so you just hit the ignition switch to on, thumb the run button and once pulsing you're good to go. It's easy to ride too, for there's no clutch lever or gear shifter. With a single speed, it's just twist and go.
While it might be lightweight for a Harley (only the Street 500 weighs less) at 254kg with a brimmed battery pack (kidding), it's still quite solid. That said, weight is well centralised and kept reasonably low and with wide bars this feels inherently well balanced, easy to U-turn feet up. Moreover, you can mess around with the amount of regenerative braking so throttle off does all the braking for you. Which is handy because the Brembo calipers aren't exactly top of the line. Moreover, there's no lever adjustability which is unforgivable on something costing this much.
This is stupid quick off the mark, and the 0-60mph claim of 3sec seems on the mark. We got 3.26sec to 100km/h on track, 3.33sec on road and 80-120 takes 1.76sec. That said, it's not quite superbike quick, except off the mark. Performance overall is more akin to that of a supersport machine, with similar power output (76kW). We performed a couple of emergency stops but gave that away because the rear wheel was rising up and threatening to upset the apple cart. But a 39m and change effort isn't bad, especially when you consider there's regen helping retardation.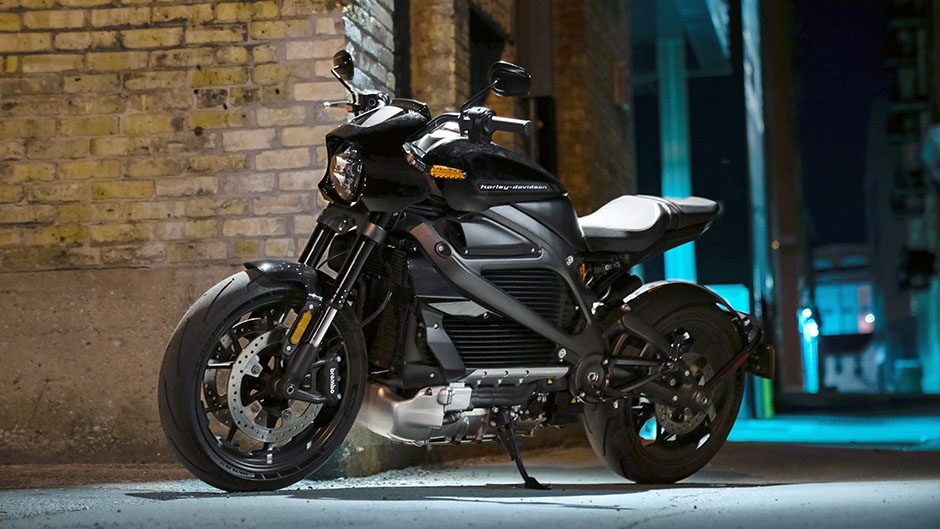 If you plan on commuting with this bike, which is actually where it works best, as with other BEVs, it's a wicked lane splitter. No need to change gears as there are none, and regenerative braking helps slow this for the inevitable no-look lane changes made by drivers not keeping an eye out for motorbikes. Only the indicators with their silly independent left and ride sided switches don't stay on for long enough. But the hazard warning lights do.
One almost brilliant aspect is the onboard home charger. Just lift the seat, remove the unit, plug in both ends and it recharges overnight. But it rattles around underseat so its holder should be lined. Easily enough fixed.
So while it's undeniably innovative and different, the LiveWire suffers from the usual drawbacks of EVs magnified by the fact it's a bike, and therefore battery weight limits capacity (15.5kWh) and resulting range. In essence, better technology is needed and pending that the next best thing is battery swap capability, something that other bike manufacturers are now working on. The other alternative is simply making electric bikes smaller, range limited and therefore good for commuting only.
Meantime, congratulations to Harley for actually taking the bull by the horns and kick-starting emissions-free riding. Addendum: LiveWire has transitioned to LiveWire One, and without H-D branding expect a significant price reduction.
| | |
| --- | --- |
| Model | Harley-Davidson LiveWire |
| Price | $53,990 |
| Drivetrain | electric motor, 78kW/116Nm |
| Transmission | single-speed, belt final drive |
| Battery | 15.5kWh |
| 0-100km/h | 3.34sec |
| 80-120km/h | 1.77sec |
| Weight | 254kg |