Bobbers are big at the moment but are they just a case of style and little substance? We check out one of the least expensive big bobbers, Harley's Forty-Eight Special.
Sometimes you climb off a machine you really like and onto another from the same manufacturer that's two-thirds the price but not quite as good. Which is what you'd rightly expect. And all you really want to do is imagine you're still riding the nicer one but the vibrations and ride quality don't allow that.
Best to stop then, have a coffee and admire the machine while feeding the cute little sparrows with bread you really shouldn't be feeding them. So it came to pass, handing back Harley's beaut Heritage Classic Softail, and swapping onto the Forty-Eight Special, essentially a Sportster Forty-Eight, a bobber, with higher bars.
It competes directly with the Indian Scout Bobber we rode a few months back and, while less expensive, doesn't quite hit the highs of its more modern competitor. Still, it does look and sound mighty fine, and to Harley devotees those aspects are probably about enough. For those like me, we need more.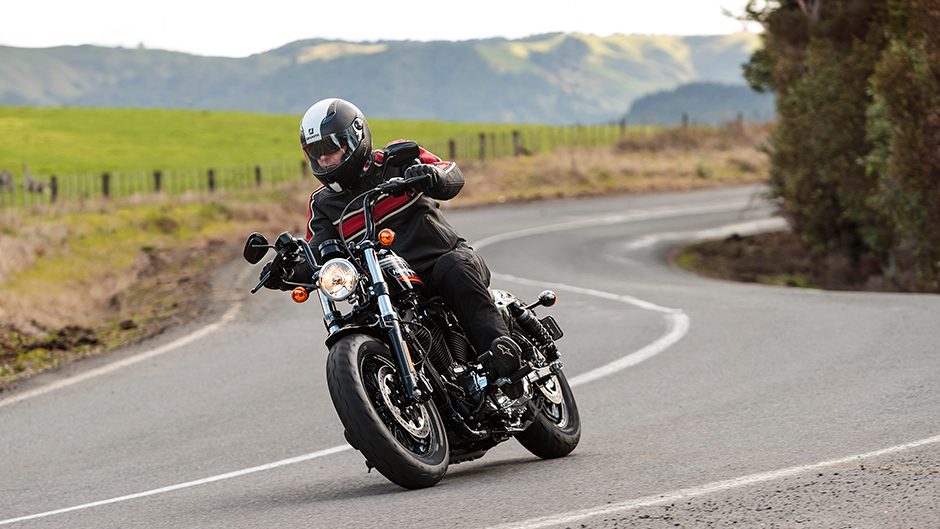 Style comes standard
Like any Bobber, the style is the thing, though in the case of the 48 Special it's almost pared back too much. There are electrical snakes and hydraulic lines looping about the place, some of them rather too visible. Same with the frame, and in places it isn't that pretty. However, the oil cap certainly is. It's a nice shiny feature that magpies will much admire. Push it down and it pops up under spring loading, and twists anticlockwise to reveal the oil tank sited beneath the seat.
Chic it is.
Stand back a bit and the overall look is classic, the tiny eight-litre peanut tank a thing of beauty, though it's so small you feel almost knock-kneed riding the bike. Almost but not quite because your right knee bangs into the air cleaner. Its standard pipes are another noteworthy styling feature, part chrome, part finished in black paint.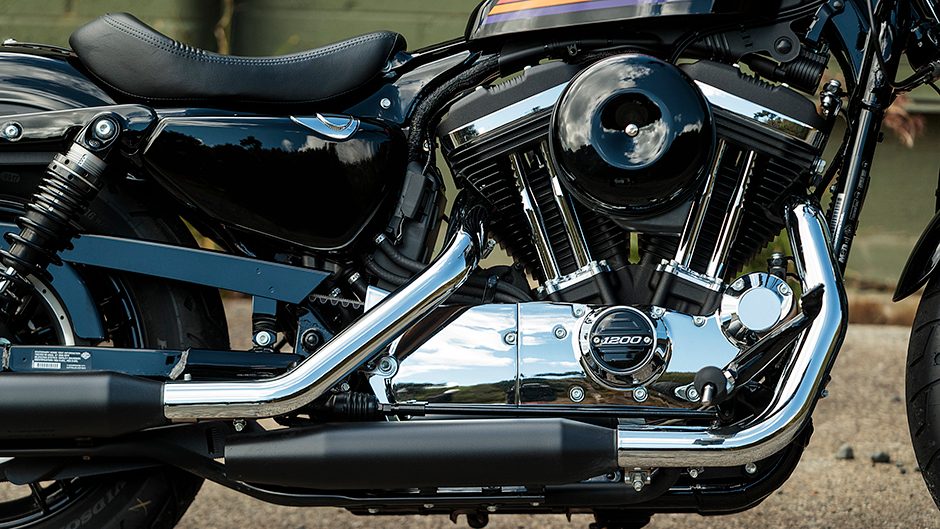 And the rest of the bike is blacked out, apart from the odd chromed item. Forward mounted pegs and elevated bars make for a decent enough riding position, not dissimilar to that of the Heritage Classic, as it happens, only there's no screen here. There's not quite the stability of the HC in a straight line either, kind of the opposite to what I'd have expected.
Whether that's because there's no constant air pressure up front to keep things on line, we're not sure. Or maybe it's because of the engine vibes, which are nothing like as well damped as those in the M-8 114 engine of the Softail. And despite the engine being rubber mounted, the vibes are much more intrusive.
Vibes afflicted mill
The engine is at its best, in a vibes sense, when the bike is doing 100km/h, which is a laid back 2750rpm. You're actually doing 95km/h then, according to our Q-Starz timing system, but whatever. By the time it's at 3000rpm, an indicated 110 in fifth (top) gear, the vibes are kicking in again, and so you find yourself at the legal limit most of the time as if by default.
The vibrations are worst at idle, the engine shaking around, but we've ridden Harleys in the past that make the 48 Special tingles seem as unsettled as a millpond. And with those same Harleys you really had to practice lots of different techniques before getting upshifts just so. It's much easier on this machine, though not in the same league of smoothness as the Heritage Classic.
As much as anything that's because this only has five gears, so gaps between cogs are more noticeable. Gearing at the bottom end of the box is pretty tall, first especially. This is apparent when lane splitting which this physically slim bike handles well. Unfortunately second's a bit short for a safe speed, and third too tall.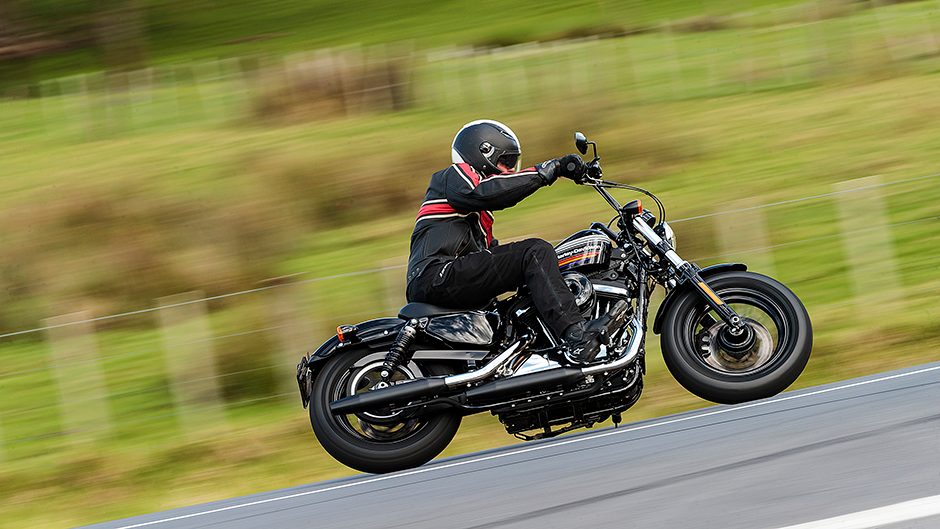 The engine doesn't have the low down grunt of the bigger 114 either, though will still haul away from around 2000rpm happily enough, but there's not much below that point.
One disc enough up front?
Seeing as we seem to be comparing apples with oranges, the brakes on the 48 Special are noteworthy.
They really have quite decent bite, and yet don't seem to be anything special in a design sense. You might wonder whether a single disc up front is enough to rein in something weighing the better part of 260kg, but bear in mind you're generally not doing much more than 110km/h anyway so you're starting from a lower base. Despite the lever not being span adjustable, there's that reassuring initial bite which is generally enough to get the job done.
Not this morning though, when our lane of traffic unexpectedly came to a grinding halt, it turns out for another wet weather prang. Fortunately, I'd been looking a decent way ahead (as one always should) and had time to throw out the anchors in earnest. ABS is standard but wasn't necessary – apply both brakes firmly and this rocks to a stop in impressive fashion. Our best emergency stop of 42m reflects that. Brakes use twin-piston calipers both ends.
Not fast but not slow either
And on the numbers, just how quick is this thing? The engine is an air-cooled 1202 Evo, dating back to the mid80s, though it picked up fuel injection a decade ago. And clearly the transmissions have undergone some evolutions of their own, the latest being an okay shifter when you get the rev point just right.
Harley doesn't seem to quote power outputs of its engines, but torque from the 1200 of 99Nm is developed at 3500rpm. And that's about the same revs where you get a clean launch without bogging. It proved nearly as quick to 100 as the Heritage Classic, with a best of 4.68sec, thanks partly to its reasonable wet weight of 255kg.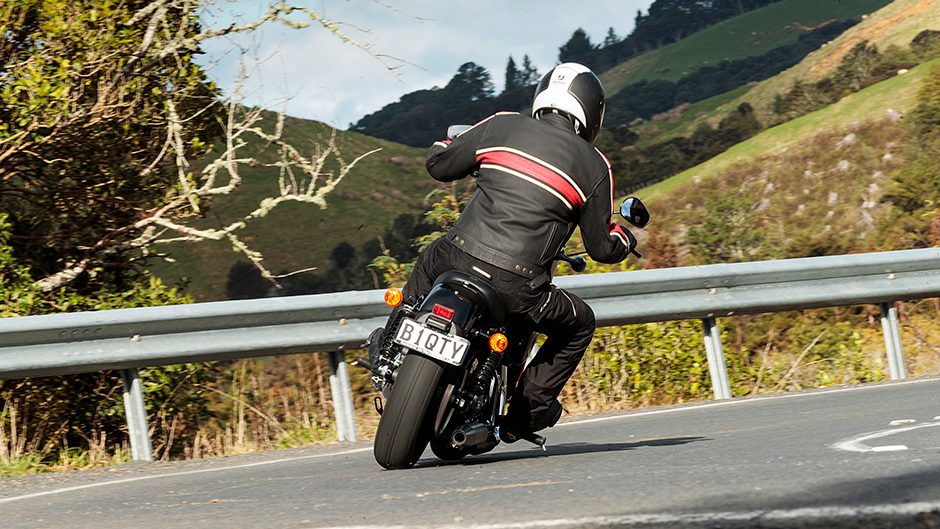 This isn't anything like as demanding to manhandle about the garage, and with its low 705mm seat height is actually quite easy to manoeuvre. U-turns take a bit of extra road, but you can perform them feet up easily enough.
Bring your own padding
As with many bobbers, comfort is something you really don't get much of. The seat looks similar but isn't as well padded as the Heritage Classic's, and you're on your own as well, no pillion possible. That's probably just as well because the twin shockers are about that; they wear you down, especially over sharper bumps.
That's pretty much the opposite of the Heritage Classic which soaks up everything in its path. While the riding positions are broadly similar you soon tire of the firm ride. And the handling isn't as sorted either; it's not as settled in corners as the HC, though it touches down about the same amount, not a whole lot if you ride it as designed.
We guess the tank is tiny on this bike not just for aesthetic or heritage reasons; no-one could put up with any more than about 150km of riding it without a break. The old back gets a bit sore after a time too. It's pretty easy on gas though; we got around 5L/100km, likely the result of tall gearing and the fact that you're often using engine revs below 3000rpm.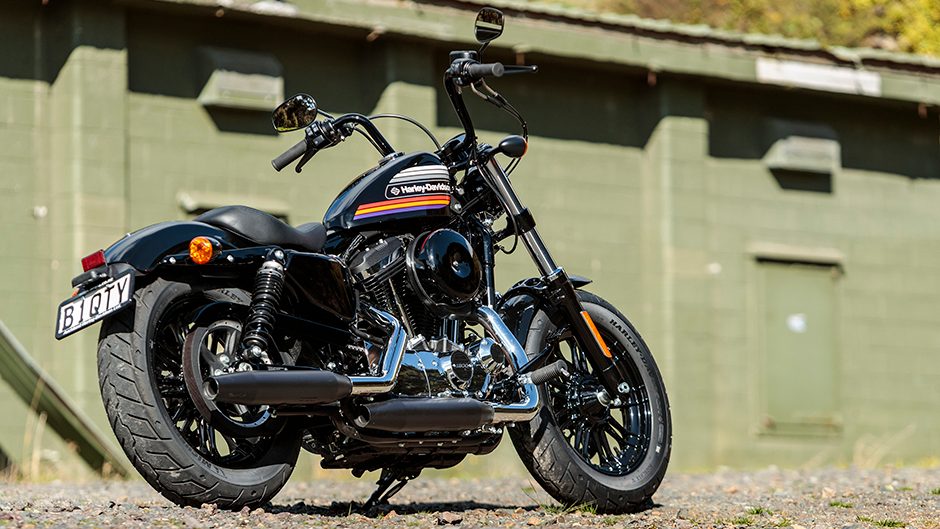 The 48 Special goes for $19,750 and that's a bit less than the $21k spend for the Scout Bobber and the $22,490 for the Speedmaster. Both of these received scores of 79 out of 100, and frankly they're worth the extra over the 48 Special which scored 76 points, each being a bit quicker, and a bit more modern, though only the Triumph offered provision for a significant other.
| | | | |
| --- | --- | --- | --- |
| Model | Harley-Davidson Forty-Eight Special | Price | $19,750 |
| Engine | 1202cc, air-cooled, fuel injected, V2, 62kW/99Nm | Drivetrain | 5-speed, belt final drive |
| 0-100km/h | 4.68sec | 100-0km/h | 42.2m |
| 80-120km/h | 3.45sec (98.36m) | Weight | 253kg |