Fancy an STi but you can't get it past the significant other? Well, check out the latest addition to the Forester range: it's basically an XT model that the STi people have got their hands to. We get to terms with some Forest grunt.
Sometimes it takes a bit of lateral thinking to get to the bottom of a problem. And in this case, it involved performance testing of Subaru's latest turbocharged weapon, the Forester STi. Initial specs were thin on the ground, but some web-searching suggested the newcomer should reach the open-road limit in a touch under six seconds. Which is pretty slick for a crossover vehicle. So when we achieved a best pass of 5.8s with the STi version, we were pretty satisfied, and headed on home. But it actually felt faster from a seat-of-the-pants standpoint. Which got me to thinking. It made it to 105km/h on the speedo in second gear, but when we attached the VBOX to verify speedo accuracy, it turned out that 100km/h corresponded to a true 93.6km/h. And second in fact ran to 99.5km/h on the limiter. Which meant that to get to 100km/h, we had to hook third gear.
But what if we checked out a 0-99km/h time? Bugger me down if it didn't manage a best run of 5.13s. Which is just inside of the WRX STi sedan's 5.19s! The latter makes it to 100km/h in second gear because its rev limiter is set higher, at around 8200rpm.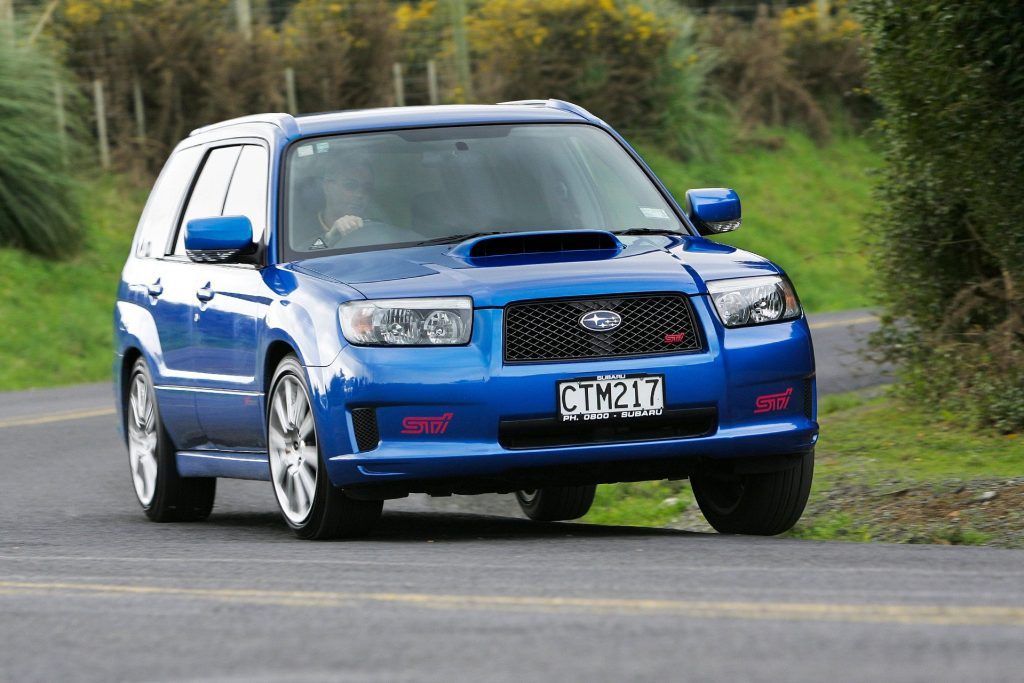 Unlike Legacy GT and Impreza WRX STi, which use blown 2.0 litre engines, the Forester is urged forward by a turbocharged 2.5 litre twin-cam VVT boxer four, producing 195kW at 5600rpm, and a strong 378Nm at 3600rpm. These figures are down slightly on the WRX STi (206kW/412Nm) and the sedan is also lighter by 50kg. The reason the Forester STi keeps up until 100km/h is simply that it shoots off the line better than the WRX. But it doesn't come on boost with quite the fire of the WRX STi. Indeed, the real indicator of performance, overtaking prowess, 80-120km/h, favours the WRX STi by almost half a second (3.08s vs 3.54).
The point of all this preamble is that it's comfortably the fastest Forester ever. You could say it boxes above its weight. It doesn't just go hard: it stops in meaningful fashion as well, with the same Brembo set-up as the other STi. A best panic stop from 100km/h of 33.65 metres puts it within sniffing distance of its WRX STi sib (32.51m), and it showed absolutely no sign of fade through a punishing downhill blast.
You simply won't believe how this Forester deals to back-country roads compared with base Forester, or even the XT model – which is analogous to the standard WRX, only with less roadability. This STi version is very true to its name. Check out the rubber: Potenza RE030 225/45R18s. And it rolls about as much as a catamaran on a glassy ocean. So you can largely forget about understeer, because for the most part this is neutral, and it can even be coaxed into power oversteer. Especially in the wet where it will drift off from T-intersections in just the most satisfying manner, unsullied by DSC. Most of the time the permanent AWD and Suretrac limited-slip diffs make this an action-traction special. Hell, it even steers well, with wheel characteristics just like the other sporty Subarus: top notch.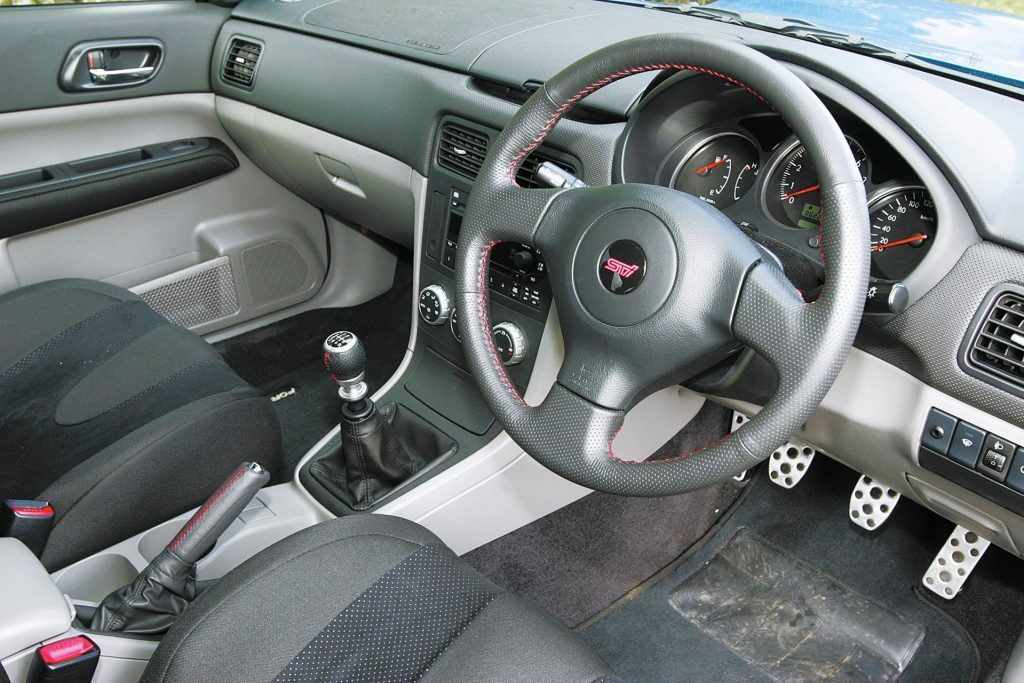 In fact, we liked driving it so much we'd rate it as a real alternative to the WRX STi. Why? Because the ride is more accommodating. And by a reasonable stretch, so you can drive it like a loon on your own, but then cart the rest of the family around without them whinging about comfort levels. The kids will like the wastegate purge too. And road roar is less noticeable than in the WRX STi, though some harmonics still make it through. Of course, there's much better visibility too, because of the higher-riding stance.
Sure, it may not have quite the ballsy appearance of the most popular STi but it's easily the best-looking Forester to date. And with the larger luggage bay it will be a better bet for heading down or up to the mountain(s). Not that it feels a whole lot bigger inside, and kneeroom probably won't impress your 185cm teenager, but a new feature is a sliding rear seat (actually two sliders for the 60/40 rear seats), so if the luggage bay isn't filled to the max, you can optimise rear-seat legroom.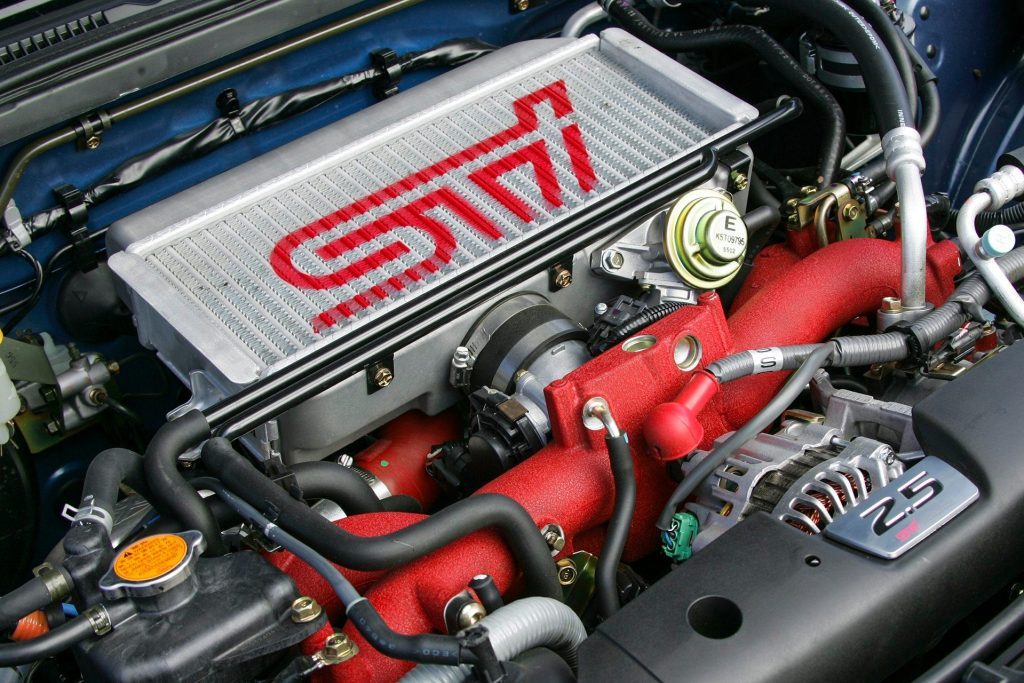 A few details to finish. It's available in black, grey or white, but you'd really only want the blue meanie, finished in the World Rally Team hue. If you're an auto-only type, forget it, as this only comes with a six-speed manual transmission. You'd expect there to be sports seats, alloy pedals and a Momo wheel in this STi, and you won't be disappointed. To help create special sounds for your faster Forester, the six-stack CD changer plays through a sound system with a dedicated amp and subwoofer.
Other specification includes dual front airbags, sports seats, privacy glass, wiper de-icers, climate air, power windows and mirrors, and remote locking with engine immobiliser. A Mongoose alarm and datadots round out the security features. The bigger STi sells for $57,990, a $2000 savings on the WRX version.
This article originally appeared in the September 2005 issue of NZ Autocar Magazine.
Model
Subaru Forester STi
Price
$57,990
Engine
2457cc, B4, EFI, T,
195kW/378Nm
Drivetrain
6-speed manual, AWD
Fuel Use
10.0L/100km
0-100km/h
5.80sec
Weight
1534kg