Ford has a new pony-car, and if you're keen, you can saddle up one here. So how does the new 'stang compare with the last of the Aussie sports-coupés, the Holden Monaro?
It's surprising the role serendipity plays in scientific discoveries. Chance has been the critical factor in numerous significant new medical treatments. For example, penicillin was lucked upon. A similar chance discovery led to the development of a truly horrendous weapon during the cold war, one that has a surprising mode of action. A group of French scientists working on robotic devices in a large concrete bunker noticed periodic bouts of extreme nausea that were initially attributed to sick building syndrome. The lead scientist, Gavreau, noticed the nausea abated when a window was closed, and discovered a motor in the ventilation system had been improperly installed and was producing an infrasonic seven-hertz pitch that was magnified by a large concrete duct. And so the germ of a weapon was born.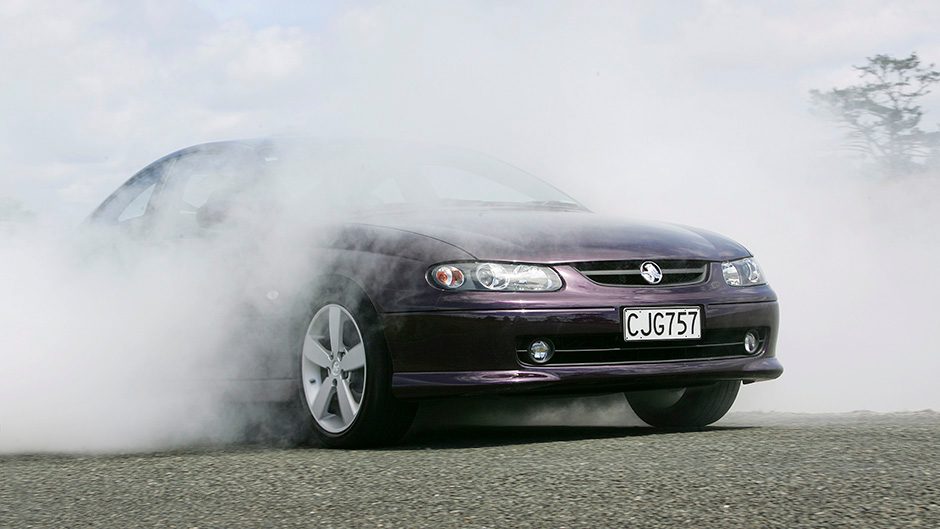 Infrasonics are inaudible sound waves, being of a pitch below the limit of human hearing, which is around 15 cycles per second. Gavreau and his team abandoned their robotics projects and were instructed to produce a weapon operating in the infrasonic death range, between three and seven cycles per second. When it was first tested, the scientists came perilously close to killing themselves. Symptoms of infrasonic overload included an inability to move, pain in the eyes and ears, intense spasms in the internal organs, and profound nausea caused by middle-ear disruption, akin to seasickness. Higher-amplitude exposure to infrasonics leads rapidly to death, as normal brain functioning is totally blocked, and organs are vibrated to jelly.
Infrasonics is not entirely bad news, it should be noted. Another scientist, Tesla, discovered that brief exposure to less intense infrasonic vibration can be pleasantly stimulating, invigorating the body for hours. So infrasonics can be used as a silent weapon of mass destruction, or a means of self-gratification. Which might also explain the allure of V8 engines.
For these are merely another type of weapon on another type of battlefield. They just happen to be noisy, but in a deep and meaningful way. In this regard, they attract devotees like youngsters worshipping at the altars of rap and hip-hop, who feel obligated to install subwoofers and associated electronics that cost an order of magnitude more than their four-wheeled enclosures. Infrasonics plays a role in our love of the sound and sensation of V8 engines, and partly explains their popularity at the race track. The sonic output and the sheer sensation and physicality of a V8 working hard are part of the reason cars like the Mustang and Monaro have sold so well and become icons over the years. The fact that the Mustang is soon to become available again here in RHD format – not via Ford New Zealand but through Walton Special Vehicles, after conversion locally from LHD – and that the Series III Monaro is available for around the same $80K made this comparison a no-brainer. We were anxious to discover which of the V8s would produce the infrasonic gratification prize too.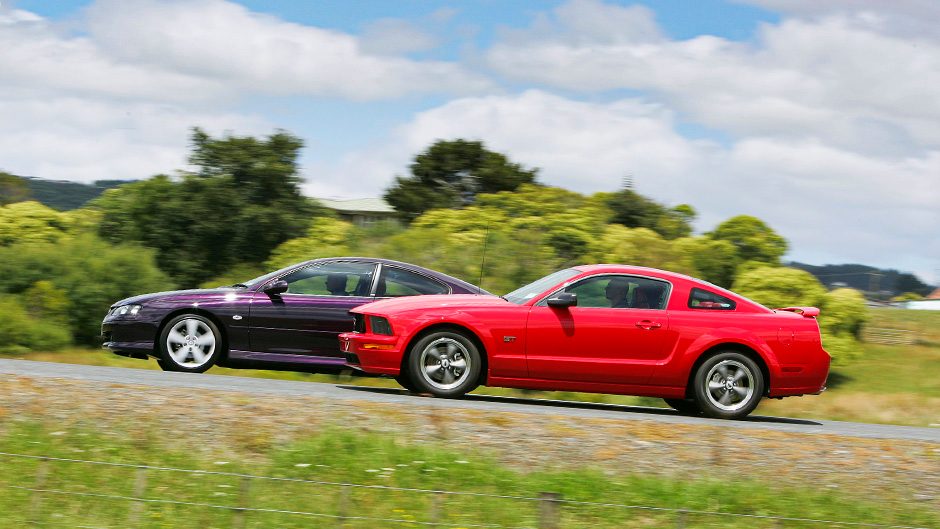 Price/Equipment:
Pricing is not yet set in stone for Mustang as the first example is still undergoing its great transposition at the time of writing. The new Mustang in V8 GT form sells in the US for around $US25K. Here it is expected to cost $NZ80K-$90K. Which might seem expensive on the face of it, but changing a vehicle from left- to right-hand drive is no walk in the park, particularly when the car wasn't designed with this in mind. Peter Walton of WSV says the new steering rack alone costs $2500 locally. When Ford NZ was selling the previous model, it cost close to $100K.
You'll pay somewhat less to park yourself at the wheel of a Monaro but you won't feel quite as exclusive. Cost for the series III version is $76,990, both for the six-speed manual and four-speed automatic. Figure on an extra cog with the Ford, if you go auto.
The specification level is relatively similar for the two big coupés, favouring the Aussie overall. They each have six-disc in-dash CD stackers mated to high-wattage sound blasters, a leather-bound wheel with cruise (Mustang) or remote audio (Monaro) controls, power operation for seat adjustment (including lumbar support in the Pony Express), air conditioning (dual-zone climate air in the Holden), remote locking, and trip computer. Neither has manual sequential operation for the auto tranny but the Holden offers power and normal settings, and gets some extra safety features like active head restraints, a couple of extra airbags, and rear parking sensors. Where the Mustang has a traditional fixed aerial on the right fender, the Monaro is more modern (less retro perhaps) with its on-glass aerial, which is said to improve reception. Each car features traction control only, no stability control, and you'll have to wait for VE Monaro for the updated Bosch stability and TC system. And the LS2 V8, unless you opt for the HSV GTO.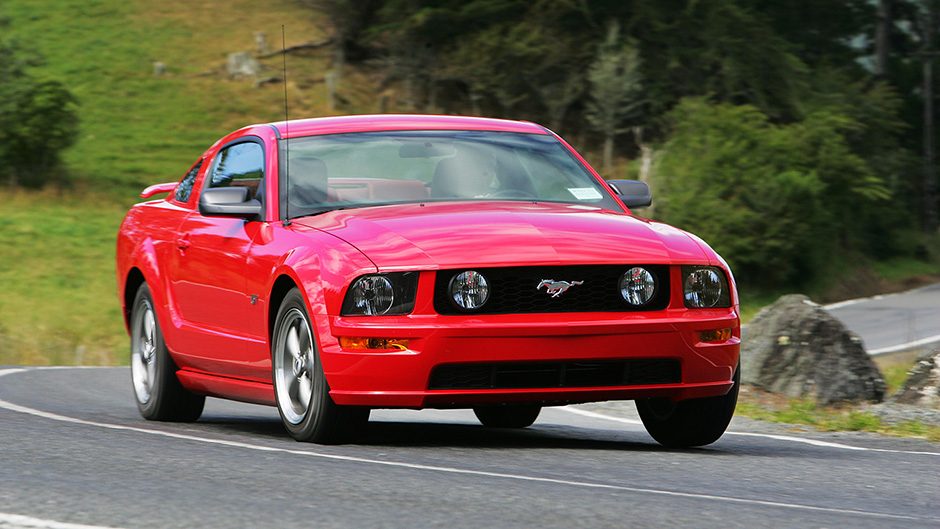 Design/Engineering:
Both have illustrious histories, which we'll outline briefly. Mustang is America's quintessential muscle car, achieving star status by appearing in over 500 Hollywood movies. There are now more dedicated Pony clubs worldwide, over 250, than for any other vehicle.
The third-generation 'Stang, reprising the muscular 67 version, went on sale in the US last year. The latest car is part of Ford's Living Legends series, modern interpretations of famous former models. It was penned by Ford's chief of design, J. Mays, and is a commanding work of sheer muscularity, admixed with dollops of tradition. Its external proportions are unashamedly virile, with a slight power bulge in the hood, four massive circular headlamps, a huge chromed Mustang pony in full flight mid-grille, and a discreet body kit. Flared wheel arches aren't quite filled by the 17-inch alloys shod with 235/55ZR17 Pirellis. Meaning there's room enough to fit 19- or 20-inch rims shod with much lower profile rubber for that pumped look.
You'll look long and hard to find a blue oval on this car. There are a few, but they're miniaturised on the brake blocks and wheel hubs. Open the doors and the kick-sills scream Mustang. Not that they're necessary. The car is instantly recognisable and unmistakably the new Mustang, a point not lost on a host of passing motorists who all gave it the thumb's up. Even one of the officers that stopped us was smitten. The interior is pure Americana as well, with instruments set back inside chromed tunnels, dials using original fonts, and flanked by chromed air vents. A big T-shifter graces the centre console. A good look inside as well.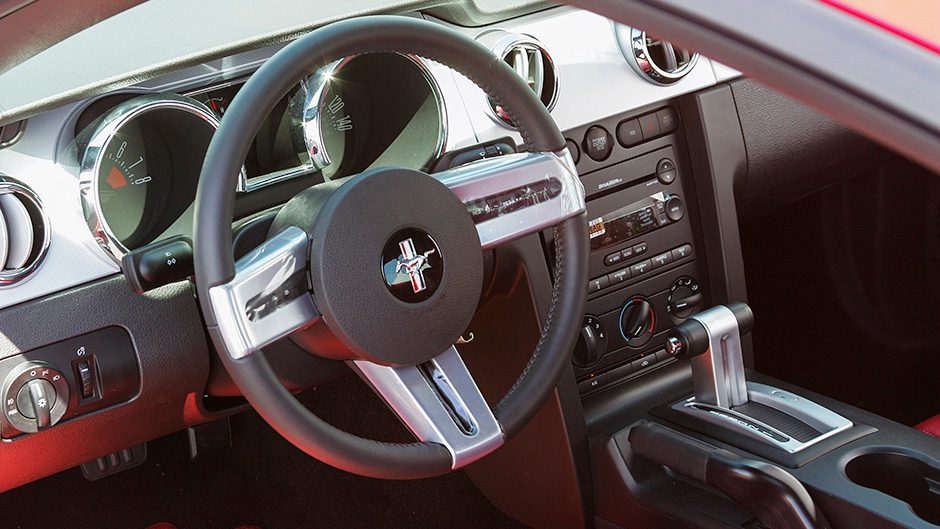 But it's not just a show pony. Nestled under the bulgy bonnet is a single overhead cam 4.6 litre V8, with three valves per cylinder and capable of producing 224kW at 5750rpm, and peak twist of 434Nm at 4500rpm. The manual version is said to hit 60mph in just over five seconds, 0.3s quicker than its forebear, which was lighter by almost 100kg. The reason for the weight gain is that this Mustang is longer by 120mm and its wheelbase is likewise stretched by around 150mm. Moreover, it sits on a new and stronger platform that underpins the Lincoln LS and Jaguar S-type. Body rigidity and safety-cage construction increase in the interests of both handling and safety.
About the only feature of the Mustang that truly is ancient as opposed to retro is its three-link solid axle at the rear. While Ford claims customers asked this be retained for drag-strip purposes, one wonders how much influence the cost cutters had, given the car was to sell for $US25K. There are signs both inside and out of economising, but they're not obvious until you go searching for them.
Monaro has followed a strangely similar path to Mustang. However, the modern version only mimics the original mid-'70s offering in name, V8 powerplant and fastback design. Otherwise, there's no commonality.
The new Monaro launched in 2001, and was expected to break even after 7500 sales. Currently, the total is around 9000 units. The latest Monaro we get is the Series III version, which takes in Series II changes as well, amounting to extra specification. Mechanically, a 10kW power boost is the main point of note, the result of adopting a full dual-exhaust system, among other things. Torque is unchanged, the 5.7 litre V8 slugging out 465Nm at 4000rpm, all on 91 octane fuel. Other improvements in the Series III upgrade include the addition of a front strut tower brace, and improved emissions performance, along with interior and exterior detail changes that characterised the Series II update. The Monaro has none of the retro design aspects of the Mustang and while the morphed Commodore shape has proved popular, it hasn't the mongrel/muscle appeal of the Mustang, which is one of the most successful retro designs to date. Of course, being new adds appeal, where we're all well used to seeing Monaros running around.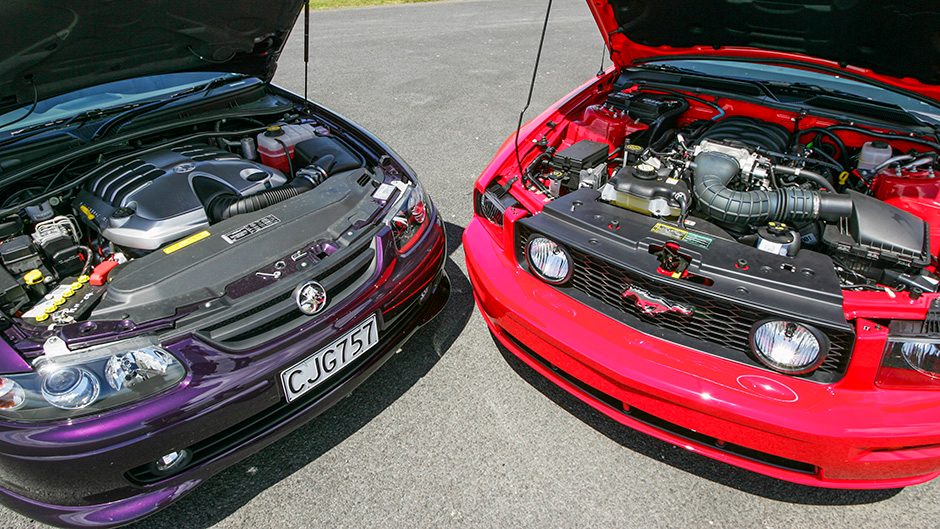 Performance:
If you decided to skip the intro and tune in here, we'll get right down to the nitty gritty. While both cars burn rubber in style, one of them truly hustles in supreme fashion.
When we first tested it a year ago, our evaluation Monaro had only 1100km to its name, and managed a hardly sizzling best 0-100km/h pass of 7.31s, so we revisited it with 3700 clicks up and achieved a much-improved 6.54s run, further advances limited mainly by wheelspin and a slow-shifting four-speed auto. From a best of 4.57s for the 80-120km/h move previously, the car with more clicks achieved a best pass of 3.92s.
Both cars weigh around 1650kg and the Monaro has more power and torque, by about 20 and 30 units, respectively, so should be quicker. Moreover, the first Mustang WSV brought in had an odometer reading of just 000250. However, the new Mustang comes with a slick five-speeder, courtesy of the Thunderbird, and despite the theory, it still managed to obliterate the Monaro. With a best 0-100km/h of 5.97s, a fully run in example should achieve around the mid-fives. The difference between these two is that the Ford gets the power down better, and doesn't mess around shifting gears. Despite it needing a change from second to third when overtaking (80-120km/h) where the Monaro manages it in second gear alone, still the 'Stang was quicker with a best time of 3.84s. Run in, it should manage 3.5s.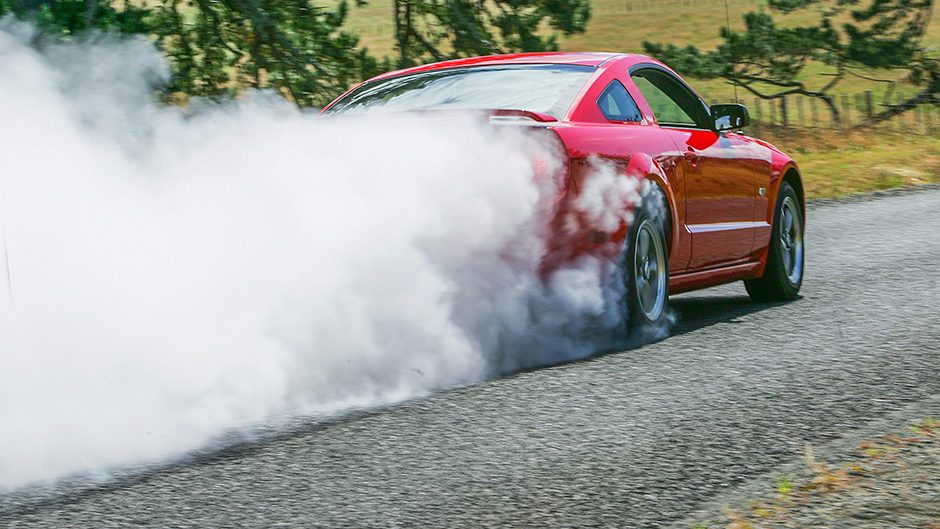 If numbers aren't your thing, there are other qualitative differences in performance. The sonics definitely go the way of the blue oval. This engine hisses at you snake-like from its intake, and snarls and growls from its twin exhausts, even from low revs, in a way the ADR-sanitised Monaro isn't permitted. The Yanks describe it as "unalloyed essence of Mustang" and it's a beautiful thing, a distinct and vibrant aspect of its personality. You just want to nail this car when any golden opportunity permits, so we're guessing the infrasonics have something to do with it. Whether or not the exhaust flows freer than that of the Monaro is unclear, but the engine seems to hoof it better from lower revs; hit the overdrive button to select fourth at 100 and the Pony's ears certainly prick up. While both engines light up strongly at 3500rpm, you get the impression the Ford's V8 is in a race to reach the redline quickest.
Neither of these sips fuel with great subtlety, with trip computers registered around 20L/100km when time's awastin'. If you want to impress your greenie friends, best let them not view the Holden's instantaneous fuel consumption meter when your right foot's nailed to the firewall. The display runs out of digits at 99.9.
Brake performance favours the Monaro, in the main. While there wasn't much of a difference in stopping distances, molten tar seemed to play mind games with the ABS brain, so we're inclined to go with the Monaro's stunning previous best figure of 31.93m. You need to poke your spurs into the Mustang's flanks to stem the rush of speed, but it's soon reined in to check. Only not as stupendous as the Monaro's once the brake pads get a glow on.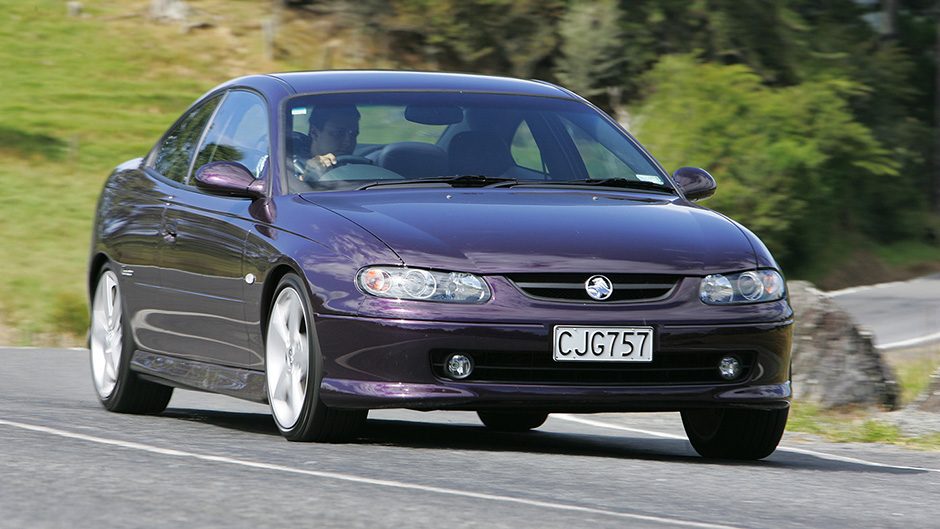 Driving Dynamics:
Some differences here, and while the Holden gets the nod for its handling, the Pony's a better ride. Both aspects are largely the result of the shoes with which they're shod. You'd never credit the Mustang was wearing Pirelli P-Zero Neros, given they're so distinctly not low-profile rubber, and the tread pattern looks like something out of the sixties, but we'd guess that's all part of the retro design of this car. The low-profile Potenza footwear of the Monaro gives it confidence and grip the Mustang can't quite match, but there's a nice balance to the brash American that makes the car feel more compact and easier to place, which it is because of quicker steering. Neither car offers much in the way of involvement at the wheel but both are keen to steer through bends quicker with the throttle mashed mid-corner. Where the Mustang's TC system is quiet and inoffensive, the Monaro's is a loudmouth that's sure to get its comeuppance in the next revision.
| | |
| --- | --- |
| Model | 2005 Ford Mustang GT |
| Price | $90,000 (est). |
| Engine | 4601cc, V8, EFI, 224kW/434Nm |
| Drivetrain | 5-speed auto, RWD |
| 0-100km/h | 5.97sec |
| Weight | 1650kg |
| | |
| --- | --- |
| Model | 2005 Holden Monaro CV8 III |
| Price | $76,900 |
| Engine | 5667cc, V8, EFI, 245kW/465Nm |
| Drivetrain | 4-speed auto, RWD |
| 0-100km/h | 6.54sec |
| Weight | 1662kg |
This article first appeared in the March 2005 issue of NZ Autocar magazine.