You won't see the latest Subaru Outback 3.0R and Toyota Highlander cruising the streets of east LA with the low-riders. But in the hands of New Zealand drivers you'll be finding plenty, as they make ideal mobile accessories to the great Kiwi lifestyle
It may seem like a strange evaluation for us to do, comparing a station wagon with what looks like a 4×4, but it's getting increasingly difficult to place some vehicles in traditional classes. Take a closer look at these two, however, and they're remarkably similar. Both have permanent four-wheel drive, six-cylinder engines and automatic gearboxes, and offer around 200 millimetres of ground clearance. Both are based on car platforms, seat five people with ease, and have 500 litres of luggage space. And they both cost around the same money.
So where lie the differences? Each is certainly a crossover vehicle, but has 'crossed over' from a different starting point. In the Outback's case it's from car to SUV: for the Highlander, from traditional SUV to the car. While neither can do serious bush-whacking, both perform better on road than most SUVs, and are aimed at lifestyle buyers who want everything they can get from a vehicle. It's all about multi-tasking, something we all have to be increasingly better at these days: we have to balance career with family, work with play. For some folks these crossover vehicles help. They take the kids to school, the punters to the footy, and the crew and all their toys to the bach, plus commute effortlessly in traffic and manoeuvre with ease in the Foodtown car park. These two vehicles suit virtually every occasion.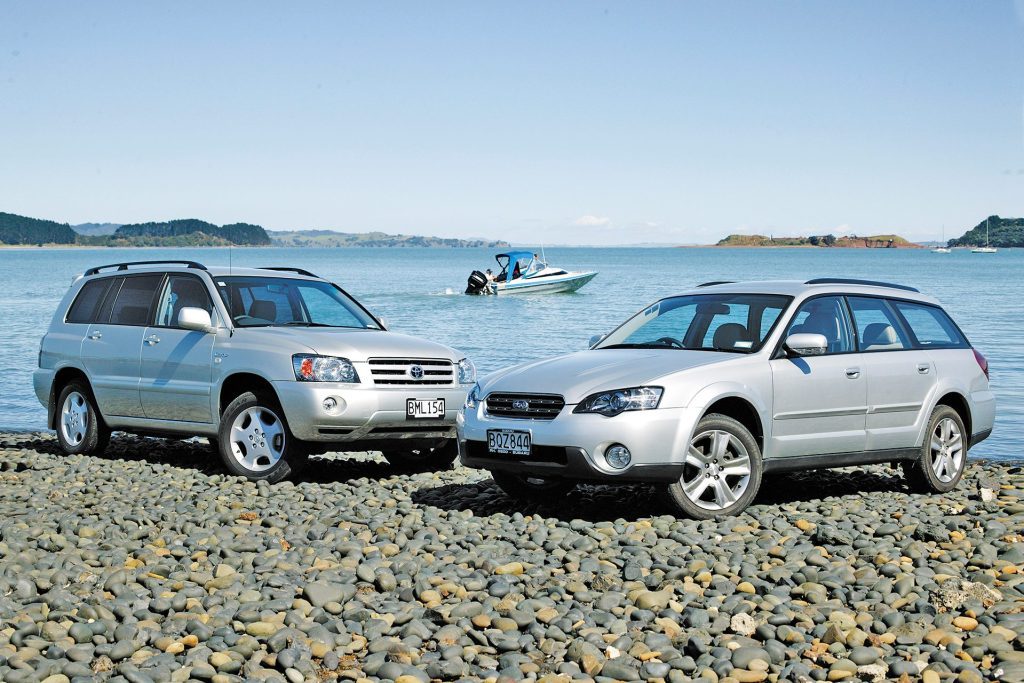 Price/Equipment
First up, let us explain that we have the top-of-the-line Limited Highlander in the photos and the 3.0R Outback. As it stands, the Limited will cost you $63,950 whereas the Outback 3.0R costs just $54,990. You'll see some price parity with the base-level Highlander, which starts at $52,850; the seven-seater version adds a further $2000, and the Limited leads this range. In the Outback camp, the 3.0R is joined by a Limited version as well, priced at $59,990 – closer to the top Highlander. So there's something wearing each badge for everyone.
The 3.0R is slightly better equipped than Highlander, but the Limited versions of both ranges are well matched. Both base models have everything you need: electrics, cruise control, climate air, trip computer and alarm/immobiliser. Outback adds a six-disc audio, a multi-function wheel, and self-levelling rear suspension for better handling when carrying a load. Limited versions of both get full leather and power seats. Outback Limited gains a sunroof.
Highlander scores a point for offering seven seats (Limited gets three rows of seats as standard). The Sub's cabin is nicer to behold, though – unfortunately – it's another attack of beige. Toyota's is typically grey, but is functional and well screwed together.
On the safety front both get electronic stability programmes and have two airbags apiece. Limited versions of each model add side and curtain bags to raise their number to six.
Design/Engineering
Both these machines call on six-cylinder engines to do the talking. Under the Toyota bonnet we have a silky-smooth 3.3 litre V6 while beneath Subaru's is the traditional horizontally opposed layout.
The 3.0 litre boxer in the Outback, complete with Subaru's variable-valve timing and electronic throttle control, is more powerful than in the previous model, up 17 per cent to 180kW at 6600rpm and 297Nm at 4200 rpm (a five per cent increase). It likes to rev and needs a few of them for it to be in the power zone. Things tend to happen more quickly when pulling above the 3500 mark. The revised engine has the use of a five-speed sport-shift auto transmission to help keep the motor on song.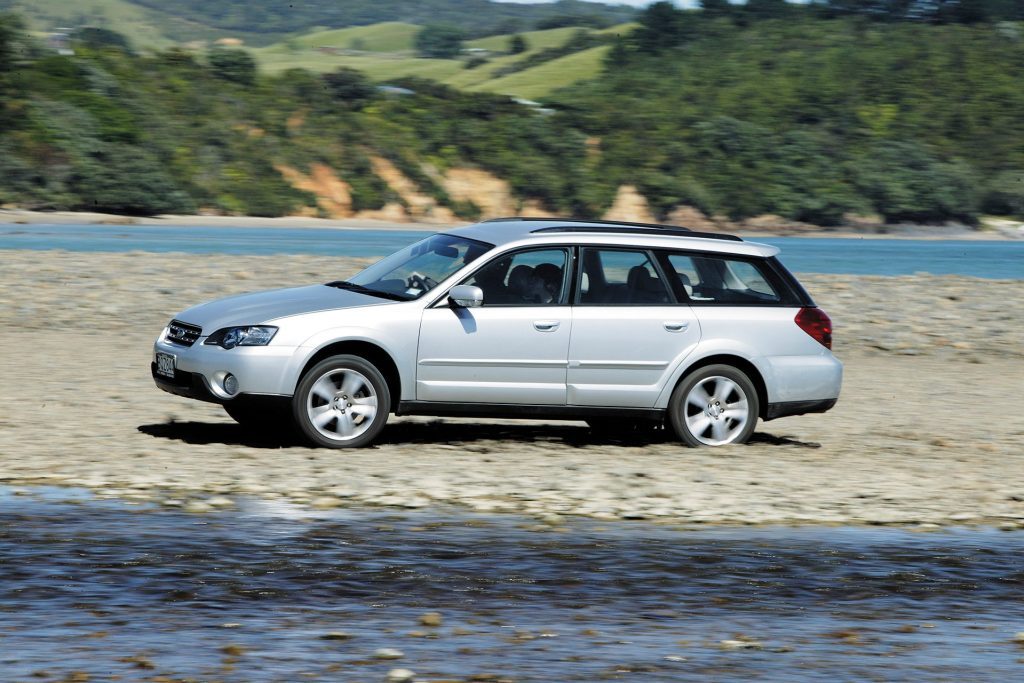 No electric diffs or traction control for the Subaru, just permanent four-wheel drive to keep it gripping. The Limited Outback gets VDC (Vehicle Dynamic Control) – but that is overkill in an all-paw vehicle. 
The style jury is still out on the front end of the new-look Legacy. It has a slant-eyed appearance and a slender nose that seems slightly awkward, but standard-fit 17-inch alloys look the biz.
Highlander has the same running gear as the Lexus RX 330, so cue a liquid-smooth engine with a bite but no bark. The 3.3 litre V6 conjures 172kW at 5600rpm and 328Nm at 3600. It's the better torquer at lower engine speeds, and that makes the Highlander feel stronger and more relaxed, needing less revs, and fewer gear changes from its five-speed auto (which is really a four-speeder with an electronic overdrive).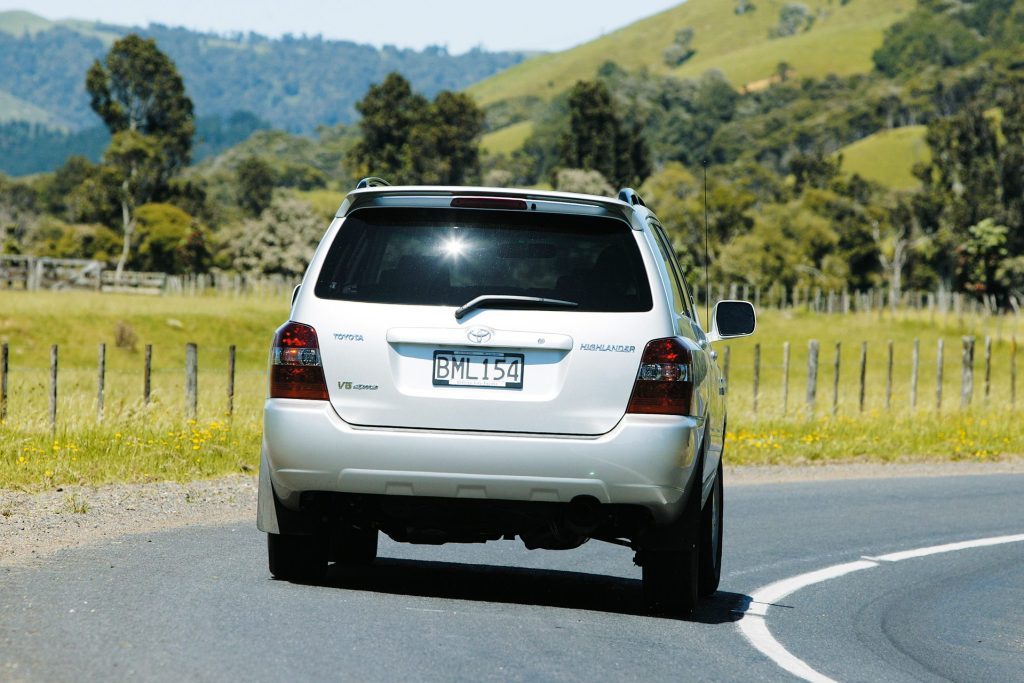 Highlander has two driveline set-ups. The entry level comes with no traction control aids, a standard diff up front with a viscous centre LSD, and a rear LSD. The Limited boasts three open diffs due to the use of electronic stability and traction aids to keep things together. This hinders the Limited's ability on road where the stability control (which can't be disabled) goes into hyper mode, halting all rapid progress through corners. And off-road work requires a few good old LSD's to do the job right. Whether Highlander owners will venture too far off the beaten track is another thing.
Appearance-wise, Highlander has chunky proportions and looks the result of a Landcruiser humping a RAV4. Whoever's love child it may be, Highlander needs some good-looking alloys to help break up the blandness.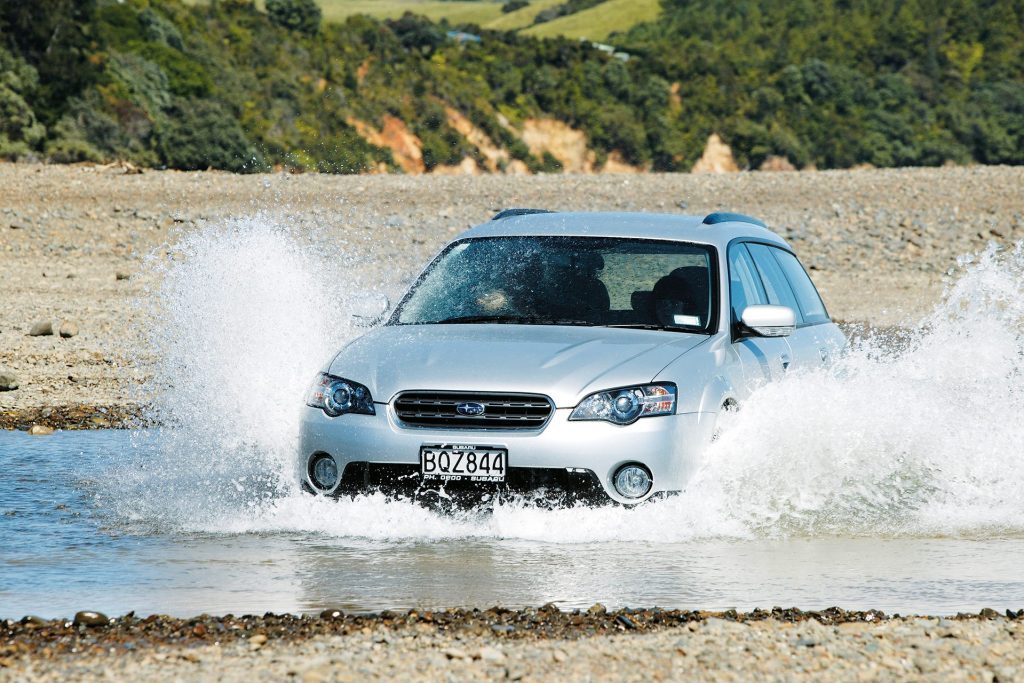 Performance
With 180kW to haul 1526kg, the Outback is the hot rod of this pair, dispatching 0-100km/h in 7.69 seconds and doing the 80-120km/h scamper in 5.07s. These results are best achieved with the gearbox in sport mode, where it's more eager to perform. While it goes fast, its braking department is disappointing, with a best stopping distance of 43.98 metres from 100km/h. We can only put it down to the Geolander tyres and the US-oriented ABS calibration. Ram on the anchors and the Outback slows haltingly. The brakes perform well on the go, producing a good feel and decent bite – until you have to stand on them.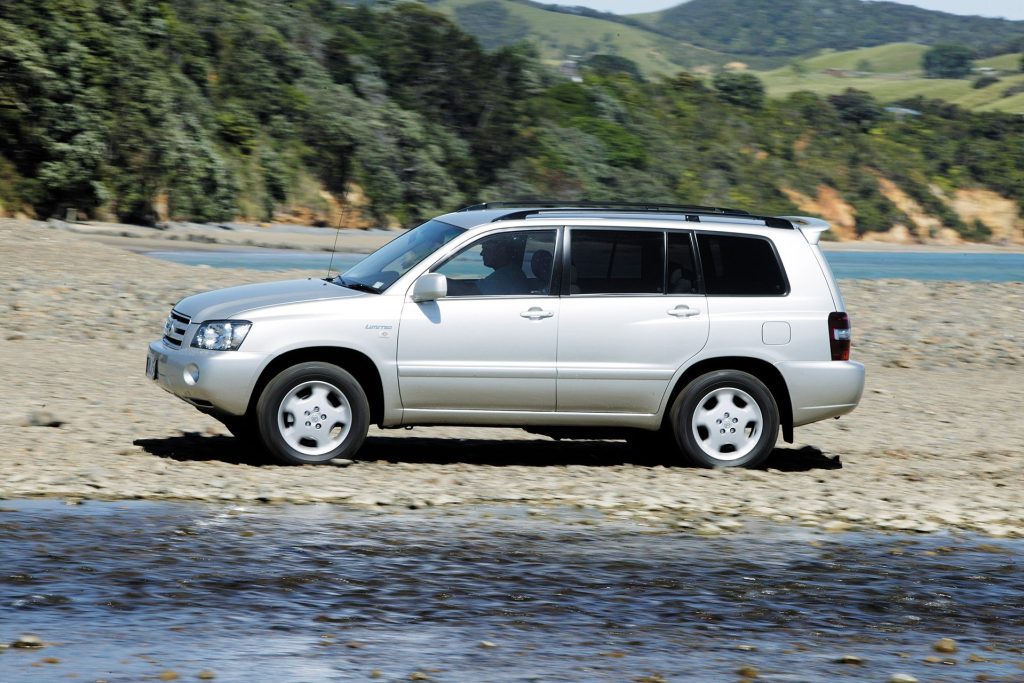 Highlander has the tougher assignment. With marginally less power but with 1800kg to pull and a big frontal area, it's going to be slower. It takes 9.14s to get to 100km/h and 6.57s for the overtaking time. Toyota's stoppers are better, pulling Highlander up in 37.16m.
The Highlander's 'box shifts gears smoothly and readily. It has no sport mode and there isn't any point in rowing it between gears to get swifter progression – best just to let it do its thing. A limiting factor is the gearbox's need to shift into third at 90 km/h. This hurts not only the 0-100km/h time but also exit speeds out of faster corners, where it lumbers out in third.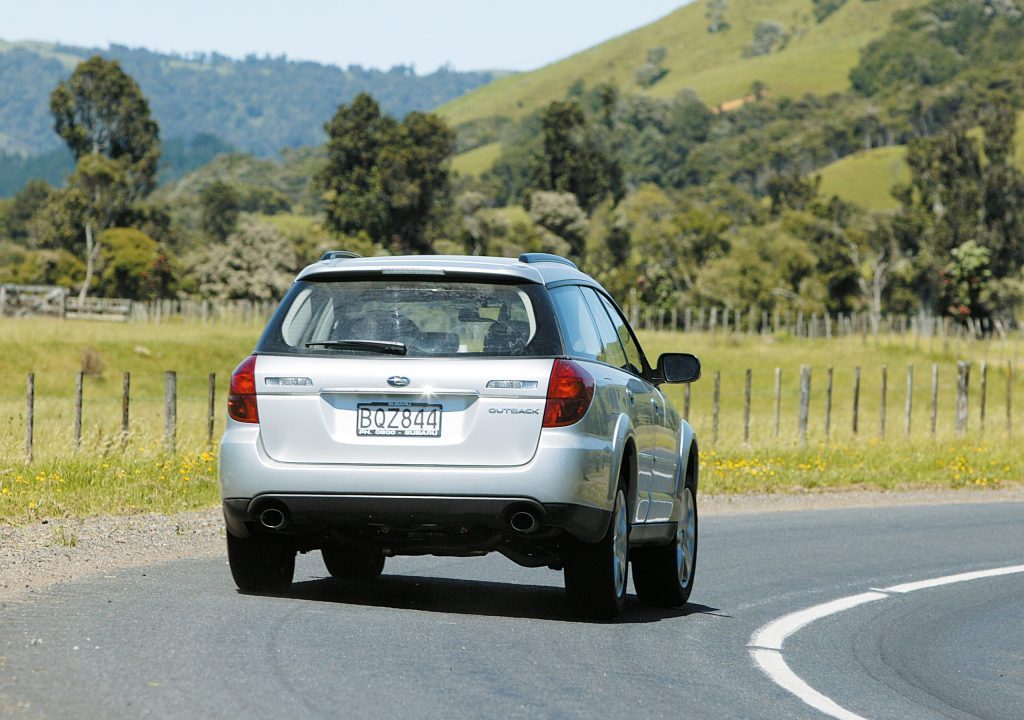 Subaru's five-speed is suited to the H6 as it isn't bristling with accessible torque. Push the lever over into 'Sport', where it is more willing to change, and it performs better; keep the engine above 4000rpm and the H6 growls. This is not good for fuel economy however, because when the pistons box furiously, the fuel pump starts sucking with vigour as well. Kick-downs are a little haphazard, with the gearbox thinking about it, then giving a cog too many as the H6 wails up to the 7000rpm redline. For rapid progress it's better to take control of the shifts yourself. 
For the record, the Outback has superior ground clearance (200mm vs 182mm) and also has better towing capabilities (1800kg braked and 750kg unbraked vs 1500 and 700), but Highlander's more SUV-like design blesses it with better approach and departure angles.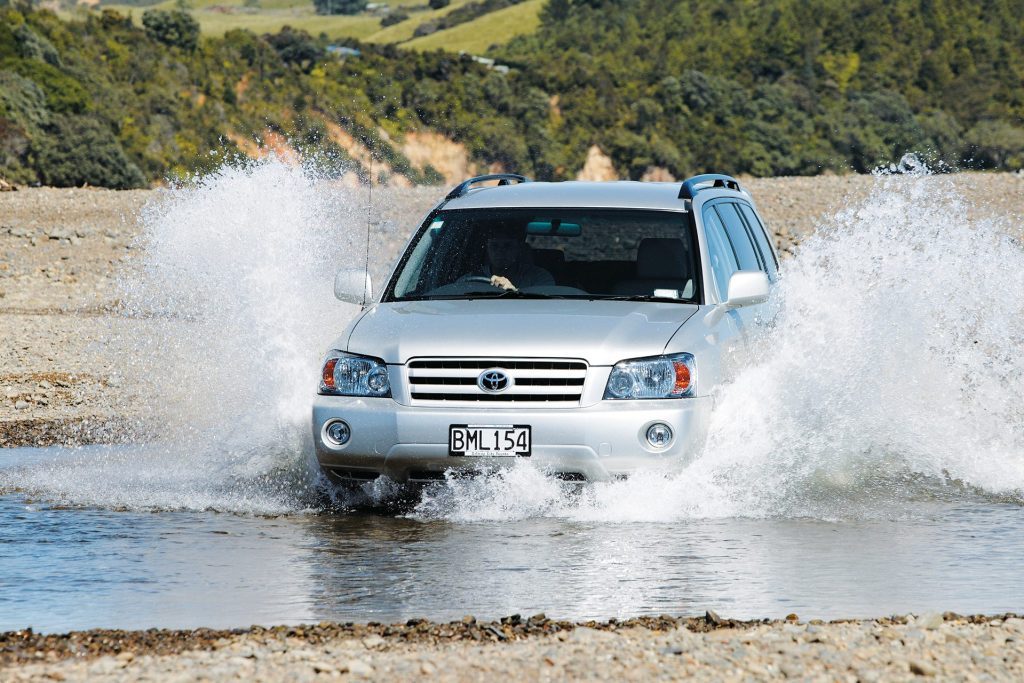 Driving Dynamics
Another round to the Subaru. Like the recently reviewed 2.5 litre Outback, the 3.0R is dynamically streets ahead of the outgoing model, and in this comparison, the better drive. Despite the increased ground clearance there's minimal body roll, and there's good turn-in and plenty of entertaining lift-off oversteer for the adventurous. With a heavier lump up front, the 3.0R doesn't have quite the same balance of its four-cylinder stable-mate, but understeer is still minimal. A lot of kudos has to go to the Subaru engineers for making a bigger, more powerful car that weighs less than the outgoing model.
The 3.0R has also benefited from the increased track and fettled roll centres of the new Outback range. It has better roll control and a more positive turn-in than any SUV under $100,000. The car has an underlying neutral feel, with the back unloading from time to time into ever-so-catchable oversteer to liven up the drive. The steering is very car-like, with great feedback, and is direct in its response. Point Outback where you want to go and it obeys your command. The helm may be a touch light at speed but this makes low-speed manoeuvres easier.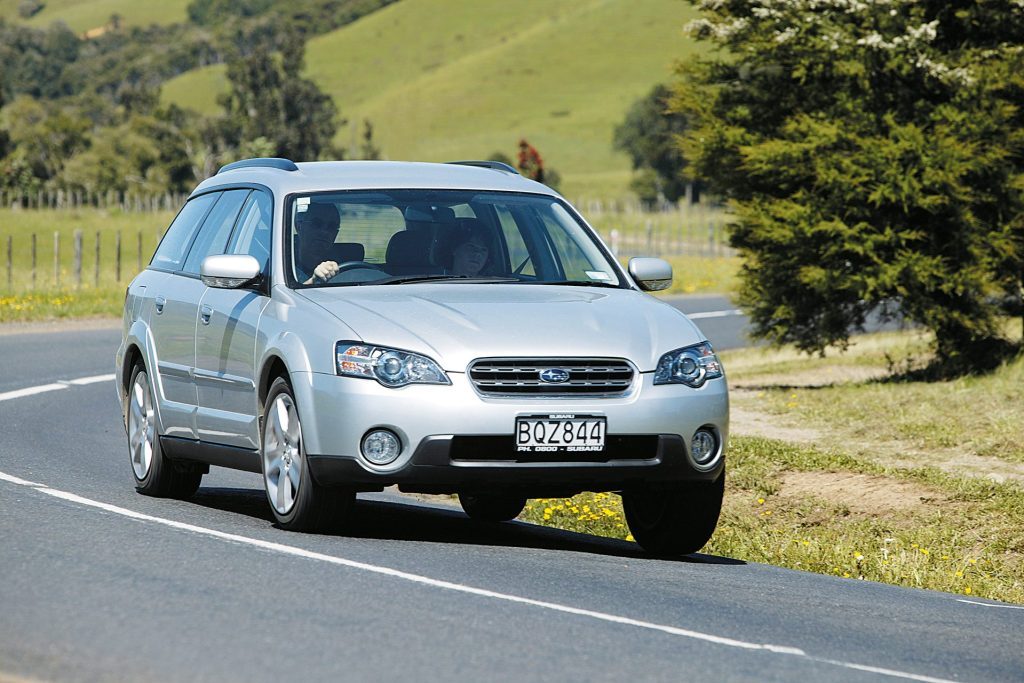 With 180kW, it doesn't want for power: it wants for grip. The Geolander rubber with which Subaru insists on shodding the Outback and Forester ranges is improving, but the tyres do limit cornering adhesion in faster sweepers. You can feel them fighting for grip on our course-chip roads, ever so slightly inducing a drift through fast bends, keeping the driver on his or her toes. It's the lighter weight that makes the Outback the athletic champion. It simply dances away from the Highlander, generally being able to achieve things 20km/h faster. 
Ride quality isn't the Sub's trump card, but long suspension travel ensures the firmly sprung 3.0R doesn't ground out on big bumps.
The Highlander is much more suited to motorway travel and the main highways rather than twisting back roads. Although body roll is well controlled and the ride suited to New Zealand's often-bumpy roads, the Highlander isn't a willing sportster – and doesn't pretend to be. It can be punted along quite briskly but it requires a concentrated effort to keep the 1800kg vehicle moving rapidly. On fast roads the Highlander travels along briskly but tight corners require a slower approach. As mentioned, the VDC hampers any spirited driving attempts, a feature that will also keep over-enthusiastic borrowers of Mum and Dad's Highlander on the straight and narrow. Safe understeer is the nature of the chassis and steering feel is equally dull. The engine is brawny from down low however, and so lends itself to a more relaxing pace.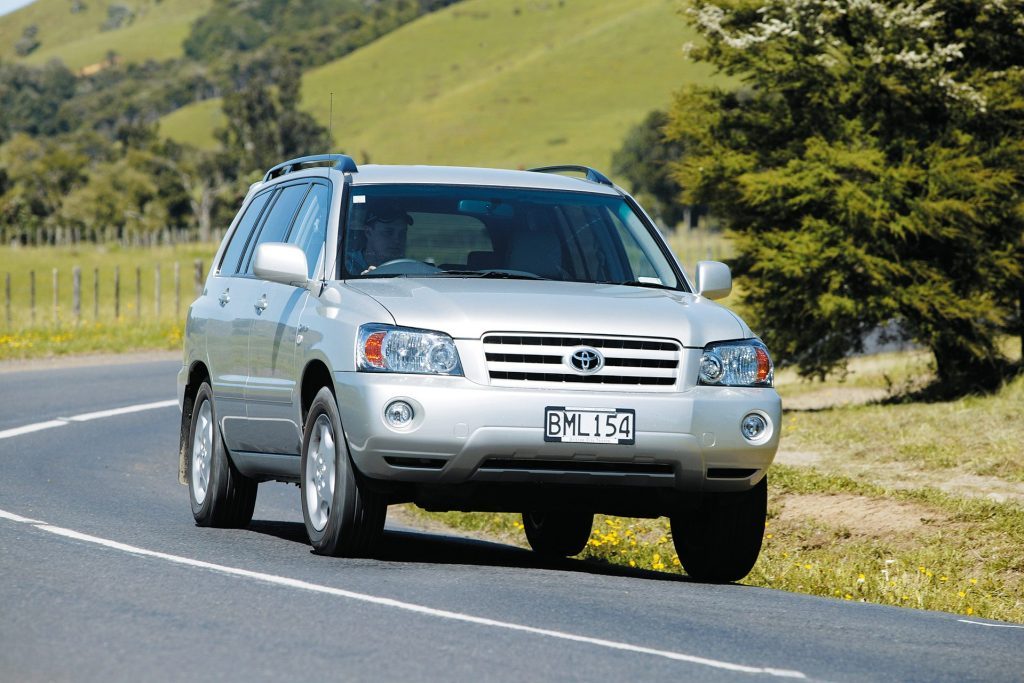 Comfort/Convenience
Highlander makes up all ground on the Outback in the comfort/convenience stakes. The bigger alloys of the 3.0R look good, but the 17-inch low-profile rubber and firmer suspension corrupt the Outback's low and medium ride quality. It rides the bumps rather than smoothing them, unlike the compliant Highlander, which turns the nastiest surface into a magic carpet ride.
Naturally, Highlander also has the advantage in interior space and would be the choice of the pair for carrying five adults. Four large doors allow easy access for both front and rear passengers. Rear head- and legroom is superior in the Toyota's second row, and this crossover also takes the advantage with its third row of seats (for the kiddies only).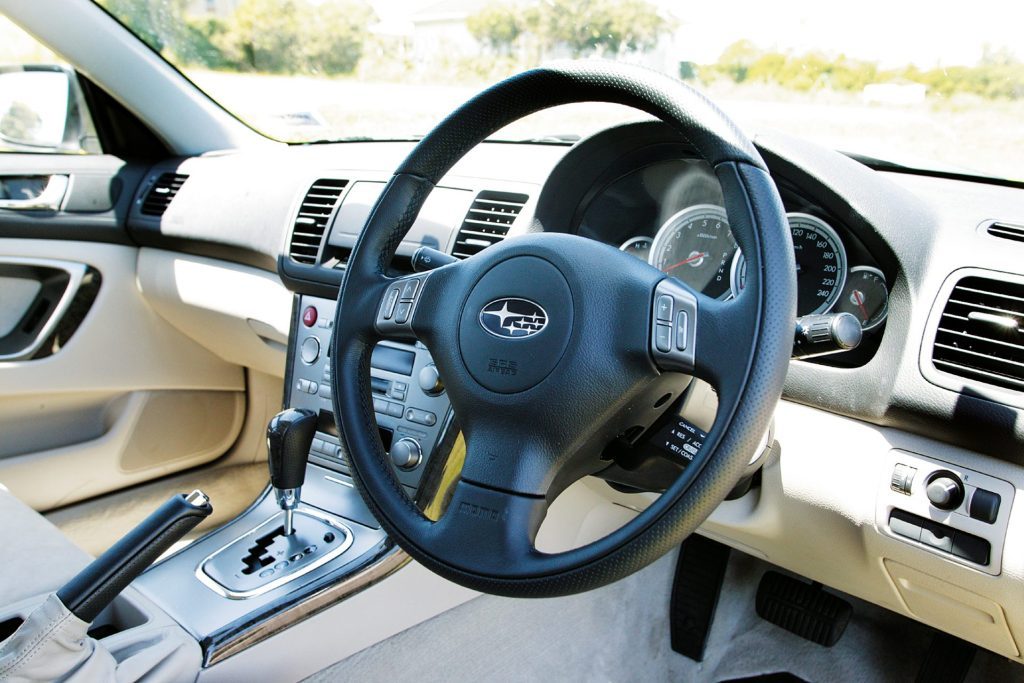 Not to be outdone, Subaru has done admirably in rear accommodation, with generous headroom and adequate legroom, although smaller rear doors hamper access. Both have drinks holders to accommodate everything from the caffeine-drink can to the super-sized Coke from your favourite fast food joint. For those with really thirsty families, note that Highlander wins the cup-holder count – with eight. 
Highlander offers a traditional SUV driving position, up high and commanding a good view of what's around; Outback's is car-like and low-slung by comparison. Both are comfortable, but the Outback seats are slightly more figure-hugging, and offer more lateral support when cornering.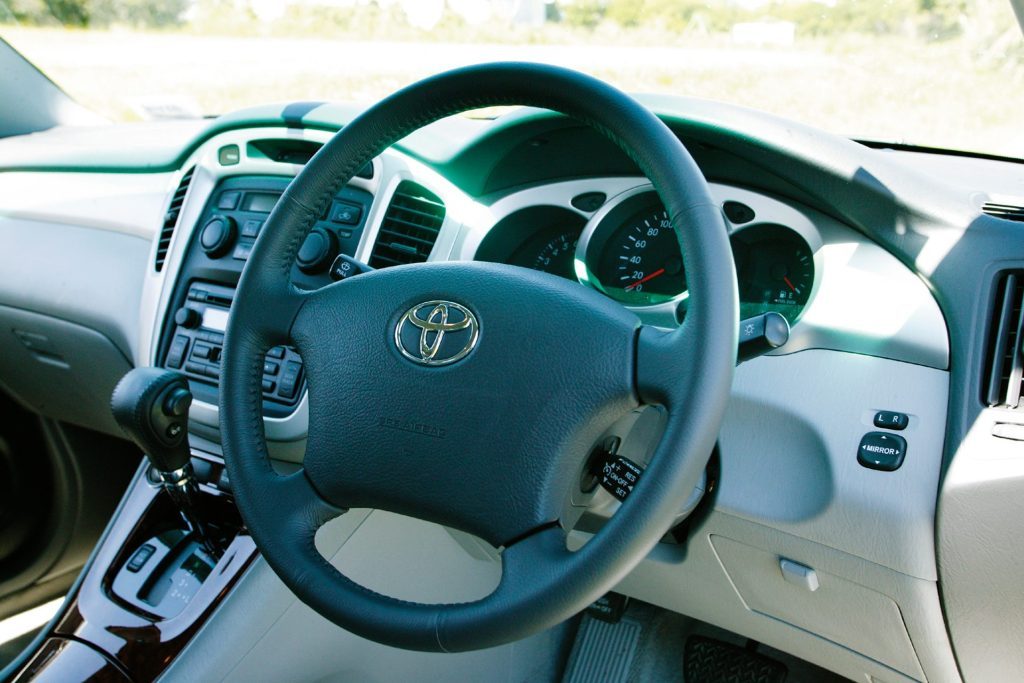 Outback wins the parking award: it's smaller, it's easier to judge where the extremities of the vehicle are, and it has a smaller turning circle, of 10.8m kerb to kerb.
Got stuff to carry? Highlander has 580 litres of luggage capacity in the rear while Outback touts 459 litres.
Standing 1545m tall, Outback will be the one to choose if you need to carry things on the roof as reaching the height of 1743mm to put something on the Highlander's roof-racks requires a real effort.
Verdict:
Our choice: Toyota Highlander – Brawny engine, great ride and heaps of space make it the crossover champ. Easy to use in a very un-SUV like way, it's the do-everything vehicle.
Subaru Outback – Although more athletic and the driver's choice, the sportiest Outback can't offer the same space and ride quality as the Highlander.
| | |
| --- | --- |
| Model | Toyota Highlander |
| Price | $52,850-$63,950 |
| Engine | 3311cc, V6, EFI |
| Power | 172kW/328Nm |
| Drivetrain | 5-speed auto, AWD |
| Fuel Use | 12.8L/100km |
| 0-100km/h | 9.14sec |
| Weight | 1802kg |
| | |
| --- | --- |
| Model | Subaru Outback 3.0R |
| Price | $54,990-$59,990 |
| Engine | 3000cc, B6, EFI |
| Power | 180kW/297Nm |
| Drivetrain | 5-speed auto, AWD |
| Fuel Use | 10.9L/100km |
| 0-100km/h | 7.69sec |
| Weight | 1526kg |
This article first appeared in the February 2004 issue of NZ Autocar Magazine.