Meet the fastest car we've ever tested… And no, it's not German, or even Italian !
We've tested all types of fast exotica here at NZ Autocar – a mundane task we have to endure as part of the job. Ferraris, Lamborghinis and Porsches have all at one time enjoyed the status of being the fastest we've ever tested. But now they've all been put in the shade by this ballsy beast from Blighty. The Noble M12 GTO 3R doesn't wear the badge of an established marque but legends have to start somewhere. Built by English sports-car designer, Lee Noble, the Noble M12 is the second machine to come from his shop, which has quickly established a reputation for building FQ cars that carve up both road and track.
If you've seen the first Noble, the M10, we think you'll agree that it was no gem to behold. The M12, however, has been styled by someone who was allowed to use more than crayons and paper. It may not have the sexed-up styling of a Pininfarina design but it does the job. A visual sledgehammer, it hits you right between the legs – schwing. The only way a Porsche could get more attention than this would be if it were driven by a naked super-model.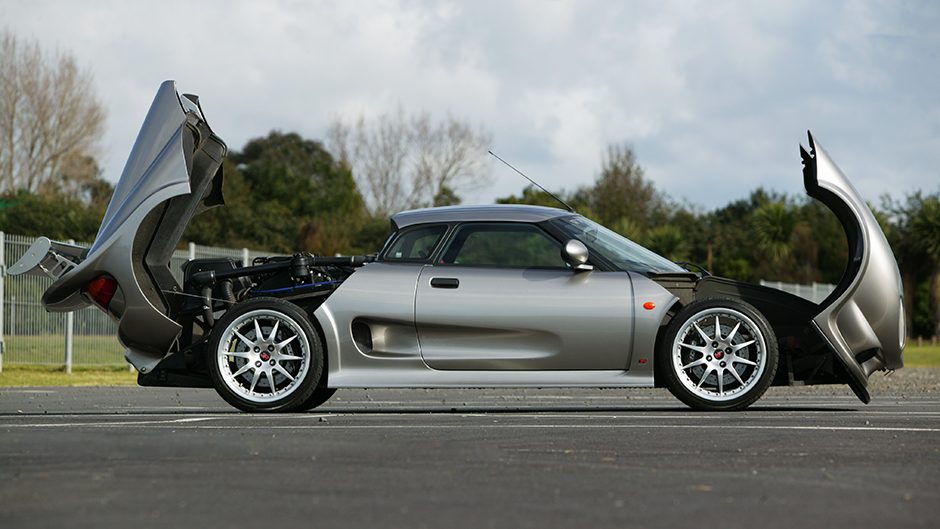 A bona fide supercar, the M12 has the statistics to embarrass most in the established supercar fold. Power figures tend to excite schoolboys, but what really counts is the power-to-weight ratio. The Noble produces 262kW from its blown 3.0 litre V6 and is therefore out-muscled by both the Porsche 911 Turbo (309kW) and the Ferrari 360 Modena (298kW). But the Noble has weight on its side. Teenage girls aren't the only ones obsessed with the kilos in our society, so too are sports-car designers, particularly if they're British. The Noble weighs about as much as an empty tissue box. At 1099kg, it's more than 300kg lighter than the nimble Ferrari and 460kg less than the lardier Turbo. Each kilowatt it produces has to propel just 4.19kg, compared to 5.05 for the Porsche and 4.72 for the Ferrari. And so the upstart Noble slaughters them both when it comes to acceleration. The Turbo was the fastest car we had previously tested, leaping out of the blocks and squirting easily to 100km/h in 4.38 seconds, while the Italian wailer managed 4.52, thanks to the smart launch-control programming of its F1 gearbox. The Noble needed a concentrated effort but blasted the record books with a 3.98s pass to 100km/h. Even more telling was its 80-120km/h time, a crazy 2.35s in a scant 66 metres, making it the new overtaking king as well. This thing is insanely fast!
The weight advantage of the Noble comes courtesy of its spaceframe chassis, light-weight composite body panels, and its neglect of such things as four-paw traction, or passive safety devices. With its emphasis on pure driving, the Noble also shrugs off traction and stability controls, and even ABS. Manufactured under an approval scheme in the UK for low-volume vehicles of only one variant, it neither has to undergo crash testing nor meet the usual safety requirements regarding airbags. A fully integrated roll cage and leach-like roadholding go some way to remedy the lack of conventional gear. Perhaps the best safety device is a sane driver – and a quick-witted one to boot. Play sensibly and the Noble is wickedly fast and very rewarding: stupidity with the throttle in corners will see you spinning backwards into the nearest hard thing. To overcome such problems, leave the Noble in fourth, or even fifth, and let the 475Nm of torque squirt you out of the corner without the threat of traction deficit. And even then you'll still be travelling at a ridiculously silly pace.
No need to worry about the front end, however: turn the wheel and the nose will track the chosen line with the discipline of a Chinese soldier. It takes a few corners to get familiar with the quick rack, but once you've sussed it, you'll quickly discover its disdain for understeer. Need to tighten the line? Dial in more lock and the car will tuck in with no qualms. The steering is relatively light but weights up nicely at speed, and is ultra-direct, responding instantly to demands. In spite of this, the Noble is not the precise instrument that is the Lotus Elise, and suffers kick back over bumps.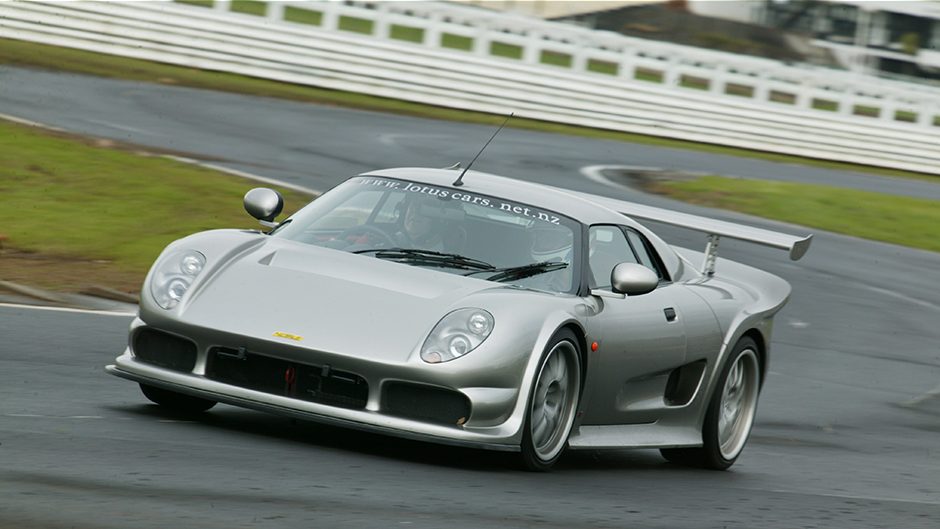 The M12 grips like duct tape to a hairy forearm. You carve up corners easily – and come out of them feeling that you could have cut through them way quicker. Interestingly, the Noble goes without roll bars, the engineers deeming the chassis to be stiff enough and the roll centres to be well sorted. It sports the respected double-wishbone set-up all round, with alloy uprights and coil springs, and thus corners hard and flat. You would expect those springs to be dosed up heavily on Viagra, but while they are stiff, they provide a surprisingly compliant ride.
Given the Noble's prowess as a track car, we suspected it would be a wild beast on New Zealand's challenging, bumpy back roads. It performed the task better than a BMW M3, with the suspension showing great compliance, never running out of travel or touching down (except for the ultra-low front spoiler, which scraped the deck every now and again). Mid-corner bump control is also well sorted, and it's not bullied off line by road inconsistencies.
With a short wheelbase and a transversely mounted V6, the Noble can feel nervous through longer sweepers. The rear feels as though it's threatening to break loose but never makes good, unless extra power is introduced. The impending slide is well telegraphed, and a little less power and a corrective tug on the wheel has it back on line. To avoid such incidents, wait until you're pointing dead ahead to give it a squirt.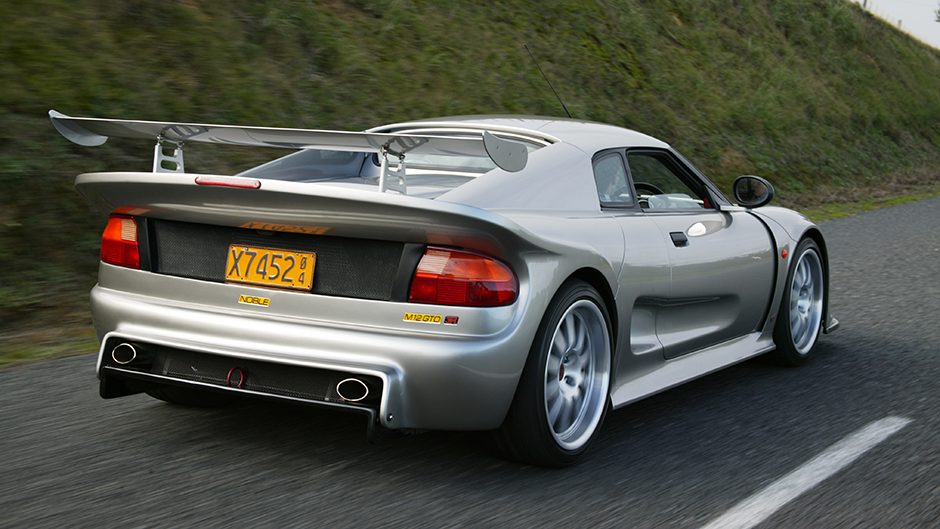 The engine – a highly modified Ford Mondeo unit – is brawny, as turbo-fed motors tend to be. The two relatively small turbos blow to 0.8 bar (11psi). The rear-mounted intercooler and dual-pod air filters sit neatly in their own air box mounted behind the engine, feeding off the cool draught that comes over the roof. The induction and turbos make a marvellous melody as they suck and expel air. You don't need to grab the engine by its berries and squeeze them until it screams. As it's fully boosting and pulling hard all the way through the range by 3000rpm, it's not an engine that hits the rev limiter often – there's no need. With bugger-all weight to shift, acceleration in tall gears is even more startling. It can be rough when the motor is cold, but once warm, it spins up fast and delivers its surge like dynamite. Nonetheless, it's very flexible, with good low-end torque for around town, and will happily dawdle in traffic in fifth gear.
If there's an issue with this car, it's the gearbox. It's hard to master a quick, clean gear change with its stiff clutch pedal and notchy, graunching shift quality. Selecting first can be a nightmare and reverse is harder to find than a celibate priest. With offset pedals, the driving position is compromised, though not uncomfortably so. However, the pedal box is too cramped to heel and toe easily.
As you'd expect from a car that puts on speed like Americans put on weight, it has substantial stoppers. Big cross-drilled and vented brakes measure 330mm both front and rear, and have four-pot calipers that bite hard when you apply the pressure. With no anti-lock, we weren't prepared to risk flat-spotting a set of expensive tyres, but it's claimed the car will haul up in 38 metres. While this isn't overly impressive, the brakes do wipe off speed effectively and stand up to punishment; repeated heavy use affects their performance not one iota.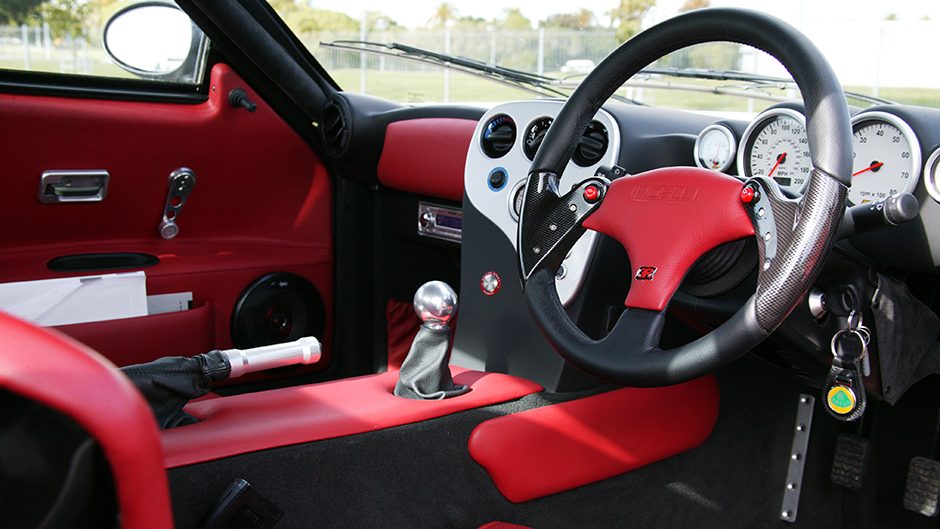 As an everyday prospect, the Noble wouldn't be as hard to live with as you might imagine. It doesn't require you to fold your body like origami to get inside. The cabin is spacious, with plenty of headroom, and the curve of the door skins allows for plenty of arm movement. Ventilation is good and the air conditioning effective. And the fit and finish is top notch, considering the supercar's limited build run. While it lacks the opulence of a Ferrari or Lambo, it will set you back a few $100,000 less. There are no electrics, as they were deemed too heavy, so it's manual windows and mirrors, but there is remote locking with an alarm and immobiliser. The low-slung race seat is able to move fore and aft, and the steering column has reach adjustability. For exploits at the track, a regular three-point lap-sash belt is joined by a four-point semi-race harness. Even visibility is good for a supercar; indeed, there's a view out the rear. Expect to tote no luggage, however, and you'd be lucky to get a Zig-Zag paper under that front spoiler, which makes driveway entry a potentially expensive exercise. There's also a large turning circle and the front wheels touch the guards under full lock.
It's definitely a car for the senses: visually horny, sonorous sounding, and it even produces a good smell when the tyres start to smoke. It gives your body plenty to feel as your internal organs get rearranged during an all-out attack. We didn't lick it, but we bet it tastes good too. It lacks a badge with substance but it won't be long before Porsche and Ferrari owners start talking nervously about "those Nobles", for it's a faster car for almost half the price.
| | |
| --- | --- |
| Model | 2004 Noble M12 GTO 3R |
| Price | $189,000 |
| Engine | 2968cc, V6, T/DI, 262kW/475Nm |
| Drivetrain | 6-speed manual, RWD |
| 0-100km/h | 3.98sec |
| Weight | 1099kg |
This article first appeared in the July 2004 issue of NZ Autocar magazine.