It's been a big year for Ford pick-up trucks (or utes, if you're that way inclined). The Ranger continues to be the best-selling rig in Australasia, the F-150 the biggest seller in America, and the electric F-150 Lightning is probably the most talked about new-car launch of the year thus far.
But Ford is long from done with pick-ups for 2021. Overnight it unveiled its new Maverick; a cut-price entry-level ute for the American market. And no, it's highly unlikely to ever come our way.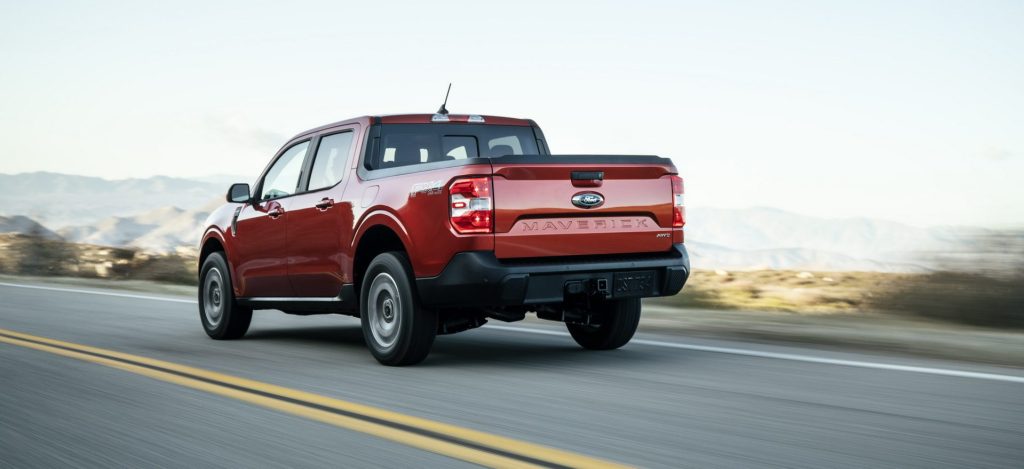 The Maverick is a compact unibody pick-up, meaning it isn't a hearty body-on-frame creation like the Ranger. It's 282mm shorter than a Ranger, and 53mm lower than a Ranger. Supporting this diminutive size are some fairly bold fuel economy figures and sharp pricing.
The Maverick will start for US$19,995, making it cheaper than a base model Toyota Corolla. The entry-level model gets a 2.5-litre hybrid powertrain producing 142kW of power, sent exclusively to the front wheels. There's also a more powerful 2.0-litre EcoBoost turbofour available, cranking out 186kW and available with optional all-wheel drive.
The former is rated to tow 907kg and lug 680kg of payload, while the latter can manage 1814kg of towing according to Ford. The bed is 1371mm long, and is rather handy; featuring slots that allow owners to make their own elevated floors, two tie-downs, four D-rings, a multi-position tailgate, and a 12-volt pre-wiring package for those wanting to wire in extra lights and other auxiliaries, as part of what Ford calls the 'Flexbed'.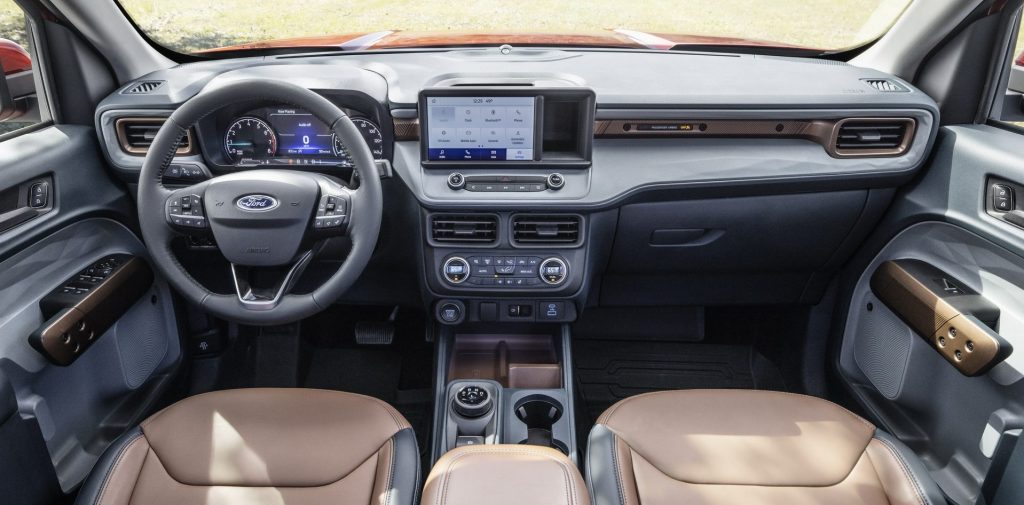 Ford's fixation on clever nooks and crannies leaks to the interior, too. Inside you get cup holders that can accommodate 1L bottles, a huge storage bin under the rear seats, and more. It naturally also comes with Apple CarPlay and Android Auto, paired to an 8-inch touchscreen running Sync 3.
On top of this, Ford claims that this is the most fuel efficient truck on the market in the US. That's no surprise given it's also the smallest, but nevertheless the claimed 6.3L/100km combined is impressive.
"The Maverick product proposition is like nothing else out there. It's a great-looking truck featuring four doors with room for five adults, a standard full-hybrid engine with city fuel economy that beats a Honda Civic, plenty of towing and hauling for weekend trips or do-it-yourself projects, and it starts under $20,000," said Todd Eckert, Ford truck group marketing manager.
"One thing that's non-negotiable is that Maverick is Built Ford Tough," added Chris Mazur, the Maverick's chief engineer. "Our engineers were unrelenting, putting it through a battery of vicious on-road, off-road, environmental, and simulated customer use testing until we were satisfied. Ford trucks are Ford trucks – through and through."