Car manufacturers love to dangle concept car carrots in front of their fans, in the hope that those cars can rouse interest in the brand. Inevitably though, most of these cars stay as concepts and never see the light of day beyond their initial reveal.
This new Ford Bronco is a little different.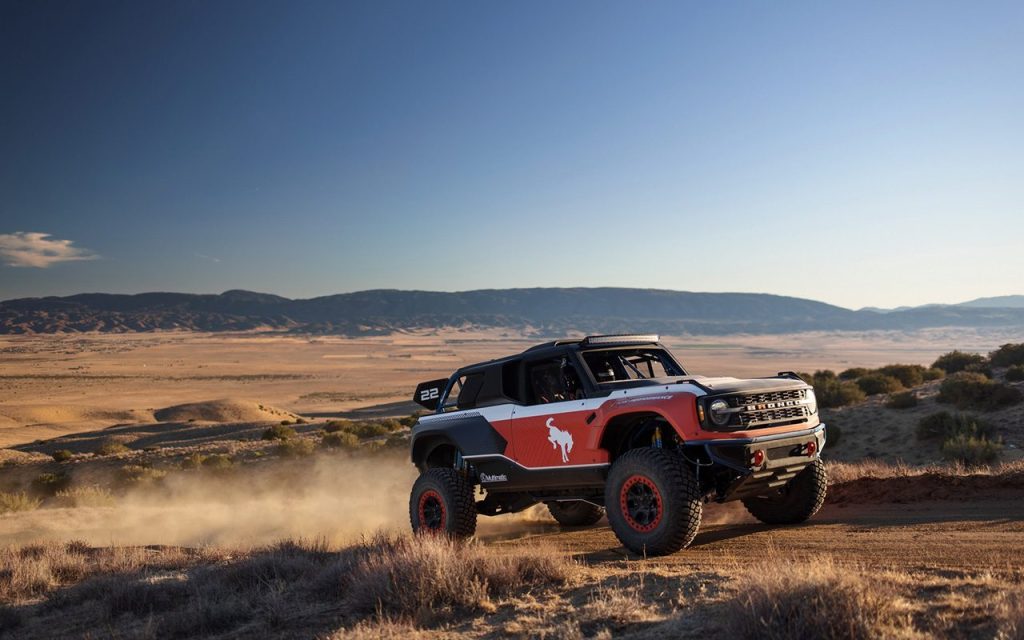 Ford has revealed the new Bronco DR (standing for Desert Racer). It has all the hallmarks of a crazed concept vehicle. It gets more than a bit of inspiration from Ford's rally-bred Dakar-style Bronco R-Race Prototype, it gets a mouth-watering powertrain, and it's not road legal.
But it has one big difference; Ford's actually making it for public consumption. If you've got enough rupees in your back pocket, you can actually own this gravel-bashing behemoth.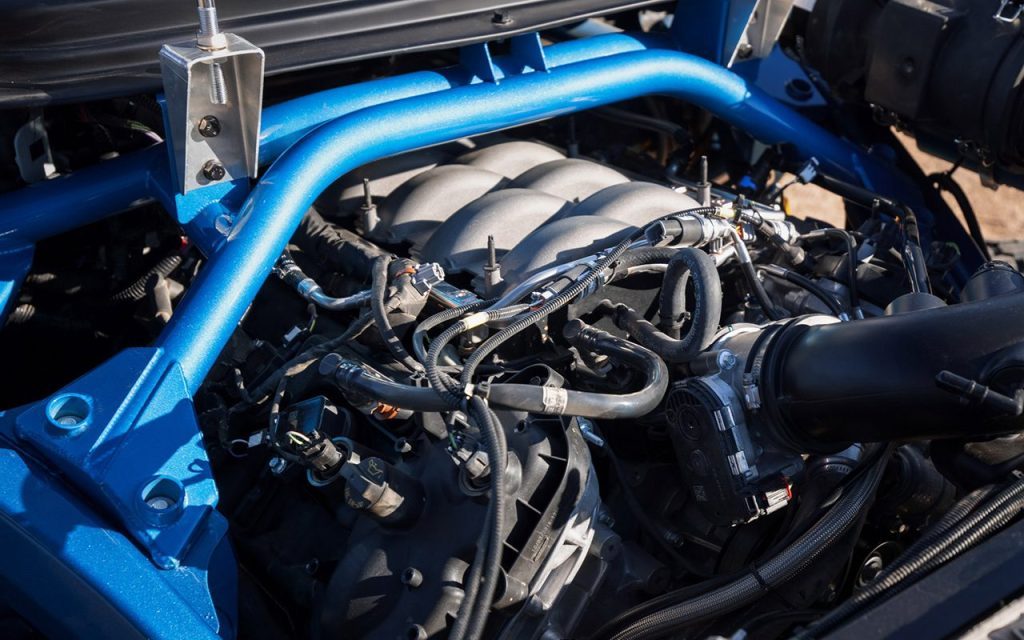 Built with the help of Multimatic (the same Canadian group behind the current Ford GT), the DR has been produced with the toughest off-roading in mind, specifically the often feared Baja 1000. Under the bonnet is the blue oval's familiar Coyote 5.0-litre V8, producing 'more than 400hp'. So most likely a little less literal grunt than the Mustang GT's 339kW, but calibrated for better off-road performance.
The V8 comes mated to the 10R80 10-speed transmission and transfer case from an F-150, helping send power to all four wheels. Inevitably, the springy bits that put the rubber to the road have also been beefed up; the DR now sporting 80mm Positional Selective DSSV Dampers and billet aluminium lower control arms. Each corner gets its own BF Goodrich Mud-Terrain KM3 rubber, too.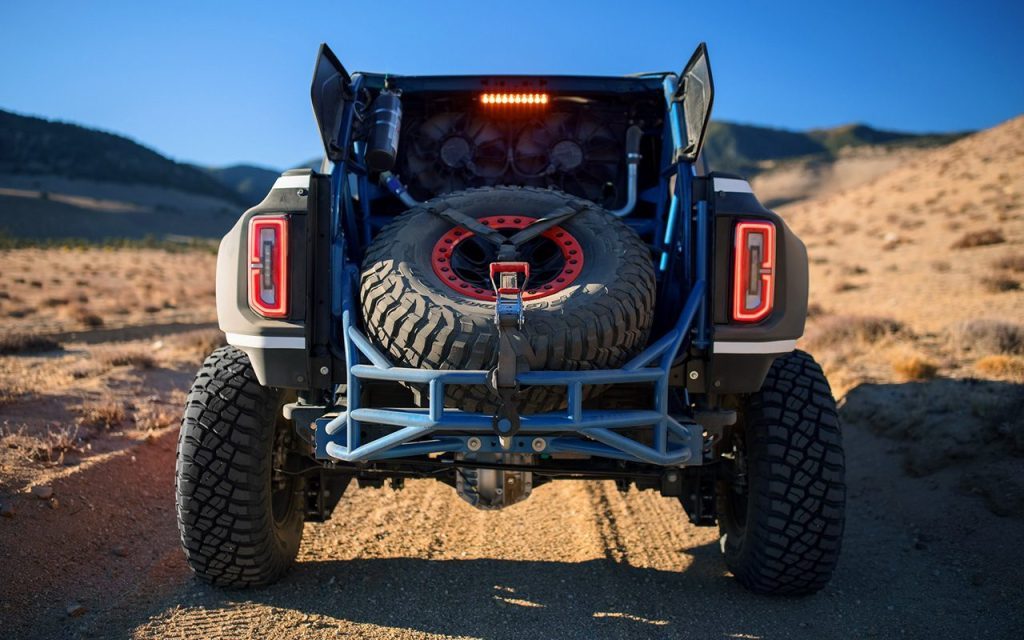 This means approximately 55.1 per cent more suspension travel in the front and 56.8 per cent more travel in the rear compared to the standard Bronco Badlands, according to Ford. The approach, breakover, and departure angles are eye-opening, too, rated at 47, 33, and 37 degrees, respectively.
The panels are all made out of resin transfer molded fibreglass. There's no glass, no air conditioning, no heated seats, and no wireless charging. This is a serious bit of kit. All the more amazing that it will be on offer to Joe Public.
Mr. Public will have to pay a fair price, mind you. Just 50 are scheduled to be built, at a price of around US$250,000 each. Ford says they'll arrive next year, so those keen to hit the trails in one better start saving.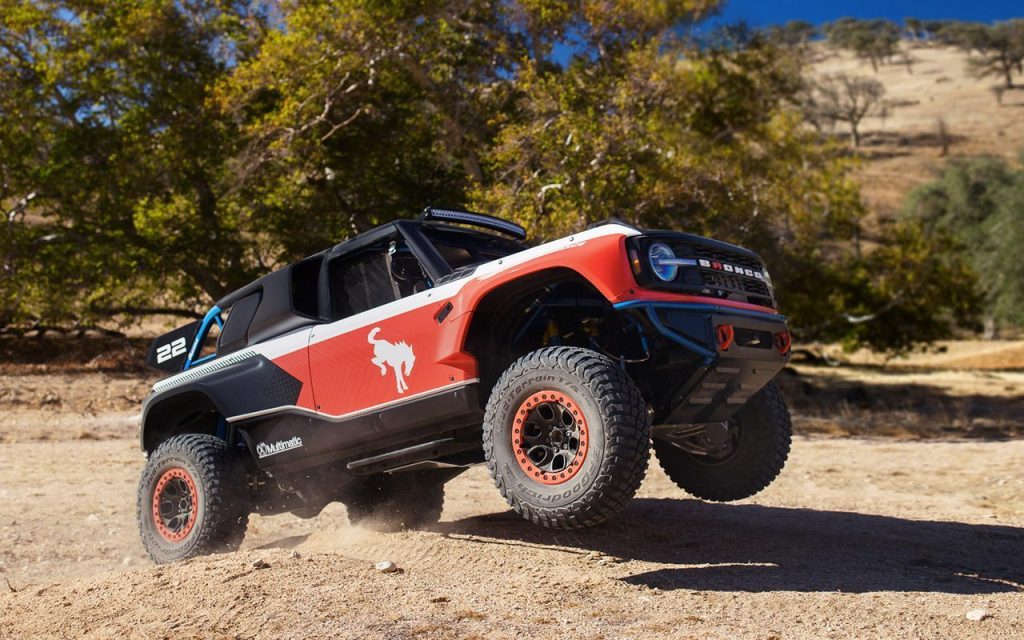 "Bronco DR is our ultimate turnkey off-road racing SUV, engineered to put enthusiasts behind the wheel of a desert racing force," says Ford chief product platform and operations officer Hau Thai-Tang.
"This collaboration between Ford Performance and Multimatic continues the Bronco desert racing legacy that dates back to Rod Hall and Larry Minor's never-repeated overall Baja 1000 win in a stock Bronco in 1969."