Put your hat on backwards, grab a lanyard, and prime your credit card because it's SEMA season, baby. The annual Las Vegas motor show kicks off next month, and car manufacturers are beginning to roll out their wares ahead of time.
Ford, a brand that's always had a big SEMA presence, has revealed six concept vehicles based on the Bronco. Not all of these have been made by Ford, it must be said. While some are greenlit by Ford, most are from independent tuner groups.
One of these is the stupendous grey and neon yellow Bronco on tracks at the lead of this story. It's built by Tucci Hot Rods, and wears a set of 88-Series quad tracks. There isn't much else, admittedly, barring a new front bumper, a rock light kit, retractable side steps, and a winch. But, there's something about chucking tracks on an off-roader that always captures our imagination.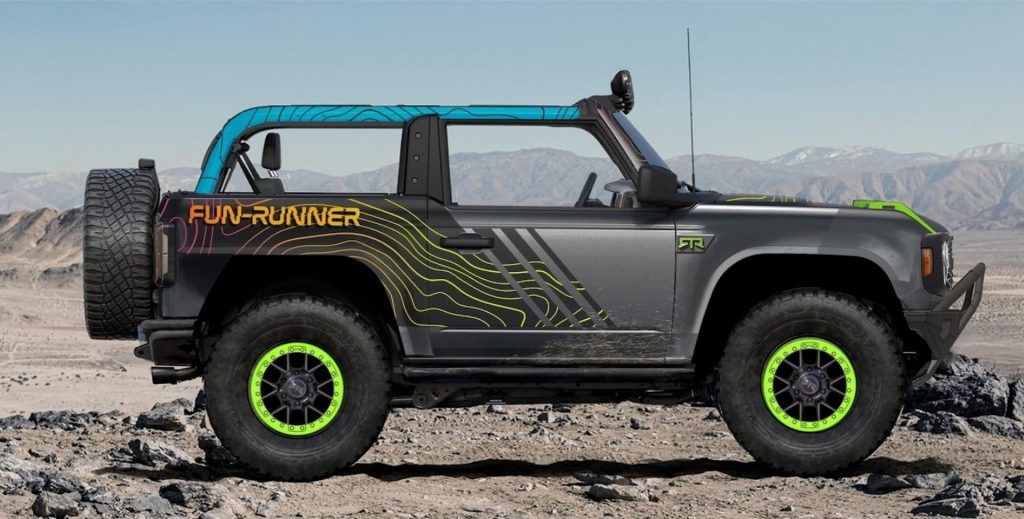 Arguably the most relevant concept in the batch of six is the two-door Bronco RTR Fun-Runner. Given RTR's official connections to Ford, it should be no surprise that all bespoke elements of the Fun-Runner are actually just off-the-shelf parts available to Bronco customers. These include the soundbar and sports exhaust, but don't include the colourful wrap.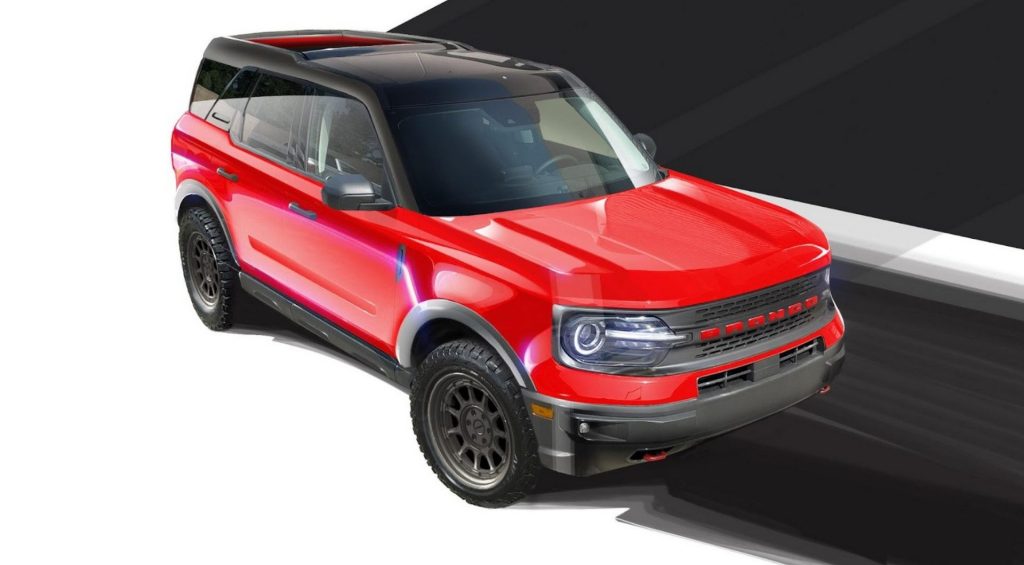 CGS Performance Product took a different approach with its Bronco. They feature something that looks more designed for on-road and off-road performance rather than just the latter. It gets a cold-air intake, catback exhaust, forged wheels, all-terrain tyres, and more.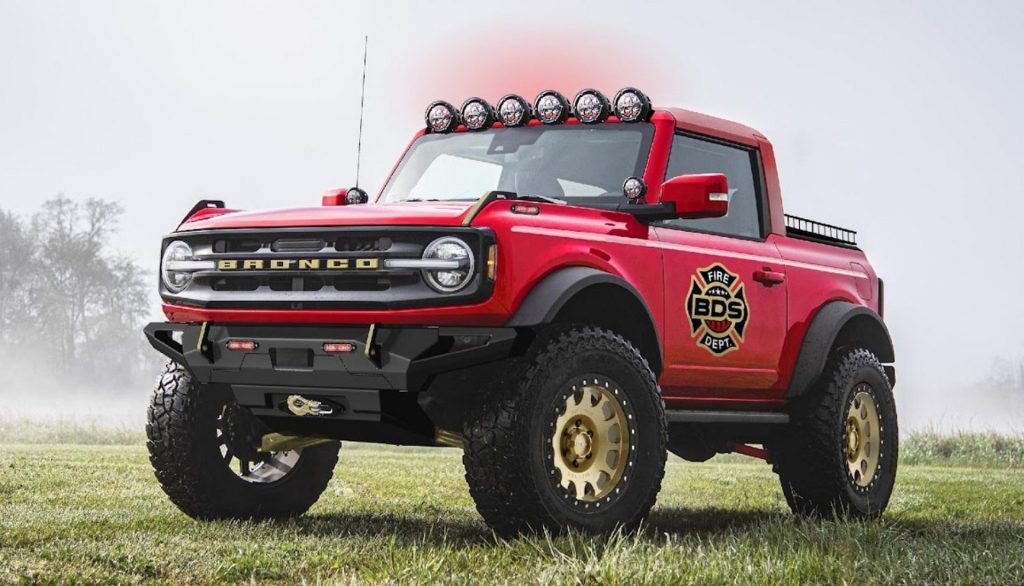 Inevitably the custom Bronco with the tallest ride height is a concept made by a suspension firm. BDS Suspension's Bronco is dressed like a first-response vehicle, and adds a BDS four-inch UCE system, Fox 2.5 PED coilovers, 37-inch BFGoodrichs, bespoke bumpers designed to aid approach and departure angle, and more.
A pair of 'Baja' Broncos complete the 2021 set; the Bronco Baja Forged concept and the Bronco Sport Baja Forged concept, both having been made by LGE-CTS Motorsports.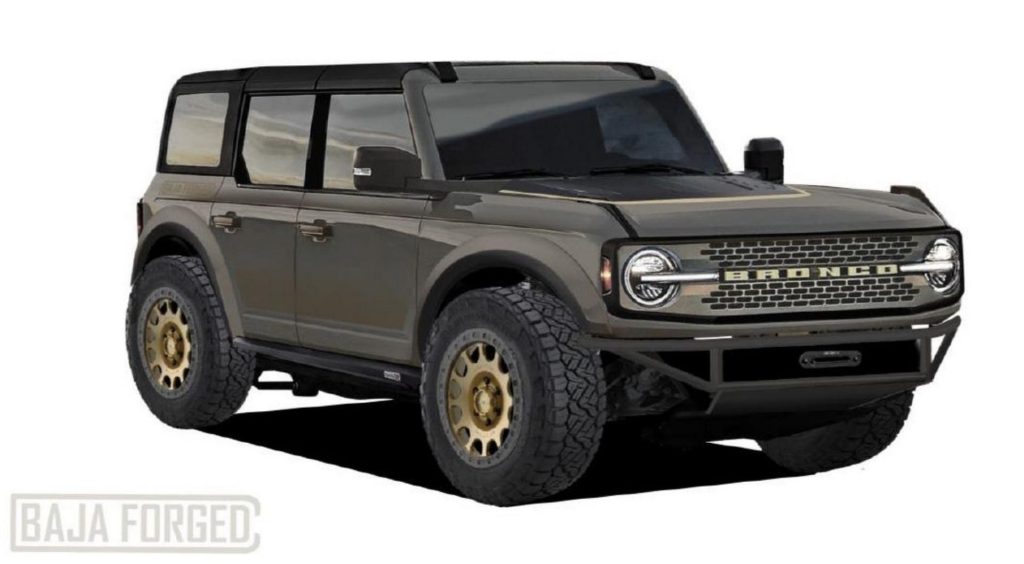 The former is something of a Jack-of-all-trades, with plenty of on-board toys for adventure trips in the wilderness (like an onboard fridge, sound bar, and cargo organiser) while also adding parts that make it more capable on the rough stuff itself (like custom bumpers, a 3.0-inch suspension lift, Ford Performance rock lights, fender flares, and more).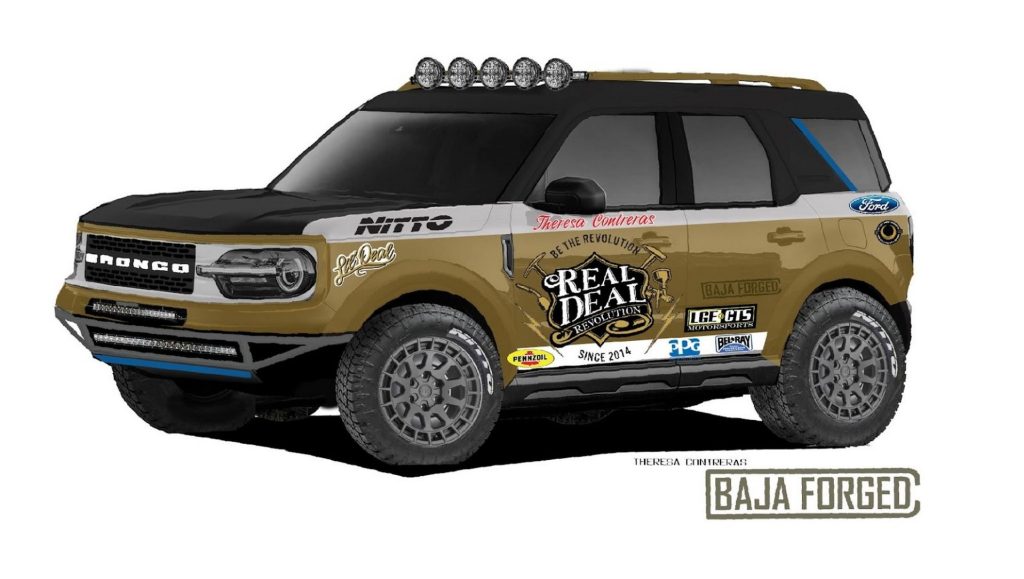 The Bronco Sport Baja Forged follows a similar path but, as the name suggests, is based on Ford's more mild Bronco Sport platform. A 2-inch suspension lift, rock sliders, a Borla cat-back exhaust, new suspension and front and rear sway bars all make their way in under the skin.
Along with this wild six, Ford also plans to debut some new Bronco parts at SEMA. These will include a new front-drive unit that supports up to a 5.38:1 gear set, several new 17-inch wheel options, and a Ford Performance tuning pack for the 2.3-litre EcoBoost mill.