Vaughn Gittin Jr's ready to rock outfit has turned its attention to the ever-popular Ford Ranger. Is it a Raptor alternative?
When you're driving New Zealand's most popular vehicle, you might find you need some way to stick out among the throngs. Pick-ups like Ford's Rangers are now some of the most modified vehicles around. It's said no ute goes out the door without a few accessories, and while some keep it strictly business – tow bars, tonneau covers or canopies – others like to go a little wild. Some do it better than others, adding aftermarket wheels (invariably black and 20-inches in diameter) with some fender flares and leave it at that. Others, it seems, could not resist the temptation to go crazy, buying up everything going on Ali Express.
Accessorising a ute isn't cheap however. Talking with one Ford dealer, he thought that when Raptor came along it would curtail their trade in customised Rangers. But on the contrary, he said they were surprised at how many people preferred to spend Raptor money, and in some cases more, on kitting a regular Ranger out to their liking. So as long as utes remain popular, people will be looking at ways to customise, and to make them stand out.
All of which leads us to this truck, a collaborative effort with RTR Vehicles and New Zealand's CTB Performance. The truck is said to blend 'signature RTR styling with industry-leading performance parts' while being 'specifically designed with style and functionality in mind'.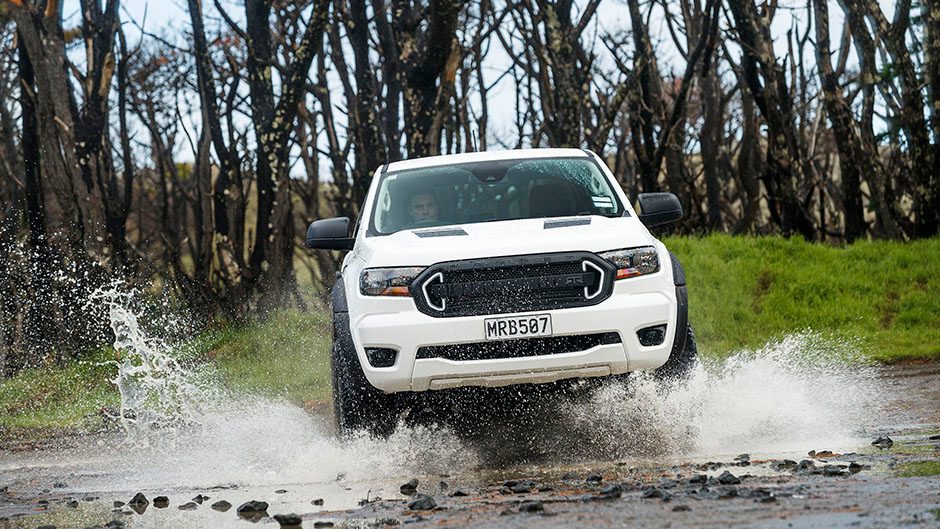 So to that end, its looks have been beefed up with the RTR grille featuring the striking integrated LED lighting. It's rolling on a set of 20-inch RTR Tech 6 wheels, appropriately clad in 285/55R20 AMP Terrain Gripper A/T tyres. Bolted up underneath are Fox Performance Series 2.0 coilover suspenders which also adds to the ride height. The intention of the suspension set-up is to add on-road comfort while delivering 'predictable off-road handling'. These are a bolt-on replacement for the standard shockers. And so the RTR Ranger retains its rear leaf springs and therefore its 3500kg tow rating and associated payload.
The RTR gets a healthy helping of badges, including a serialized dash plaque adorned with Vaughn Gittin Jr's autograph, and wears unique graphics on the tray. Those who spend time viewing geographical maps might recognise the pattern; it's the topography of Aoraki, adding even more of a Kiwi flavour to this unique ute. The wider wheels and AMP rubber are contained by a set of RTR fender flares.
Inside the RTR Ranger features leather-trimmed seating with the RTR logo embossed in the headrest of both the driver and passenger seats. In the footwells are RTR Floor liners for all-weather protection.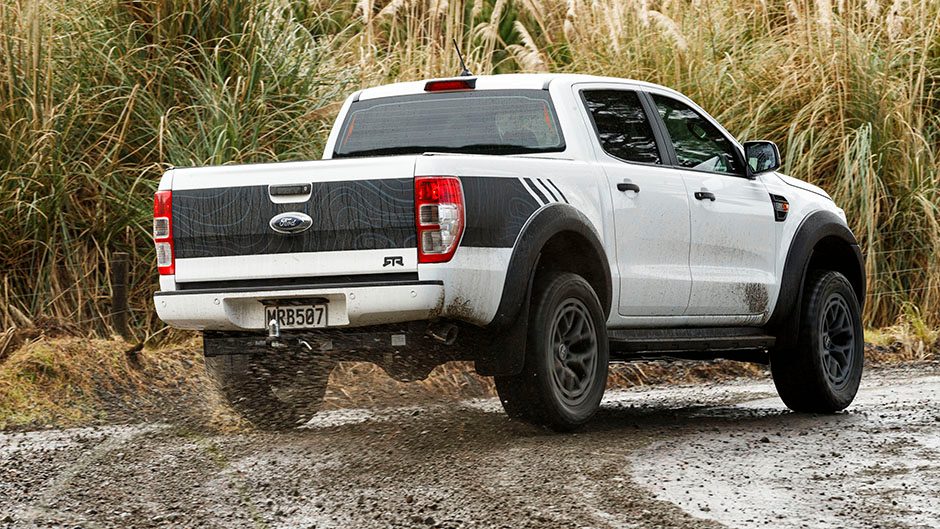 The total cost for the package is $17,500 on top of the donor Ranger. You can do the deal at your local Ford store, CTB outfits the truck at its Auckland workshop and it's delivered to you, complete with the usual Ford five-year/150,000km commercial vehicle warranty. It's expected that an RTR Ranger based on an XL 4×4 could be retailed for $69k and those that want to use the XLT as a base would pay mid-$70k. If you prefer, the kit can also be applied to the FX4 with its bi-turbo powertrain, but it's not something offered for the Wildtrak and Raptor, for obvious reasons. You can mix it up a bit too; for instance, you don't have to go for the leather interior meaning a few thousand in cost savings. And to be honest, we wouldn't miss it.
Another option is to retrofit this to your existing Ranger, as long as it's one of the latest PX3 variants, which dates from mid-2019. We'd be tempted by the FX4 as a base truck but another option is to have CTB tune the inline five to make a few extras. Fitting a larger wheel and tyre package to your ute has the effect of increasing your final drive, so you get taller gearing which impacts performance. Normally these big-tyred trucks feel a little lagging in straight line speed, but this felt quite frisky. We checked the speedo accuracy using our GPS Data logger, and it was running pessimistic, an indicated 100km/h actually 104km/h. But rather than pulling slower than usual sprint times, this truck was reasonably brisk, hitting 100km/h in just under 10 seconds, about 0.4sec quicker than a regular Ranger. And it weighs just over 100kg more than an XLT too.
The Fox shockers are said to deliver better cooling capacity, so the oils don't overheat when you're running hard over rough terrain while the unique top mounts help isolate harsh vibrations.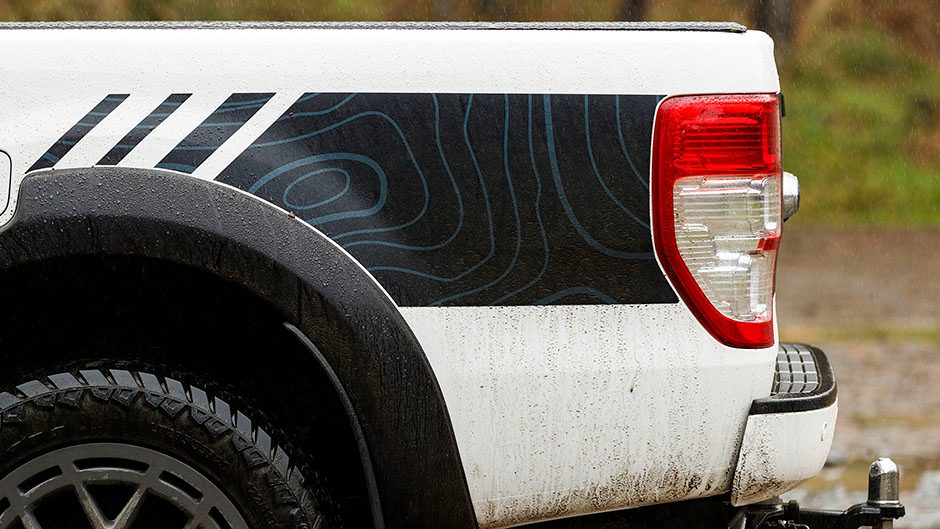 They have ride height and preload adjustment if you want to fiddle, but you probably shouldn't. What makes them better than your average shocker is the design of the piston inside the tube, which limits aeration of the shock oil to allow the valving to work as designed. And it's the arrangement of the valving that makes those shockers ride the bumps and rebound so sweetly.
We reckon the RTR Ranger rides softer on the front end, yet that beast of a lump is well controlled, so the front end does't bob along. The rear's an improvement on the stock truck too but isn't as cushy as the Raptor. That's due to the RTR retaining its leaf springs whereas the Raptor has a significantly different set-up with coils, trailing arms and a Watt's link. But this is a deliberate ploy as the RTR Ranger is for those who want to bash over some rough terrain, utilising the slight improvement in ride height and traction of those gripper tyres, but don't want to compromise on towing and payload.
We didn't take any extreme off road paths during our time, most were waterlogged, though progress on gravel is assured. It can ride those ruts and potholes out at speed without bumping the rear end around. The wide tyres manage to cut a path through the gravel, and this turns well. But it's no Raptor, lacking that Baja mode that helps it dance along gravel trails.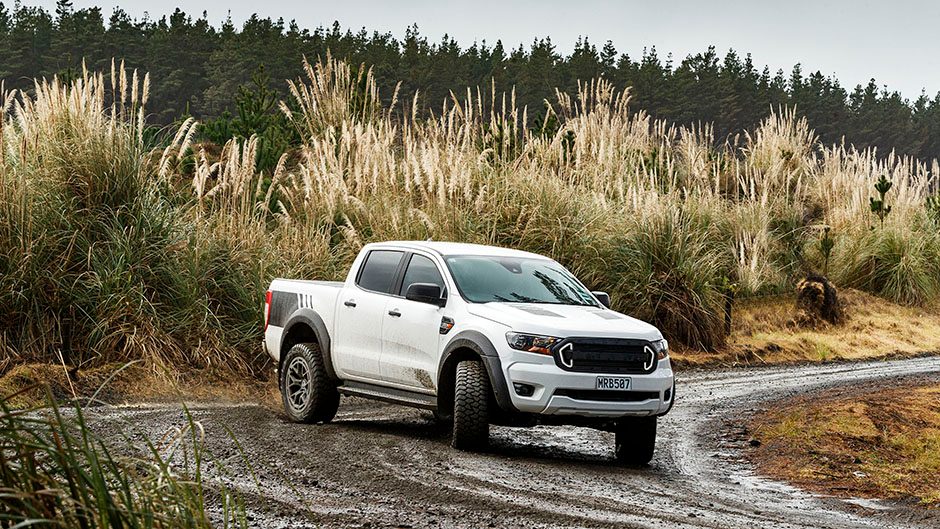 On road, the added tyre rumble is minimal though the tyre package does add some weight to the steering just off centre, the RTR taking a mite more persuasion at the wheel to turn. During low speed manoeuvres the wheel action is still commendably light. There's more stick in the turns as the wheel and tyre package has increased the track somewhat. The tyres themselves probably have a stiffer sidewall set-up than standard, putting more of the tread to the ground here. But we reckon a Ranger on its stock wheels always steers the best with a wonderfully progressive build up to the grip limits. The more aggressive all terrain tyres grip well up to the breakaway point but then tend to let go more suddenly. They also play mischief with the traction control of the Ranger. Occasionally we could feel the power being restrained, unnecessarily we felt, when trying to accelerate on around a curve, but that's sometimes a by-product of any modification from stock these days. There was nothing wrong with the way the auto processed the extras from the engine. The tune sees CTB realise a 15 per cent power increase, while torque rises by 20 per cent. It adds an extra $1322 to the RTR but doesn't affect the five year/150,000km driveline warranty.
Getting back to our original question; is this a Raptor alternative? Well, yes and no. It wouldn't be able to match the Raptor when it comes to rapid off-road transit – the Raptor is quite frankly ridiculous when it comes to bashing over the bad bits at speed. But with its increased ground clearance and grippier tyres, it should go better than your average Ranger off road. But it's that combination of added capability without the compromise in tow and payload that will appeal, especially for those disappointed with Raptor's reduced ability in that area. So this then is a more work-ready plaything, that can haul all the toys whether it be a monster boat or an even wilder off-roader with which to go feral in the bush.
| | | | |
| --- | --- | --- | --- |
| Model | Ford Ranger RTR | Price | $69,990 |
| Engine | 3198cc, IL5, TDI, 169kW est /564Nm est | Drivetrain | 6-speed auto, switchable 4×4 |
| Fuel Use | XL/100km | C02 Output | Xg/km |
| 0-100km/h | 9.92sec | Weight | 2305kg |