Ford has today unveiled what we consider to be its wildest pony yet, the Mustang GTD. And yes, it's road-legal too.
It has just one goal in mind, and that's to give European sports cars a run for their money. To achieve such an ambition, Ford gathered a handful of its team members in an out-of-the-way storage garage on its Michigan premises after hours where they slaved away at their dream. When projects start out like that, you know they're going to be good.
The result is a Mustang supercar inspired by its GT3 racing counterpart which will be offered in limited numbers, starting at a price of $US300k, or just over half a million in New Zealand dollars.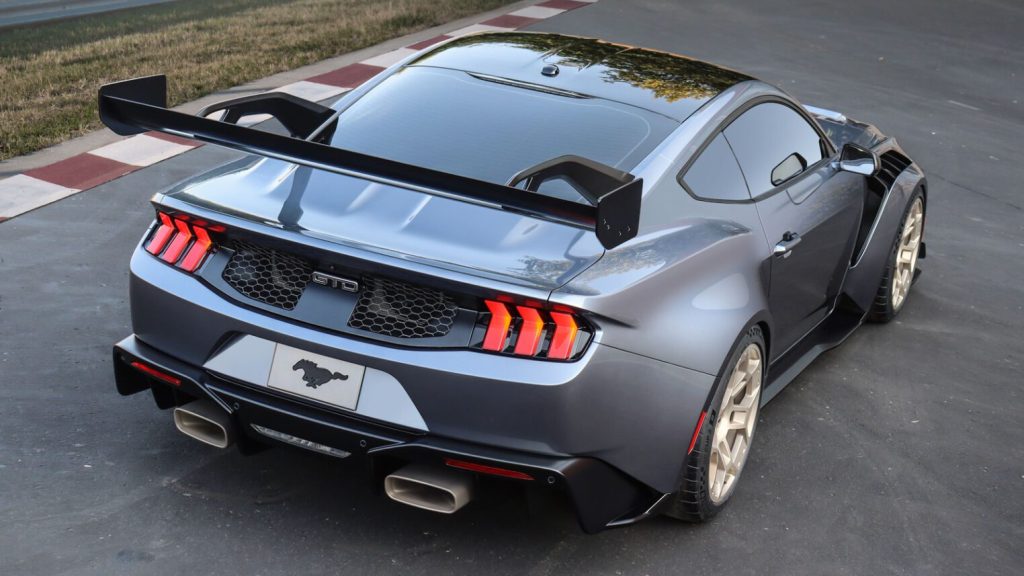 Let's start off by saying that this thing is insane if you couldn't already tell by the way it looked and that's because there is no other Mustang like it.
Its exterior is dominated by widened, angular, and cut-away carbon fibre bodywork that has purely been sculpted to go fast, alongside a hydraulically controlled active rear wing mounted to the C-pillar.
Ford will let you take things further too, by offering an optional aero package that includes a new undertray and hydraulically controlled front flaps that help balance airflow with the wing at the back.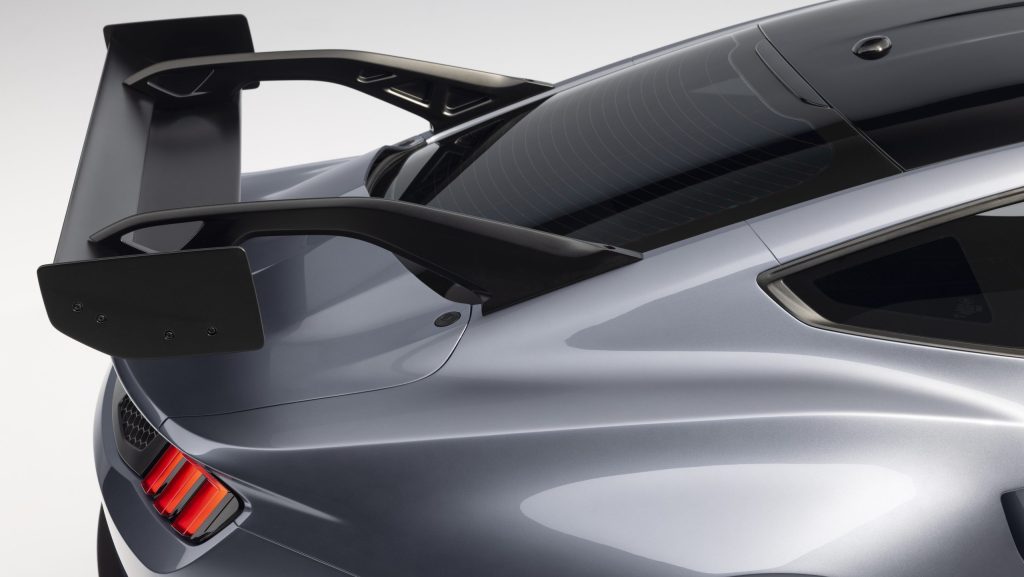 Where you'd once find a regular boot lid now sits a cover with two air scoops that funnel air off the back glass and into heat exchangers for the eight-speed dual-clutch transaxle gearbox.
We have some bad news for those who may want to take their Mustang GTD shopping as the rear luggage compartment is now home to a semi-active suspension and a hydraulic control system.
Under the bonnet sits a 5.2-litre supercharged V8 with an estimated power figure of more than 800hp (597kW) and a unique dry sump oil system, sending power to the rear wheels through a carbon fibre driveshaft and the aforementioned transaxle which helps the car achieve a near 50:50 weight distribution.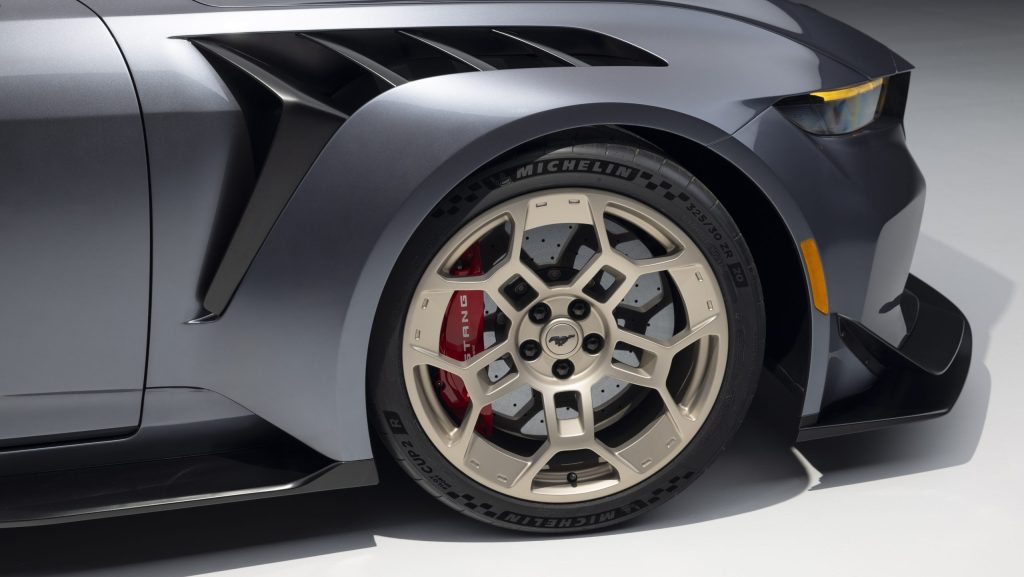 The suspension has been completely revised, with new adaptive dampers, a 40mm lower ride height in 'Track Mode', and a 4-inch wider track than the regular Mustang GT. Things get pretty trick at the back too, with the shock absorbers being arranged in a horizontal cross pattern, just like a race car.
You'll probably need to slow down at some point, so Ford decided to fit a set of Brembo carbon ceramic brakes which enable the driver to dive deeper into any braking zone that comes before them. Covering these are a set of 20-inch forged aluminium wheels or an optional magnesium set that share a similar design to the ones found on the Mustang GT3.
Thanks to all these performance-oriented additions, Ford targets a sub-7-minute Nürburgring lap time, making this the fastest roadgoing Mustang in the world.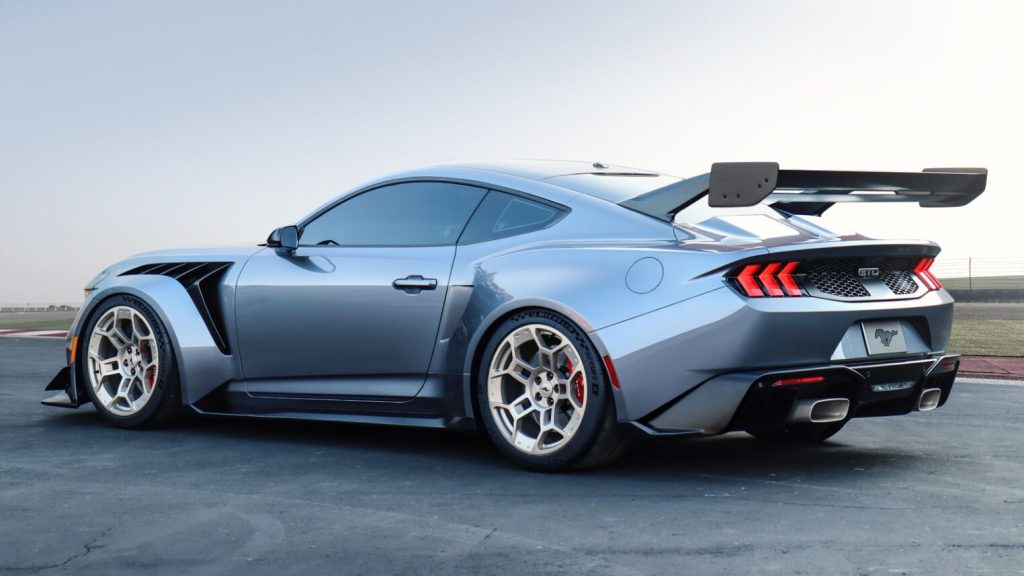 We should reiterate that this is still a road car, so occupants can expect to find plenty of creature comforts inside like Miko suede, leather and carbon fibre trim, a set of Recaro seats, and a host of titanium parts that have been sourced from a retired Lockheed Martin F-22 jet fighter. The rear seats have also been removed to reduce weight.
Customers can have their car painted in any colour they want, even from a provided sample, with a host of other customisation options also being available.
Production of the Ford Mustang GTD will be limited, with each car starting life at the Ford Flat Rock Assembly Plant before being sent to Multimatic in Canada for some final race-ready touches. The first examples will be available in late 2024 or early 2025.