Ford's fourth-gen focus ST replaces not just its predecessor but stands in for the RS, R.I.P. Can it hold a candle to the Golf R performance?
Odd it is how sometimes direct competitors arrive along at virtually the same time. For instance, we sampled the $60k i30 N FB a fortnight ago and now here's a direct competitor in the form of the Focus ST which looks just as cool and goes for the same money. Only the ST has an auto option. The fast Ford also gets an engine update from a 2.0-litre four to a 2.3 unit, similar to the RS mill, except this one makes 206kW and 420Nm, down some on the 257kW and 440Nm of the old war horse.
The i30 N hatch and FB aren't the only competition. It's busy at the $60k mark where Civic Type R (manual only), Golf GTI Luxury, Cupra Leon (renewing soon as a hybrid) and Renault Megane RS (as a manual) hang out. Each of these can zip to 100 in under 6sec, something we'd been promised for years until a Performance version of the Golf GTI actually delivered on that.
The previous ST drove really rather well but wasn't that quick in a straight line (0-100 in 6.7sec), and was manual only. Enter the fourth generation that has a need for speed, and must stand in for the AWD RS model as well, given Ford has said it's not doing another one.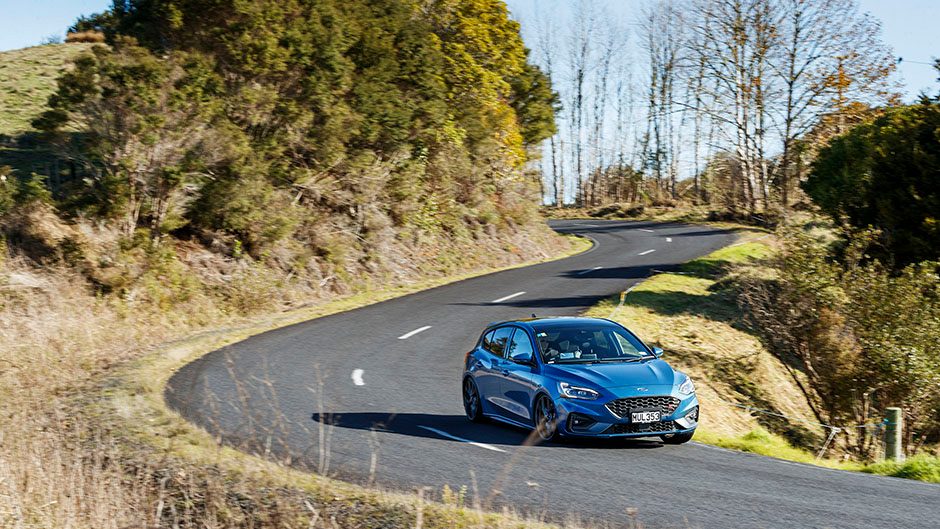 So the people at the coal face had to dig out something a bit special to put the ST back at the competitive end of the $60k hot hatch set. And what they did was introduce a slick auto, summon up a tricky front diff to ground the power, add adaptive dampers and insert a bigger engine, the US-sourced, Euro-tuned 2.3-litre EcoBoost mill. This one conjures an extra 21kW and 60Nm over what the previous ST's 2.0-litre managed.
There's a manual option too which gets launch control. Though the auto lacks for LC, it's meant to run around 5.7sec for the 0-100 exercise. Achieving that is entirely possible so long as you're not too energetic with the launch – more is not better – and intervene with the paddles to prevent it revving out fully before an upshift. Left to its own devices that adds time. We ended up with a couple of runs below 5.5sec, the best being 5.44sec. That's quicker than any front driver we've tested ever, and without launch control or fancy twin-clutch shift either. There's some torque steer on full gas at times but it's of no great note. The overtake was brisk, a best of 3.3sec roughly the same as what the former RS could muster. With more power, the Golf R is 0.3sec quicker 80-120, and Civic Type R a bit faster still. But the ST comfortably eclipses i30 N and Golf GTI, and it takes a Cupra Leon to give it a run for its money.
Both this and Golf R have sensational drive from low revs, each with at least 400Nm available from 2000rpm. They're both on the case from well below that, allowing them to pull high gearing, and haul effortlessly from 2000rpm. Paddles are seldom needed for either, but fun to use on occasion in both. Quoted fuel use figures are 8.6L/100km for the ST, 7.2 for the Golf. We averaged nines and 10s in both, and a best of 8.4 on the cruise in ST.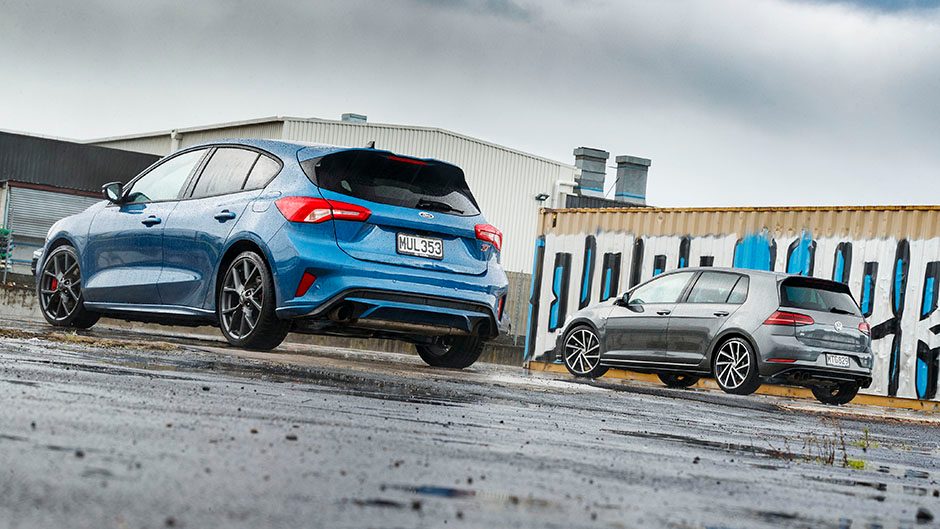 Where Focus really scores big time, however, is on the emergency brake test. We had a heart-in-mouth moment in the ST, rounding a corner to find a ute turning right at slow speed into a driveway. A full emergency stop pulled the ST up with a surprising amount of room to spare. These uprated stoppers (bigger 330mm discs up front, stronger booster) have been designed for optimum feel and stopping power, and also to resist fade on repeated use. They don't have quite the feeling of brute force at the pedal that the Golf R Performance exhibits but in an emergency situation Ford's ABS calibration seems way better. Where the Golf R's ABS couldn't seem to make best use of its uprated stoppers, the similarly shod Focus ST stopped on its nose. Consistent 32s were the norm.
As to bend swinging, the Ford really warms to the occasion, running stiffer sway bars, a 10mm lower ride height and firmer dampers (20 per cent at the front, 13 per cent rear) compared with a regular Focus. In tight going, and with ESP backed off in the Sport setting, instead of running wide up front at the grip limit it unloads at the rear when you ease off, and you can then hit the gas again early, the sports diff dragging it out of the corner. This is a fast acting (and pre-emptive) electronically controlled LSD with clutches that can quickly lock the drive shafts with torque split 50:50. The result is that in the dry it gases out of corners like an AWD machine.
Over more flowing roads this is a complete joy, apart from the predictable noise levels generated by the Pilot Sport 4S rubber. As they say, no free lunch. The Golf R was no different in that regard (same sized rubber but slightly quieter 73.5 vs 74dB).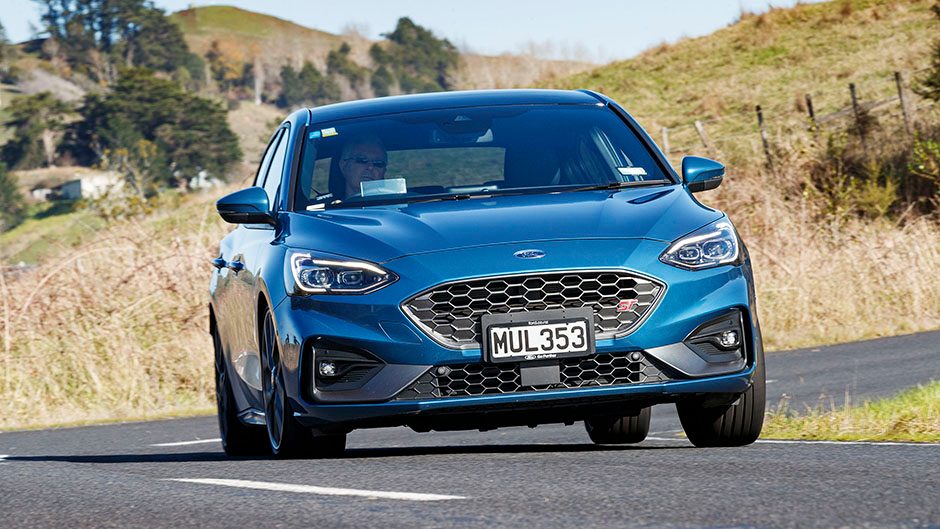 Most of the time we found the default Standard mode entirely adequate, even out of town, the body control impressive, the ride comfort considered. Push Sport on the wheel if you want more of everything but the ride isn't as nice. At the wheel this is more involving than Golf R; it feels quicker and more vibrant in the turn, and the front is so locked down. Modest speeds in and fast out of the corner works best and any hint of understeer is quelled by the merest interruption of power. It's not fazed either by rougher surfaces, especially in the comfort mode.
If there's one aspect of the ST that didn't quite gel, it's the Recaro seats, with their upswept and slightly narrow squab. They look good in leather and Alcantara but the driving position isn't as well sorted as the Golf R's.
Otherwise, you'll search long and hard to find a front driver that can keep up with or entertain as well on Kiwi roads as this can, and while not streets ahead of its other $60k competition, its breadth of talent makes it a bit special.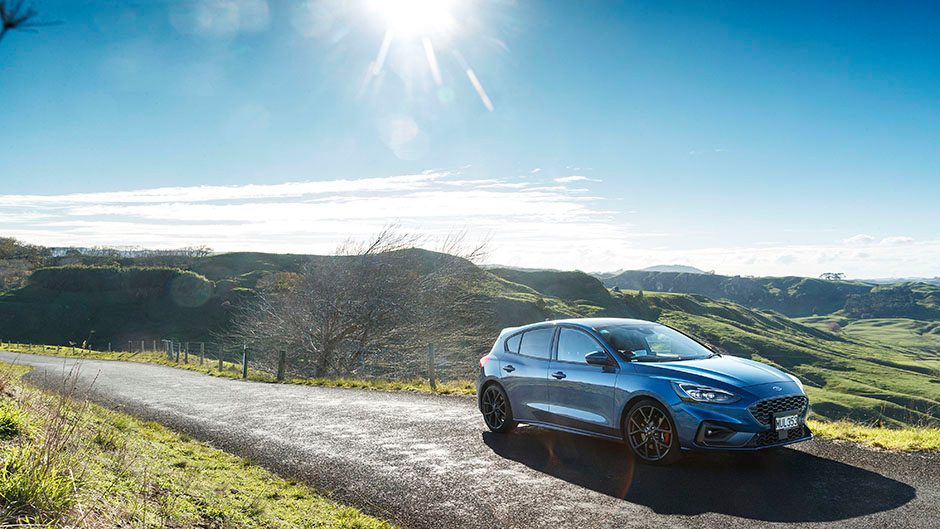 Top Golf even more exclusive
The Golf R has always been one of the most competent hatches available, with its 4Motion AWD system and sports rubber and adaptive suspension. Yet it is also clever enough to lead a double life; a fun fling in the weekend, while it functions beautifully as a daily drive.
The current generation 7 version is nearing the end of days so to rekindle customer interest Volkswagen has produced a limited run of this Performance variant. In some ways it's a misnomer because it gets no extra grunt but it does gain a tasty titanium Akrapovic exhaust and performance brake system. VW locally charges a mere $3000 premium ($76,990), and for that you also get a plaque with a number out of 25, and removal of the top speed limiter.
Is it worth the extra? We'd say sure, the four per cent premium alone worth it for the exclusivity. So the noise from the quartet of pipes is a free bonus. The power and control at the brake pedal from the bigger stoppers puts the question beyond doubt.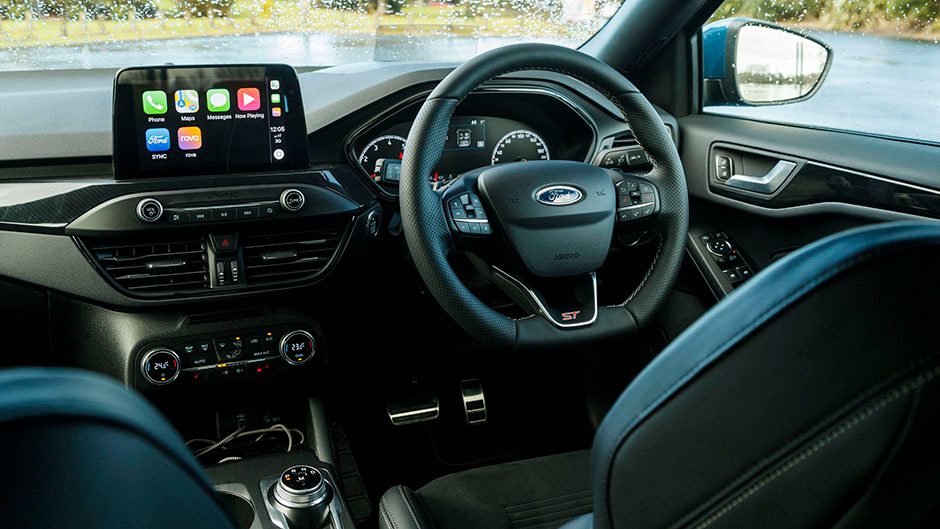 On the performance front, it is still quoted at 228kW and 400Nm. Because it had a special exhaust we figured there might be a weenie difference but it turns out not. However, it was worth it to experience this ripper launch control system. On the brake, this hovers at 4000rpm but when the hounds are released engine revs rise to 6000 as the clutch is progressively engaged. It's pretty hard on it but then this has twin clutches! We achieved 4.53sec and 4.55sec runs, a fraction better than the 4.63sec time recorded in 2017. The overtake was unchanged, at just under 3.0sec.
It does sound faster though. The exhaust valve opens at 4500rpm, where it makes quite a bark, and the crackles on liftoff and on upshifts in race mode are exotic. At highway speeds it is simply out of there with 3000rpm on the clock, hellish quick above 4500rpm, the DSG a perfect partner in crime. And day to day? Just as solid, oddly almost better, with so much tow from 1500rpm.
While it's not a direct comparison with ST for obvious reasons, there are interesting similarities and points of difference. The modern coupe-style roofline and tight glass house of the Ford contrast with the more practical looking Golf R which gets much the same legroom in the rear but more head clearance (the ST sunroof is partly to blame). There's little between them for boot space, both in the 340-370L area, perfectly adequate. Arguably the most important difference is at the wheel, the Golf R so composed in wet and dry conditions, safe and predictable, and fun if not entirely engrossing at the helm. Essentially you work your way up to the grip limits, and then back off a bit as understeer builds. Those limits are high mind. Both of these cars have superquick steering racks, two turns for the Ford lock to lock, 1.8 for the Golf, and yet it's the Ford that turns much quicker in really tight going. Go figure.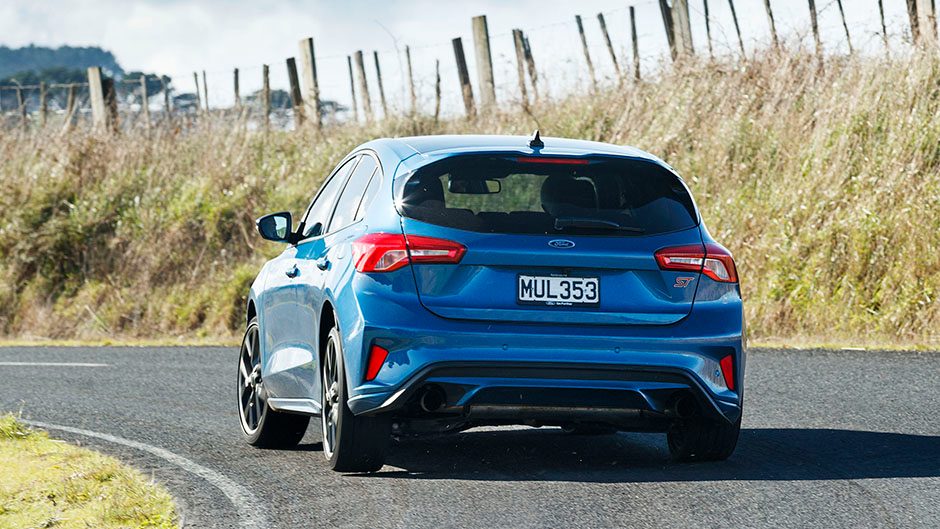 One other significant PoD; give us the Golf R shifter any day. Shove it left for manual mode (you need to look down and punch the M button in the Ford) or merely pull it back to get Sport transmission mode. A pox on the rotating gear lever of the Focus ST but then it's based on the cooking models. And there are always the paddles and Sport button on the wheel.
The DCC or adaptive chassis system in Golf R is excellent. Use Comfort in town for just that – it's more supple than the Ford's comparable Standard mode – and the Normal setting is essentially Sport, where things firm up nicely, the steering not as heavy as the ST's. Race is for track days, and there's a handy individual setting missing on the Ford.
In terms of spec, there's not much in it; full leather trim, AWD and launch control for the R the main differences while the newer ST gets head-up display, a Qi charge pad and a sunroof. Otherwise, they're specified in eerily similar fashion, right down to 19-inch rims with identical rubber, and carbon and gloss black highlights. Components and build feel slightly more upmarket in the Golf R.
Is it worth the extra over the Focus ST? Depends on how much use you think you'll get from the AWD system. If you drive heaps in mixed conditions, probably, but if you value a more interactive, less buttoned down drive, save the cash and get the smarter looking, more involving ST.
| | | | |
| --- | --- | --- | --- |
| Model | Ford Focus ST | Price | $59,490 |
| Engine | 2261cc, IL4, T/DI, 206kW/420Nm | Drivetrain | 7-speed auto, front-wheel drive |
| Fuel Use | 8.6L/100km | C02 Output | 198g/km |
| 0-100km/h | 5.44sec | Weight | 1501kg |
| | | | |
| --- | --- | --- | --- |
| Model | Volkswagen Golf R Performance | Price | $76,990 |
| Engine | 1984cc, IL4, T/DI, 228kW/400Nm | Drivetrain | 7-speed twin-clutch, all-wheel drive |
| Fuel Use | 7.2L/100km | C02 Output | 168g/km |
| 0-100km/h | 4.53sec | Weight | 1514kg |