The Fiesta ST, or fez as the brits call 'em, has been renewed and it's up for it, right proper like. We fang it prior to its arrival here later in the year.
The term 'fun to drive' is used frequently in the Ford propaganda relating to the new Fiesta ST. Boasting a range of hardware and electronic updates to fulfill its mission, the smallest member of the Ford Performance team is full of potential. On the list of goodies is a new mechanical LSD, a hi-po triple donk, a trio of drive modes, quickened steering and tricky new springs for the rear suspension which, when they all combine, are intended to make the Fez…? Anyone? Yep, you guessed it…fun to drive.
With such a mission statement only one transmission will do, a three-pedal six-speeder. If you're wondering about an auto option, this really ain't the car for you. It's what you'd call a driver's car, and as every internet forum dweller knows, these must have a manual. The Fez might be down 100cc and a cylinder on the previous model, but the hot three-pot turbo trots out 147kW from just 1.5 litres.
The muster of Newtons is fairly phenomenal given there are but three pistons slugging on the crank but it manages to spin out 290Nm from 1600 through to 4000rpm. That's thanks to a turbo with an 'optimised turbine design' and the engine sports an integrated exhaust manifold so the gases don't have as far to flow to spool said turbo, therefore improving response. There's both port and direct fuel injection to help it deliver emissions-compliant performance (port injection under certain loads results in fewer particulates) and there's cylinder deactivation for when just two cylinders will do.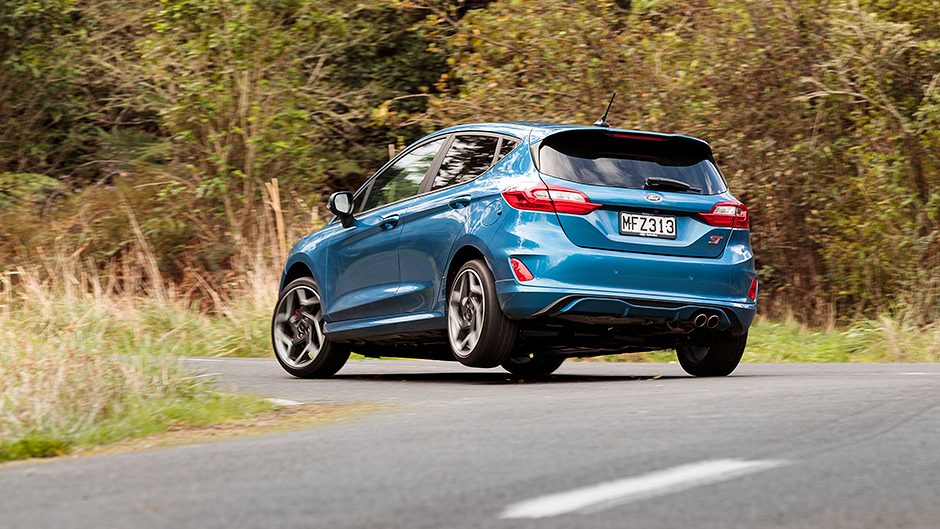 The quoted fuel use figure is 6.7L/100km, though we averaged 10L/100km, not bad given this was pretty green when we collected it, and we liked the tune it whistled as it spun towards 6000rpm.
Ford quotes 6.5sec for the quick step to 100km/h, and has given the Fez a kosher launch control function to help achieve it. It's even easy to initiate. In the Ford Performance mode, push the OK button on the steering wheel, floor the gas then step off the clutch as 3000rpm worth of triple tuned torque spurts through to the treads. The traction control oversees proceedings, but there's still more grunt than grip on a coarse chip strip. Still a 6.8sec run is an improvement on the last fast Fez, the 1.6-litre car turning in 7.1sec. And the 80-120km/h, best achieved in third gear alone, is 0.4sec quicker at 3.8.FROM 1200RPM,
Selectable Drive Modes are new with Normal, Sport and Track settings, Sport flexing the muscles of the steering and throttle and opening the valve of the exhaust while adding the pops on overrun. Track mode goes further to loosen the ESP. A new addition is an LSD to benefit traction, the purely mechanical device locking quickly to send power to the grippiest Michelin when pressing on through a bend. This works in conjunction with Ford's torque vectoring by brake function.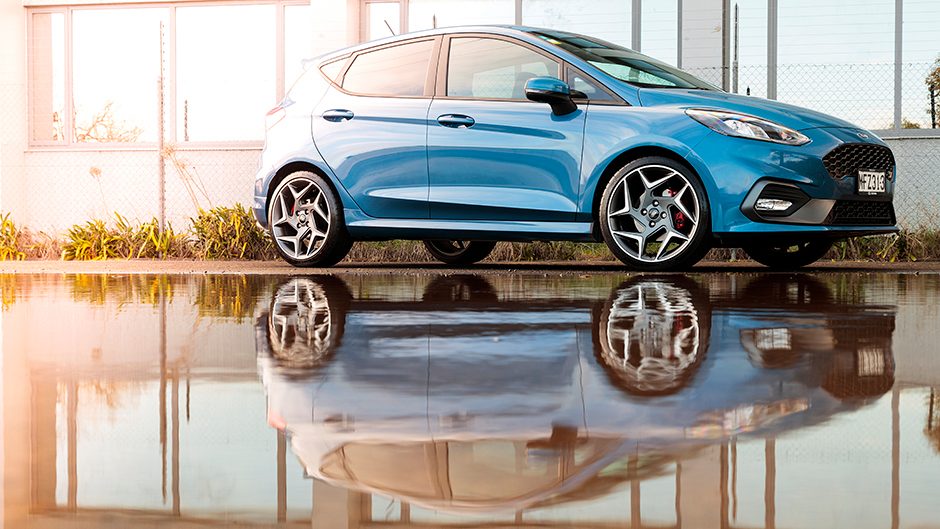 To get Fez ferreting into the turns Ford has fitted a fast 12:1 steering ratio, the quickest rack of any Ford Performance model. There's a Fez-specific tune for the assistance which includes torque steer compensation and there's a unique steering knuckle design. Helping to sharpen the turn-in further are what Ford is calling 'force vectoring springs'. These special coils aim to steady the rear end by improving the lateral stiffness of the torsion beam. They want to stop it wandering around but doing so without ruining the ride. Ford says its new springs achieve a similar effect to a Watt's linkage while saving 10kg and helping improve progress.
And this Fez rides a whole heap better than before. We imagine a few test drives of the old model were cut short by people unwilling to suffer such a firm low speed ride. But that's no longer the case. The dampers (twin tube on the front, mono tube on the rear) feature valve technology that Ford reckons can react to the demands of the road, offering less damping forces when driven sedately and more when driven hard. Rounding out the upgrades are decent brakes with 278mm vented rotors up front. Before we delve into that fun-to-drive mantra, is this ST easier to live with than previously?
As mentioned the ride is saner, still sporty but no longer demonic. The seating position is better too, lower with more adjustment. While we like the look of those Recaros, they're too tight around the shoulders, like you're wearing a sweatshirt that's a size too small. It's only available as a manual but so what? The clutch is light with a good bite, the shifter action easy. With masses of torque from 1200rpm, it hauls away cleanly and you can skip shift, first to third to fifth, the torque bridging the ratios.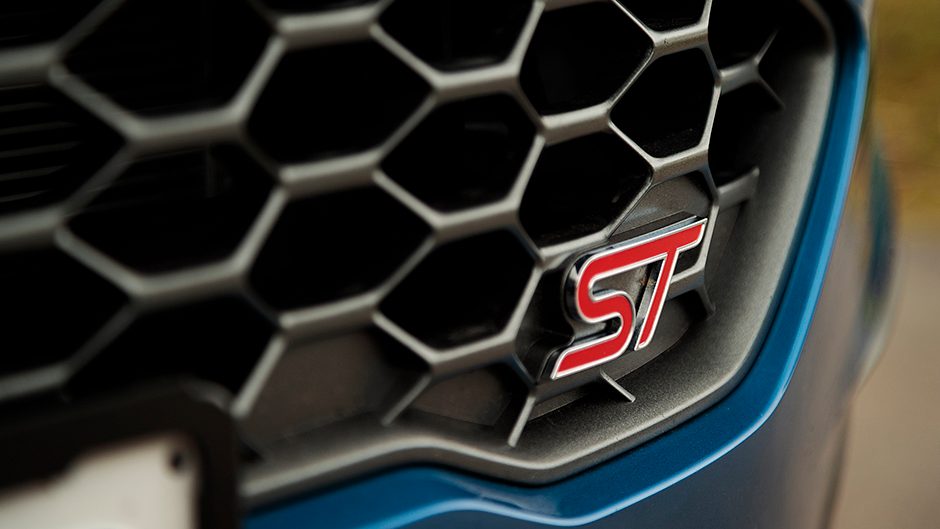 It'll trawl around in fifth, and accelerates from 30km/h in fourth, so you're not constantly on the lever in traffic. The idle/stop system isn't so annoying in a manual car either, the engine fired and ready by the time you've selected first and released the clutch. It'll also restart the triple automatically should you happen to stall it for lack of practise. The handbrake is mechanical, we can hear the gravel hoons rejoicing, but there's no auto hold function for easier hill starts.
Though it's a small car, the turning circle is quite large making parking more of a chore, and the steering, though light in Normal mode, does have a self centring aspect to its assistance. Unless your lens prescription needs updating, you'll have noticed it has an extra pair of doors this time around. We don't think it's a bad thing either with added practicality and a better look.
Don't expect wowing cabin ambience – it's based on a Fiesta remember – so cue lots of black plastics, and a minimum of soft touch surfaces. Storage spots are on the small side and you'll be scrapping over the centre armrest with your passenger given the close proximity of the seating up front.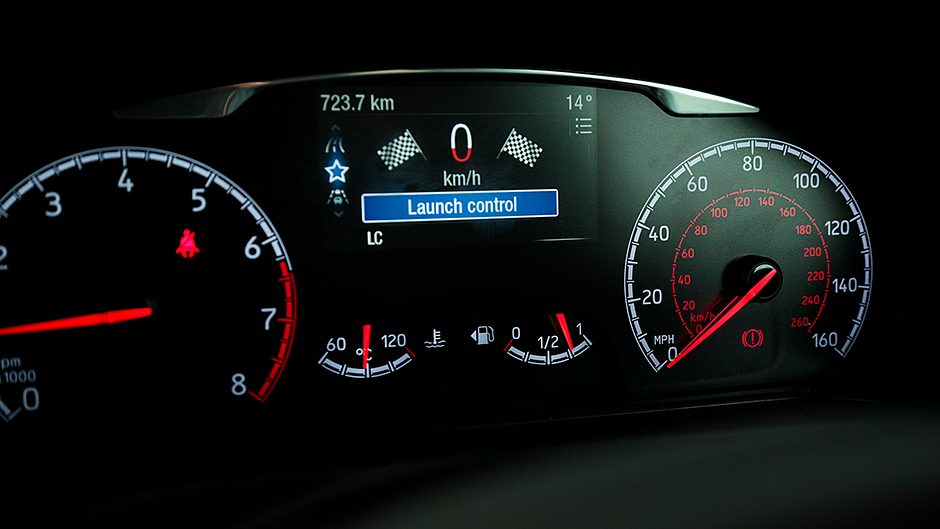 Those big Recaros also eat into rear legroom, though the kids won't mind. The boot is a good size for the class, well shaped and deep as there's no spare wheel while there's also split folding.
Ford NZ has confirmed the ST will land here early next year priced at $35,490, just $590 more than the old model. Expect the Sync system with smartphone prep, single-zone auto air, two USB ports, BSM, AEB and LDW. There's even heated seats, and a smart key.
Alright then, so is it fun to drive? Sure is, stupendous fun in fact. The steering is laughably quick, it literally does ferret into a turn, the front end trying to dig itself in for maximum cornering stick. The rear end feels alive too; Fez loves cocking a wheel through the turns. We're surprised it's as stable as it is around the bends given it's often planted only by three wheels. The drive out of the turns is equally fierce thanks to that active front diff; no spin just traction. And it works harmoniously with the torque vectoring.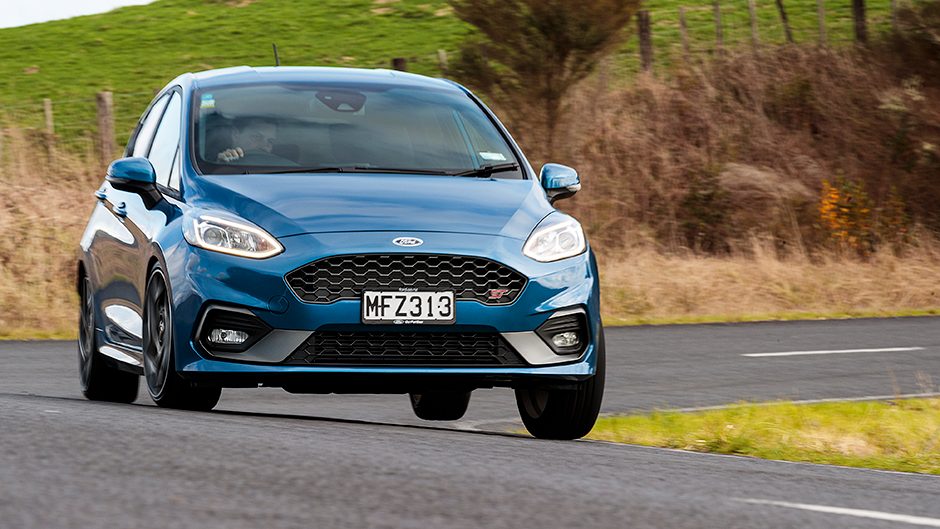 You can power your way around a long sweeper and there's more stick than sledge. Sport mode gives the steering just enough added heft to help in the bends and there's always a good inkling for what's happening with those tyres up front. The suspension can ride most of the bumps, but will hit the big ones hard. While the torque steer is limited, it can chase the contours of the road when you're on it, but that quick steering helps here too, slight adjustments bringing it quickly back in line.
The box flows around the gate okay, though you can snag the change from second to third if you're not perfect when rushing it. While the pedals are well placed for heel and toeing antics, the need for fancy footwork is minimal; we plucked second gear only for the tightest of bends.
Fez carries enough momentum around a curve and has enough low down punch that third will see it right. The torque there is terrific, streaming strongly from 3000rpm onwards to just beyond six.
But to see just how well this stacks up against other pocket rockets, we brought along the latest generation VW Polo GTI as a yardstick. Click here to see what transpired.
| | | | |
| --- | --- | --- | --- |
| Model | Ford Fiesta ST | Price | $35,490 |
| Engine | 1497cc, IL3, T/DI, 147kW/290Nm | Drivetrain | 6-speed manual, front-wheel drive |
| Fuel Use | 6.0L/100km | C02 Output | 136g/km |
| 0-100km/h | 6.81sec | Weight | 1222kg |