For Paul McCarthy, classic car racing and an infatuation with a Ford Escort went hand-in-hand for the best part of two decades before the latter was mothballed. That is until recently, when the car came back out to play.
"You know, it really is just like throwing on an old suit," says Paul McCarthy, emerging from his race seat with a beaming grin. He had just completed his first half dozen race laps back behind the wheel of his flared Mark 1 Escort.
Joining the dots between Manfeild's three straights, the return of McCarthy's Escort to competition saw him locked in a classic David vs Goliath skirmish with perennial foes from the Historic Muscle and Saloon car grids after a 13-year absence. It's the stuff classic race fans froth over; old machinery being pushed hard by drivers relishing the competition. Races are a mechanical symphony with engines singing at different octaves throughout the field, something that is becoming rare in an age of increasing 'parity'.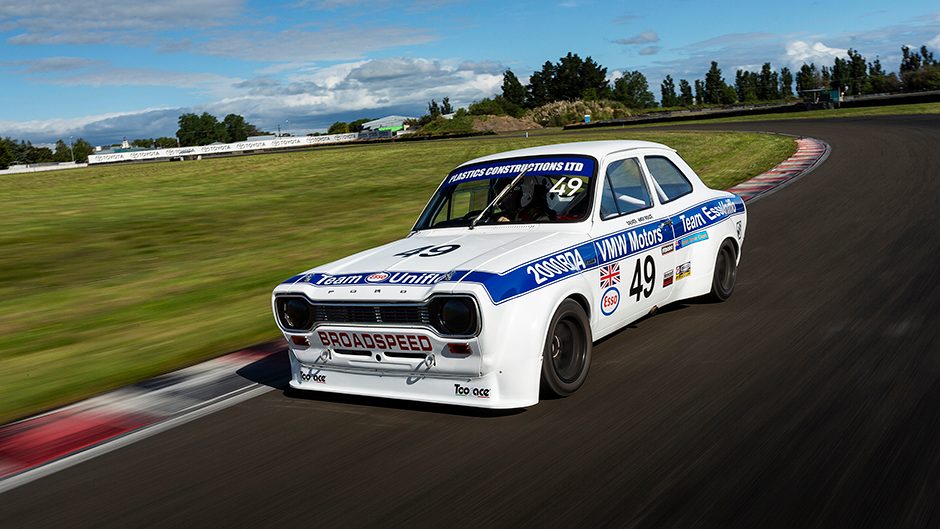 Add to it the graceful sliding of a race car to which aerodynamic forces were more of a hindrance than a help, and the historic saloon car racing scene is well and truly painted. But back to McCarthy and all things Escort. "I guess the fascination with the cars began with my dad," McCarthy explains. "He had a Lotus Twin Cam Escort back in England, one of the Ford press cars."
For McCarthy senior, emigration to New Zealand saw the purchase of a Lotus 7, a series IV model equipped with a Lotus Twin Cam. With a sister into horsepower of the equine variety, racing didn't feature on the McCarthy family radar until a little later, when Paul's elder brother Richard joined their father's 7 on the tracks with his Lotus Cortina.
At the time, Paul was somewhere around 18 years old, feeding his automotive addiction with a Mini Cooper S. But there's a theme here, and soon enough his butt was parked in the driver's seat of a Sebring red Mark 1 Ford Escort Mexico. With only 8500 miles from new, sitting pretty on a set of RS alloys (with a fifth hiding in the boot) McCarthy admits he was a little reluctant to put miles on it "A bit weird for an 18-year-old, eh?"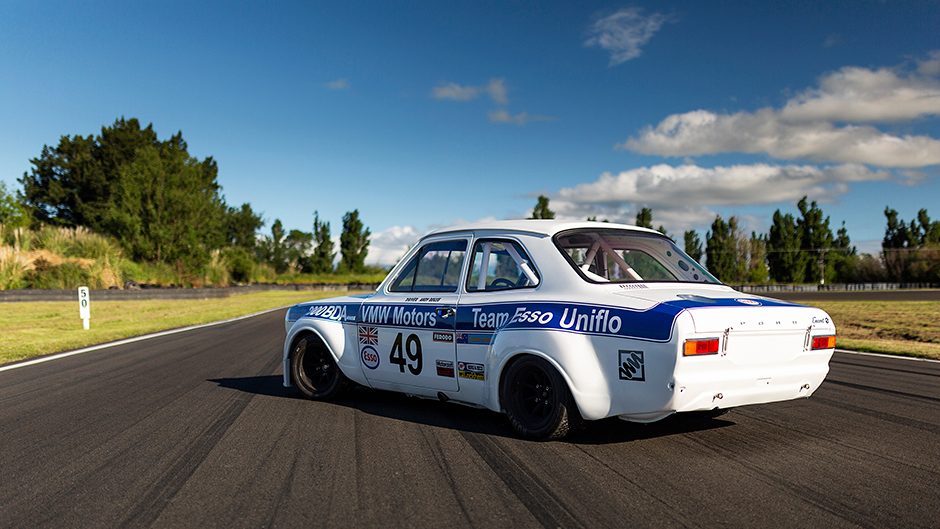 "Racing did interest me. Especially with Richard out there in the Lotus Cortina," McCarthy recalls. The Mexico in all its immaculate glory was too good to sacrifice to the Gods of Speed, so McCarthy, now 20, acquired a tatty Mark 1 RS1600 shell as the basis for a rebuild. But it wasn't just any RS1600; Paul's example was a little bit special, being a "Pre-AVO" example, pieced together as one of the first 100 RS1600s at Ford's Halewood plant.
Formed in January 1970, Ford UK's 'Advanced Vehicle Operations' division was responsible for the development and manufacture of the competition variants of the Mark 1 Escort. As well as the RS1600, they bred the Mexico with its more potent 1600cc Kent crossflow engine. But the RS1600 was AVO's jewel in the Escort crown.
Powered by the fabled 'belt-drive Type A' or 'BDA' 1601cc 16-valve, the RS1600 hit the ground with 115bhp and an impressive 0-60mph sprint time of around 8.5 seconds, no mean feat for a family sedan in 1970. The intent, of course, was FIA Group 2 and Group 4 homologation, and estimates suggest that a shade over 1000 more were produced in AVO's Aveley factory after those first 100 cars. McCarthy's shell arrived in somewhat less than outstanding condition, with the roll cage requiring a complete rework while it was missing the all important BDA powerplant.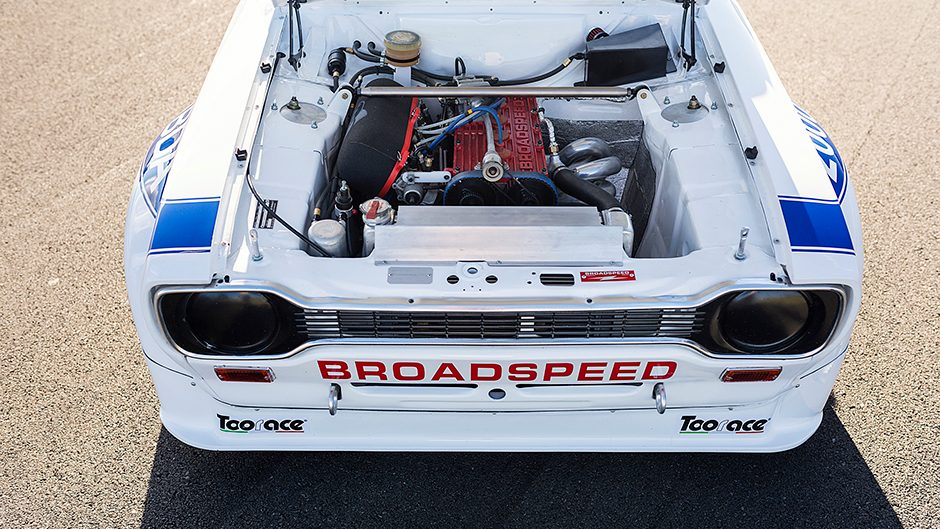 With a basket of bits, McCarthy built up the Escort, borrowing a Lotus Twin Cam from his father to plonk between the struts to get the car on the tarmac. In his words; "I wanted to get out and beat my brother." It became a battle of the Escorts, when Richard substituted his Cortina for a genuine Escort Mexico, a car Paul admits had an edge in power.
Like all good evolutionary race cars, a second, tweaked Twin Cam found its way under Paul's car's bonnet, tipping the balance of performance towards the RS1600. Racing lends itself particularly well to a bit of a yarn, and McCarthy's years of campaigning the RS1600 spark a story or two. As the new kid on the block, he went around the outside of Jim Crystall's potent Wolseley 1500 at the sweeper while running at Whenuapai, a moment he recalls with a wry smile.
In a case of "right time, right place," McCarthy managed to score a BDG engine for his Escort. The largest of the BDA family of engines at 1975cc, it also featured an alloy block, but installing it into the car necessitated a bunch of changes to deal with the improved performance. An uprated gearbox and a disc rear end with floating hubs found their way onto the car, though not without teething troubles.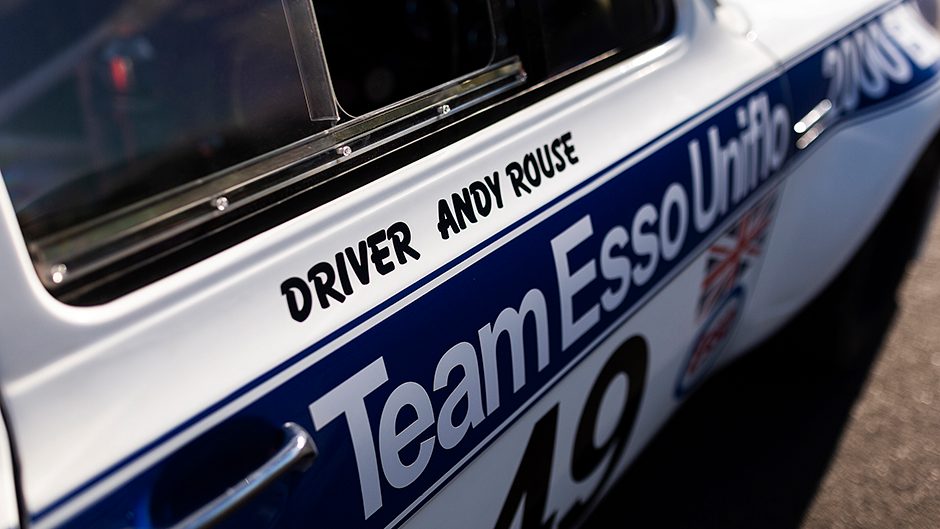 A rear axle set-up (by a third party) with a tad too much toe out resulted in "interesting" handling before it was sorted, while an ill conceived pedal box set-up with too little freeplay locked the brakes on during a qualifying session.
He started last in that race but McCarthy recalls carving through the field, passing something like 20 cars. He and the RS1600 saw a solid 14 years of competition and development spanning the nineties through to the mid 2000s, encompassing nearly every North Island classic meet. He attended ten Whittaker's Classic meetings in a row at Manfeild, before the car was mothballed.
Over the years, McCarthy had accumulated a pile of parts, including a spare bodyshell and a surplus BDG engine, which would eventually be turned into a pristine Zakspeed Escort tribute car, or a 'hot rod distraction from the RS1600' as McCarthy says. But the Zakspeed also helped him keep pace with the direction of classic racing at the time.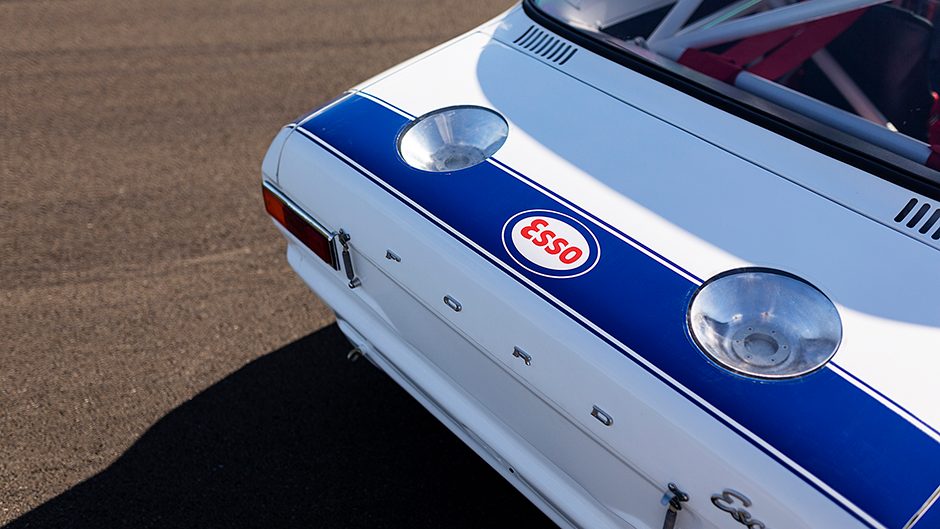 The rules had been evolving, allowing old cars to run modern equipment, and therefore making it tough to compete in a period correct, FIA Appendix K spec classic racer such as his RS1600, which remained parked up in the shed. Life, racing and restoring other cars intervened but McCarthy and his Zakspeed racer carved out notoriety as one of the quicker Escorts in the land. Time spent racing a BTCC Mazda Super Tourer also limited RS1600 running as the Historic Touring Car movement gained traction in New Zealand.
However, a discussion with Dale Mathers, organiser of the Historic Muscle Car series, proved the catalyst to resurrect the RS1600 from its slumber.
For the uninitiated, the HMC grids are aimed at keeping classic cars classic. Only modifications and engine arrangements from the period are allowed. Even the tyre types are classic which means the cars are raced the way they used to be. Following the success of the HMC, a small car class, Historic Saloon Cars, was formed shortly after. Suddenly McCarthy's RS1600 Escort had "somewhere to race again."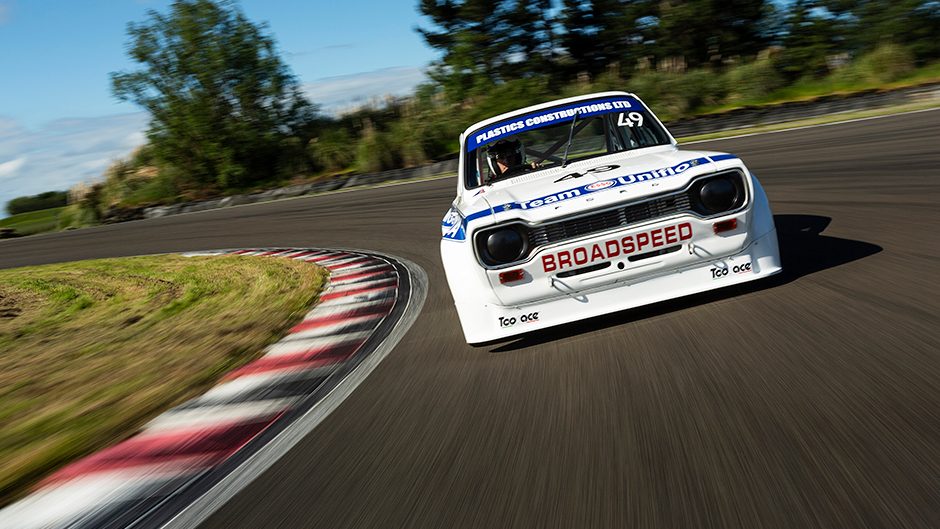 "I looked at my new Zakspeed car next to the RS1600, and the old one looked, well, scruffy," McCarthy recounts. "But then skills and budgets change over time, and as you get older you probably get fussier," and so McCarthy set about sorting the RS1600 with a clear mission objective.
"I wanted it to look like it rolled off a racetrack in 1974."
Crucial to this are the aggressive Group 2 guards and front apron, framing a set of wide 13" original magnesium Minilite wheels shod in Avon treaded race tyres. Coated in a crisp ermine white, the Escort carries the 1974 Broadspeed livery, with period mechanics and driver Andy Rouse's name emblazoned along the flanks. The bodywork goes deeper with tubbed inner guards mimicking the period style, skirting a full FIA-spec cage to tie the near 50-year-old shell together.
Channelling the seventies, the stark interior features a works style dash, home to a Smiths chronometric tachometer redlining at 8500rpm. The dry sump tank occupies the passenger footwell, while period-style seating complements the suede-wrapped Springalex wheel. Mechanically, the Escort isn't too far removed from Paul's classic racing days past.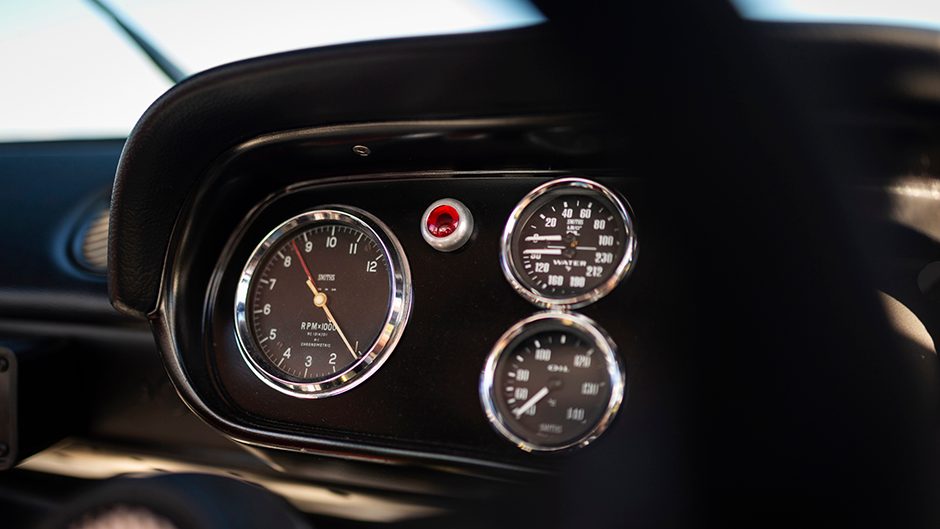 The bay remains custodian of the 2.0-litre BDG, although it now sports its period-correct Lucas mechanical injection feeding a quartet of slide throttles, a feature of the Group 2 racers of the time. The four-speed gearbox remains, as does the disc rear end albeit completely refreshed for the car's second coming.
"I mean, it's really my old car, with a set of wide guards and wheels, and beautified a bit." It debuted at Manfeild for the 2018 MG Classic, one of the Escort's old stomping grounds, and the last circuit where McCarthy drove it, 13 years ago.
"It seriously smelt the same, felt the same as it did all those years ago. I did six laps on the Friday practice and felt happy."
Mixing it up with the big V8s from a fourth place qualifying saw Paul come away with a race win over the weekend, with clean racing throughout the meeting leading to crowd-pleasing battles. The car even lapped around a second and a half faster than it did the last time out, testament to a thorough rebuild and a bit of Escort know-how.