Most BMWs arriving here come with all the option packages but in the case of the new supernaked F 900 R does that make it overdressed?
Sometimes a vehicle turns up on your doorstep, metaphorically speaking, about which you know very little and you get to ride the thing before being tech savvy about it. Not ideal, admittedly, but it can be enlightening because you come to the table with no expectations.
That's how things went down with BMW's new F 900 R, except that a friend has been looking at replacing his nearly 10-year-old F 800 ST with the closely related F 900 XR sport-tourer. So I knew what that looked like.
Now the R stands for Roadster so it's a sporty standard bike. The XR is the bike equivalent of a crossover, so tall but with formed roads in its crosshairs. It has more suspension travel than the R, and a fairing and adjustable screen to keep the weather out. Hence, a modern sport-tourer with a hint of adventure sport. It looks aggressive with its twin headlamps, and well integrated screen and bodywork, whereas the roadster looks unfinished as they so often do, with bodywork but no fairing, and a single headlamp. It's hard to make a roadster look good but not impossible; check out BMW's R nineT variants.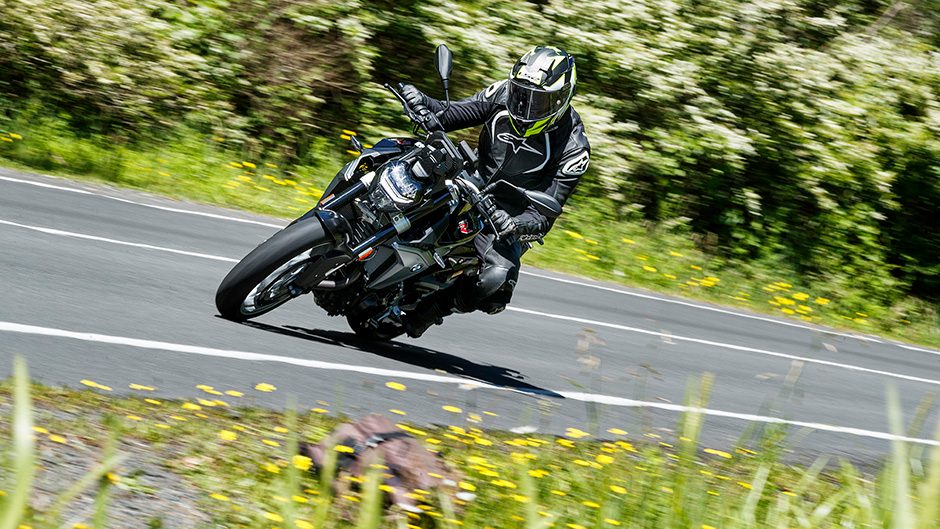 Anyhow, this friend had an XR test ride out of Dunedin and put a deposit on one. It arrives in Q1 next year. So did his brother. They both raved about the test rides, so I was expecting something a bit special and really wasn't disappointed. That said, I think what they're doing, buying XR, is money better spent.
On the face of it, $22,690 for the F 900 R isn't exactly cheap when you're getting a not hugely powerful 900cc parallel twin and a look that's awkward from some angles. With adventure-sport bikes now the hot item, motorcyclists seem prepared to spend a few grand extra to get onto something more upright with longer travel suspension, proper weather protection and an easier riding triangle. And it's the comfort issue that I knew right from the first metre aboard the R that would be both its making and its downfall.
The relatively high-set pegs contribute to outstanding ground clearance but they also flex the hips and knees some, at least if you're taller, a position that's accentuated by a lean forward riding position. The merit of this all becomes somewhat clearer at 100km/h and when you're threading it down an interesting road, but this isn't meant for long distances without a break. And with its 13L fuel tank – back in the regular position instead of underseat – this could go for 300km odd without breaking a sweat. Except that I couldn't get it to average the claimed 4.2L/100km. Despite riding it some of the time below its zone where it makes 95 per cent of peak torque (4500-8500rpm), the computer suggested 5.2L/100km average (so 250km of range is closer to reality).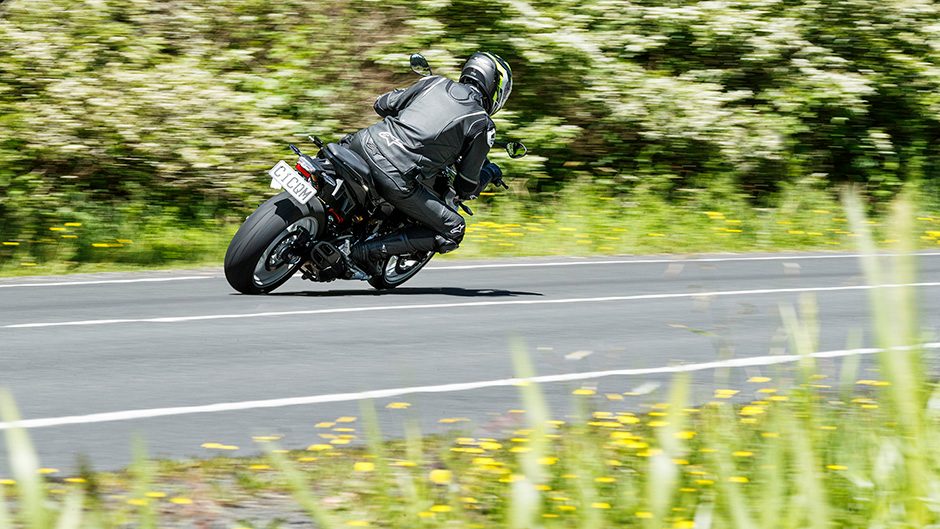 Another aspect that soon becomes obvious is just how complex the user interface is on the F 900 R, or at least some aspects of it. Like, for instance, how hard it is to zero the trip meter. Yes, there is a distance to empty readout as part of the info screen you can scroll through (meaning you really don't have to rezip the odo) but with roughly 10 bits of information available, it would be nice to be able to move backwards and forwards to get to the data you want quickly. Here, you can scroll in one direction only.
And a retrip is not easy. You need to go to another screen, mess around with the stupid iDrive-for-bikes rotary controller, and on and on. Because of the complexity, remembering how to do it the next time means you have to relearn it all over again. Other systems are so much easier. At least the TFT screen is delightfully clear, agreeably configurable.
The F 900 R comes fully loaded, as reflected in the price, but some of the gear isn't really necessary. With only 105hp are Dynamic and Road and Rain modes needed? Full power would be sufficient, particularly as this has traction control as standard. Heated grips? Nice, but not really essential unless you're from way down south. Quickshifter Pro? Great for zero to 100s but shifting in either direction is smoother without. Cruise control? On the sport-tourer maybe. Scratch that; cruise control is handy on any big bike. Electronic rear suspension? Both Road and Dynamic settings are a bit firm, so no thanks.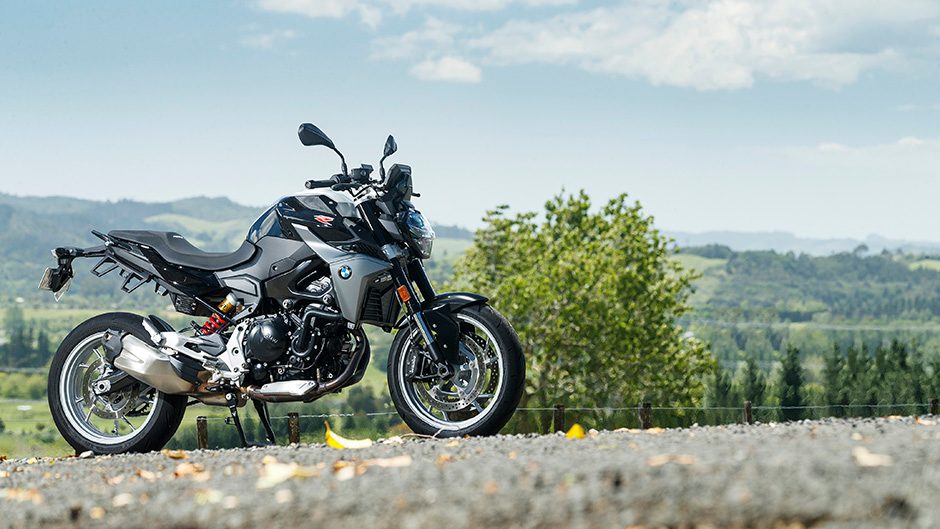 So not such a great start you're thinking? Perhaps, but the rest is pretty bloody good. The new engine is now 900cc instead of 850, and is good for 77kW (up 7kW) and 92Nm at 6500rpm (no real change). It's a honey, so easy going, and makes a sporty intake noise, akin to a V-twin's. It's especially resonant around 100km/h, ambling along at 3800rpm. Gearing is tall so it won't really haul around everywhere in sixth. But it pulls well from 2500rpm onwards, which is about 70km/h in top, and acceleration is brisk from 100km/h onwards.
Is it any quicker than its forebear? Actually, yes. Zero to 100 we got a much better time vs the F 800 R, reflecting its higher power output and quickshifter status (3.3 vs 3.9sec) but the 80-120 didn't improve as much (1.93 vs 2.1sec). That's not bad but not in the same league as the roadster offshoots of litre superbikes which are down around the 1.3sec 80-120 area and are less expensive. Examples we're thinking of are those based on GSX-R1000, CBR1000RR, ZX-10 and YZF R1. All are around $20k or less. Just saying, this is what the F 900 R is up against.
On the other hand, this is dynamically impressive. The handling is sublime, aided in no small part by stellar Bridgestone Battlax Hypersport tyres. Such grip! The frame geometry is a marked change from before, with a slightly shorter wheelbase and raked out forks, the idea being improved stability without compromising turning pleasure. Compact parallel twins are popular because they're lightweight and facilitate mass centralisation, making for easy changes of direction. The wide bars, and a well shaped tank for easy knee gripping mean this can hold dramatic corner speeds. Ground clearance is good too, even with the standard centre stand. It steers light and quick, almost intuitively, holding a line with intent. And there's that lovely sound of the engine breathing away at middling revs. On a low wind warm sunny day, roadsters really can be most endearing. When it gets breezy then you'd miss not paying the extra for the XR.
Part of the deal is electronic rear suspension. This we liked on the GS 850 but here it's too firm in any setting, though is adjustable. But we couldn't get the ride quality where we wanted it. Clearly, it's set up to be ridden aggressively, as suggested by the new riding position. The brakes also reflect that, offering serious bite, even without much in the way of lever pressure.
We get the feeling the F 900 R will forever live in the shadow of the $1800 more expensive, better looking and likely more comfortable XR. Sometimes it pays to be upsold.
| | |
| --- | --- |
| Model | BMW F 900 R |
| Price | $22,690 |
| Engine | 895cc, liquid-cooled, fuel injected, IL2, 78kW / 92Nm |
| Drivetrain | 6-speed, chain final drive |
| 0-100km/h | 3.30sec |
| 80-120km/h | 1.93sec |
| Weight | 213kg |