A massive barn find which consists of almost 280 classic cars is heading to auction after it was recently uncovered in the Netherlands.
Hiding away for nearly 40 years in a church and two dusty warehouses is probably one of the world's most eclectic assortments of cars ranging from Alfa Romeos, Mercurys, Jaguars, and Lancias to cars you've probably never heard of.
It's hard to imagine how an individual could amass such a large lineup but owner Mr Palmen has spent his entire life professionally dealing with cars since the mid 1960s before he started collecting. So its no wonder that he had a knack for investing in sought after makes and models.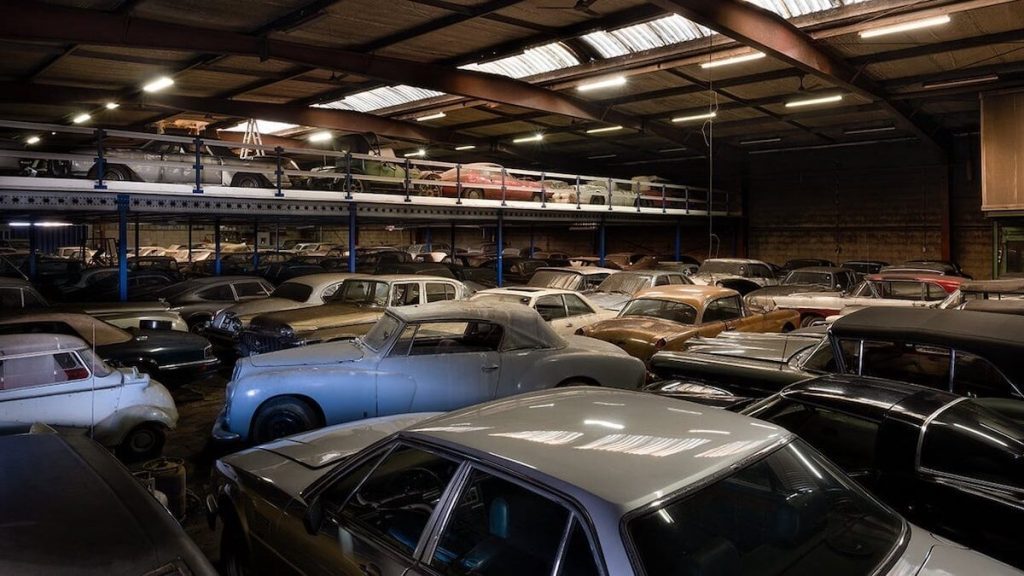 It apparently all started with a yellow Lancia B20 before the collection grew to 280 but due to Palmen's old age, its time for them all to go.
Most of the cars up for grabs are unrestored and remain in original condition, albeit a bit dirty from hiding away for four decades.
Not many people knew about them either with Palmen keeping the collection largely to himself to the point where he conducted most of the vehicles' maintenance himself.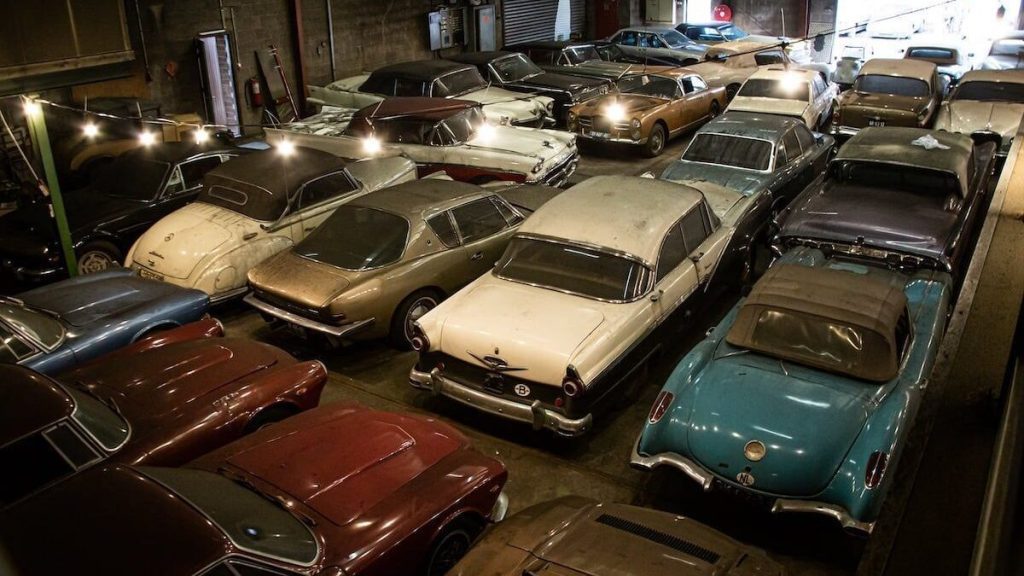 Keeping 230 cars alive sounds like more than a full time job but their owner supposedly started each one on a regular basis to prevent their engines from seizing.
They are now all being auctioned off by Classic Car Auctions in Europe where the barn finds are hoped to go to new owners who will "cherish them as much as he [Palmen] did."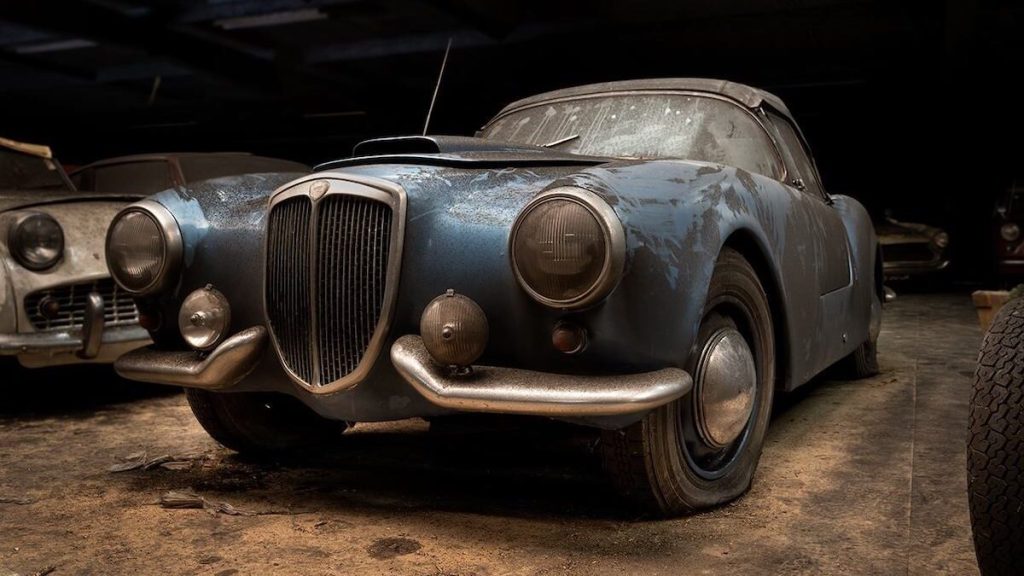 Check out the full list of barn find cars below:
Alfa Romeo Sprint 1600
Fiat 1200 TV Spider 1958
Citroën 2CV 1955
Triumph 2000 20TR Convertible 1970
Panhard 24CT 1964
Saab Sonnet III type 97
Facel Vega Facellia coupe
Facel Vega Facellia Convertible
Bond Equipe GT 6 2 liter 2+2 1967
Fiat 124 Spider USA 2000 1981
Daf 66 HAVAS Convertible type 55 1970
Facel Vega FB Convertible 1963
Alfa Romeo Spider Duetto type 10503
Alfa Romeo Zagato 2600SZ 1967
Simca 9 Coupe de ville S
MG B GT 1971
MG TF 1954
Lamboghini Espada
MG B Tourer 1970
Singer Convertible 1912
Alfa Romeo Guilietta Srint Speciale
Lancia Montecarlo 1978
Alfa Romeo Spider 2.0 1985
Ford A Roadster 1927
Facel Vega Coupe 1964
Sunbeam Talbot Supreme Convertible
Matra Bonnet 1965
Lancia B24 Spyder America 1955
Alfa Romeo Guilia GTC 1965
Triumph TR3B
Moretti 128 1974
Sunbeam Alpine 1960
MG A
Singer 9 Roadster 1955
Lancia Appia Coupe
Alfa Romeo Spider Guilia 1600
Jensen Healey 1974
Simca Aronde Oceane Convertible
Nash Metropolitan model 542 1956
AC Bristol Aceca 1954
Fiat 1500 Coupe 1960
Lancia Appia sedan 1958
Austin Convertible 1947
Volkswagen Karmann Ghia Convertible 1971
MG MGA 1961
Daimler Dart 1958
Villard Type 27
Volvo 1800ES 1973
Austin Balanza 1800 MK2 1968
Fiat 1500 Spider 1963
Lancia Fulvia Coupe 1.3S 2e serie 1973
BMW 1600 GT 1968
Fiat 130 Coupe Automatic 3200 1972
Fiat Dino Coupe Bertone 2.0 1966
Bentley S2 Saloon 1959
Jaguar Mark 10 1963
Lincoln Continental Convertible MKIV 1959
NSU RO80 1976
Studebaker President 1958
Jaguar XJ-S 4.0 Convertible 1995
Mazda RX-7 Convertible 1988
Mercury Monterey 2 door coupe 1954
Ferrari 400i Automaat 1984
Facel Vega FVS 1956
Ford Fairlane 500 Skyliner 1958
Peugeot 190S 1928
Aston Martin V8 Series 3 1975
Mercedes W188 300 S Roadster 1953
Studebaker Avanti Gold R2 1963
Ford Fairlane Victoria 4 door sedan 1955
Chevrolet Corvette C1 283 1958
Maserati Merak 1972
Maserati 3500 GTI S 1962
Buick 8 1937
Bristol 401 2L coupe 1952
Rover P4 100 1959
Jaguar MKII 3.4 1963
Alvis TD21 MK2 1963
Rover 16 Saloon 1937
Facel Vega Facel II HK2 1962
Citroën SM 1972
Chevrolet Corvair Convertible S 1964
Jaguar 3 1/2 liter Mark V 1943
Lagonda Drophead Coupe 1953
Daimler Coupe
Chevrolet Corvair Coupe Monza 1964
Ford Mustang 289 Coupe 1965
Ford Mustang 289 Fastback 1968
Chevrolet Corvair Convertible S
Jaguar E-type Convertible 4.2 S1 1966
Mercedes 300 SE Coupe (RDW 250 SE) 1965
Ford Thunderbird Landau 1963
MG Midget 1976
Mercedes 450 SL Convertible with hardtop
Ford Thunderbird 1962
Rolls Royce 25/30 HD model 2025 1934
MG TD 1953
Jaguar XJ8 Convertible 1998
Packard Eight de Luxe 1950
Chevrolet Corvette C3
Volvo 66 L 1979
Ford Thunderbird MK5 Landau 1968
Alfa Romeo 2600 Spider
Austin A90 Atlantic Coupe 1952
Daimler DB18 53228 1949
Jensen Interceptor III 1975
Sunbeam 20 HP
Talbot Lago Record T26 Coupe 1951
Lancia Aurelia B20 1955
Alfa Romeo Montreal 1973
ISO Rivolta IR300 1968
ISO Rivolta Fidia 1971
Fiat 2300 Coupe Ghia
Alfa Romeo 2600 Sprint 1967
Alfa Romeo 2600 Spider 1962
Lancia Flaminia GTL 3C Coupe Touring 1968
Lancia Flaminia Coupe Pininfarina 1962
Alfa Romeo 2600 Spider Touring 1964
Alfa Romeo 6C 2500 Sport Coupe 1950
Maserati Indy AM116 1970
Lincoln Continental Coupe MK2 1956
Ferrari 365 GT 2+2 1967
Datsun 280ZX Turbo 1982
Maserati Mistral Frua AM109 1965
Delahaye 135M Convertible 1950
Facel Vega Facel II 1963
Monica 560 1972
BMW 3200 CS Bertone 1963
Alfa Romeo 2600 Spider 1964
Ford Thunderbird 1ste model 1956
Talbot Lago Record T26 Berline 1949
Talbot Lago Record T26 Berline 1950
Essex (USA) Super Six Roadster 4 zits 1931
Rolls Royce Camargue
Imperial M617 MK2 Hardtop Coupe 1959
Panhard PL 17 17B 4 doors 1963
Tatra T87 1948
Mercedes 450 SLC 1976
Cadillac Eldorado Convertible MK7 1966
Mercedes 220 A Convertible 1955
Jaguar XK150 Fixed Head 3.4S 1960
Lancia Flaminia 2.8 Touring Convertible 1962
Mercedes 220 SE Coupe 1960
Mercedes 300 SE Automatic 1964
Lancia Flaminia Sport Zagato Series 2 1964
Maserati Bora 4.7 1972
Fiat 130 Coupe Automatic 1974
MG B 1978
Panther J 72 1979
Rolls Royce Camargue
Aston Martin V8
VW Kever
Porsche 928
Ferrari Dino 308 GT4
Jaguar MK9
MG B Coupé
MG A
Alfa Romeo Duetto
Alfa Romeo GTV
Alfa Romeo 2600 Coupé
Citroën DS
Mercedes SL
Pre war
Alfa Romeo Spider
Peugeot 504 Convertible
Daimler Sovreign
Tractor
Alfa Romeo GTV
Maserati 3500 GT 1964
Maserati Quattro Porte 4200 Serie 1 1965
Cadillac Eldorado Convertible MK7 1955
Lincoln Continental MKIV 4 drs Cabriolet 1964
Ford Edsel SE Citation Cabriolet 1958
Chevrolet Corvette C3 L-82 1978
DeTomaso Deauville Serie 2 1978
Cadillac Eldorado Convertible MK8 1968
Daimler 250 1967
Messerschmitt KR200 1963
Ford Thunderbird 1957
Bristol 401 2 Litre 1950
Triumph TR3 1958
Hillman Minx Tourer Cabriolet 1935
NSU Spider 56 1966
Facel Vega F2 Facellia Coupe 1962
Sunbeam 20HP Tickford 1933
Hillman Minx Saloon 1934
Triumph Renown MK1 TDB Saloon 1948
Sunbeam Supreme Alpine MK1 1955
Lancia Aurelia B50 Cabriolet Pininfarina 1951
Daf 600 1960
Morris Cowley Six MC15 2-door 1934
Tomos Moped Quaoro
Germaan Moped
Motor MV Agusta
Moped Kreidler Florett
Moped
Moped Puch
Motor Moto Guzzi
Scooter Vespa
Scooter Vespa
Moped
Moped
Moped
Cola cabinet
Workplace 1
Workplace 2
Alfa Romeo Duetto Rood
Lancia Thema 6V Automaat 1986
Volvo 340 DL 1986
Opel Movano Pick-up 2 2.5 CDTI Drops 2006
Ford Thunderbird 1980
Fiat Ducato 14 2.8D Pick-up 2000
Volvo 480 ES 1987
Steyr 55 1936
Hymer/Vauxha Mobil camper 1976
Volkswagen T3 Syncro DC 4
Lancia Zagato Fulvia Sport 1.3S series 2 1971
Peugeot 504 Coupe injection automaat 1973
Imperia TA-8 Sport Hotchkiss 1949
BMW 2000 CS 1972
Opel Vectra B 1.6-16v 5 deurs 1998
DAF 400 autoambulance AE04BN 1987
Land Rover Discovery 1997
Winnebago Renault Traffic Lesharo 2e serie 1986
Chrysler Imperial 1956?
Studebaker Champion Coupe 4e generatie 1955
Renault Express 1989
Citroën Jumper 1998
Fiat Ducato Camper 15L 2.3JTD 2004
BMW 2000 CS 1969
Mercedes Vito 108CDI 2002
BMW 3 serie 1996
Renault 19 cabriolet Karmann 1992
Master MTD grasmaaier