The Jeep brand is synonymous with action and adventure, so what better place to drive a new model than the adventure capital of NZ? We head to Queenstown for the global launch of the Jeep Gladiator.
Jeep has been without a pick-up since the Cherokee-based Comanche was culled way back in 1992. Down here, a ute has never officially been on the menu. Yes, there was the Wrangler Brute but that was a third-party conversion so it doesn't really count.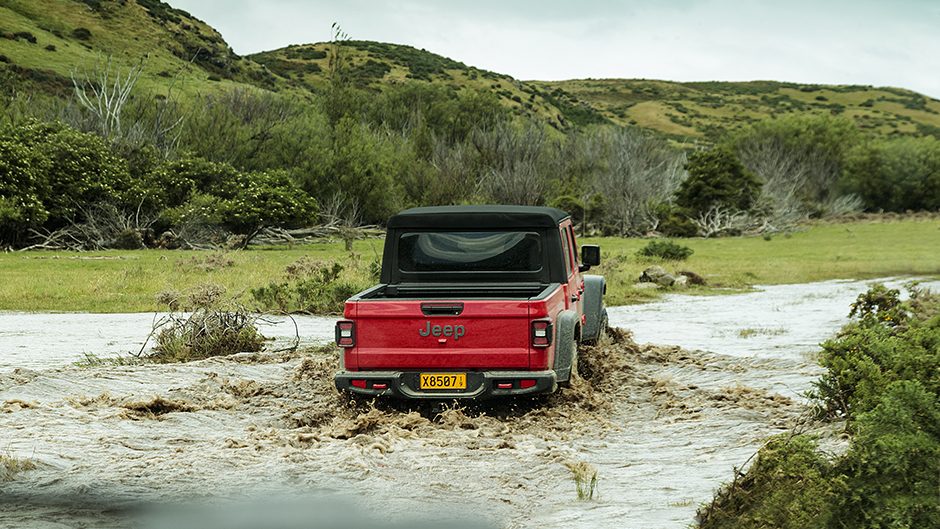 So why now? Demand for 'midsize trucks' has grown by 20 per cent recently in the US, and will soon account for three million sales there, so Jeep wants a slice of it. The Gladiator nameplate was last used in 1972 when it adorned a Wagoneer-based truck, which remained in production for 26 years. A licensed variant is still produced by Kia's military division! Jeep resurrected the name for a pick-up concept in 2005, but it's taken another 14 years for the production model to eventuate.
Same, same but different
While Gladiator appears to be just a Wrangler with a tray, the underpinnings have undergone a bunch of engineering tweaks to produce 'the most capable truck in the segment'. The chassis they are calling 'all-new', overall length being 780mm longer than that of Wrangler at 5539mm, while the wheelbase is stretched by 490mm, evidently improving weight distribution and ride quality. The 1.5 metre long tray is stamped from steel with a reinforced floor capable of supporting 620kg and features integrated tie-downs, a three-pin plug and under-rail lighting. Rear suspension uses componentry snaffled from a RAM 1500 along with bespoke items such as the Fox shocks on Rubicon models. Keeping the underbelly safe are skid plates and bars while Rubicon variants add rock rails.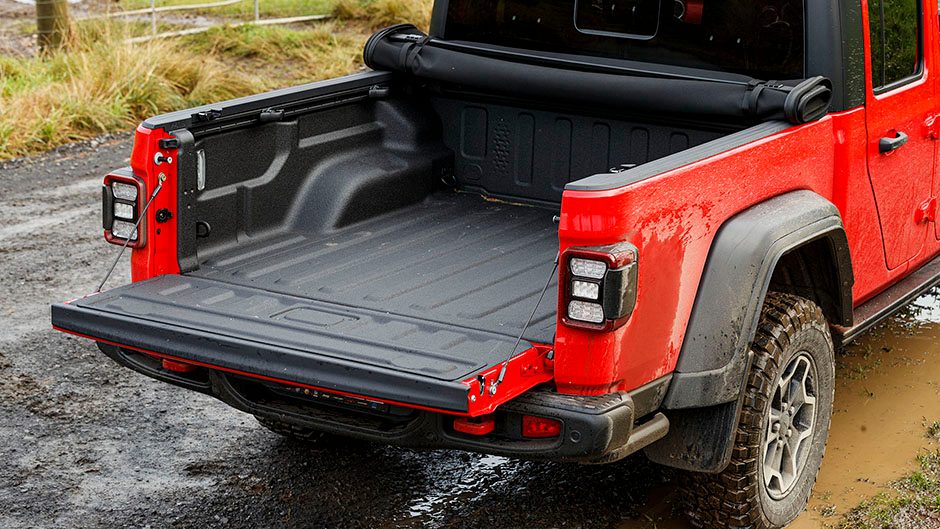 A beefier tow hitch, larger rear brakes and stronger alloys enable the Gladiator to haul 2721kg, up 226kg on Wrangler. There's enough space underneath to fit a 35-inch spare tyre (32 inchers are stock) – a popular mod among Jeepers. The slats in the seven-slot grille are wider to aid cooling and the engine mounts improved.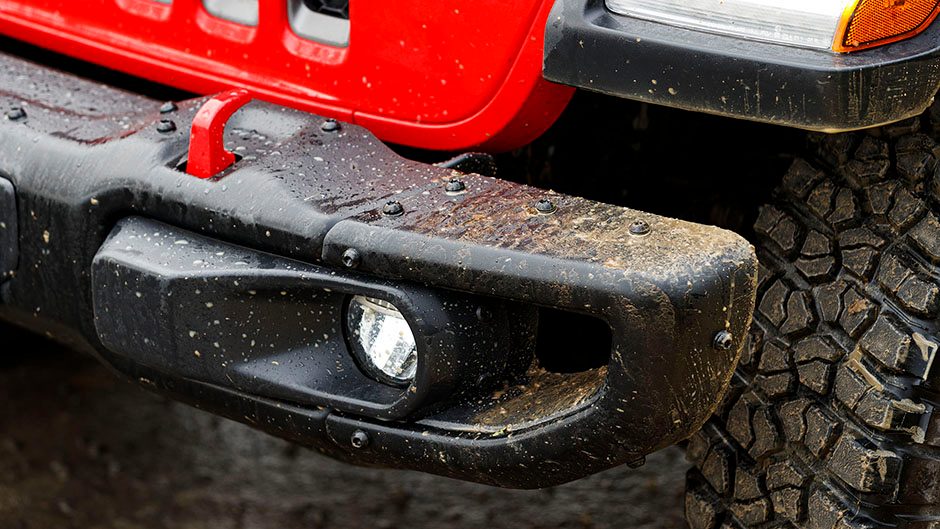 Its lone powertrain is a V6 petrol mated to a smooth-shifting eight-speed auto (the Yanks can option a six-speed stick). A diesel is coming and will be evaluated for our market but don't hold your breath: diesel Jeeps have traditionally carried a hefty price premium making them slow movers here. What about a V8? We asked Engineer Steve Czerkis about the likelihood of a Hellcat-powered Gladiator. He let us down gently. "It fits" he said. "But there's no space left when it's in there. If you had a crash it would end up in the front seat." If that doesn't put you off there are aftermarket companies that will happily take your money. Extra power will arrive in the form of electrification, likely to debut in a year or so.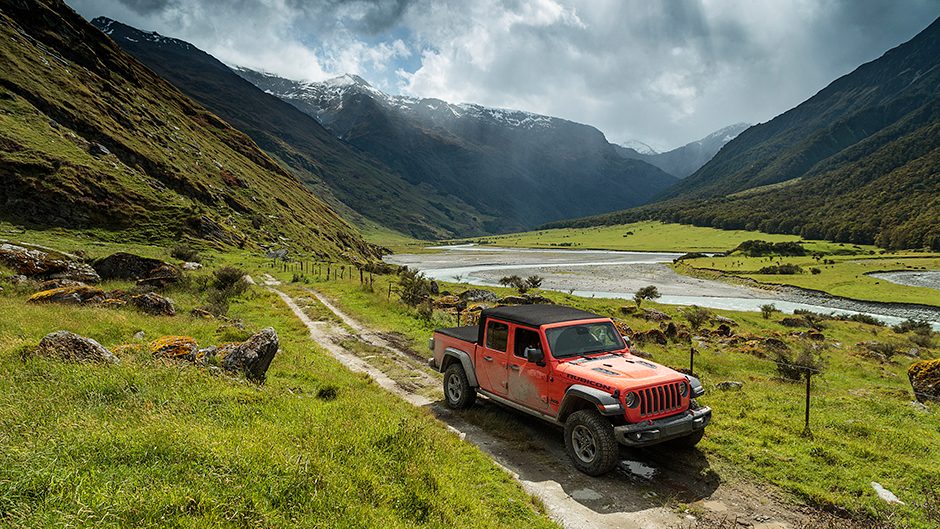 Living the dream
Gladiator is touted as a lifestyle vehicle so our introduction to the range was more camping trip than product launch. We hit the road out of Queenstown in US-spec LHD vehicles and headed for the hills, literally. Despite the weather, we decided to go topless. This is the only convertible ute on the market, after all. The soft-top (a three-piece hard-top is optional) is a cinch to drop – undo a couple of clips, then flip 'er back. As we made our way over heavily rutted tracks, it naturally started to rain – luckily there's a hose-out interior and water-resistant start button. The precipitation quickly subsided and soon after we had dried out I attacked a river crossing with perhaps a little more gusto than necessary. The resulting splash was a great test for the interior weatherproofing as several litres of frigid alpine river water cascaded into the cabin. We continued to bump and splash our way through rivers and tracks while winding our way up to a stunning but breezy spot high above Lake Wanaka. Taxing it was not, but fun it most certainly was. After a driver swap, we stopped at the wild and driftwood- strewn lake front for a carnivore's delight of barbequed meats. With full bellies, we trekked our way back to formed roads in search of something more challenging.
The Wanaka-Mount Aspiring Road was still closed to vehicles due to flooding – but not to our Gladiators with their multiple four-wheel drive modes and 250mm of ground clearance so we carried on. We were pleasantly surprised by the ride quality; even on choppy metal roads the high-riding suspension filters most of the bumps. There's only the occasional shudder from the unladen tray to remind you that you're actually driving a ute, and the soft-top gave the occasional rattle.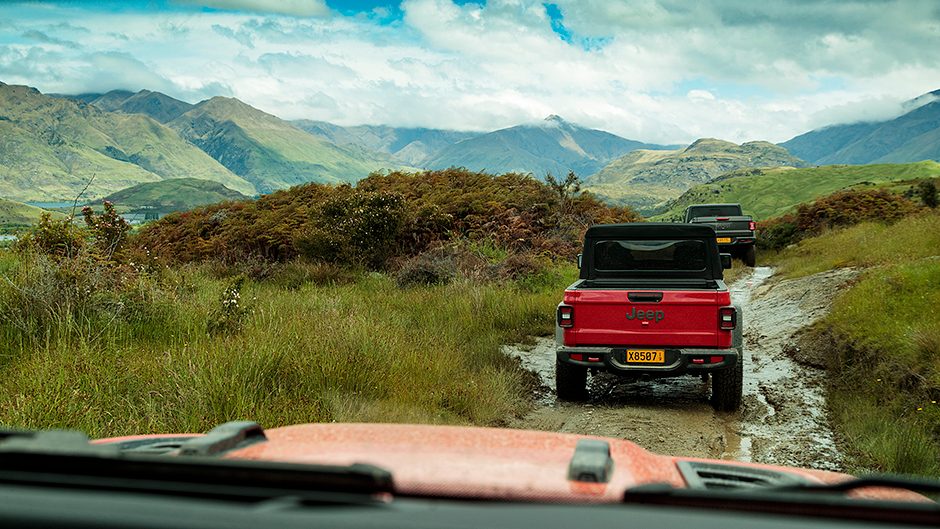 We arrived at the base of Mount Aspiring to a rock-crawling exercise in a boulder-strewn valley. The course was gnarly with twists, turns and gaps that didn't look wide enough to thread the 1875mm wide Rubicon. Oh well, not my truck! But with 4LO engaged, guidance from the Jeep Jamboree team and the front facing camera, the Gladiator conquered the trail with ease. The rock rails had a hard time though, grinding and screeching against the bigger rocks, but it was the armour on the tray corners that took the biggest beating, the Gladiator's reduced departure angle working against it in the tighter spots (25 degrees vs 29.2 for Wrangler). Approach and breakover angles are also reduced. Rock crawling is quite addictive, and really highlighted just how capable these trucks are.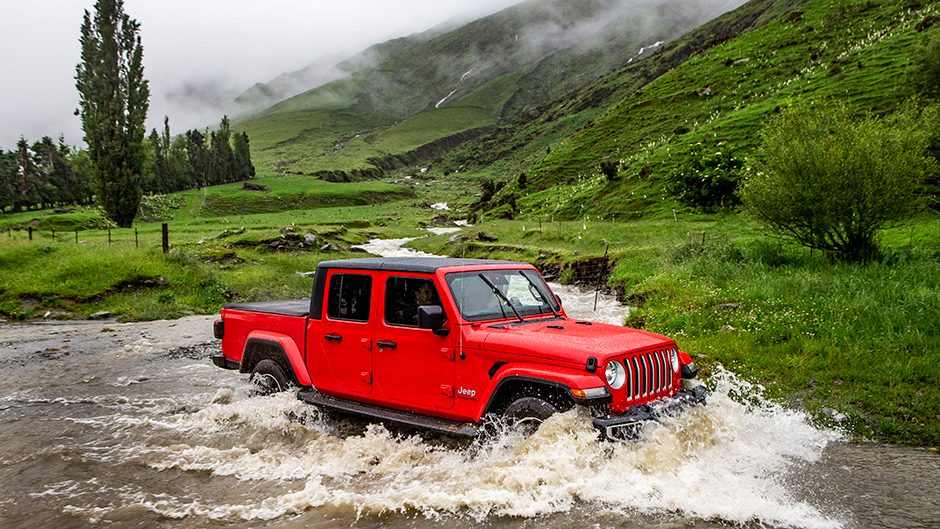 We then convoyed east with the intention of crossing several rivers. Unfortunately, recent flooding meant the rivers were too swollen to traverse, even with Gladiator's 760mm of fording ability, so we ended up being choppered to our overnight digs. Here we got to check out the Wayout Concept (see sidebar below) and soak up the stunning scenery before devouring a dinner of lamb slow-cooked over coals in a giant Tipi. I could've stayed for a week.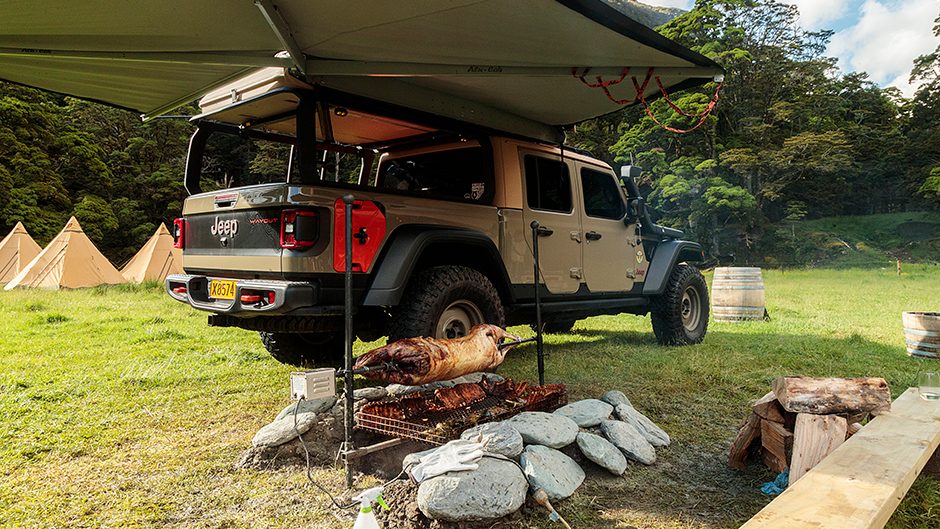 Our return journey was via the Matukituki River, on a raft. From here we paddled leisurely downstream, enjoying the rugged scenery we had blasted past the previous day. Back in the Jeeps bound for Queenstown, with the sun out we cranked the sounds and dropped the top, rolling into town a few hours later and a touch sunburnt. The Gladiator handled the Crown Range with ease, the 209kW/347Nm V6 emitting a pleasing growl with the roof down. It's never going to win any drag races this, especially given it's carrying another 200kg over the Wrangler, but it's quick enough: any faster and my passengers would've turned green. Fuel use was hovering around 16L/100km (claim 12.3) for most of our drive.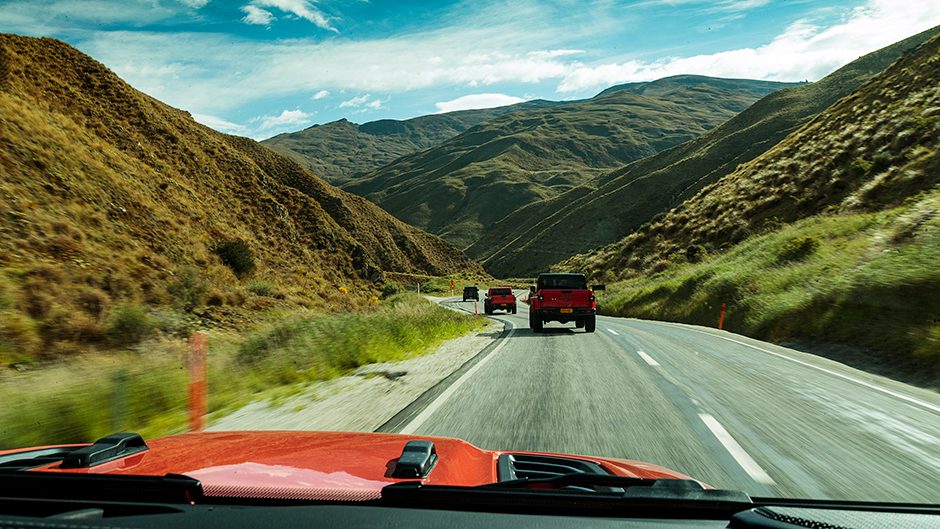 The steering is the same as the Wrangler's- it turns in nicely, there's just not a lot of feel, especially with knobblies fitted. The interior apes its SUV cousin; a far nicer place to be than Jeeps of old, that's for sure. Other bits unique to Gladiator include 76mm more rear legroom, storage nets behind the seats, optional under seat locker and removable speaker.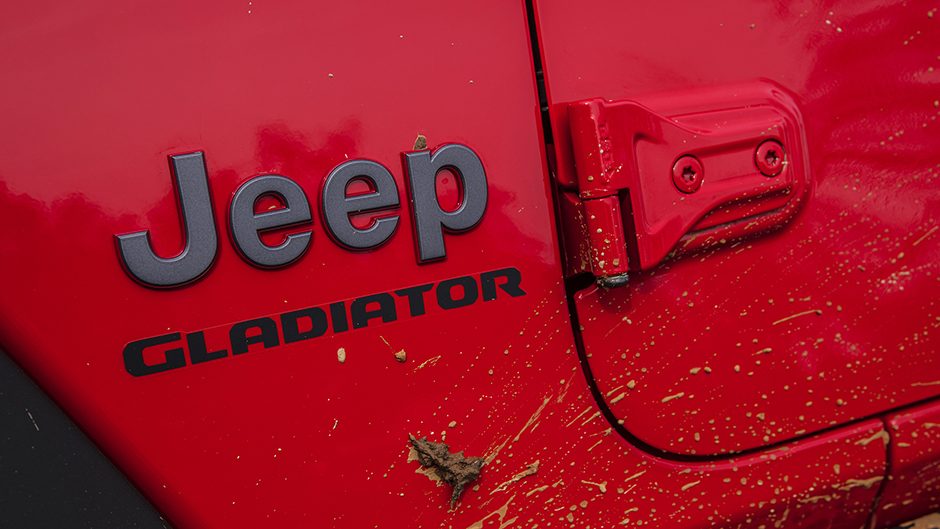 The capable and tractable nature of the Gladiator made accessing some of the most beautiful and remote parts of our country possible. It was a truly memorable experience. With our varied geography and penchant for outdoor lifestyles the Gladiator will provide Kiwi buyers with a stylish and massively capable albeit pricier alternative to the more mainstream double-cab utes currently on offer. With it's kosher off-road creds, raised suspension, chunky rubber and extra cladding the Rubicon looks just right, making it our pick of the bunch.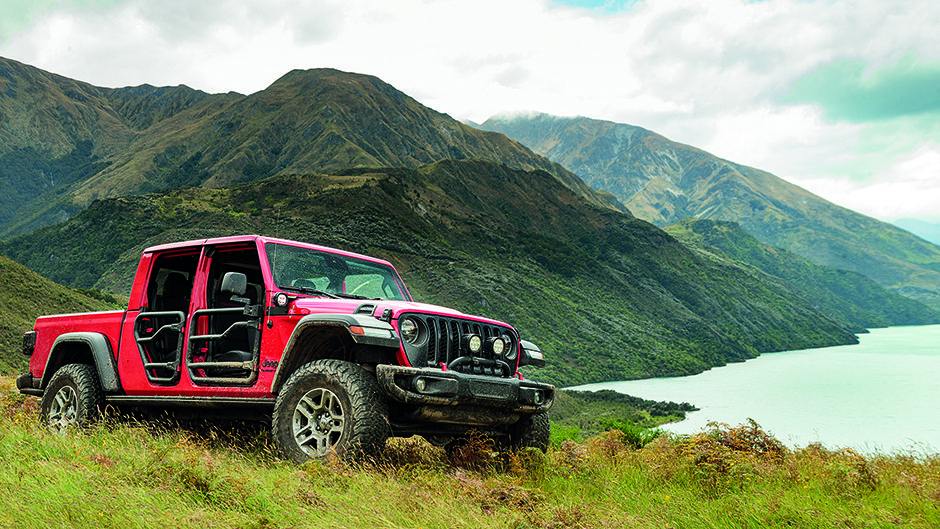 Local specification and pricing are yet to be decided, but will likely mirror that of our Wrangler range. In the US Gladiator commands a $1800 premium over Wrangler, so by our reckoning the Rubicon with its 'Rock-Trak' transfer case and its super-low crawl ratios, locking diffs and disconnecting swaybar will ask around $96,000 when it arrives here midyear.
Wayout, but only in name
Created for the Easter Jeep Safari, the Wayout concept was guest of honour at the Gladiator launch, though the actual design doesn't live up to its name. Concept cars are usually chocka with features that never make production, but that wasn't the case with this one. Sure you won't find the tray-mounted cocktail bar in the Mopar catalogue, but according to Taylor Langhals, Lead Designer of the Gladiator, that's the point. "We want people to be inspired by our car and go out and build their own." Most of the parts are available off the shelf through Mopar.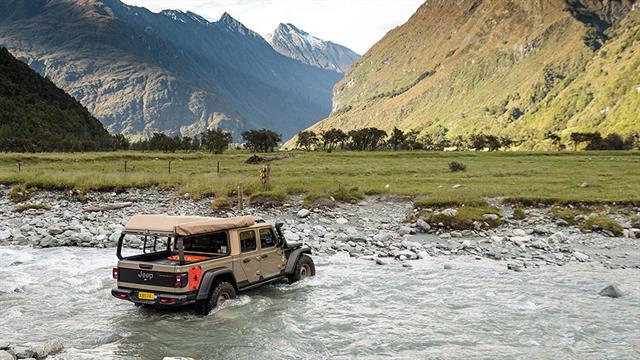 The Wayout is fully functional – the air compressor, winch, margarita blender, even the under-bonnet burrito oven! It gets driven everywhere too and thanks to its snorkel it was the only vehicle able to traverse the swollen river to our campsite. The awning provided weather protection for the lamb on a spit while designer Langhals, a fourth-generation Jeep employee/fanatic even spent the night in the rooftop tent.