APART FROM MULTISTRADA, DUCATIS ARE SINGLE-PURPOSE MACHINES. THE NEW SUPERSPORT IS SET TO CHANGE THAT. IS THIS PANI-LITE AN ACE OF ALL TRADES OR A MASTER OF NONE?
Given its spread of motorcycles, Ducati hasn't had a versatile sports bike for ages. Think back to the likes of the Paso of the 80s and the ST4 of the 90s. Since then, the firm has concentrated largely on hardcore sports machines, like 996, 999, 1098 and 848, 1198 and then various Panigales.
Now, though, Ducati has revisited the versatile sports bike with the new SuperSport middleweight machine, available as a Standard model or a better specified S variant, upgraded with a bidirectional quickshifter and Öhlins suspension front and rear. The base variant comes in at $20,990 while the S model goes for $22,990 in red, and $23,290 in pearlescent white.
SuperSport renewed? Just because it's called SuperSport don't think of it as a modern version of the models named the same in the latter part of the 20th century; all the various versions down through the years were hardcore sports bikes. This is the opposite, aiming to multitask, to be the kind of machine that might tempt a Panigale fan, only without the single-minded track orientation. That said, it is more sports than it is tourer, and yet panniers and heated grips are available as an accessory so it is hard to pigeonhole.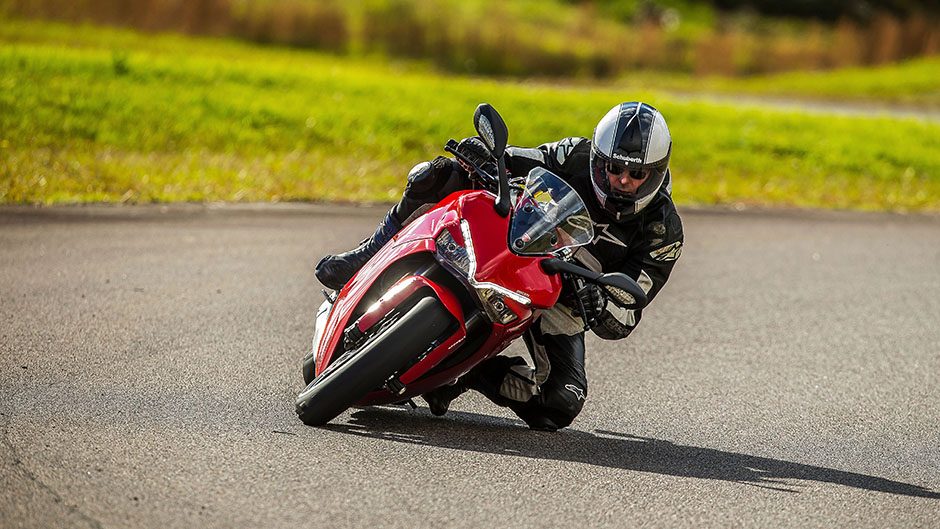 For starters it has on an open, relatively upright riding position, with a reasonable 810mm seat height, meaning you should be able to commute as easily as carve corners on the SS. And then go all-day touring on the weekend. Theoretically, it's also a dream machine for those who can no longer ride a pure sports bike because of the crotch rocket riding position, but still want a bike that's primarily sports-oriented.
At a glance you could mistake it for a Panigale, with a fairing and nose reminiscent of Ducati's sportiest machine. Peer closer and this has a face if you squint some, the dual headlights the eyes, the DRLs the furrowed monobrow. Beyond the Panigale styling inspiration there are not so many similarities, apart from the V-twin engine choice, lightweight design, Ducati safety package and single-sided swingarm.
At its heart is the 11-degree Testastretta mill borrowed from the Hyper twins, ('Motard and 'Strada) and it also graces the smallest Multistrada, the 950. It's a 937cc liquid-cooled 90-degree V2 retuned for bulked out midrange, producing 97Nm at 6500rpm. Over 80 per cent of that is said to be available from 3000rpm and that's what it feels like to ride, though it's not exactly bristling with torque at basement revs. Peak power of 113 horses arrives at 9000rpm and the engine is essentially done by 9500rpm.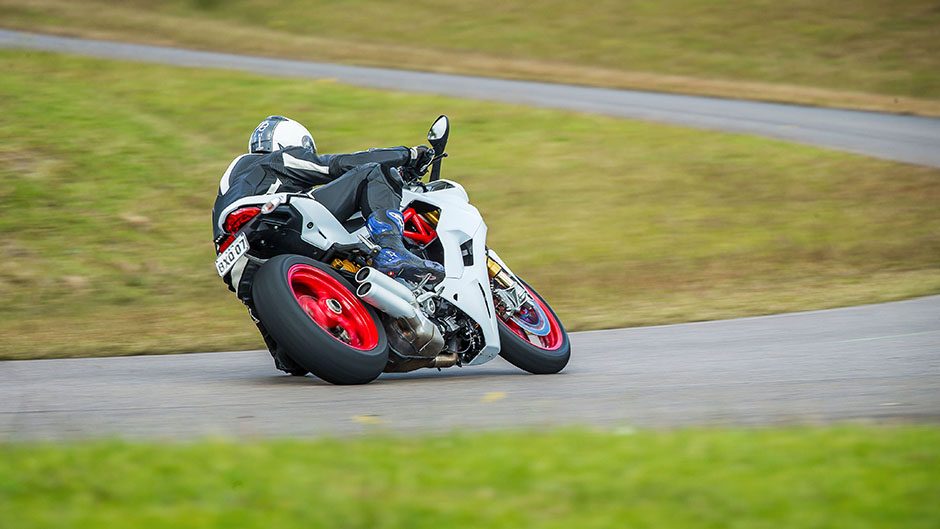 There's really nothing much happening below about 2500rpm, and yet by the time 3000rpm rolls around, it's like a bull that's noticed a red cape, and from there the power builds strongly. Final gearing is tall, 100km/h a loping 3000rpm.
The trellis frame is borrowed from the Monster family, so it's relatively lightweight overall at 210kg with 16L of fuel on board. That's enough for around 250km. With a well padded seat and easygoing riding position, the hips and knees not too flexed, most will hop off come refill time feeling fresh. There's a Multistrada-like adjustable screen – two positions – and a larger accessory touring version is also available.
The full fairing features no visible mount points; all the fasteners are hidden from view which imparts a sophisticated finish. How does it all pan out? The SuperSport is arguably one of the most perfect balancing acts we've experienced from the Italian, while its faults are liveable. The bikes we rode were literally straight off the boat, my red base mount with barely 50km under its Pirellis. So there was probably a bit more vibration present than you might expect of a fully loosened machine and the mirrors reflected that. The gearbox seemed tight too, unwilling to engage neutral when cold. We reckon the clutch lever pressure was a bit heavy as well, but the quickshifter is a $500 option on the entry-level bike, one we'd for sure be taking up. But those minor points aside, this new value-laden machine from Ducati is a hit. And for almost too many reasons to mention, but we'll start with the engine.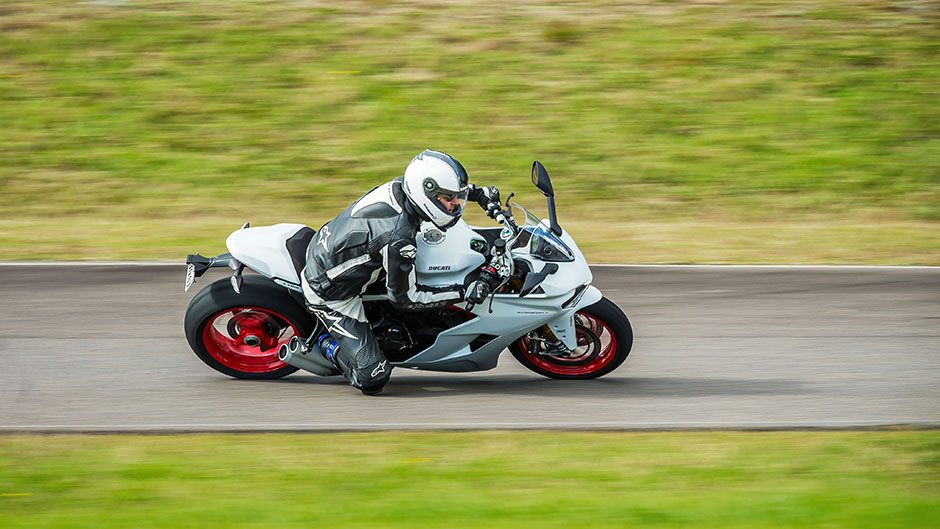 Time and again we have exhorted the myriad benefits of middleweights and this is another that shines. There's sufficient power for plenty of open road excitement but not too much to scare you silly, like the Panigale superbike can. The torque-laden engine pulls wickedly in the midband, so if you leave it a gear or two higher than ideal after braking for a corner, it has enough drive from 3000rpm to haul away regardless.
The standard pipes sound great, popping on a closed throttle and barking sweetly up through the gears. Beautiful Akrapovic pipes are available in the accessory catalogue but you could buy another bike for the price asked, only it wouldn't have a motor. We really enjoyed the road ride out of Sydney, the SS carving up the lines of traffic. Riding the standard bike first up, with fully adjustable Marzocchi forks and Sachs shock, it's a surprise to pilot a Ducati with sporting intentions that can actually deal to potholes as designed. However, coming back into town on the S model with Öhlins gear, you actively went looking for bumps and ridges.
Given this bike also gets a bidirectional quickshifter, and it costs only $2k more, it's the one we'd recommend. If you can't stretch to the S, definitely option in the quickshifter. It's invaluable for commuting.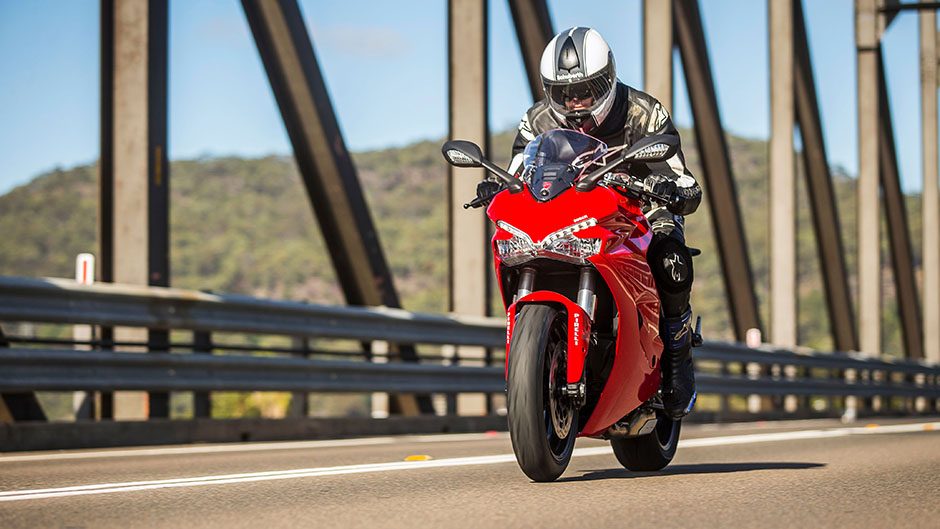 We had a pleasant surprise in store later in the day, a few laps on a private racetrack (like Voldemort, it must not be named). Here the SS did a good impersonation of a Pani-light. I haven't had this much track fun on a Ducati since riding the 848 and 1098R at Phillip Island a decade ago. Running Diablo Rosso III rubber, and on a warm perfectly still winter's day, the SuperSport shone. It is such a natural on track, changing direction easily, neutrally without quite the scalpel-like precision of a full-on sportsbike.
With great stability and sufficient but not surplus power it put everyone at ease, especially the S version; none of the group had any real incidents. Not that we weren't trying either; I almost wore out my left knee slider. It holds big lean angles as if born to it, the Diablo Rosso IIIs sticking like Gorilla glue. Under heavy braking the S version is a bit more composed, and the quickshifter makes corner preparation that much easier, but otherwise the two bikes are identical on track, no surprise as they're mechanically the same. The TC is nicely sorted, level one being ideal for track work.
Unusually, with TC switched off altogether, you cannot clutch this up onto one wheel. It only allows power wheelies, using the throttle alone, which plenty seemed to relish. Engine modes? Don't know about anything other than the Power setting, truth be told, as I didn't bother trying Urban or Touring. But then with 83kW, beautifully smooth fueling, dry roads and warm weather, why settle for anything other than max attack? One unusual feature is the ABS1 setting in which the rear is unshackled, leading to a few hair-raising moments at the end of the 205km/h downhill back straight, slowing for an uphill left hander. Guess that setting is for those who like to back it into corners, Moto2 style.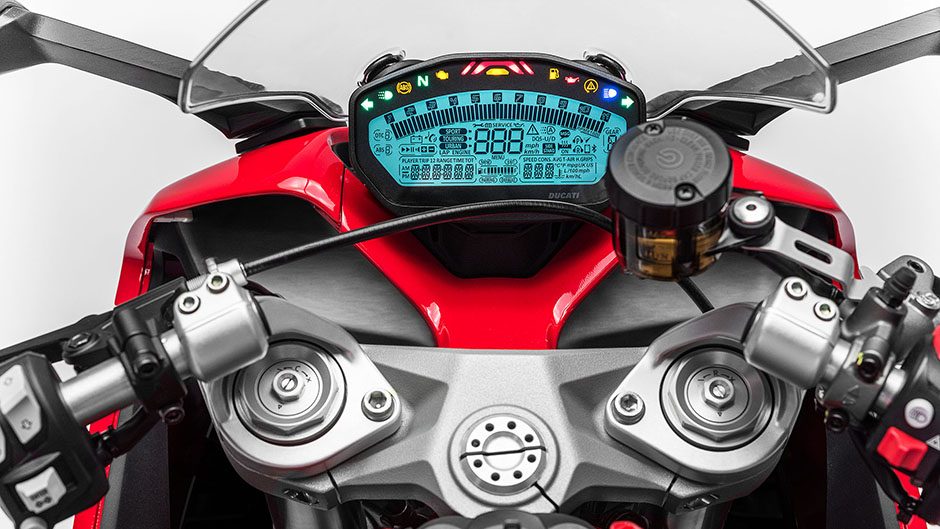 One bike to rule them all? Given how only the hard-core committed sports bike and track day riders are sticking with superbikes, and how many former sports bike riders have moved to big dual-purpose or streetfighter machinery, there would appear to be a group who might find a comfortable, unthreatening but still competent, sexy looking and potent sports bike (with touring and commuting potential) a desirable thing.
Great on all roads, and great on track, the SuperSport is Ducati's modern tarmac all-rounder. For those drawn by the versatility of Multistrada but don't need tall seating or all-road capability, the SuperSport will be right up your alley.
| | | | |
| --- | --- | --- | --- |
| Model | Ducati SuperSport S | Price | $$22,990 |
| Engine | 937cc, liquid-cooled, fuel injected, V2, 83kW/97Nm | Drivetrain | 6-speed, chain final drive |
| 0-100km/h | n.a. sec | 100-0km/h | n.a. m |
| 80-120km/h | n.a.sec | Weight | 210kg |