Royal Enfields are powered by banging singles, right? Now they've branched out with a 650 twin, of which there are two models. We ride the Continental GT 650 to see if it passes muster.
With the disruption of the Covid-19 pandemic, it means that we've been waiting for a year to ride either of the 650 newbies from Royal Enfield, the Continental GT 650/Interceptor 650. But that has now come to pass, and so we can report on the latest machinery from the longest lived motorcycle company in the world.
This pair is new from the ground up and they're also the biggest displacement models from the firm; all of its other bikes use smaller singles. We've only ridden one of those so far, the Himalayan, and while it is the least expensive dual purpose bike on the market, we'd pay the extra for the KTM 390 Adventure in a heartbeat.
But the 650 twins are different. For they're powered by a new 650cc air-cooled engine that supposedly meets Euro5 emissions standards, and is also LAMS compliant. That means you can buy this bike as a learner machine, progress to your full licence and continue to ride without feeling the need to upgrade immediately. No doubt this was deliberate because this pair of 650s was always designed for global consumption.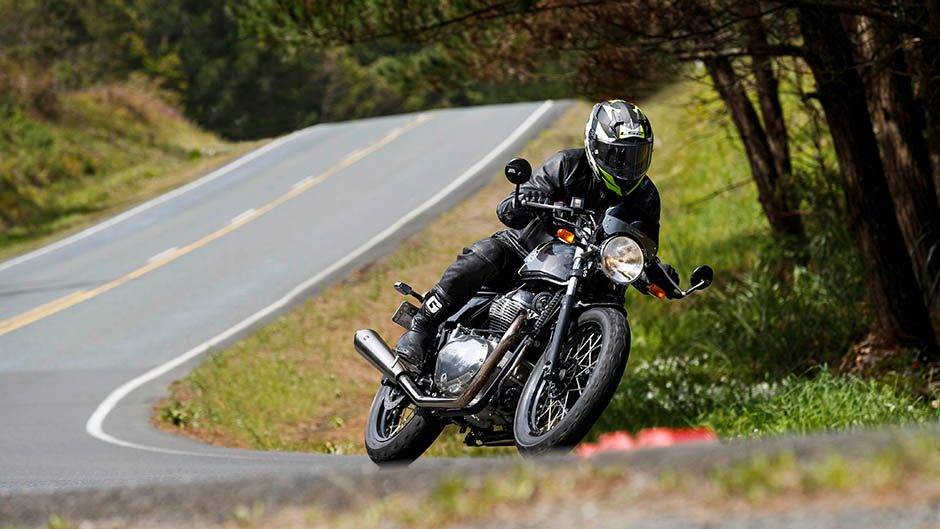 Both are retro styled, like all Royal Enfields, and the Conti GT is a beaut. The engine looks like it might have been designed in the 60s and in some ways it runs like that; fully 80 per cent of peak torque is available at 2000rpm. You can easily run around at 50km/h in top gear. At 4000rpm you're doing precisely 100km/h, the point where vibes are palpable, but don't really affect mirror images. Our particular machine had optional bar-end mirrors which work well, though you need to take due care when lane splitting.
A few other options were fitted, like the small fly screen up front, cosmetic only, and the aftermarket S and S exhausts. They look like classic megaphones and are pretty loud, especially on full throttle. They also pop and bang away alluringly on a dead throttle. We'd question the need for these because the engine has a 270 degree firing order anyway, which makes any parallel twin sound good. And evidently the standard pipes aren't bad. Besides, the price of these fitted is around one-fifth of the bike's overall ask, which is $10,690.
The model we rode is the intermediate of three, each differentiated by its paint job. We rather like the tricolour look, a two-tone grey and black tank, broken up by a yellow pinstripe. The tank itself harks back to models of yore, and this is a genuinely good looking machine. From a distance it reminds of Moto Guzzi V7 Classic, the single front disc, wire wheels and tank shape in particular. Certainly not the engine, though both are twins. Anyhow, this looks the part. Evidently the Interceptor is much the better seller (by a factor of 4:1, despite them being priced the same); that's essentially the same bike but more the roadster with upright bars and pegs set a bit further forward. It's designed more for commuting, whereas the Conti is styled in the classic cafe racer mold, with USD clip ons, and slightly raised rear sets.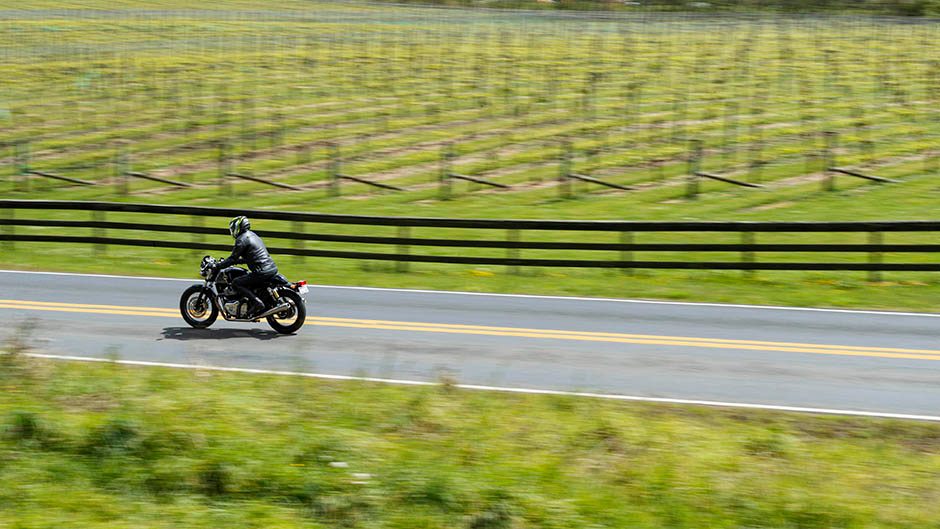 Only this isn't an overly compromised position; the stretch forward is modest, the pegs not set so high as to overly flex hips or knees.
About the only downside regarding riding position is the seat which could do with more padding, especially at the front. But we'd point out this had the single seat option; evidently the standard seat is plusher. It would want to be.
Anyhow, back to the guts of the Conti and this new mill is pretty decent, with performance that's certainly not retro. Despite needing two upshifts to hit 100, the Conti made it from standstill to 100 in 5.63sec, and an overtake was done in just over four seconds. So this is pretty quick for a LAMS machine. Sure it's beaten by the likes of Japanese middleweight learner bikes, but not by much. The point is that this can handily get out of its own way, and overtaking is no hardship. Moreover, people will hear you coming and will pull over to let you pass; those pipes are sound blasters. So's the horn, which is appreciated.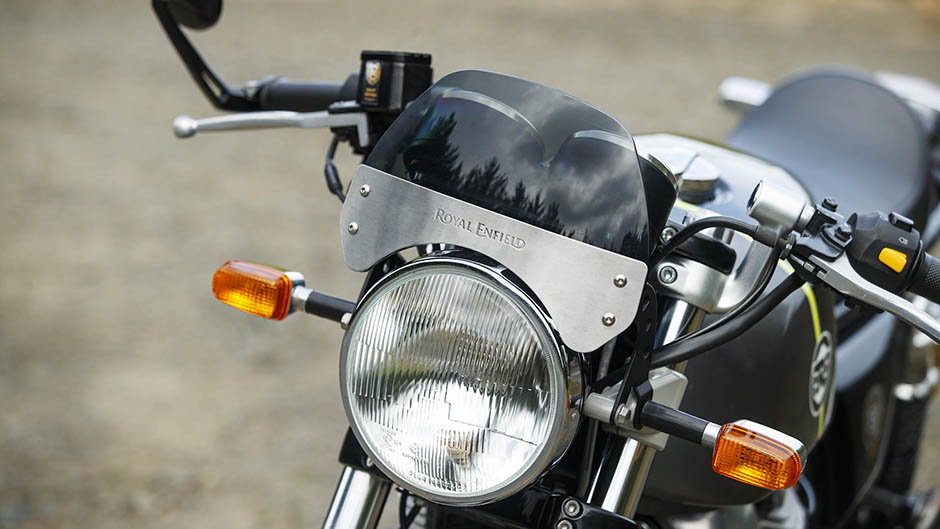 And reining in all that forward momentum are Bybre brakes. These are produced by the Indian division of Brembo and, silly me, I hadn't cottoned on to the origins of that name. ByBre is short for brakes ByBrembo. Up front is a two-piston floating caliper bearing down on a single 320mm disc, and this works pretty well, given the bike weighs in at 201kg. That's also the reason it isn't quite as quick as some of the twin-cam Japanese parallel twins which also rev quicker.
As to how it gets down the road? Not too badly at all. The riding position is similar to that of Thruxton. Were it me, I'd go for the Interceptor 650 as it's more commuter friendly. As it is, the suspension aims for a nice balance of comfort and cornering, with a bias to the former. It has to handle Indian roads, after all. Steering isn't that quick but there's a ton of stability in this chassis. So there's a pleasant flow when tying corners together.
As to what else you get for your $10,690? Instruments are old school analogue so no digital speedo or gear position, nor any hint of how little fuel it might be using, aside from a graduated fuel gauge. There are no engine modes, no TC. Just ABS for the brakes.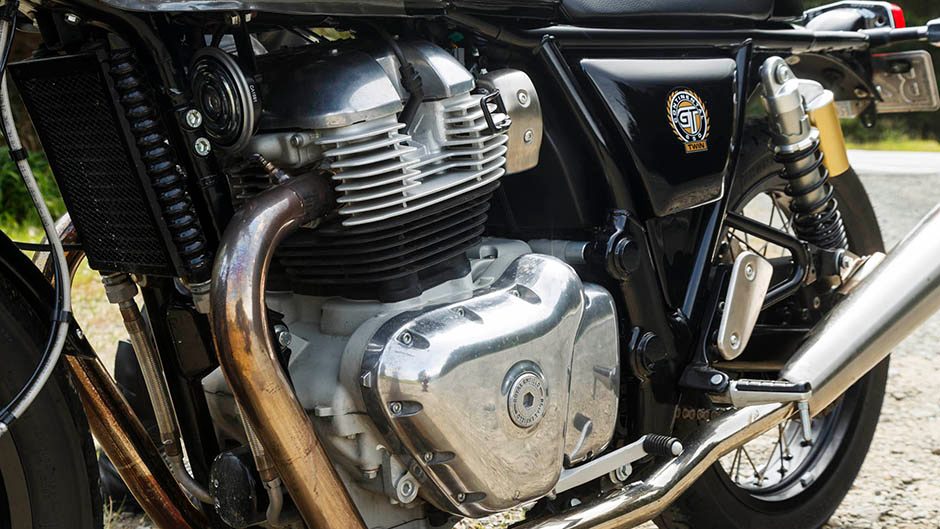 Fumbling for the side stand is a trick, at first at any rate; it's all but invisible, hidden behind the footpeg but if you lift this up it's much easier to extract from its returned position. No centre stand is fitted. There's no lever adjustability and suspension tweaking is similarly limited to just rear preload.
But what else is available for that money? Not much really; Suzuki's SV650 LAMS bike for a few hundred more offers similar performance to the Conti but hasn't the retro-cool style, while CF Moto do a couple of 650s for considerably less but we haven't sampled these Chinese machines. Not wanting to spend as much? Try the more upright Interceptor instead; this kicks off at $10,290.
| | |
| --- | --- |
| Model | Royal Enfield Continental GT 650 |
| Price | $10,690 |
| Engine | 648cc, air/oil-cooled, fuel injected, IL2, 35kW / 52Nm |
| Drivetrain | 6-speed, chain final drive |
| 0-100km/h | 5.63sec |
| 80-120km/h | 4.21sec |
| Weight | 202kg |