Scott Dixon has claimed the 53rd race win of his career after winning the Music City Grand Prix in Nashville today. Scott McLaughlin finished only one place back to make a Kiwi one-two, with Alex Palou rounding out the podium.
In an incident-plagued race, Dixon had sustained damage earlier in the event which saw him drop to the rear of the field. Fortunate safety car interventions benefitted the CGR racer, which saw him take the race lead with 16 laps to go. Two more safety car interventions following this saw a one-and-a-half lap dash to the line, with Dixon holding off McLaughlin to go to outright second in the all time race winners record.
McLaughlin had also dropped down the field after starting on pole following unfortunate interventions, but proved his worth with several overtakes on each of the following restarts.
The eight safety car interventions were only one less than last years nine, but saw several of the main championship contenders struggle or forced to retire. Pato O'Ward and Marcus Ericsson were among those not finishing, with leader Will Power only managing to come home in 11th.
The win moves Dixon up into second spot on the IndyCar standings, only six points off Power in top spot.
The early race was plagued by incidents and safety cars, with four full-track cautions by Lap 34. The first safety car came on Lap 9 after and Alexander Rossi spin saw him stall and block the track, unable to quickly restart his car.
The second such incident was on Lap 22, where a similar incident played out for Helio Castroneves. Palou was the benefactor from this having just made his stop, the rest of the field pitting under caution elevating him to the race lead. McLaughlin emerged from his pit stop in sixth place.
The restart saw a multi-car nose-to-tail incident at Turn 6, with championship contenders Power, O'Ward and Dixon among those involved. O'Ward was forced to retire from the event along with four other drivers, whilst Dixon needed extensive repairs over several stops to forcibly remove a punctured left rear. Power continued mostly unscathed to keep his place in eighth.
The next restart also saw issues when Takuma Sato and Devlin DeFrancesco went into the wall at Turn 10. Adding to the mess were Callum Ilott and Rossi, with Ilott unable to turn into Turn 9 and running Rossi into a runoff area.
Mclaughlin quickly picked off rookie David Malukas on the next restart, elevating him to third and back into the podium places. Simon Pagenaud also proved short work for the Kiwi who quickly overtook into second, setting him free to chase down Palou who had quickly built a lead of nearly three seconds.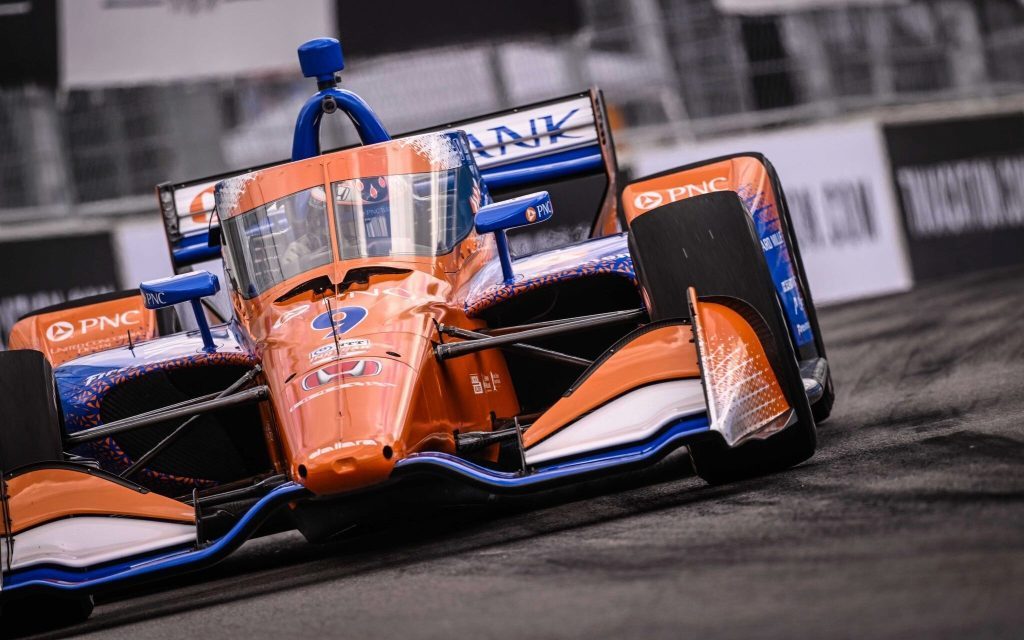 Dixon was among the first cars to make their final stop on Lap 50, which proved to be a smart decision when yet another safety car was required after Graham Rahal ran into the wall, with Rinus Veekay running into the back of him on cold tyres.
The rest of the field still needed to make stops, with Dixon among the leaders of the cars who had made their stops. Championship leader Power was also in this group. Dixon emerged in second spot once all had done so, behind Josef Newgarden.
A slow stop for McLaughlin cost him when the field stopped, seeing him emerge down in 15th, losing several spots to those who had been around him pre-safety car. Luckily for McLaughlin, close racing between those in front saw him climb five spots on the lap following the restart.
Another incident with 16 laps to go saw rookies Malukas and Kyle Kirkwood make contact into the barriers, elevating Dixon into the race lead after Newgarden made his final stop. McLaughlin had moved up into fifth position by this point.
The green flag with 10 laps to go saw McLaughlin make up two more spots to be in third, behind only Dixon and Lundgaard.
Jimmie Johnson brought out the seventh safety car with eight laps remaining after hard contact with the wall at Turn 4 forced him to retire.
With only five laps to go on the restart, Romain Grosjean went into the wall to trigger yet another safety car. The former Formula 1 driver had looked impressive all weekend and had started alongside McLaughlin on the front row, until he was forced wide by Newgarden and into the barriers.
McLaughlin had quickly managed to pick off Luundgard meaning it was a Kiwi one-two on the track with four laps to go. A red flag was brought out to clear up Grosjean's car to allow for two more laps of racing for the New Zealand duo to claim a historic second one-two.
And a one-two was how it finished, for the second time after last years same result in Texas.